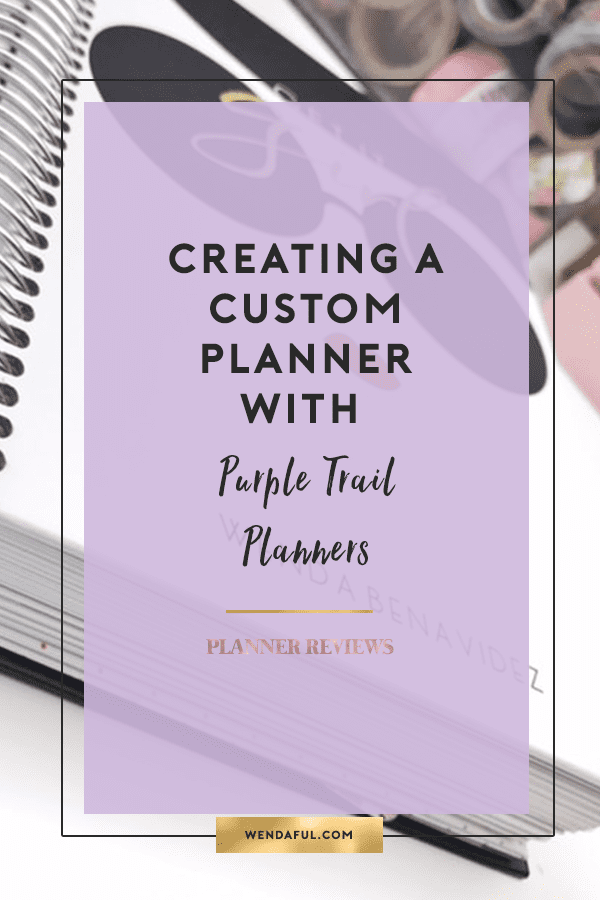 *This planner was sent to me but all opinions are my own.
Have you ever wanted to create your own planner, without having to design, print, or cut out any inserts? Did you want to decide what your cover will look like, what size you'd like, which kind of layout you'd like, and add in sections to keep track of your bills, appointments and more? Well, my friends, I would like to introduce you to the most custom planner site I've ever heard of — Purple Trail Planners! (You can use this link to get $10 off your purchase as well!)
Purple Trail Planners is a stationery website which lets you customize your planner, and not just the cover. You can customize just about anything. You don't have to worry about which planner will work for you because they offer you several different layouts from weekly vertical or horizontal planners to hourly and even daily options! I will go more into the detail of all the layouts below. You can even customize the size of the planner, the covers and add on sections to keep track of meals, workouts, finances, important dates, to do lists and more!
Purple Trail Planners Types
When you first go to their planner page you will see all kinds of planners. Here is everything they have:
Weekly Life Planners
Daily Planners
Monthly Planners
Teacher Planners
Student Planners
Mom Planners
Wedding Planners
Gay & Lesbian (Wedding) Planners
Meal Planners
& Tiny Planners
Each has their own unique layout and several hundred different design covers.
Custom Covers & Size Options

They offer hundreds of designed covers which can all be personalized. You can even customize a pre-designed cover and make it your own! Like for my planner pictured above, I added the quote (an embellishment in their studio) on top of my pre-designed cover to make it more unique! They have everything from cute and pretty covers to masculine and neutral covers.
Their covers come in 3 different options: hardcover, soft frosted cover or soft laminated cover.
The hardcover is a very thick and hard cardboard comparable to Day Designers;
The frosted cover is like the blue sky covers,
and the laminated cover is comparable to Erin Condren's.
They all have a silver spiral coil as well.
All their planners come in either size – 8.5×11 inches or 6×8 inches. Their tiny planners are only 4×6 inches!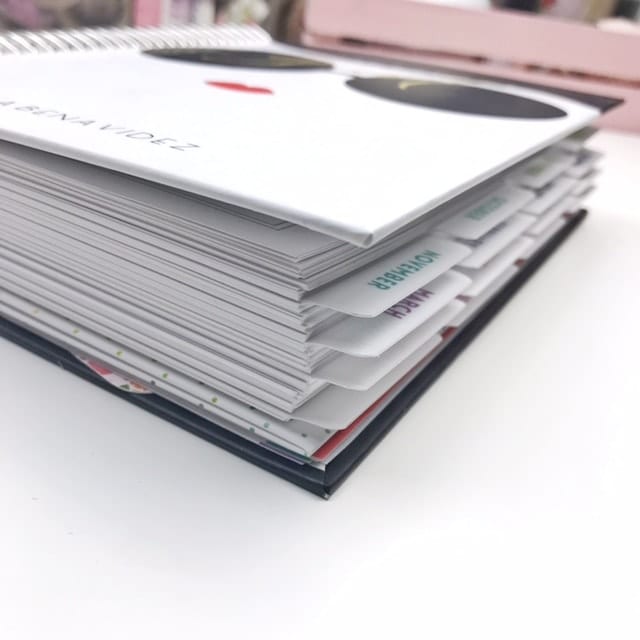 Layout Options

Depending on which planner you get you will get different layouts. The most popular weekly planners come in 3 different layout options:
Horizontal Weekly Layout
Vertical Weekly Layout
Vertical Hourly Layout
The Daily Planner comes in 2 different options:
3 Months Daily Layout – Day on Two Pages with Weekly Overview & Shopping List
6 month – Day on One Page
The other planner layouts include:
Mom planner
Meal planner
Teacher planner
Student planner
Wedding planner
Inside Pages
You can customize the start date of your own planner! No need to wait for January or August. Start it on your own time!
For the mom planner you can customize what each section says! You can either put a section for each family member or choose categories for different areas of your life you'd like to plan for.
You can also customize the color of the inside pages. They have the colorful rainbow option where each month is a new bright color or you can opt for the neutral gray option.
The planner paper pages are smooth & perfect for writing on. The thick 80lb paper resists bleed through and is so nice!
Accessories & Add-Ons
They have the option to add stickers into your planner as well as a sturdy pocket folder.
Their add-on insert pages are unbelievable! You can choose from 15 different types of add-ons, however, you can only add 4 to each planner. If you'd like to see what each add-on looks like you can see them here. Here is the list of add-ons:
Notes Paper
To Do List
Password List
Bill Tracker
Check List
Graph Paper
Important Dates
Address Book
Puzzle & Games
Dotted Grid
Appointment Tracker
Student Check-list
Fitness Tracker
Nutrition Tracker
Account Tracker
Travel Itinerary
Baby Tracker & Keepsake
Wooo, that was a long list! So many options, right?! Which ones will you choose for your planner? I decided to go with the To Do List, Bill Tracker, Appointment Tracker, and Graph paper.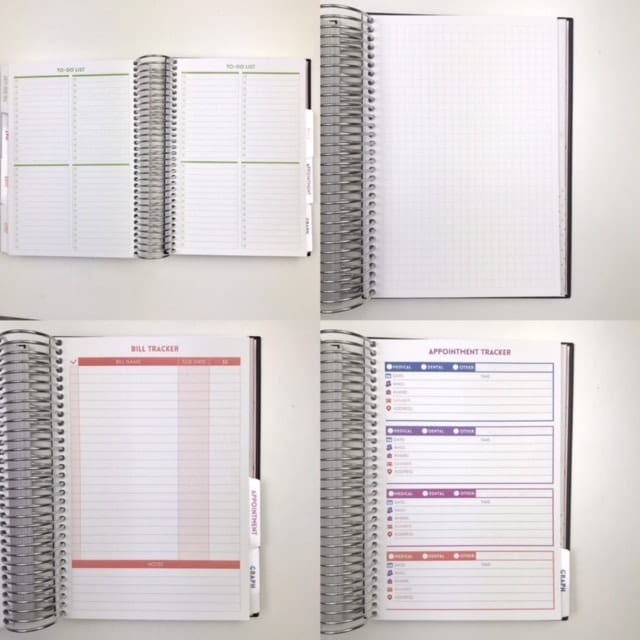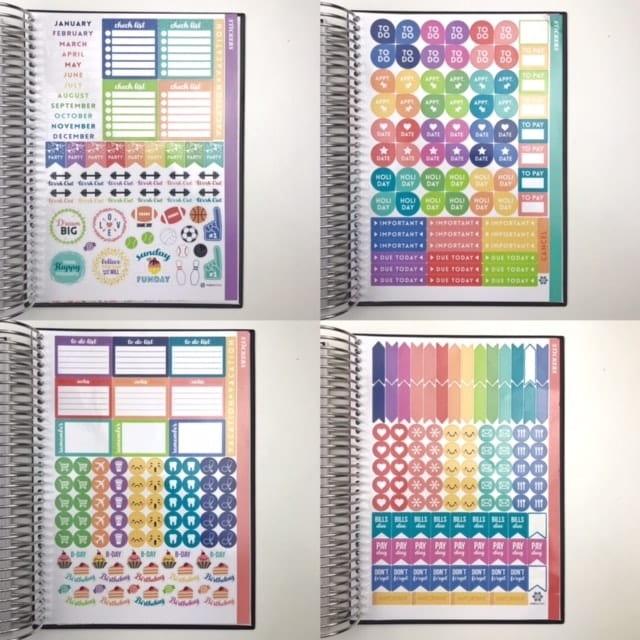 Mom Planner Review
The one I chose for me and my family was the mom planner. I liked that it had a section for your schedule, and smaller sections which you can use for own categories, different members of the family, or anything else you'd like to customize it with.
Pros:
By splitting up my categories I have a more organized to do list as well as a more balanced life.
The paper quality of the planner is absolutely amazing. I love how thick it is and how smooth it is to write on.
The monthly tabs are durable and I love having the goals and section in the beginning.
The mom planner is perfect if you have multiple roles in your household and need to keep track of several activities, people, and events.
I love that there is so much space to write and separated sections to keep your brain in order!
Cons:
The only things I didn't like about the planner were the ending and beginning of each month.

If a month ended midweek the dates would just stop and continue to the next month, so you'd have 2 weekly spreads of the same week at the ending and beginning of each month.
If you've been thinking about a custom planner to fit your needs you definitely have to check out Purple Trail Planners. They offer so many different layouts to fit you and your life. There is no one planner that is perfect for everyone and Purple Trail Planners knows that which is why they give you the option to customize your very own! Add on anything you need to make your planner complete and customized for you! Click here to get $10 off your Purple Trail Planner now. 
If you'd like to see how this planner compares to other planners be sure to check out my other planner reviews here:
Erin Condren HardBound Life Planner Review
Erin Condren Teacher Planner Review
Bloom Vision Planner Review & How I Use it As My Blog Planner
Personal-Planner Review: Design Your Own Planner Inside & Out!