Hey, Teachers! If you're looking for a new planner for the new school year, you're in luck! Erin Condren just released their updated teacher planners. Erin Condren is known for the bright, colorful and fun planner layouts. This year's new release includes wonderful updates which I'll share with you below! If you aren't a teacher but love all the features of the teacher planner and want to somehow incorporate it into your life then keep on reading after the review to see other ways to use this beautiful planner!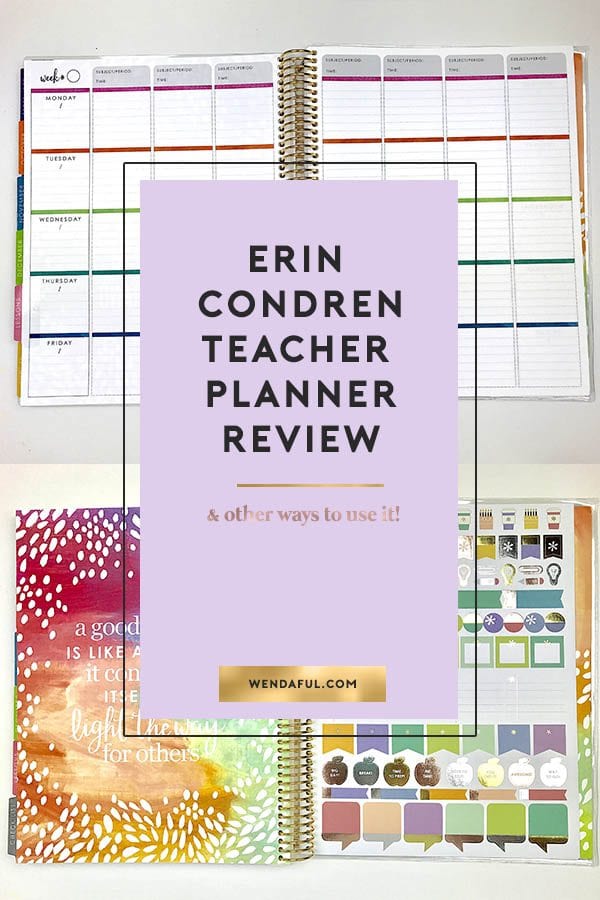 This year's updated version of the teacher planner from Erin Condren includes so many new features! This teacher planner includes several layouts to plan your monthly goals and deadlines, organize your lesson plans, document assignment grades and parent-teacher conferences,  draw out your seating assignments and so much more! If you use this planner you will love planning in it every day! It's colorful and feels luxurious! You can even customize the cover to fit your own personality! If you'd rather see a review on the new hardbound planner you can read that review here.
OVERVIEW:
WHAT'S INCLUDED:
Important Info Page to store passwords, resources and contact info
Important Dates Boxes for monthly goals or holidays for the entire year
Classroom Events & Volunteers
Helpful Hints for the Substitute
Graph & Lined Notes Pages
12 Month Calendar Spreads With Goals Page Before Each Month
40 Weeks of Lesson Planning
Student Checklists to keep track of assignments, permission slips and more!
Reusable Sheet Protectors
Plan for It Pouch & Keep It Together Folder Included
Choose Your Coil: Platinum, Rose Gold or Gold
WHAT'S NEW:
NEW Communication Log & Yearly Planning Pages
Thicker, Richer Paper Stock – 80-pound text weight (118gsm)!
Updated Sticker Sheets: 2 Coiled-in Metallic and 2 Flag Sheets
CLOSER LOOK AT THE PAGES:

This info page is perfect for keeping your important contact info and most used classroom web page and passwords handy.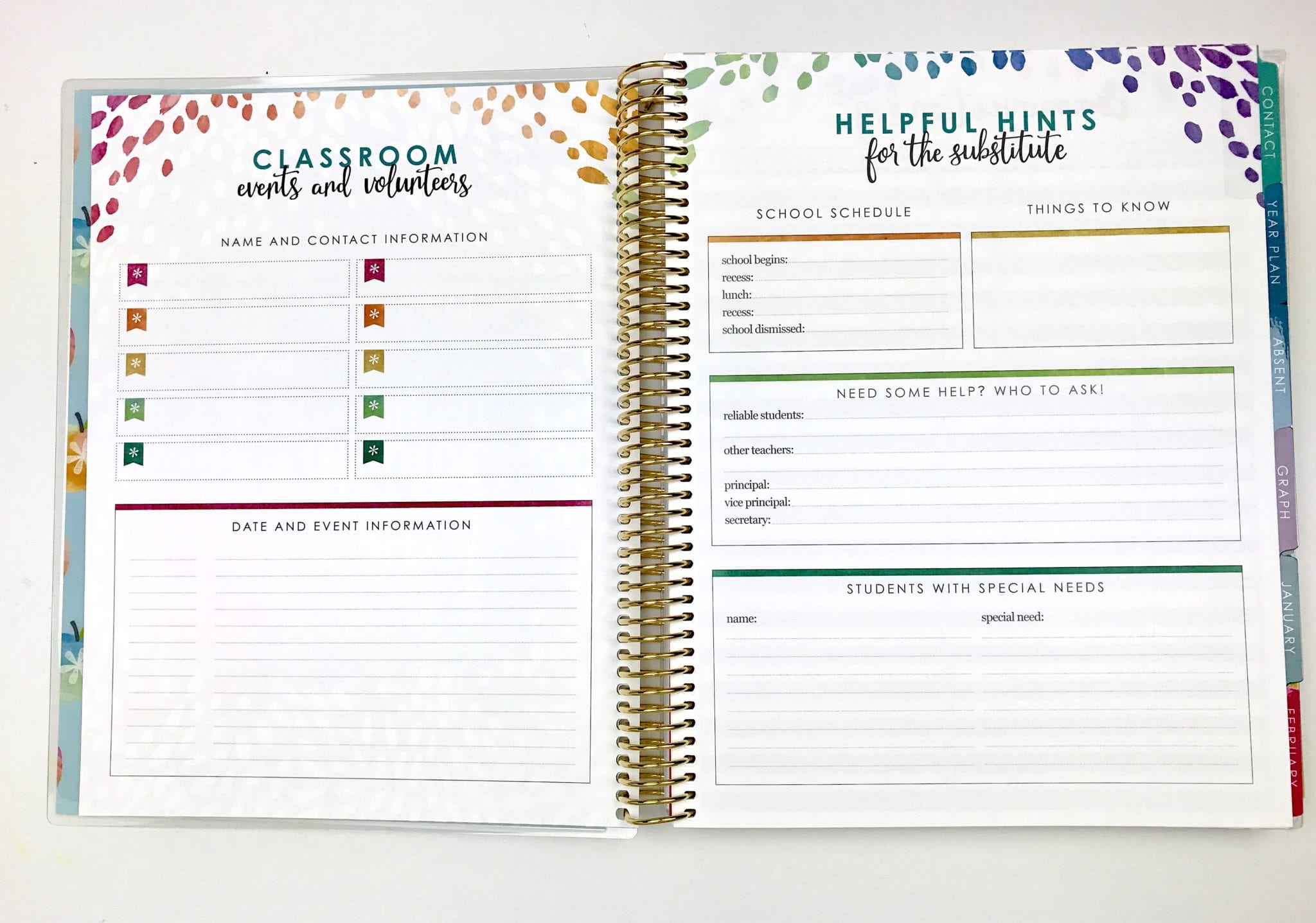 These productive pages are perfect for keeping track of field trips, volunteers in the classroom and sharing important info with the substitute teacher.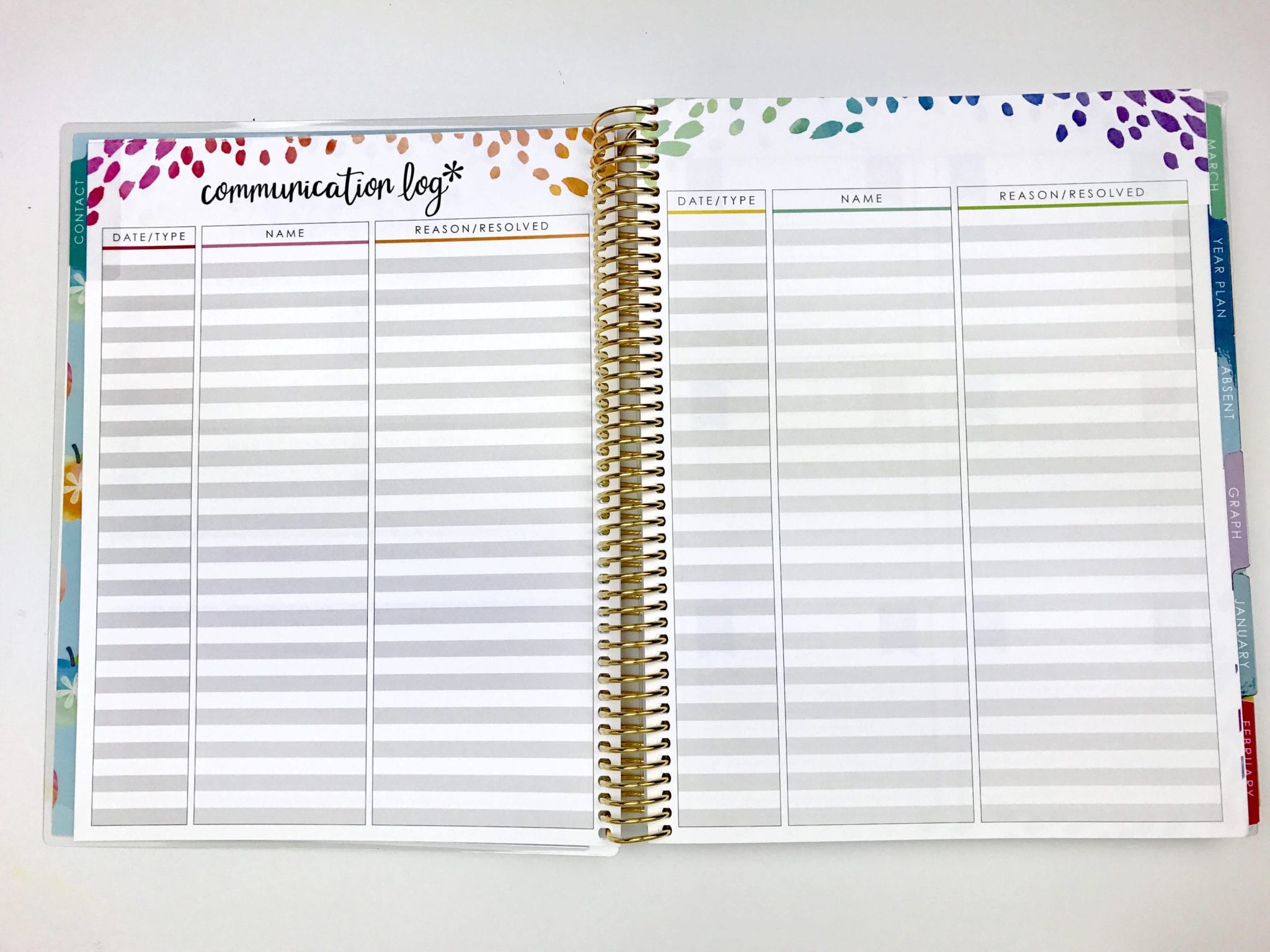 Behind the CONTACT  tab is the communication log – perfect for keeping track of all your parent-teacher meetings.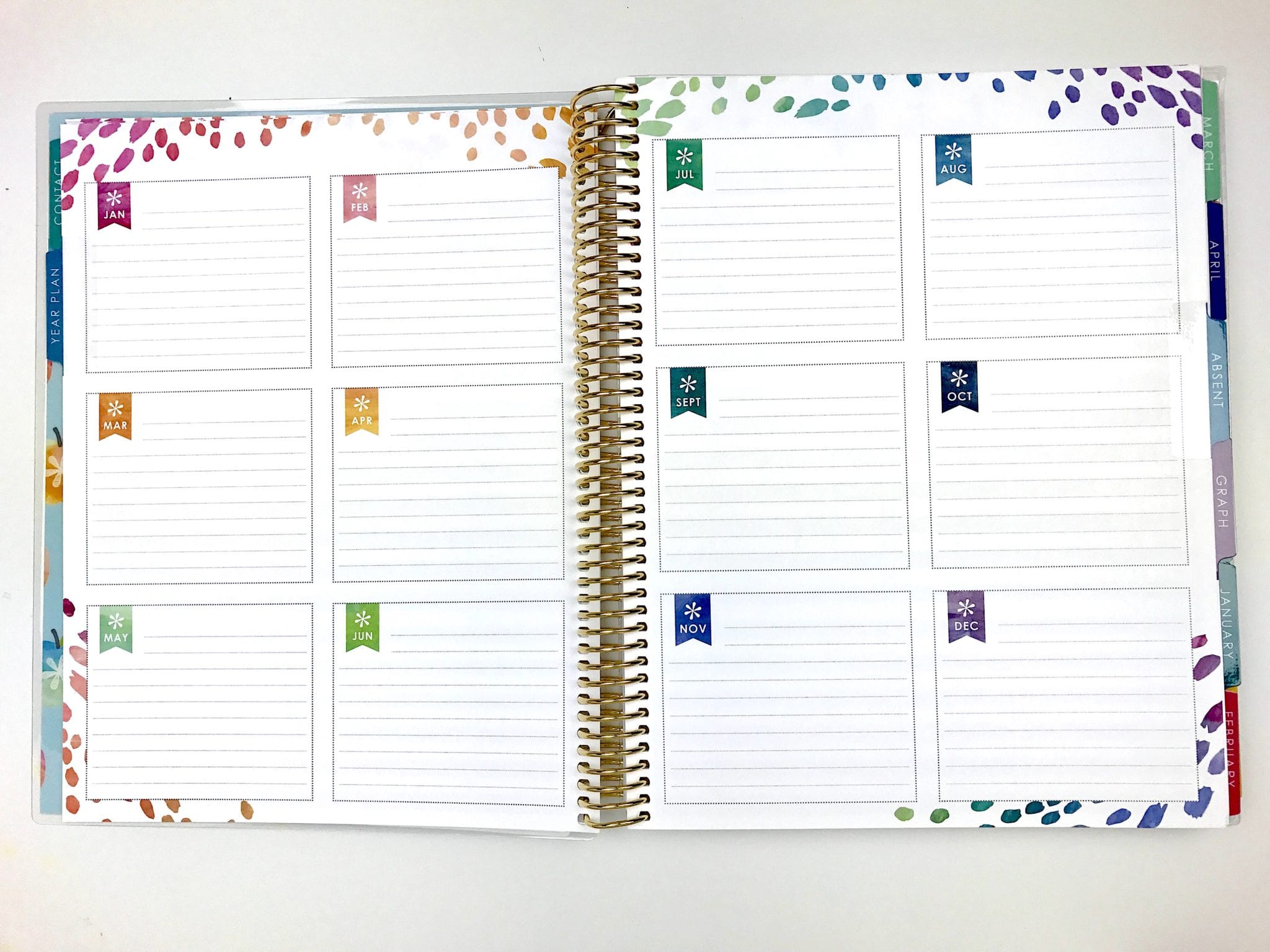 Right after the communication log is another tab labeled – YEAR PLAN – these pages are perfect for setting yearly goals, holidays, birthdays or a review of the month!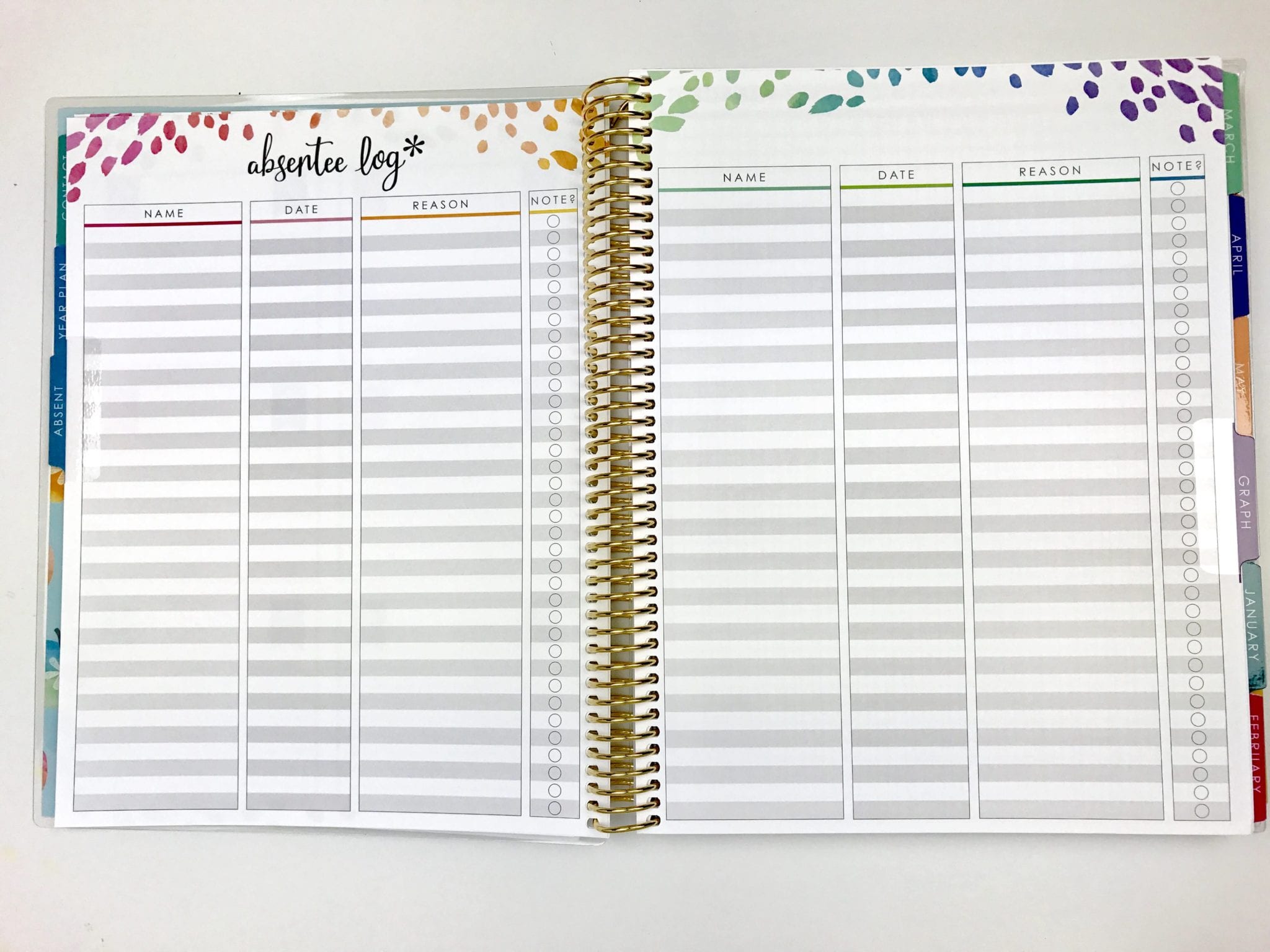 Then there is the ABSENT tab – to keep track of when your students miss school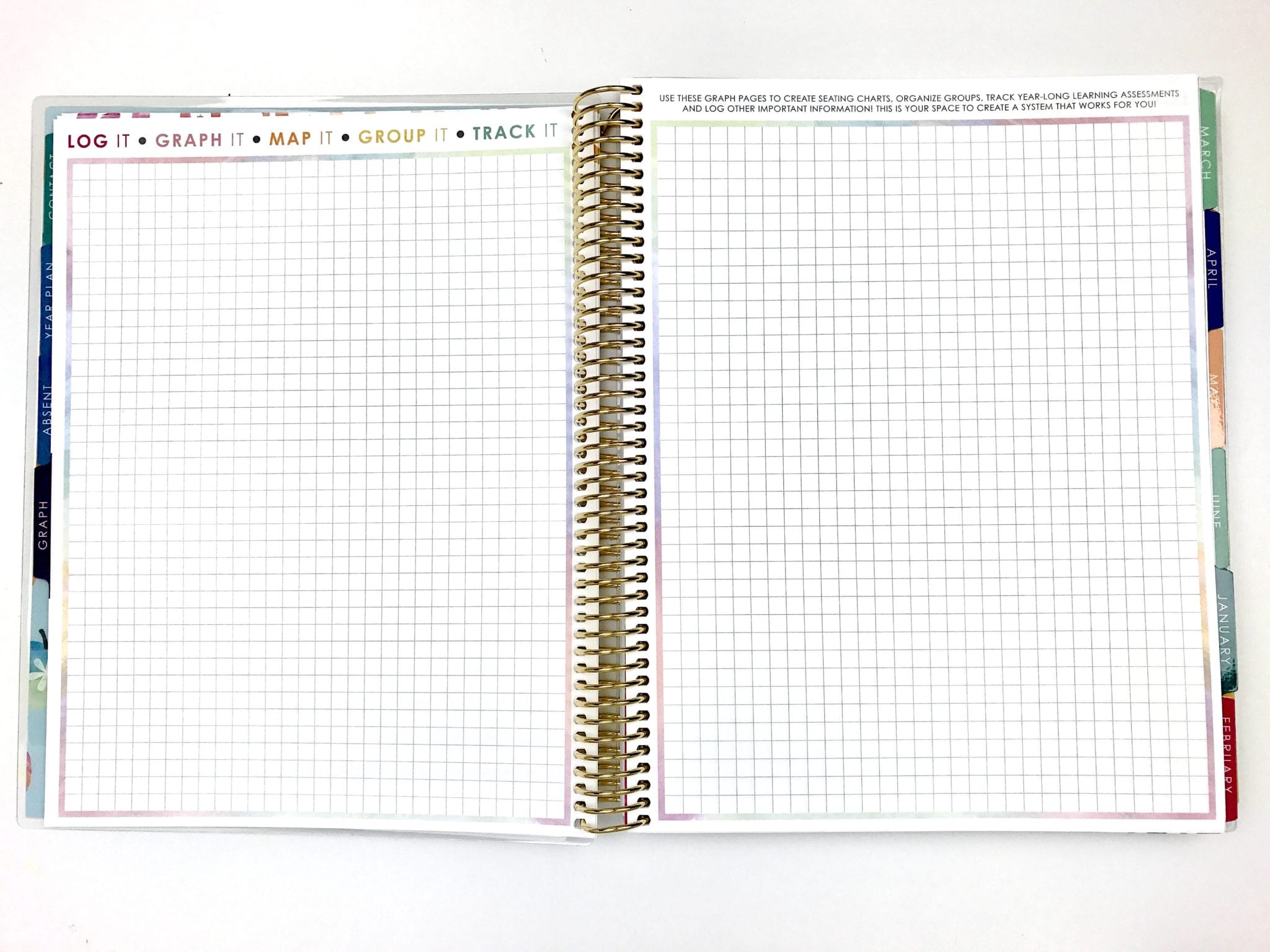 Behind the GRAPH tab, there are these graphs and lined pages which can be used in a number of different ways. Use them to plan out seating arrangements, create a chart or graph, write special notes about your students or any other information you can think of! There are 4 sheets of graph and 2 sheets of lined pages.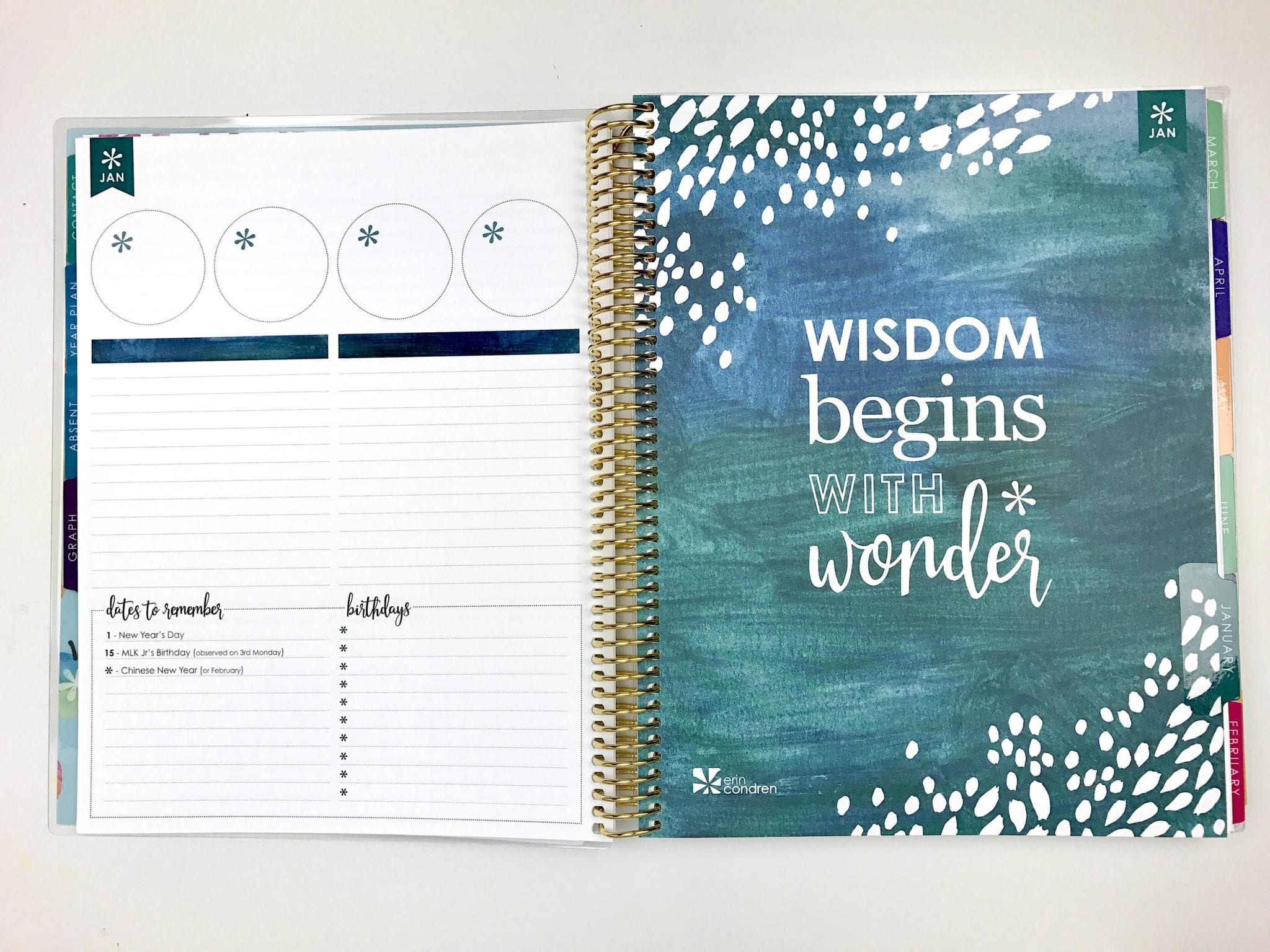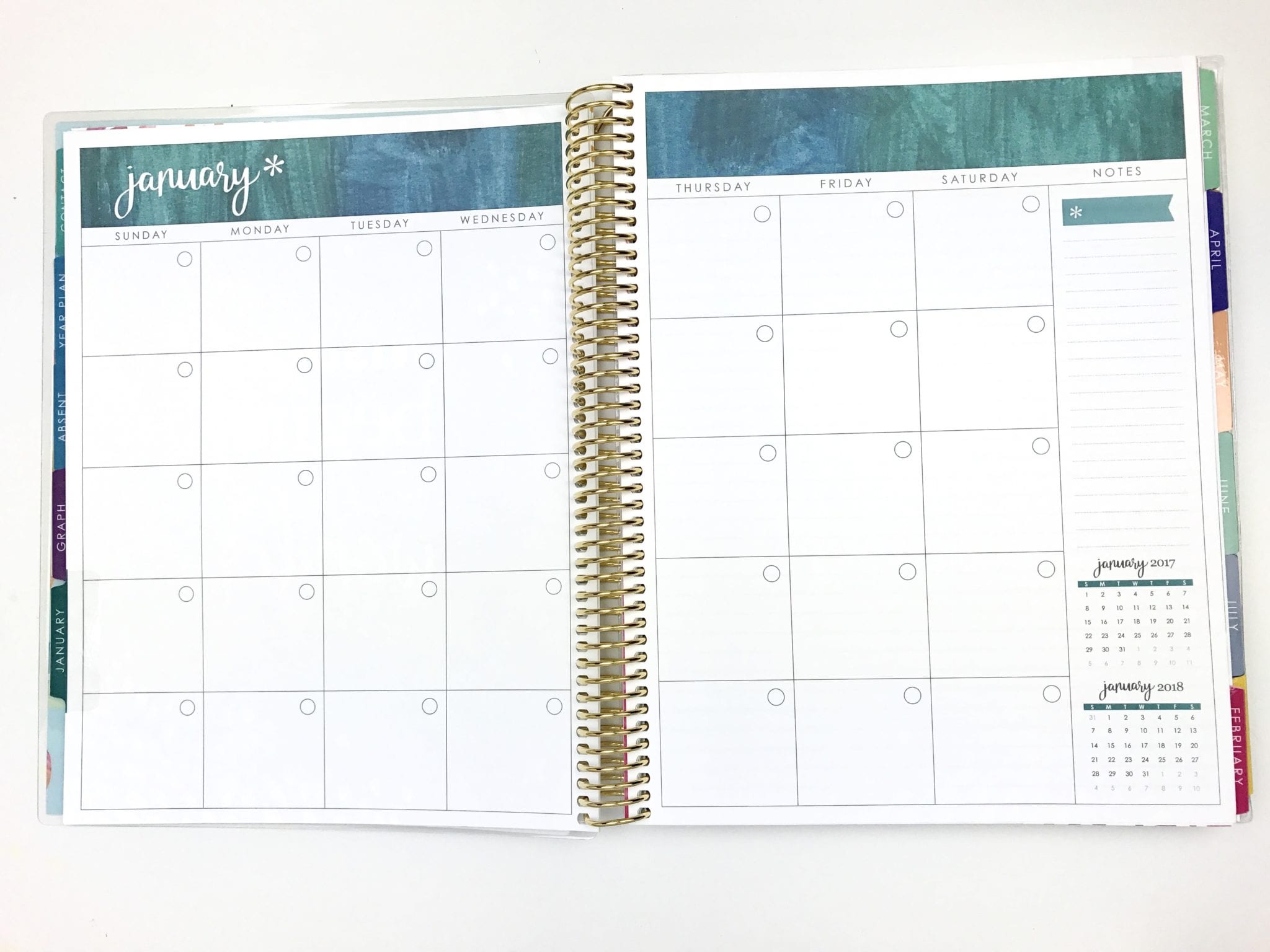 I love the new monthly pages! Before each month there is a page for monthly goals, notes, and lists for dates to remember and birthdays. It's then followed by a beautiful watercolored quote! The monthly spread is wide and also includes the watercolor theme in a beautiful script font! Each month has its own tab and goals page. The calendar is undated, but you can choose the start month of either January or August.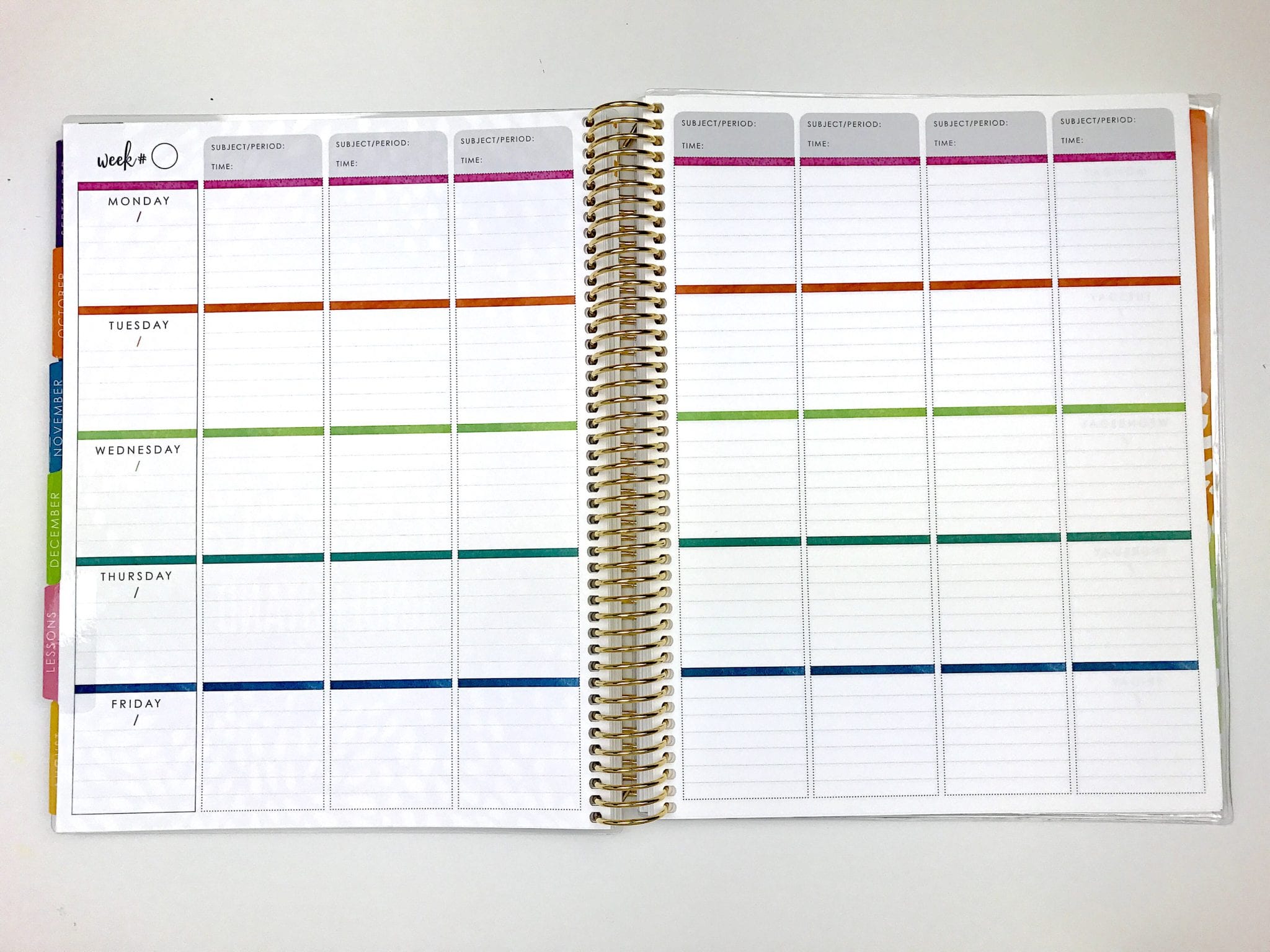 After the monthly pages is where the bulk of the planner come. The LESSONS tab. This section includes your weekly lesson planning pages. It includes 40 weeks of lesson pages to start whenever your school starts since it is too undated.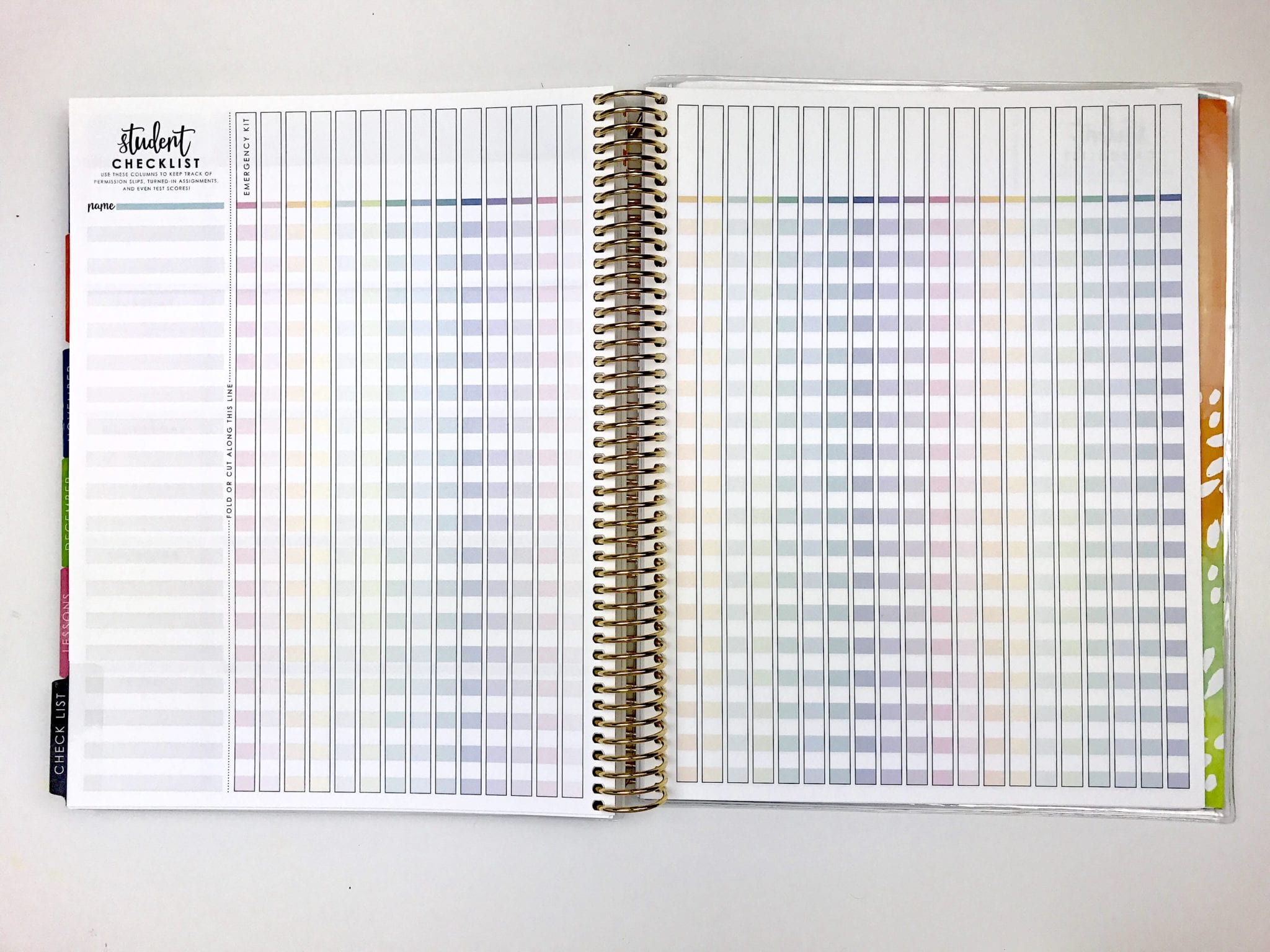 Included in the CHECKLISTS tab are 7 spreads of student checklists pages. These are great for keeping track of permission slips, grades, test scores and more. I love that it's so colorful to make it easier when filling out!
In the back of the planner are 4 pages of wonderful BRAND NEW STICKERS! These stickers include gold foil, labels, and flags. These stickers are so much more functional and include teacher related stickers as well as you can see above!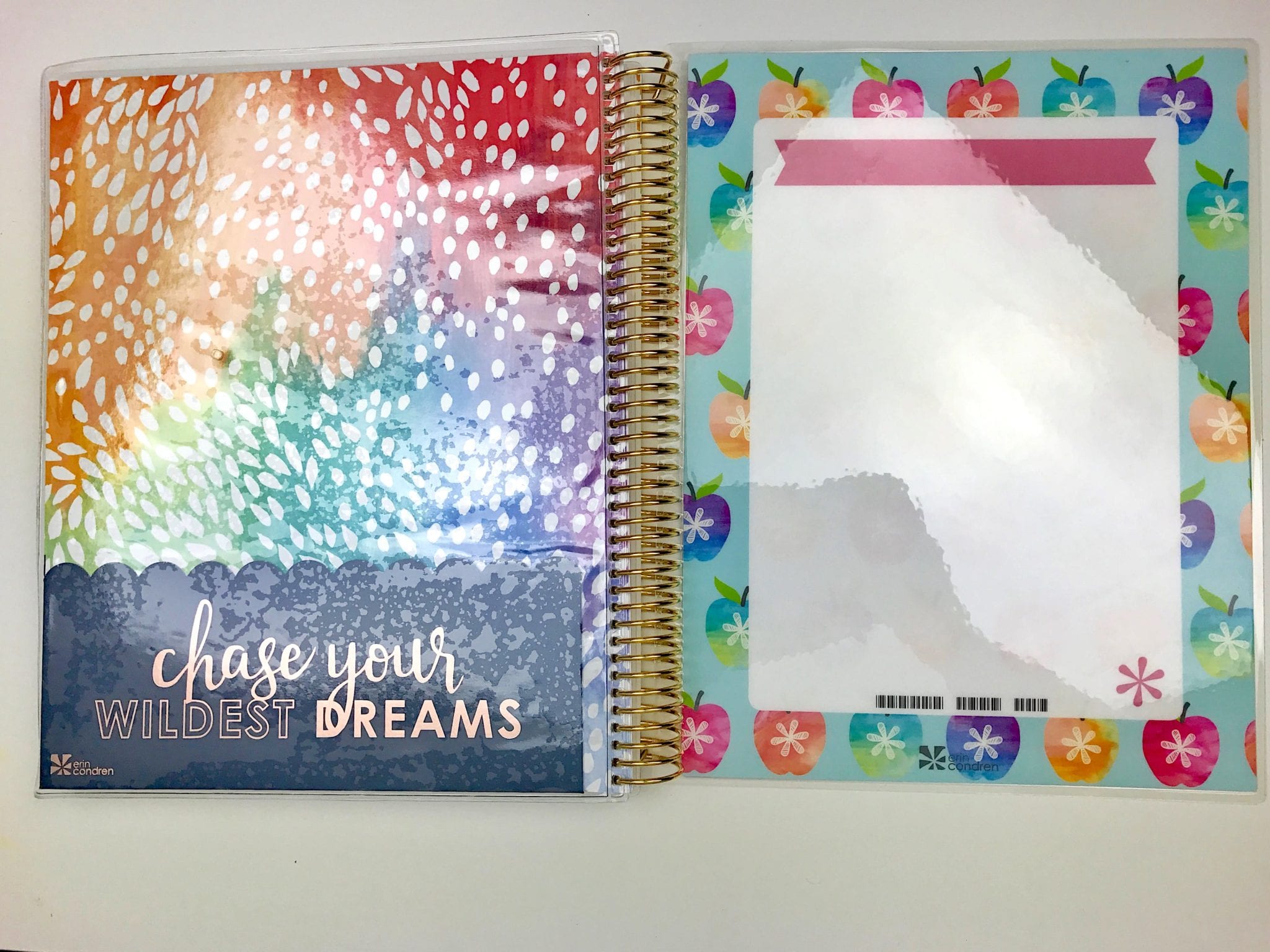 & Finally, the back of the planner includes a double sided folder and sheet protector! Perfect for storing loose papers and important documents!
ACCESSORIES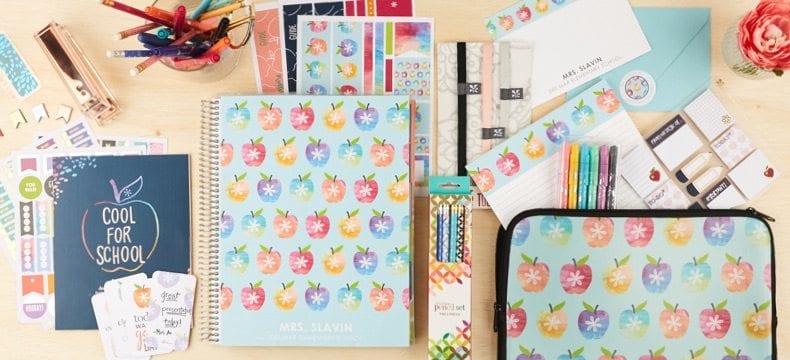 Erin Condren also came out with a new line of accessories to go along with the new teacher planners. These are all so perfect for any teacher to plan in style! New accessories include:
the Cool for School sticker book
NEW Teacher Snapin Dashboard
NEW Teacher Snap-In Stylized Sticky Notes
NEW Watercolor Apples Compliment Cards!
MY REVIEW
Overall I love this planner! It's so nice and the planning pages will be so functional for any teacher.
PROS
– The new thicker paper makes this planner so luxurious and durable. It makes me want to write in it more!
– I love the new watercolor designs throughout the planner with the beautiful script font
– The new stickers are so much more functional and way cute!
– The updated monthly pages make it so much easier to remember deadlines and your monthly goals!
– All the extra productive info pages will be so useful for teachers
– Checklists are colorful and great for tracking!
CONS
– Undated calendars make it hard to remember which week you're on. I understand though that schools all over start at different times so an undated calendar for teachers makes sense.
– Not enough notes pages. With only 4 graph and 2 lined pages, it makes it hard to write down other notes and plans a teacher may have.
OTHER USES FOR NON-TEACHERS:
If you aren't a teacher but are looking for a more productive layout with Erin Condren Planners I have some ideas on what you can use this Teacher Planner for! With some imagination, stickers, and labels you can easily customize this teacher planner into your own custom planner! I am not a teacher myself, I was a preschool teacher a few years ago, but have since just started working from home. I don't need a teacher planner now. So what will I use this planner for?
Bloggers
If you're a blogger this planner is perfect for it!
The info pages can be used to keep track of your affiliations, websites and passwords, and more!
I would repurpose the absent log as an expenses log!
Use the monthly pages to keep track of your content. Plan out future blog posts, social media, paydays, and more!
Use the monthly goals pages to keep track of deadlines and big picture goals for the month. Break down projects for the month.
With the weekly pages, you can use it as a more detailed content calendar. If you manage Facebook groups, different blogs, newsletters, campaigns, you can categorize the top "subject/period" sections of the teacher planner to work as your different content channels. Some ideas are blog posts, sponsors, emails, social media, affiliate work, projects etc.
You can then use the checklists to track your followers, monthly website maintenance checklists, giveaways, sponsored posts, blog post checklist and whatever else you can think of!
Families
If you have a family with a lot going on this may be a great solution for you!
Info pages for parent teacher conferences with your kids' teachers,
You can use the monthly pages to keep track of bills events and appointments
The monthly goals pages for house projects, birthdays, goals, memories, and review of the month!
The weekly pages can be used by categorizing the top sections for each member of the house, different sections for planning. These can include: top 3, to d0, school, meals, health and fitness, spouse, kids, money, work, blog, social, etc.
You can use the checklists to keep track of cleaning or decluttering projects. Write down the room you'd like to declutter on the side row and use the checklists columns to write down sections of that room on top. Check it off as you finish!

Use it as a monthly/weekly cleaning routine checklist
Stay on top of good habits and use it as a habit tracker
Get into a scheduled routines by using it as a morning and evening routine checklist
Students
If you're a student, this teacher planner can actually fit very well as a student/academic planner for you! You can use everything in this planner for your own classes! Keep on top of your homework, assignments, deadlines and more with this planner!
& that's it for my review of the new Erin Condren Teacher Planners! I hope this planner was helpful for you and if you'd like to buy one for yourself you can use this referral code for $10 off with sign up! 
*This planner was sent to me to review, but all opinions are my own.