Here are the links for the new planners!
https://erincondren.com/hardbound-lifeplanner
https://www.erincondren.com/coiled-lifeplanner
https://www.erincondren.com/luxe-lifeplanner
And if you are a VIP you will also get a free hardbound notebook and sticker sheet! But only if you act fast!
Introducing the New Erin Condren Hardbound LifePlanners
The pricing for the hardbound planners is actually very affordable. Before the launch, I thought my large one would have been $75 starting but they aren't. They start at $30.00 for the small horizontal and $35 for the large vertical! Amazing right?!
5×8 Horizontal Layout

8×10 Vertical Layout
Here is a size comparison of the large hardbound planner and the coiled lifeplanner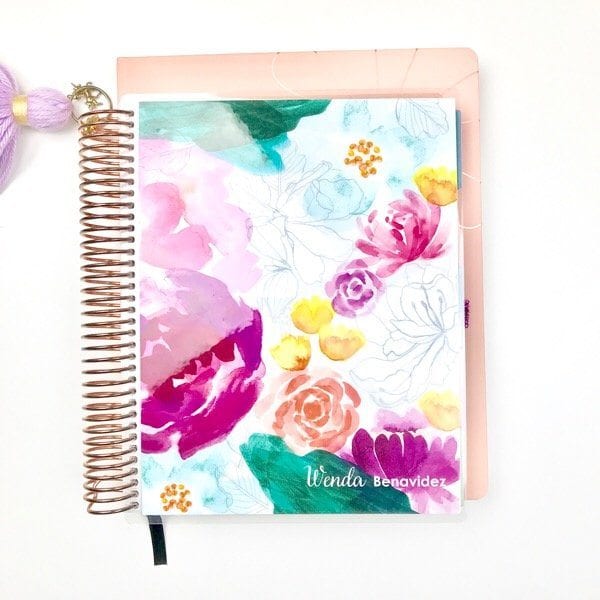 Review: HARDBOUND LifePlanners
Layouts
UPDATE: Here is a look at how the regular size stickers fit into the new larger hardbound planners. It's a lot bigger, but if you center the boxes it can still work!
Box Sizes
Style
Ribbon Bookmark
Other Noticeable Changes
Pros
Sturdy and Solid – This hardbound cover life planner will be able to withstand much more.

Lays Flat – I was surprised to see that this planner laid flat pretty easily!

Thick Paper Quality – The quality of the paper has definitely improved!

Ribbon Bookmark – So easy to find your spot without losing your bookmarks!

Great for Left and Right Handers – With no coil, you can easily write on either side of the page!

No Coil = No Snags

Cons
No Pockets, Folders or Pouch
Overall
Thoughts
What About The Coiled LifePlanners?
18 month (July 2017-December 2018)

12 month (January-December 2018)

12 month ( July 17 -June 18).
4 Coils: Gold | Silver | Rose Gold | Matte Black

3 Layouts: Hourly | Horizontal | Vertical

2 Color Schemes: Neutral | Colorful

1 New and Improved Keep It Together Folder
Cover will be

permanently

coiled to your book
3 Leather colors

Light taupe
Sapphire
Black
Three character personalization

Blind Imprint
Metallic Silver
Metallic Rose Gold
Metallic Gold
Accessories
New Sticker Book – Classic Edition 3

Dual Tip Markers – Pastel

Dashboard – Painted Petals

Painted Petals Stylized StickyNotes
Magnetic Page Markers

Black and Gold
Magenta and Platinum

Metallic Mini Snap-in Bookmarks

Painted Petals Iris
Painted Petals Cherry Blossom
Painted Petals Teal
Compliment Cards in painted petals theme

Mini Sticky Storage Pockets in painted petals

Painted Petals Iris
Painted Petals Cherry Blossom
Painted Petals Teal
New Paper Tapes in:

Painted petals
Mid-century circles, multi
Floral ink
Planny Pack

Black and Gold

Cherry blossom and Rose Gold

linen and platinum
& here are some pages from the beautiful new sticker books! I love collecting EC's sticker books! They are well made and are just so functional!
Don't forget!