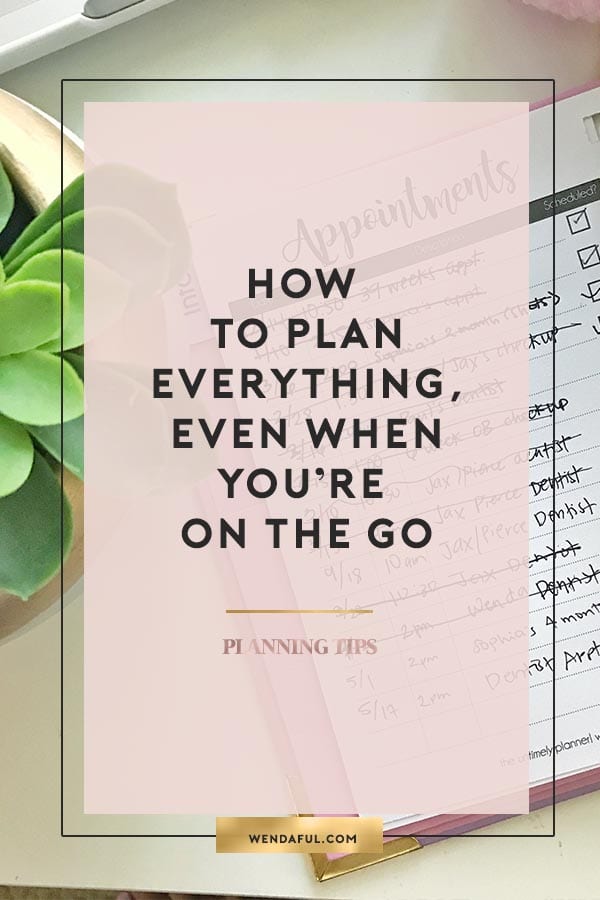 When you're out and about and have to remember something, you never seem to have anywhere to plan it out. How do you plan everything when you're on the go? How many times have you said to yourself, "okay, I'll remember to put that in my planner when I get home" Or what about when you're at the store and you just can't remember what it was that you needed to buy? I used to always write things I needed to buy in my planner at home but never took my planner with me because it was too big. What use to me is that list if I'm not going to use it!
My main planner is an Erin Condren Life Planner
, and even though it is super cute and functional, it's just not portable enough for me to take everywhere with me. (By the way, if you'd like $10 off your EC planner click here!) That's when I knew I had to have a portable planner that can fit in my purse and take everywhere with me. Today I'm going to share with you some tips on how you can plan everything even when you're on the go.
How to Plan Everything Even When You're on the Go
GET A PORTABLE PLANNER
First of all, you're going to need to find yourself a portable planner. You can grab a leather ring bound planner and fill it with inserts and make it to your liking. I have tons of free printables, especially for personal sized planners (which is a great portable size!). Some of my favorite leather ring binders are by  Filofax
 or Kikki-K. If you don't have the money or time to buy a leather ring bound planner and make all of your planner inserts, then you can buy one that's already pre-made and ready for planning on the go. That planner which was designed by me is called the Untimely Planner.
The Untimely Planner is perfect for writing your appointments down quickly, checking your bills that need to be paid, remembering things that you needed to buy, and more! It is the perfect little planner and you can get it here.
[shopify embed_type="product" shop="wendaful-designs.myshopify.com" product_handle="the-untimely-planner" show="all"]
WRITE EVERYTHING DOWN
Next, get into the habit of writing EVERYTHING down. If you use more than one planner, write everything down in your main planner, and for things where you know, you will be out of the house for, write it down in your portable planner. Some examples of what to plan for in your portable planner are appointments, events, birthday parties, things to buy, etc.
When you're out and about, still write EVERYTHING down! That's what your portable planner is for! Don't just keep it in your purse to collect crumbs, take it out and use it. Your doctor's office just scheduled your next appointment? Write it down. You remembered that you needed more toothpaste for the house? Write it down. Your friend just invited you to her daughter's birthday? Write it down. Write everything down!
To plan for everything on the go you need to make it habit to write things down. Keep this planner with you at all times.Write down ideas that come to mind, lists of things you want to do, interesting things you see, etc. Don't ignore your ideas. Make them tangible and you'll start to see a more productive you.
Writing things down on paper helps your memory, and allows you to be creative with your lists. Sure there are many apps out there, but you can't put your stickers on it!
I think it's important to have an organized planner to write all of these things down in because writing on post-it notes or a plain notebook can get messy. & Since they're just scribbles you may just forget to look at it again. You don't have to pull out all the fancy washi or stickers if you don't want to, but having a pretty planner sure makes you want to look at it more.
Having a planner with separated sections for you to write your appointments, to-do lists, ideas lists, bills to pay and more can help you organize all of your thoughts and ideas, and make you more productive.
USE IT
Similar to what I said earlier, if you don't bring out your planner, it's not going to be useful. You need to take your planner out. Take it with you, add new tasks, make notes in it and don't be afraid to get it dirty. I used to be shy of busting out my planner and writing things down when I was out. Especially since it was so bright and colorful and had a million stickers all over it! So I would just say to me myself, ok I'll remember that. But I never did! I learned that if I want to remember things, I need to write it in my planner, and to write it in my planner I need to actually use it! That's why we got a portable planner – to put it in our purse and use it when we're on the go.
...if I want to remember things, I need to write it in my planner.
Click To Tweet
REVIEW
Check your planner a lot even if you're not out and about. This will help to remind yourself of important things for that coming day or week: appointments, meetings, bills that are due, etc. Check it daily. Check it weekly. Take a look at the monthly overview to see the big picture. This will make you aware of any deadlines so you can be sure to get those things done before they're due. You'll be less likely to forget things when you review them at the beginning of the day or week.
REMEMBER…
There are always little things that will slip through the cracks. And that's okay! Don't let it stress you out.  Instead, plan on getting those things done for the following week.
By following these tips, you'll be well on your way to planning for everything even if you're on the go. Tell me, what tips or strategies have helped you use your planner on the go? Share them with me!
*Please note that some of the links in this post are affiliate links. If you click on the link and purchase the item I will receive a small commission or referral fee at no extra cost to you. Regardless, I only recommend products or services I use personally and believe will add value to my readers. Thank you for supporting this blog!*