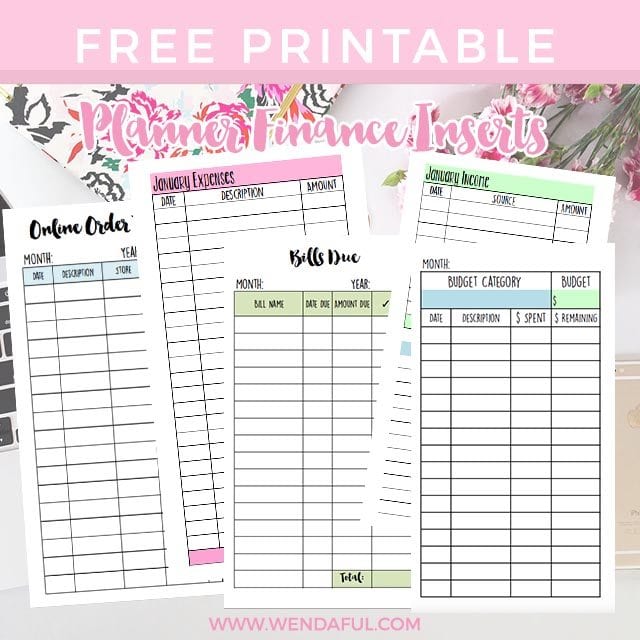 Today I will be sharing with you one of my most useful sections in my filofax! I have been using my Personal Filofax Original for months now and I have just finished perfecting its setup. I will do a setup post in the future but for now I wanted to share my financial section. I use two sections in my planner to keep track of my finances. One is for personal use and the other for my etsy/blog. I have created a few printables to help me better plan and take control of my finances better. You can download them at the bottom for either personal size or pocket sized filofaxes. If you'd like to see more on how I use these inserts in my planner then keep reading below!

Personal Finances:
So the first tab is called "Finances" & this holds my personal bills, a categorized budget, and an online shopping tracker. I didn't need to write down every expense in my personal life as that would be pretty overwhelming, I have online banking to do that for me already. I needed something to remind me when my bills were due, how much and if I paid them or not for that month already. I sometimes forget if I paid it for that month or not and sometimes pay it twice in the same month. So this monthly bills tracker has definitely helped me.
The next section (separated by a Martha Stewart tab from mypapershoppe on etsy) is my budget. Now I have always wanted to try the envelope system but carrying cash is just not an option for me so I made these categorized budgeting sheets instead. I only budget for groceries, eating out, and personal shopping. Those are the areas where I tend to over spend so I wanted to make sure I set a budget within those categories so I don't go overboard in a month. The way this works is that I write in my budget category, for example Groceries, and write in my budget amount, $500, every time I go grocery shopping I write down how much I spent, and how much I have left for that month (by subtracting from the budget amount). If the remaining hits $0 I cannot spend any more on groceries for that month. I love this system and it has been helping me a lot in not over spending.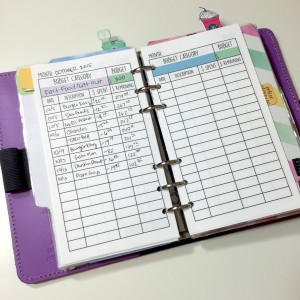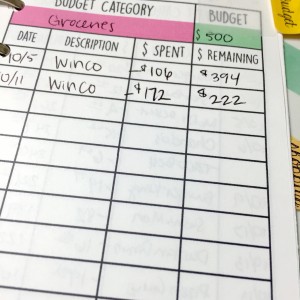 The final section in my personal finances tab is my online shopping. I shop online a lot these days because trying to shop in stores with two toddlers can be very tiring. I am always on Etsy or Amazon (thanks to amazon prime) and buy just about everything online & sometimes lose track of what or when something I've ordered is coming, so this section is great for that.
Business Finances:
My next tab is called "Etsy" and is for keeping track of all of my business transactions. When you first open it up you will see a whole year's worth of monthly income and expenses sheets. As an online business I receive income from many different sources so I needed a sheet to keep track of all of that. It is very unpredictable and changes all the time so I needed space to keep track of where my income is coming from so I can see how much I am making every month. On the following page is my monthly expenses. I keep track of all of my business expenses here so I can write it down quickly here and later input it all into my go-daddy bookkeeping account later for tax purposes. I typically just write it down in my business notebook, but I liked having it in my main planner too since I always have that on me. These sheets also have a notes section to jot down any information, notes or anything else.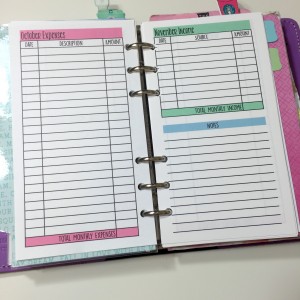 The next section in my Business finances tab is my time tracker printable. I use it to see how long I have worked for. I keep track of time I've spent blogging, printing and cutting, making samples, packing orders, taking pictures and more! So I can see how many hours I've worked in a day, week or month. It also helps me so that I am not overworking myself. The problem with working from home is that you have no set hours, you can work whenever and sometimes that means you can work forever. So keeping track of time is important!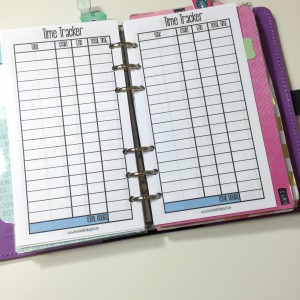 The final section is another online order tracker printable. I use this section to keep track of online orders relating to my business. So if I've ordered sticker paper and am expecting it I will know when it should be arriving. or if I need to order more soon!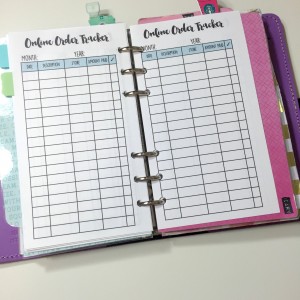 So that's a little part of my filofax setup! Now you can create one just like it or a part of it in your filo as well with my free printables below! You can print these directly on pre-cut paper (i get mine cut at Staples for about $5, I have over 1000 sheets of personal sized papers now!) I also included a double sided version for the monthly income/expenses printable which you can print on 8.5 by 11 in paper, and trim using the crop marks yourself.
 
Downloads:
Personal Size
Pocket Size
Thanks so much for reading and enjoy these printables! Please remember these are for personal use only & do be sure to tag me @wendafuldesigns or #wendaful so I can see!