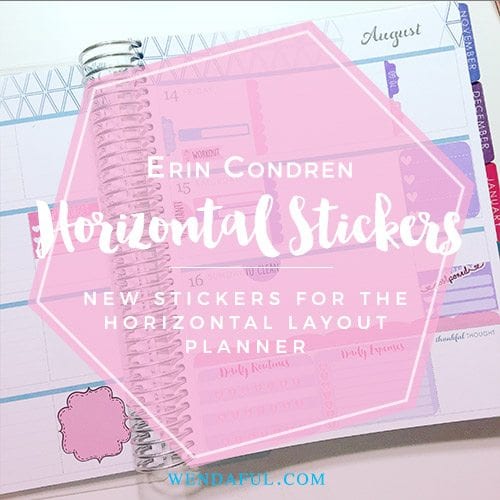 Hi Everyone! I wanted to share with you some of my new releases for this week! I have been working day and night trying to fill open orders while designing new stickers. I just got a horizontal erin condren planner and definitely needed some stickers for that so I made quite a few! I haven't officially started planning in this planner yet because I have a great system going on in my personal filofax, but I was at staples and just had to pick it up with my 20% off coupon! Right now though, you can get it for 25% off at erincondren.com, but hurry this sale ends at midnight on October 25th! You can also get $10 off for signing up with this link here!
So here are the majority of my horizontal stickers! A lot of them can also be used in the Vertical planner as well because the width of the last box is the same! So I made a new section in my shop for stickers that can only be used in the horizontal layout, as well as a section for vertical planners.  I kept out the stickers that can be used in any planner and just left them in the functional planner stickers section.
One of my favorites of the horizontal stickers are my daily routines checklist stickers! I had to update them because it only had 3 sections before and when I was writing it in I was like omg! I can totally double it! This new version is so better!
I also made some ombre heart weekend banners! Aren't they adorable? I love making the weekend standout, because it's the best time to spend with the family and relax!
These artsy tabs are just perfect for calling attention to important appointments or events in your planner! You can use them sideways or upright. Either way it points to your event with the pointy tip! I just love it! You can easily fit two sideways in the horizontal box!
These scalloped dividers are perfect for separating your sections in your planner! I also use them as checklists by just drawing little hearts! It makes the horizontal planner so much more organized!
Here is an overview of a tons of my horizontal stickers all on one page! There are scalloped borders, skinny labels, artsy tab arrows, dividers, and more!! i hope you like these stickers! Check out the whole collection in my shop now!