With so much on my plate right now, I really needed to see how much time I was spending on everything. I needed to keep track specifically on how much time I spent on my blog and shop. I downloaded this app on my phone, called aTracker, and it is so great! You can input different tasks, and each has an icon/color then it creates a pie chart to let you see how you spend your days. The lite version only allows for 4 categories so I chose "packing orders", "printing & cutting", "pictures/videos" & "social media". This app is awesome in helping me keep track of time, but my phone dies often, or sometimes I just don't have it by me when I am working on the computer. I also wanted to be more specific with my time tracking, and I really just wanted to keep track of time in my planner so I made this free printable to do just that! You can download this printable in 3 different sizes down below!
How to use this printable:
Tasks
Have a task you'd like to keep track of? Maybe you want to use this printable for work hours, or see how much time you actually spend browsing your phone, or exercising? whatever you need to keep track of write it down in the tasks list. Try to keep your tasks all in one category so at the end of the week you can see how many hours were spent doing that specific activity. For example, if you choose to use this for exercising, instead of simply writing exercise in the tasks lists, you can write down what workout you did. Like I said earlier, I am using this to see how many hours I work in a week on my blog and shop. So I separated the tasks into "packing orders", "printing & cutting", "pictures/videos" & "social media". I also should add a section for writing blog posts, making printables, and designing new stickers! (all things that I do for my blog and/or shop!)
Start/End Times:
Then simply write down the time you started doing that task, andt he time you ended it.
Total Time:
Afterwards calculate the total time you spent on that one task. Example if you started exercising at 8:00am and ended it at 9:30am then you would write down 1.5 hours in the total time column.
Total Hours:
At the end of the week you can calculate all of your total times by adding it all up and seeing how much time you spent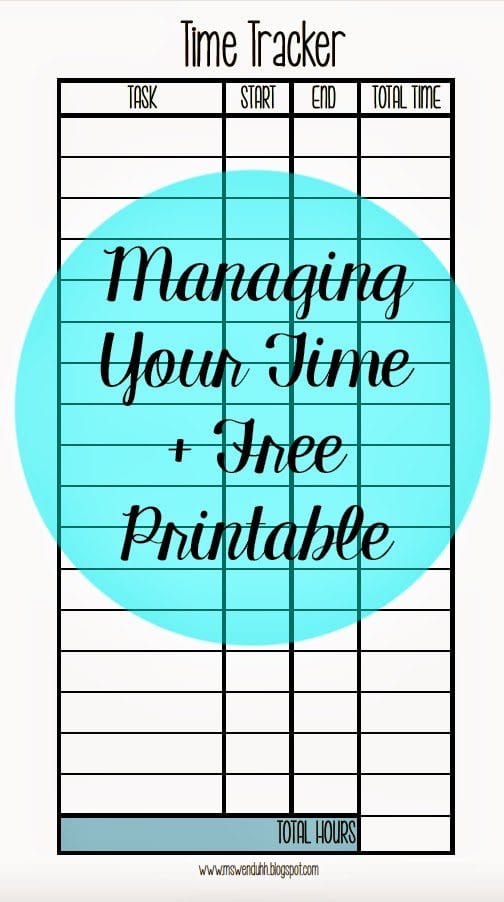 What do plan on keeping track of? I hope this helps you manage your time better!
Trouble?
If you are having trouble printing this printable, I have found through many other readers that it prints out in actual size better if you first download the file directly onto your computer first, then opening and printing that file from there. be sure to print at 100% or actual size and use these instructions to see how I print my inserts!
This is for personal use only! If you do end up using these I would love to see pictures. Tag me on Instagram @wenduhh_plans or #mswenduhhblog
Please do NOT share the actual file or file link. Instead please send your friends here to download my free printables, thank you.

This work is licensed under a Creative Commons Attribution-NonCommercial-NoDerivatives 4.0 International License.