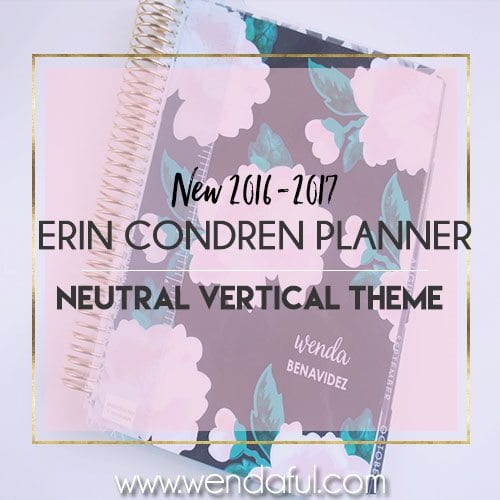 On June 1st, Erin Condren came out with their newest planners for 2017. I'm so grateful to the team at Erin Condren for sharing with and providing me with this planner so I could share with you all of the new features of their new planners! If you haven't ordered one yet, what are you waiting for? This planner is the planner of all planners. It was what got me started in planning in the first place. It is fun, yet functional!
This year Erin Condren came out with so many new features to her planner line.
I went with the vertical neutral color scheme. When I first saw this planner I knew I had to get it! What sold me were the cute script fonts throughout the planner. Though it's neutral, there's nothing plain about it. It's a classic and elegant look. This post will be a look through of all of the pages and what changes has been made to this new planner. You will fall in love with all of the new customizations, new covers, and new ways you can make this planner YOUR planner.
Before we get started I wanted to share with you all of the choices you will get to customize your planner with this year…
Covers

Luxe Cover – This hard-bound leather-like cover looks and feels like leather but really isn't. The luxe covers are not able to be personalized but comes with an inspirational quote in rose gold, gold or platinum. These covers are permanently coiled in so you can't change it out. You can get them in the three options below

light taupe with metallic silver coil
teal with metallic gold coil
deep plum with metallic rose gold coil

Interchangeable Cover – these are laminated, removable covers we're familiar with but this year they come in some beautiful new designs! You have a variety of choices for customizing and personalizing your cover!

Interior Color Themes

Colorful – classic beautiful colors – colorful and fun color scheme throughout the planner. Each month has a different color so you can plan colorfully everyday.
Neutral – in shades of gray and black – this neutral theme has all black tabs, a different font theme, and more simple minimal look. It's perfect for us planner addicts who love to use lots of stickers without worrying if it will clash with a certain color. 

Preferred weekly layout

Vertical – the classic vertical layout. My personal fave. This layout features three unlined boxes vertically arranged on the page. You can separate the boxes for different categories for however fits you best: morning, day, night – work, home, family – school, errands, home – today, to do, extras, etc.
Horizontal – Perfect for people who use a horizontal in their other planners and can't quite switch over to vertical planning yet. These lined boxes stretch horizontally across the page.
Hourly – For those with busy schedules and need to schedule their appointments and to do's by the hour! These lined boxes are arranged vertically from 6 am to 7 pm. You can alternatively ignore the times and plan within the lined vertical boxes.

Coil

Metallic gold
Platinum
Rose Gold – YAY!
Black
So many options right?! To order your planner head on over to erincondren.com and start customizing your perfect planner for you! & for $10 off your first purchase use my sign up link here to save yourself some money!
Now on to all of the pictures of my new planner!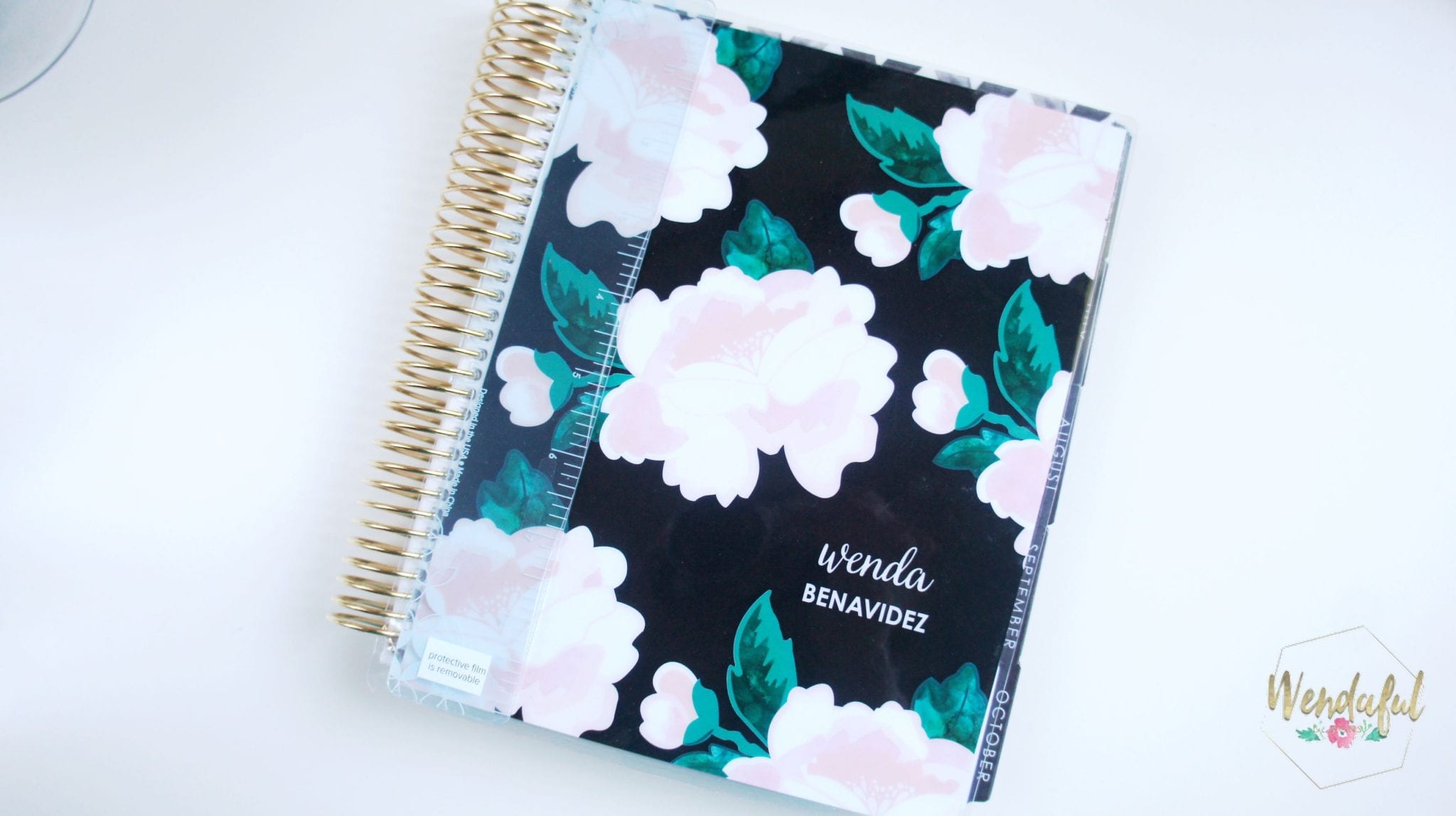 I went with the new blossom design interchangeable cover. I just love that script font!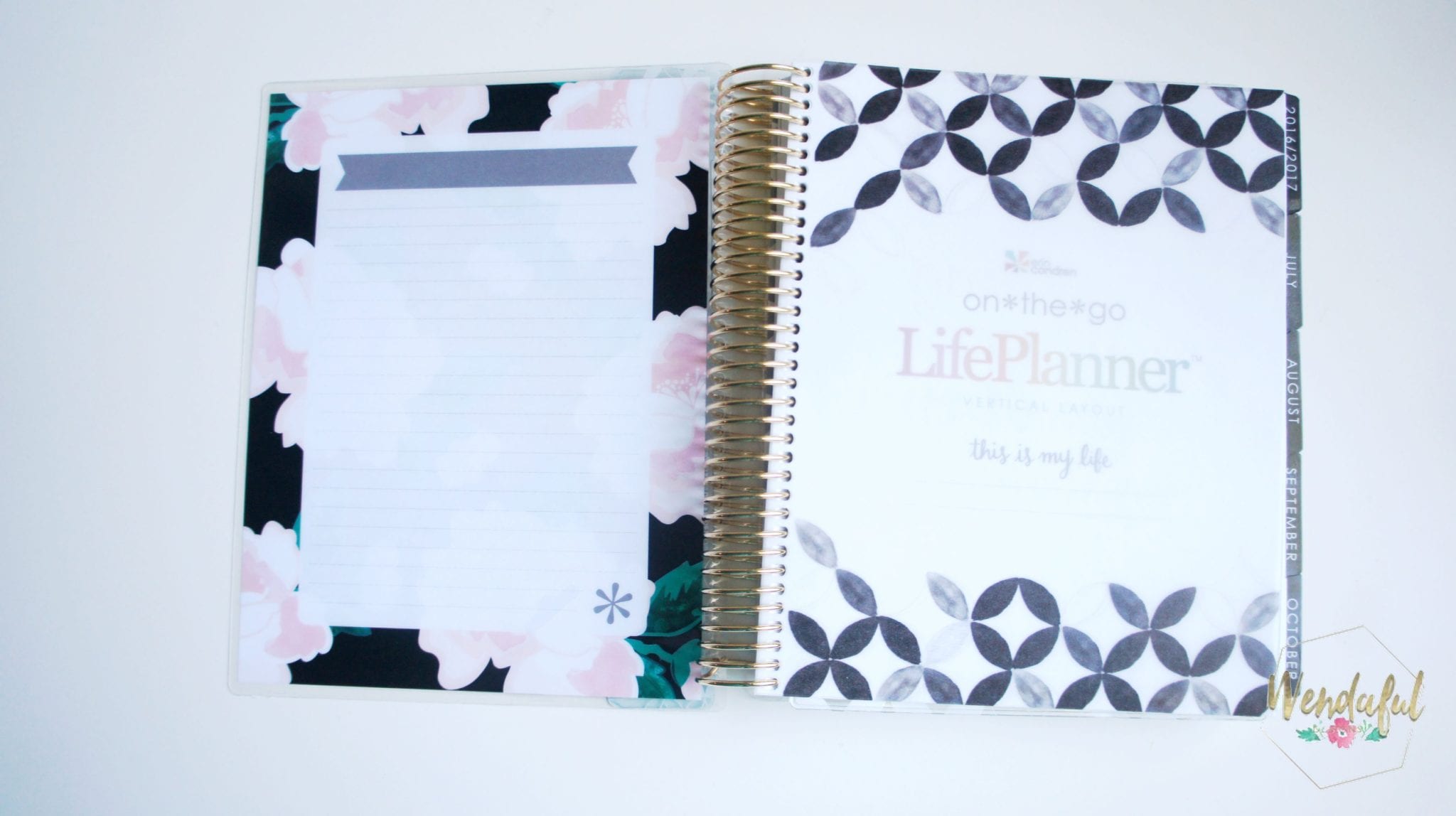 The new covers have a lined dashboard in the front to use with their new wet erase markers. I also had to show you the gorgeous vellum in watercolor mid-century circles. The vellum is a bit thicker this year yet still transparent.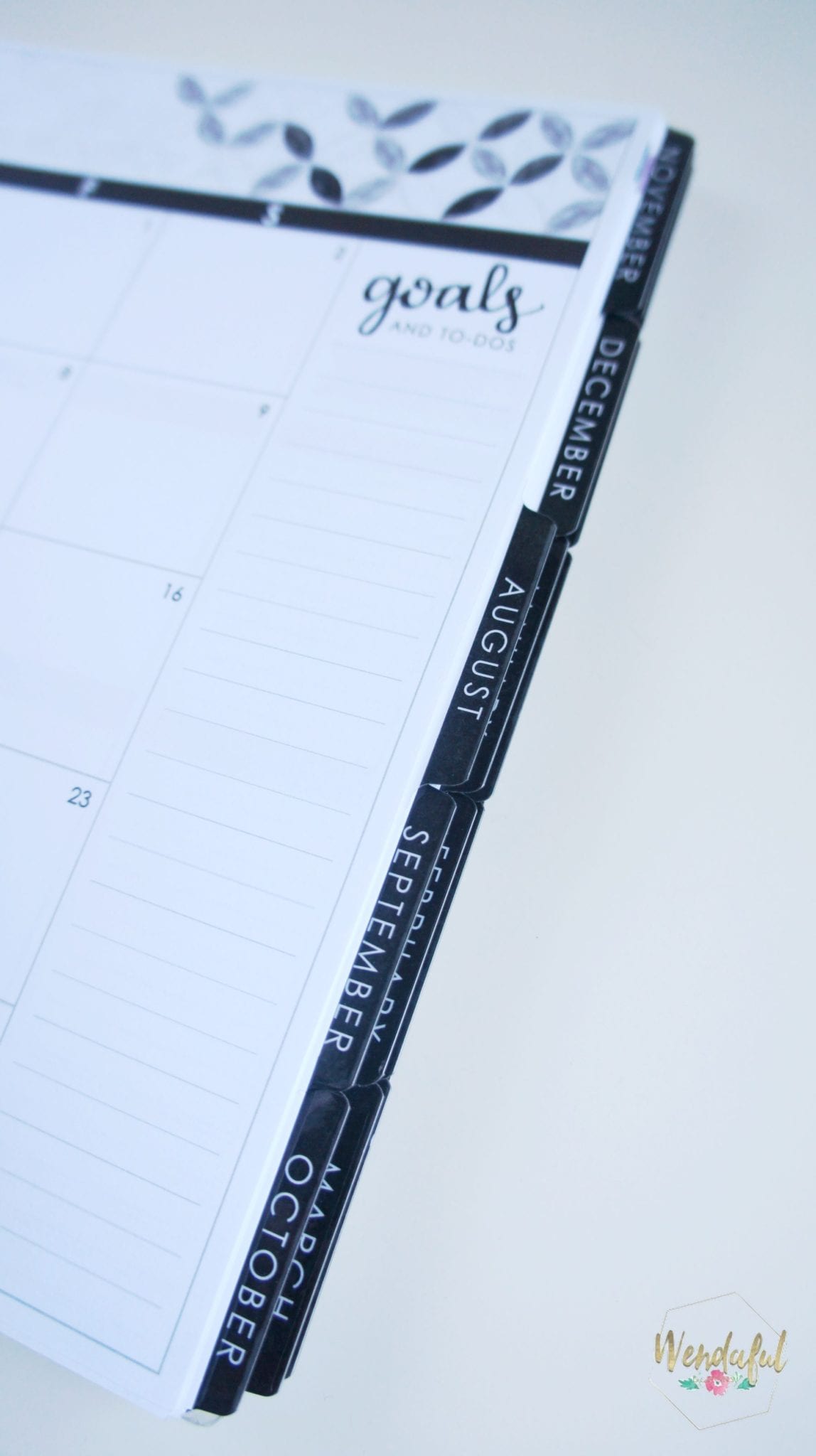 The neutral planner features all black tabs for a classic professional look.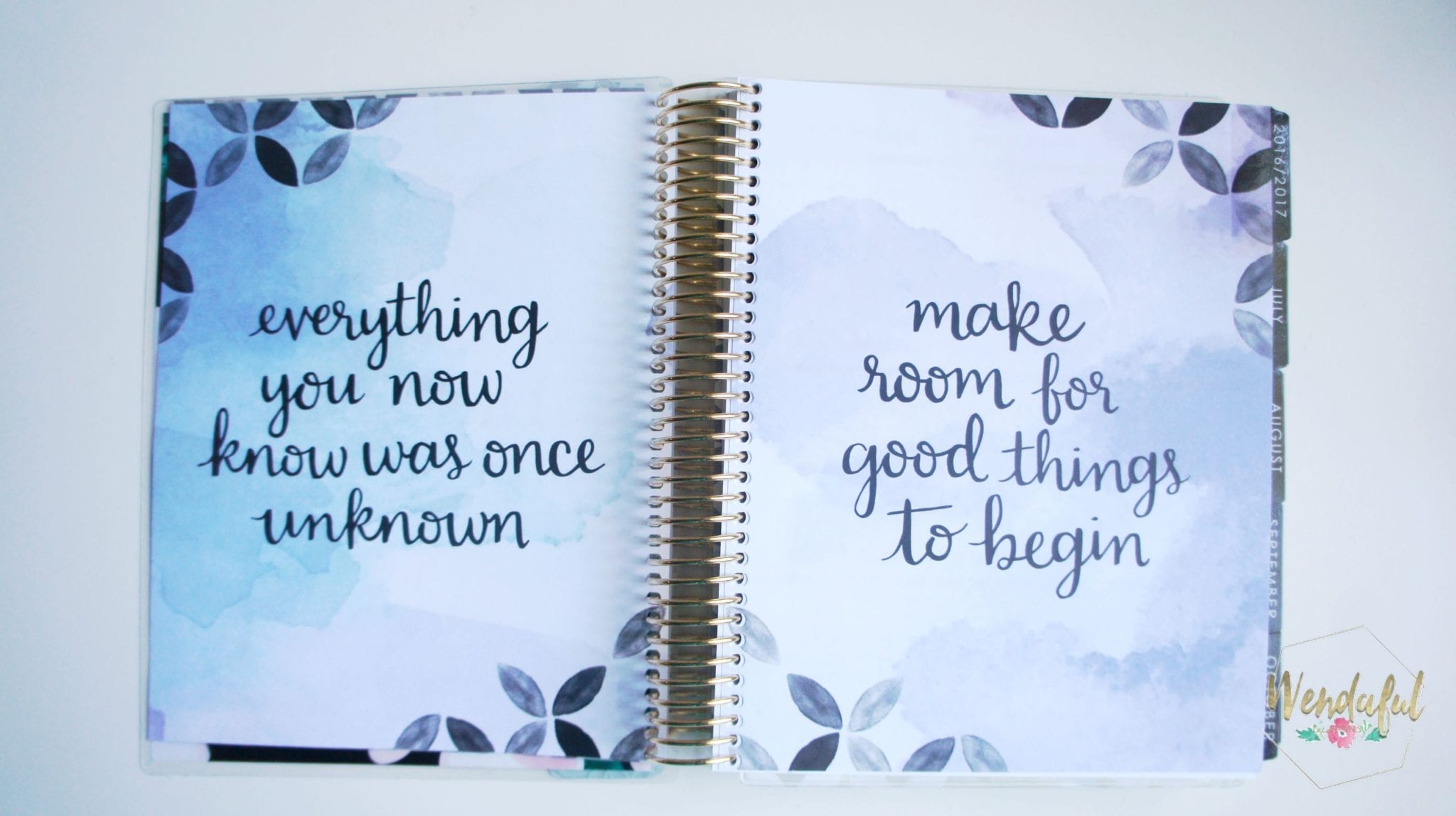 Cute watercolor script inspirational quotes throughout the planner.s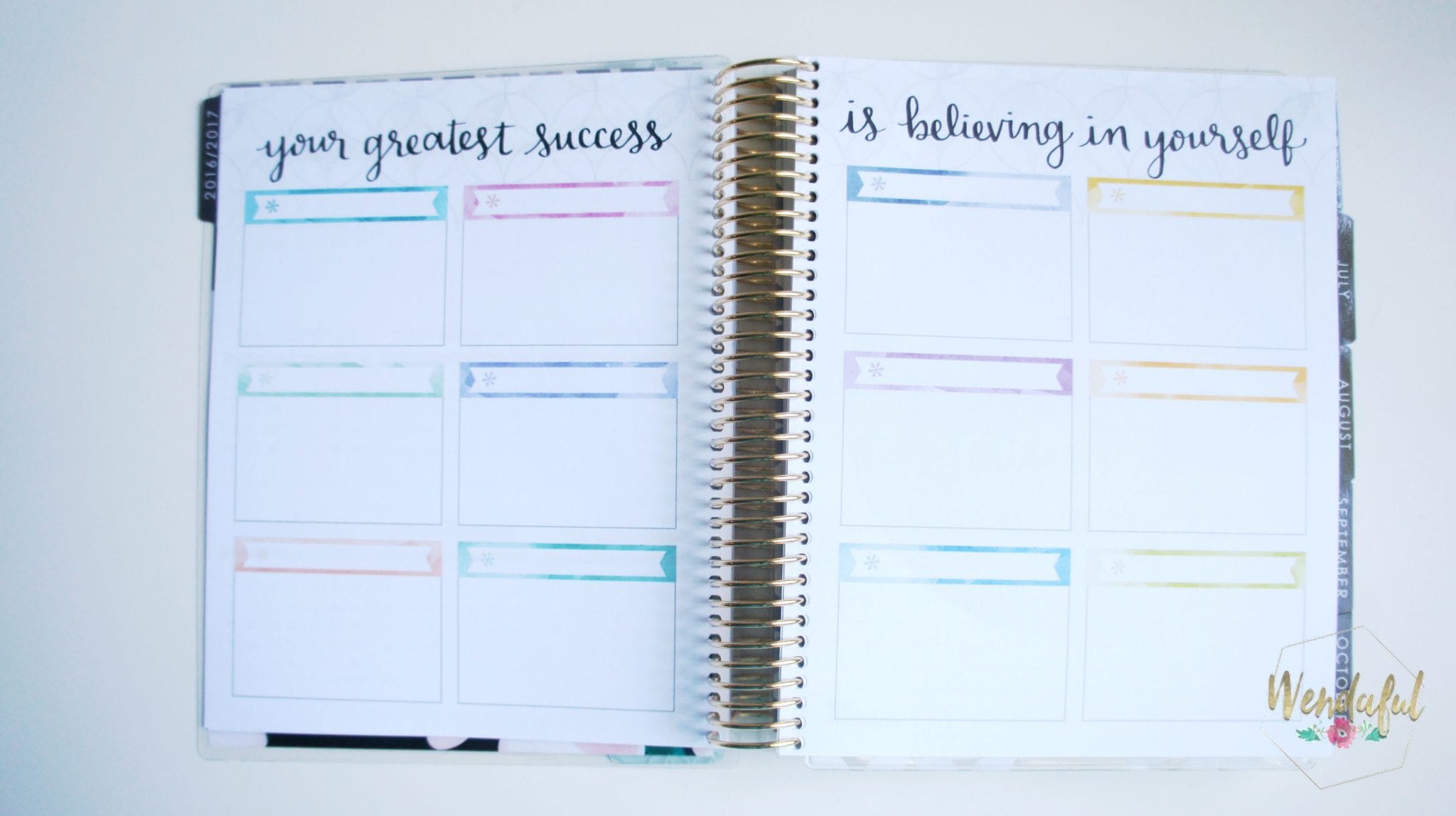 A new and improved goals spread which utilizes much more space. Write down your own personal goals in each box. Some of my ideas for this section would be: Financial, Family, Travel, Home, Career etc. Or use it to journal your top restaurants, books, places to travel, blog ideas, bucket lists etc.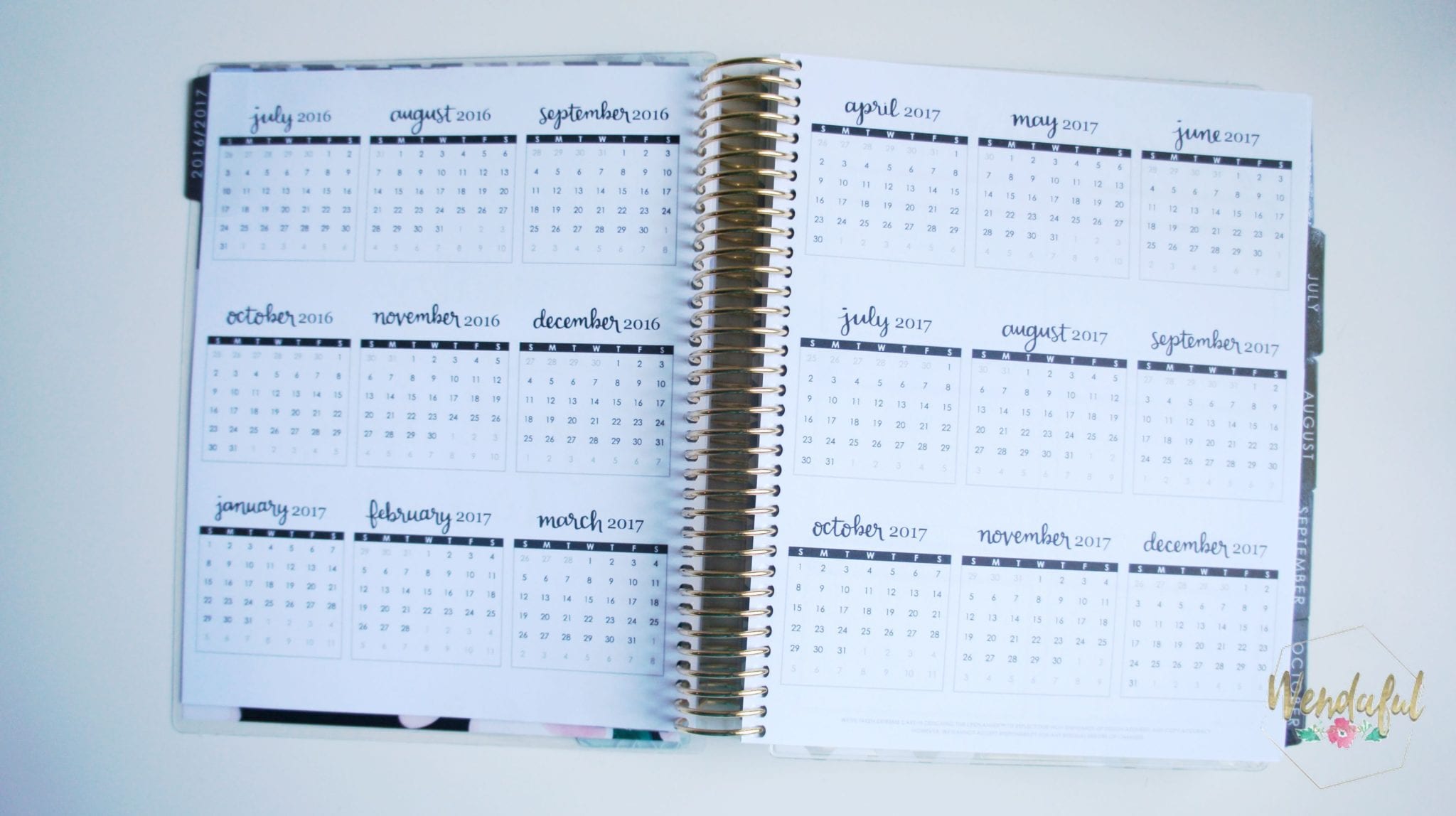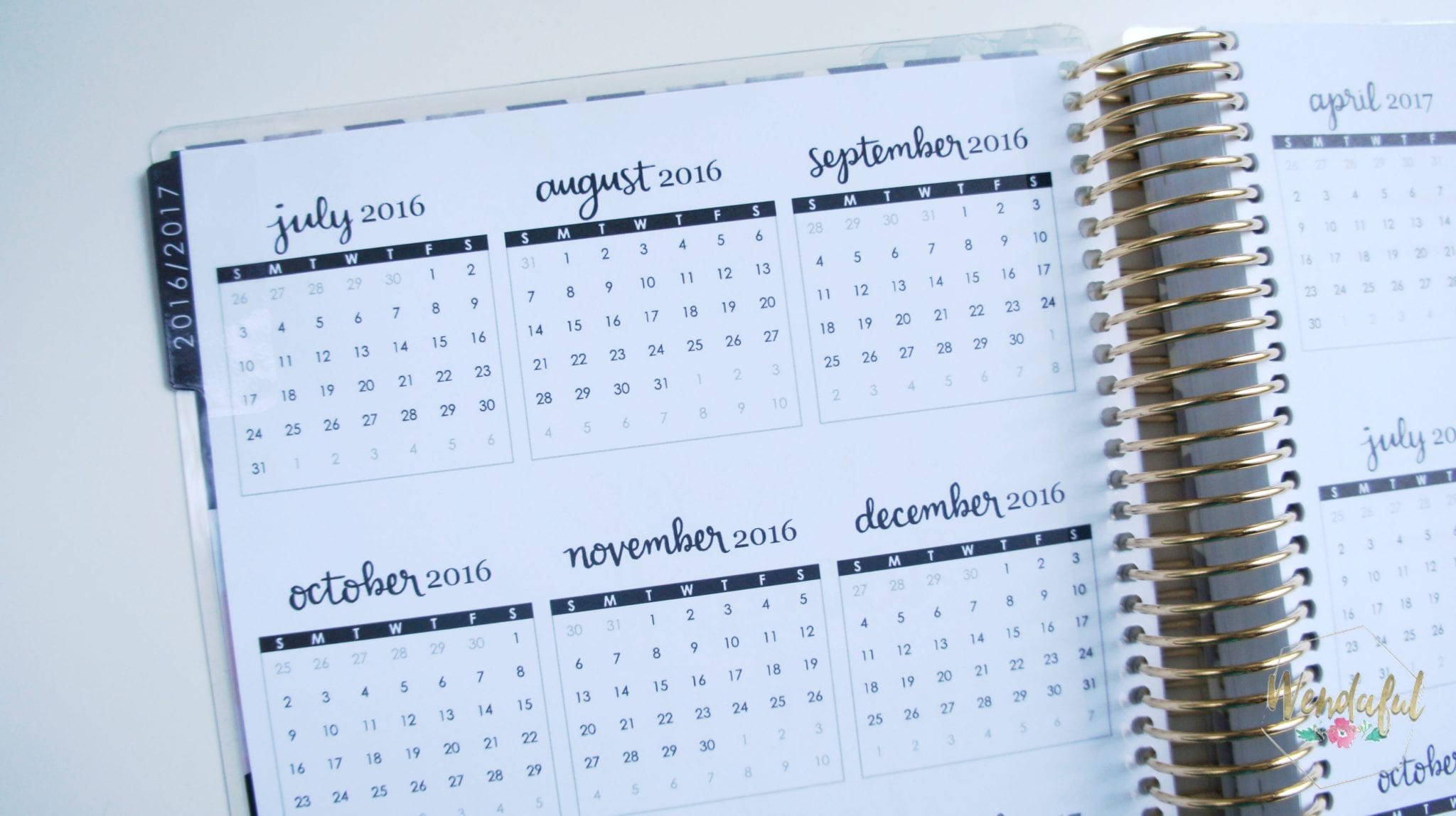 A pretty 2016-2017 18 month yearly calendar overview. With the cute scripted font! Use this section to track important dates, countdown to a special event, or keep track of your work days, school days, etc.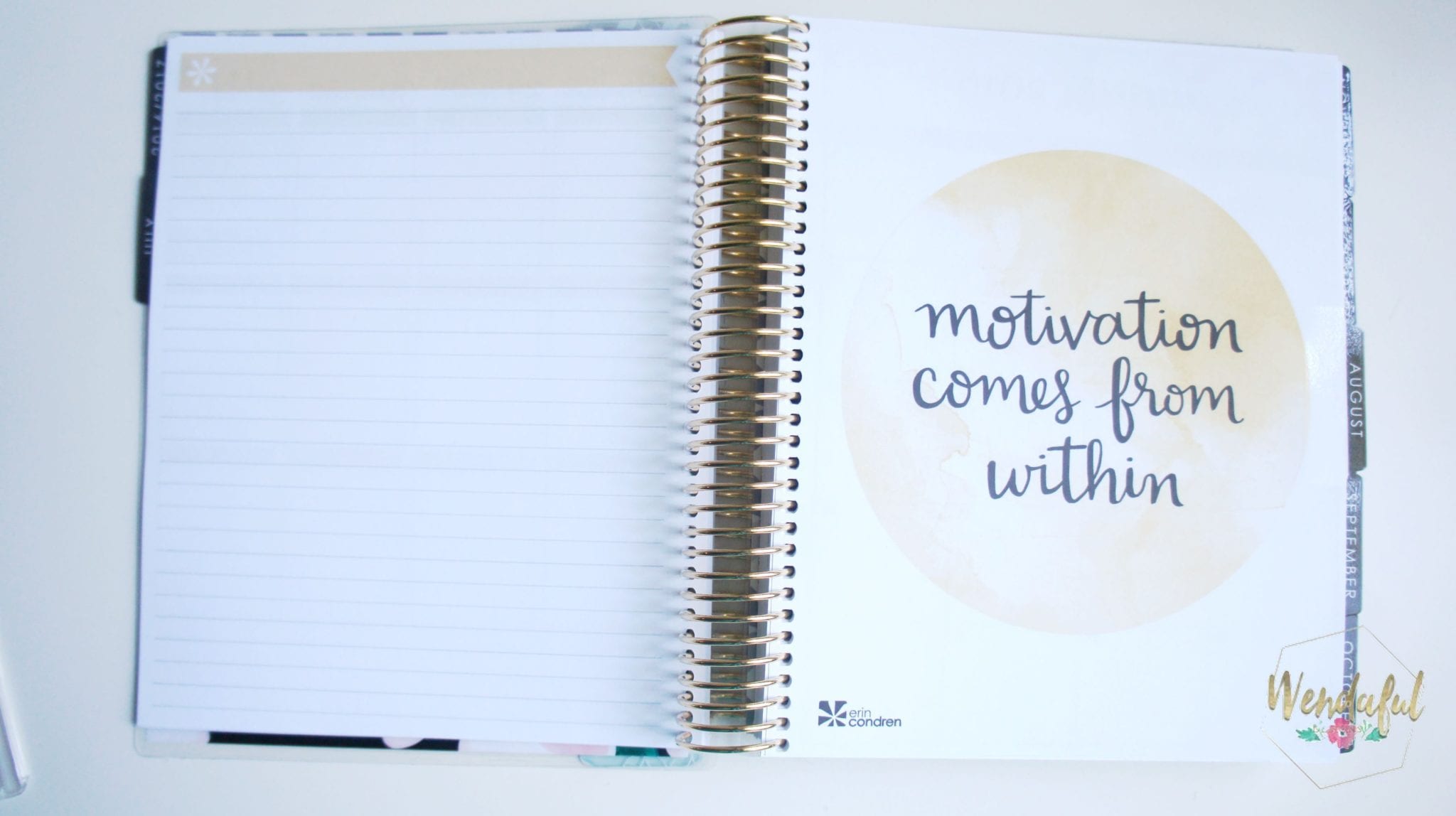 Before each month there's a lined notes page followed by a cute inspirational quote. I love having this page before each month so I can write down important goals for the month, projects I hope to get around to, budgeting for big purchases etc.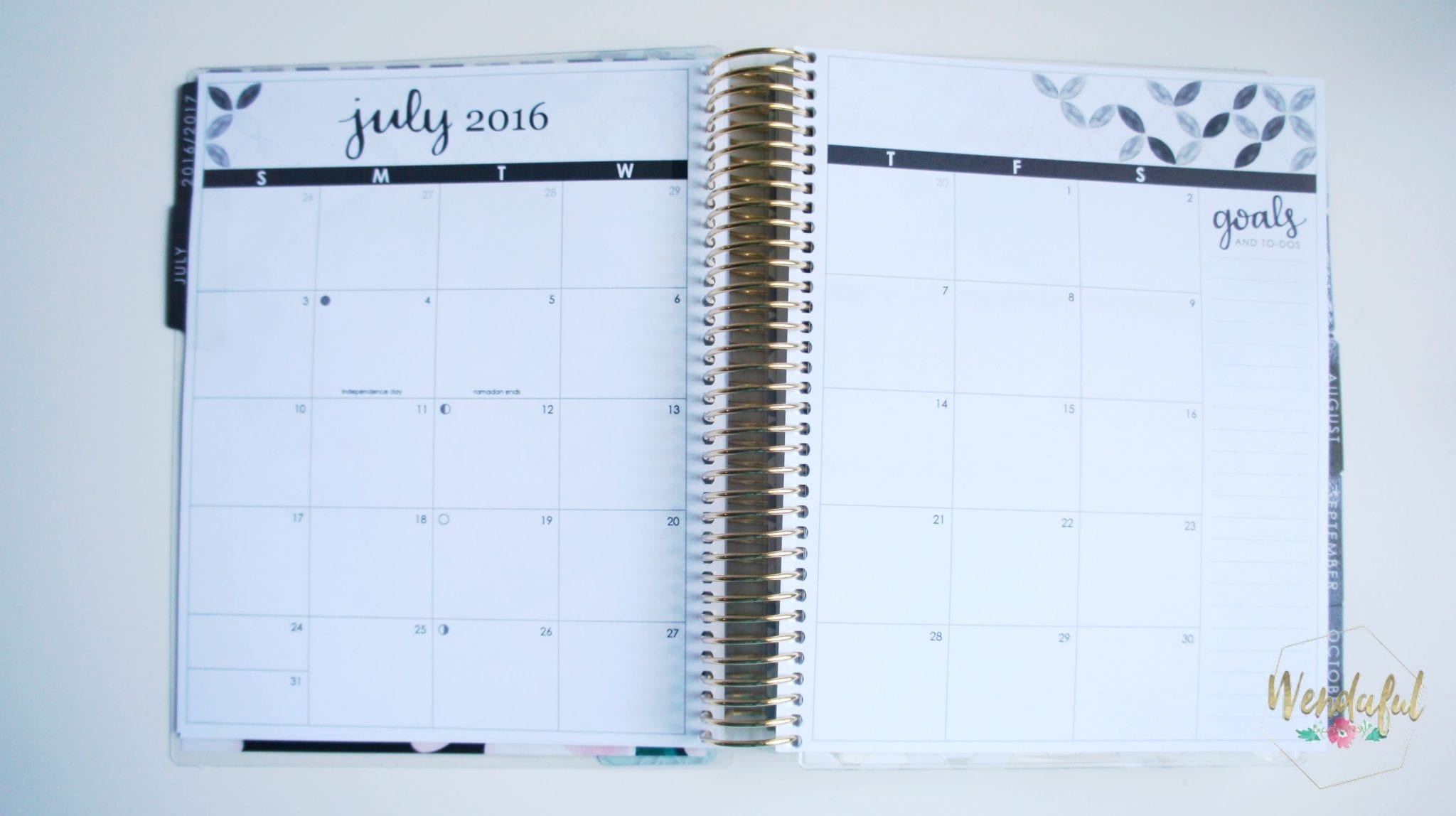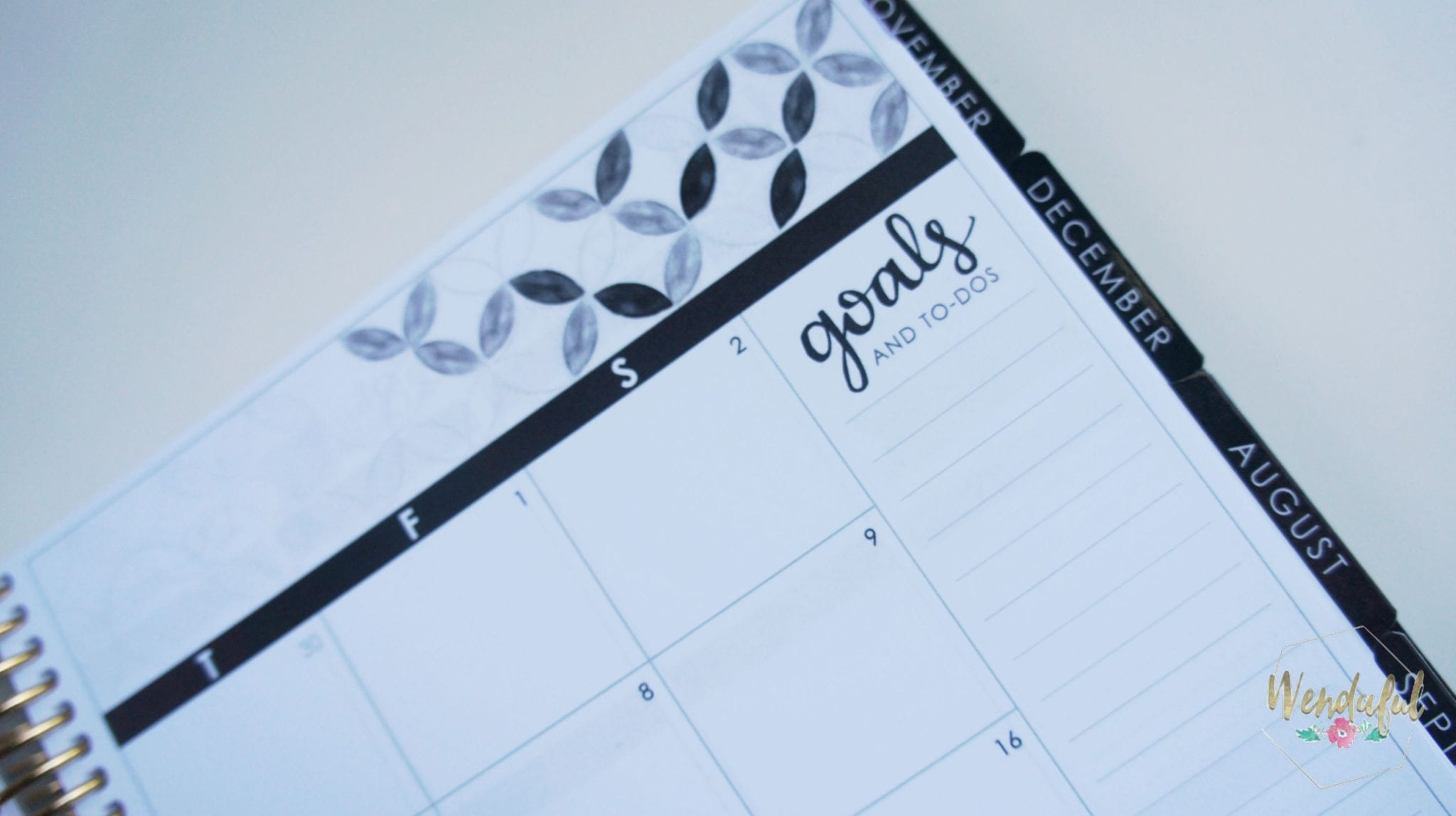 The neutral monthly pages includes unlined boxes in the monthly view with lined goals and to do's on the right hand side bar. There's no color except for the watercolored mid century circle designs, so you can decorate as you please.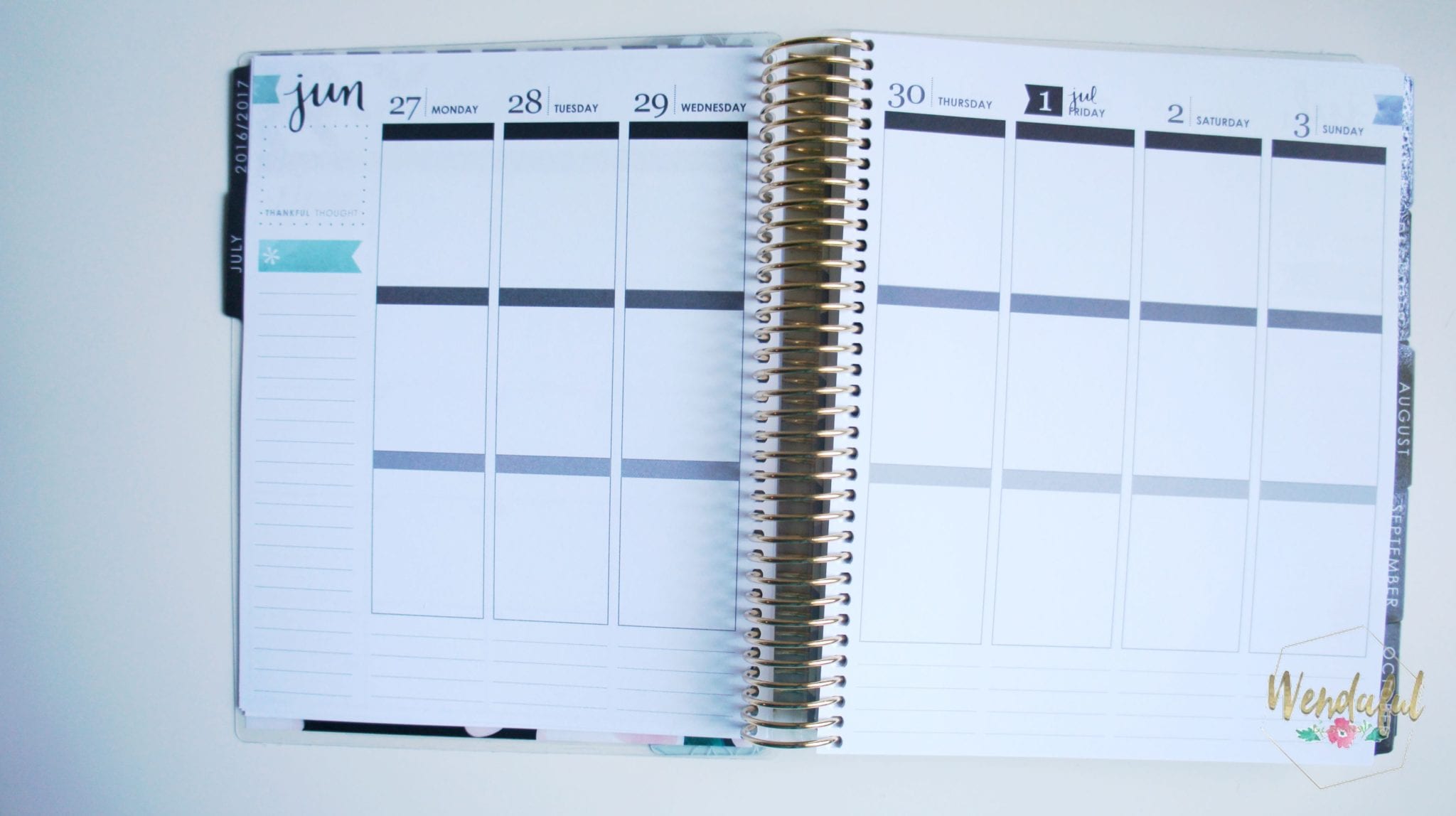 There is very little color on the weekly spread pages of the neutral layout. The only colors besides black and gray are the little flags over the weekly to-do list which coordinate for each month. When the month changes in the middle of a week the neutral hourly planner indicates that visually by designating the 1st day of the month in a colorful new flag. This keeps the theme simple, but allows the first day of the month to stand out on the page.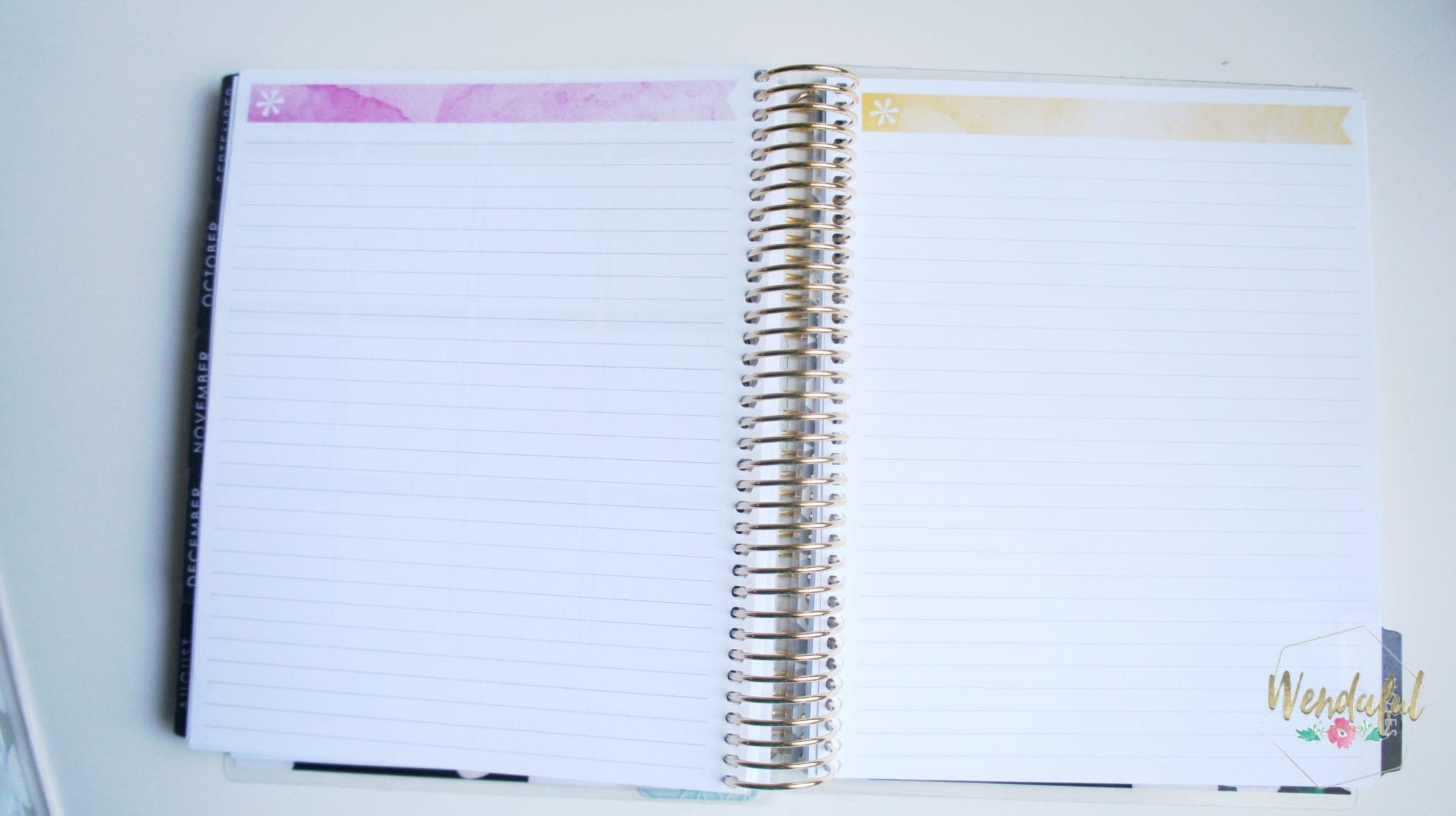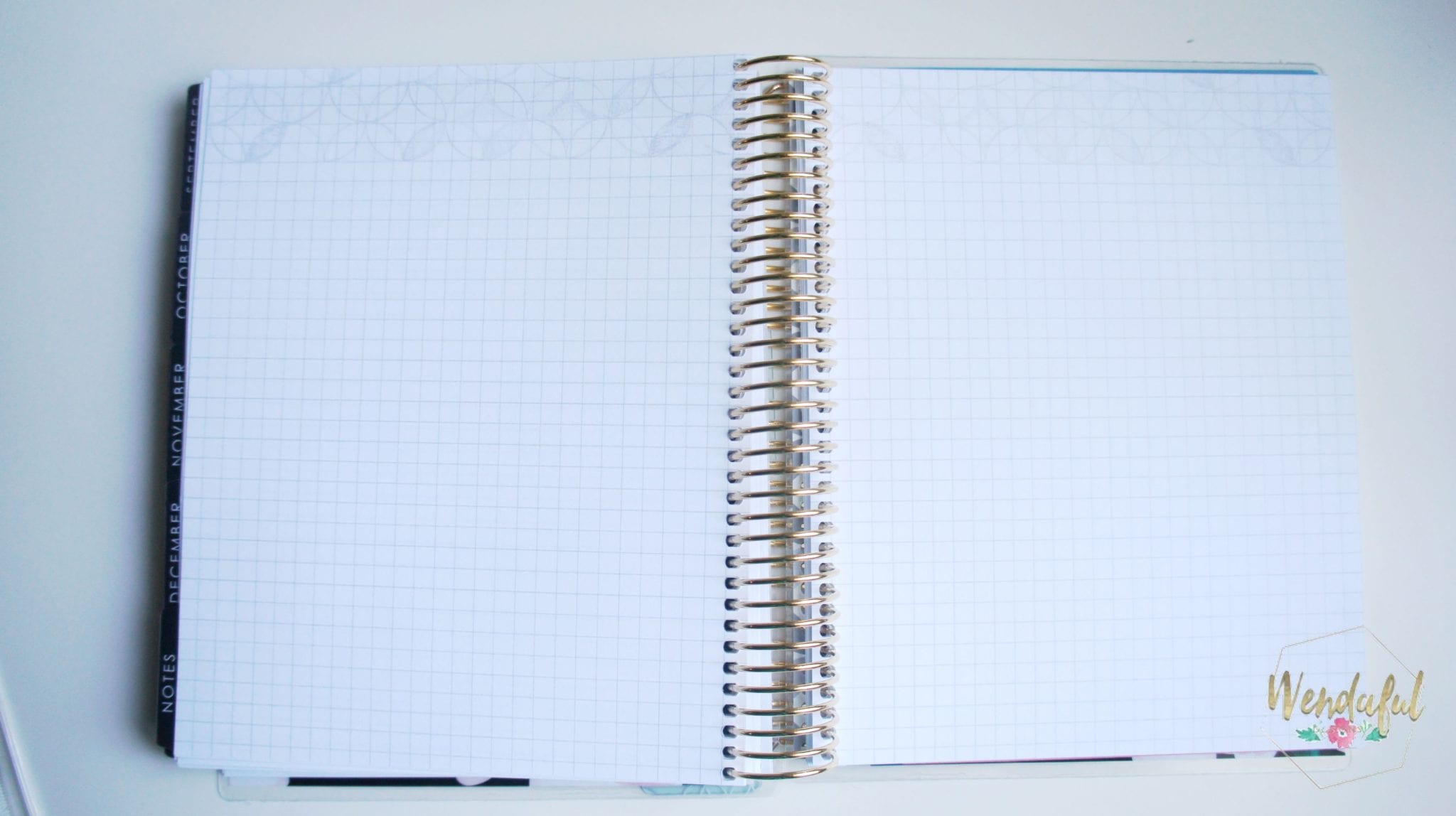 The notes pages include lined, grid and blank pages! There are between 4-6 pages of each all in the back notes tabbed section. I love using grid pages to jot down lists! They all have different designs at the top as well.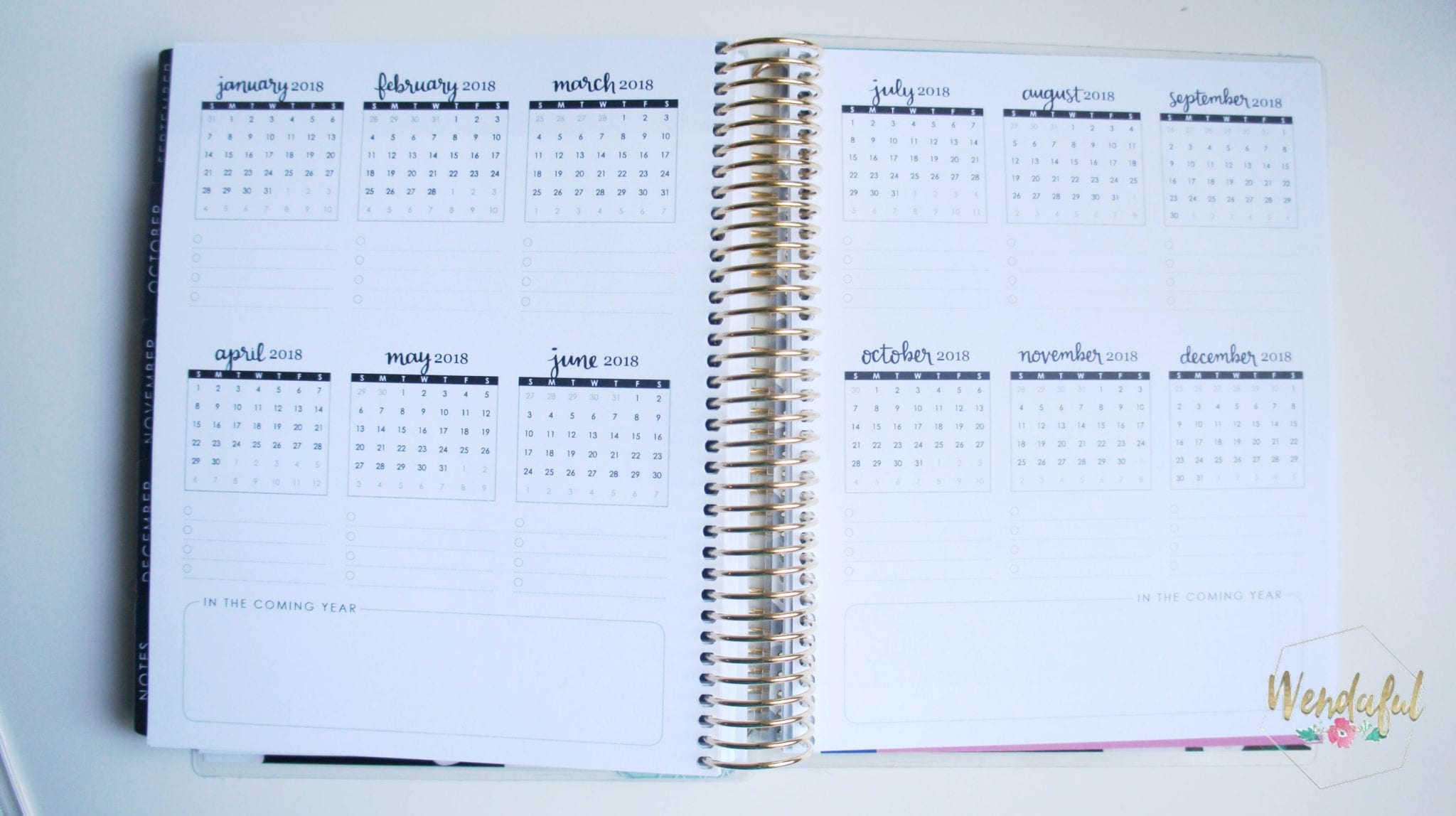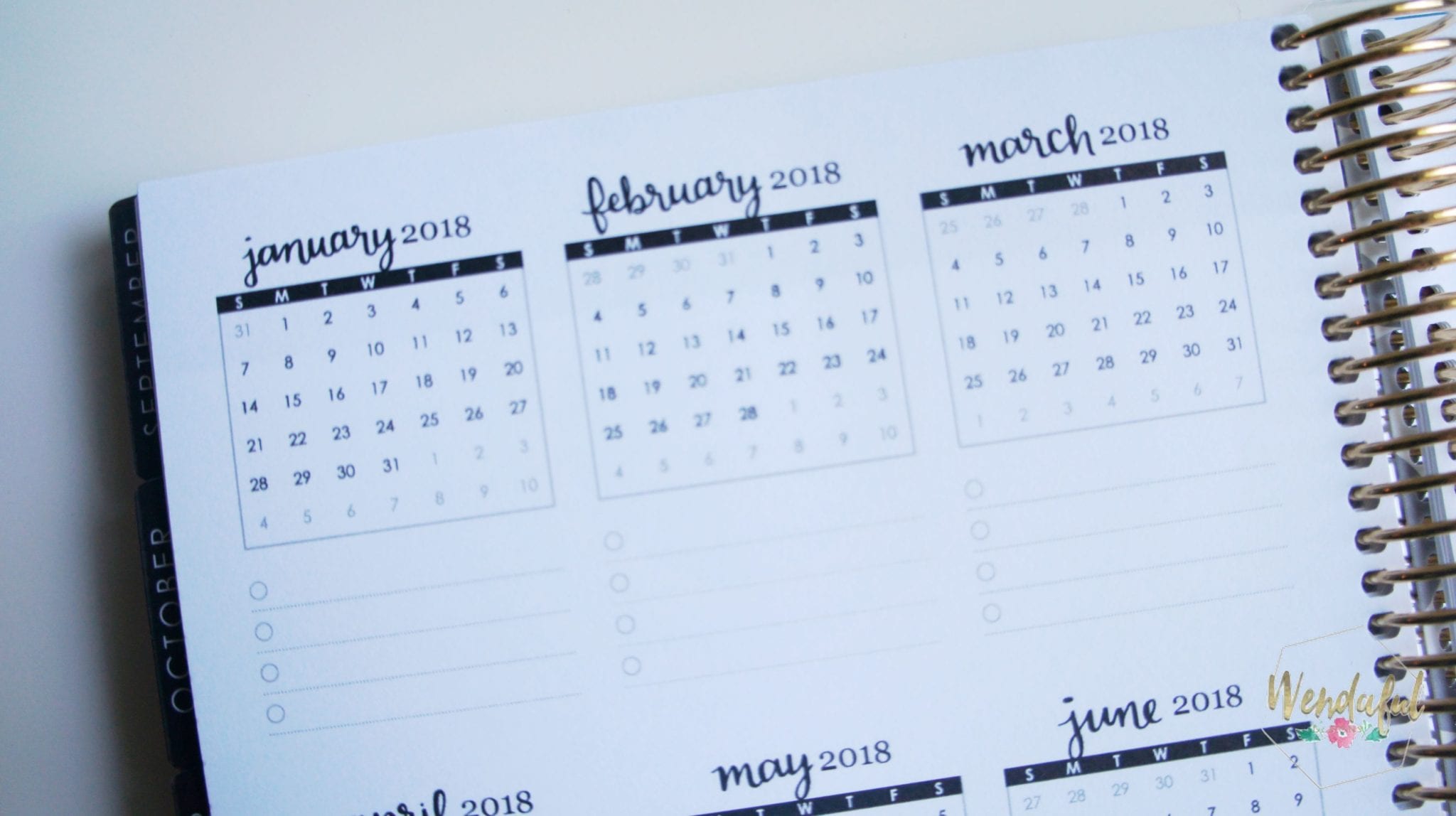 Following the notes pages is a great new addition – the in the coming year 2 page spread for 2018! So perfect for future planning! Whenever I have dentist appointments they always fall in the following year and I usually just write it down in my notes section, now I can actually plan it and switch it over to my new planner next year just by looking at these pages!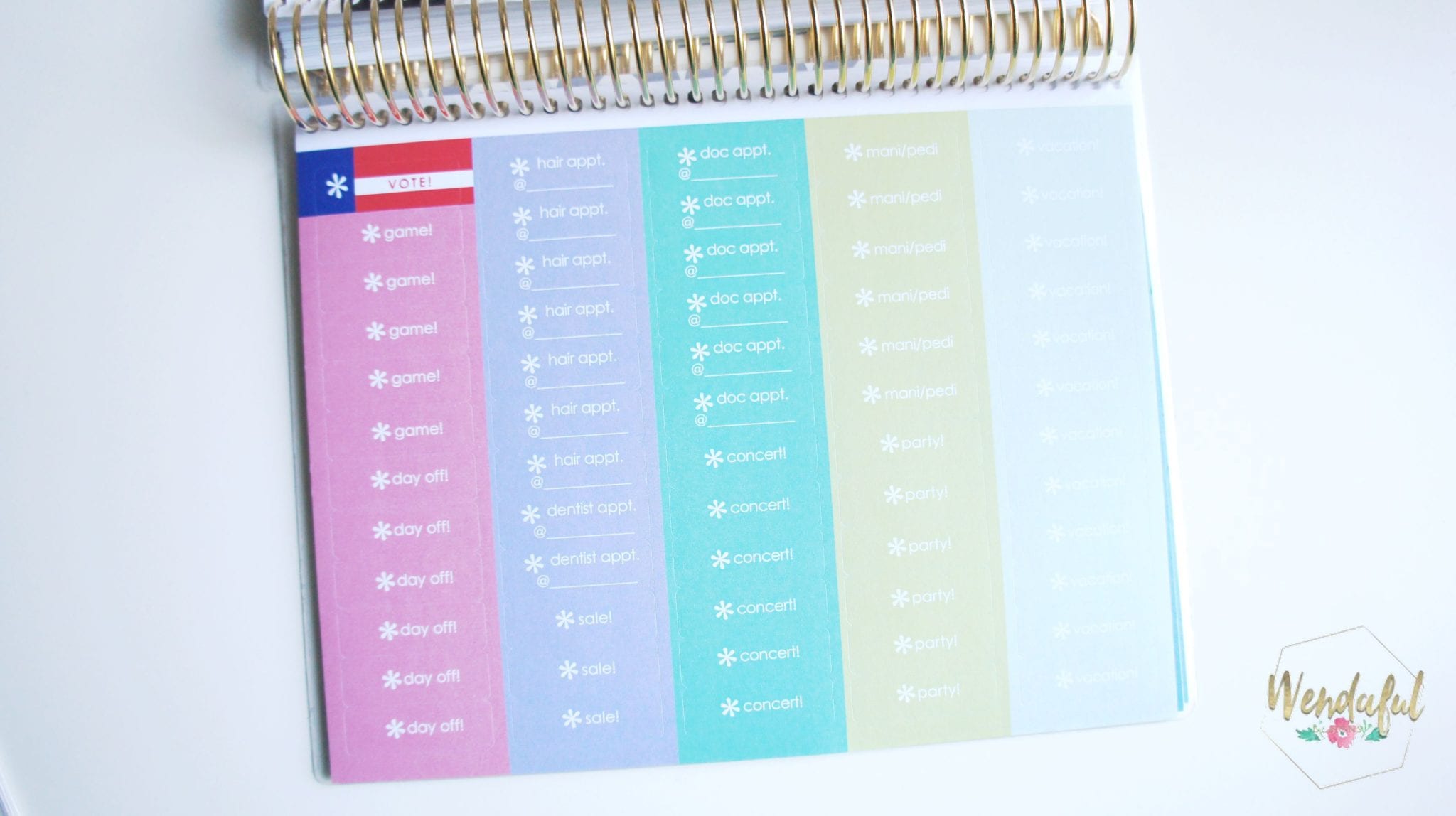 Original rounded rectangle removable appointment stickers!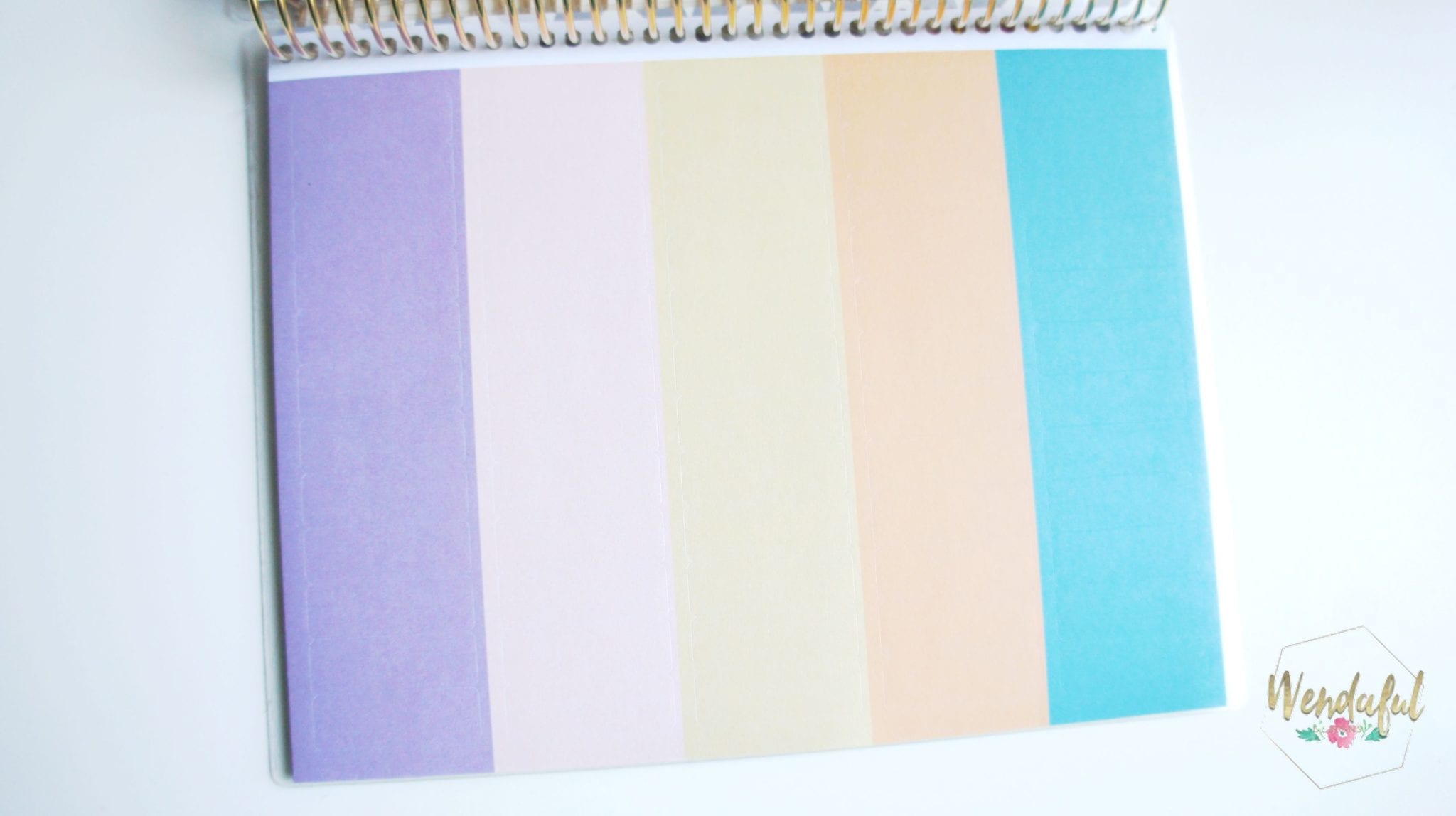 Blank rounded rectangle stickers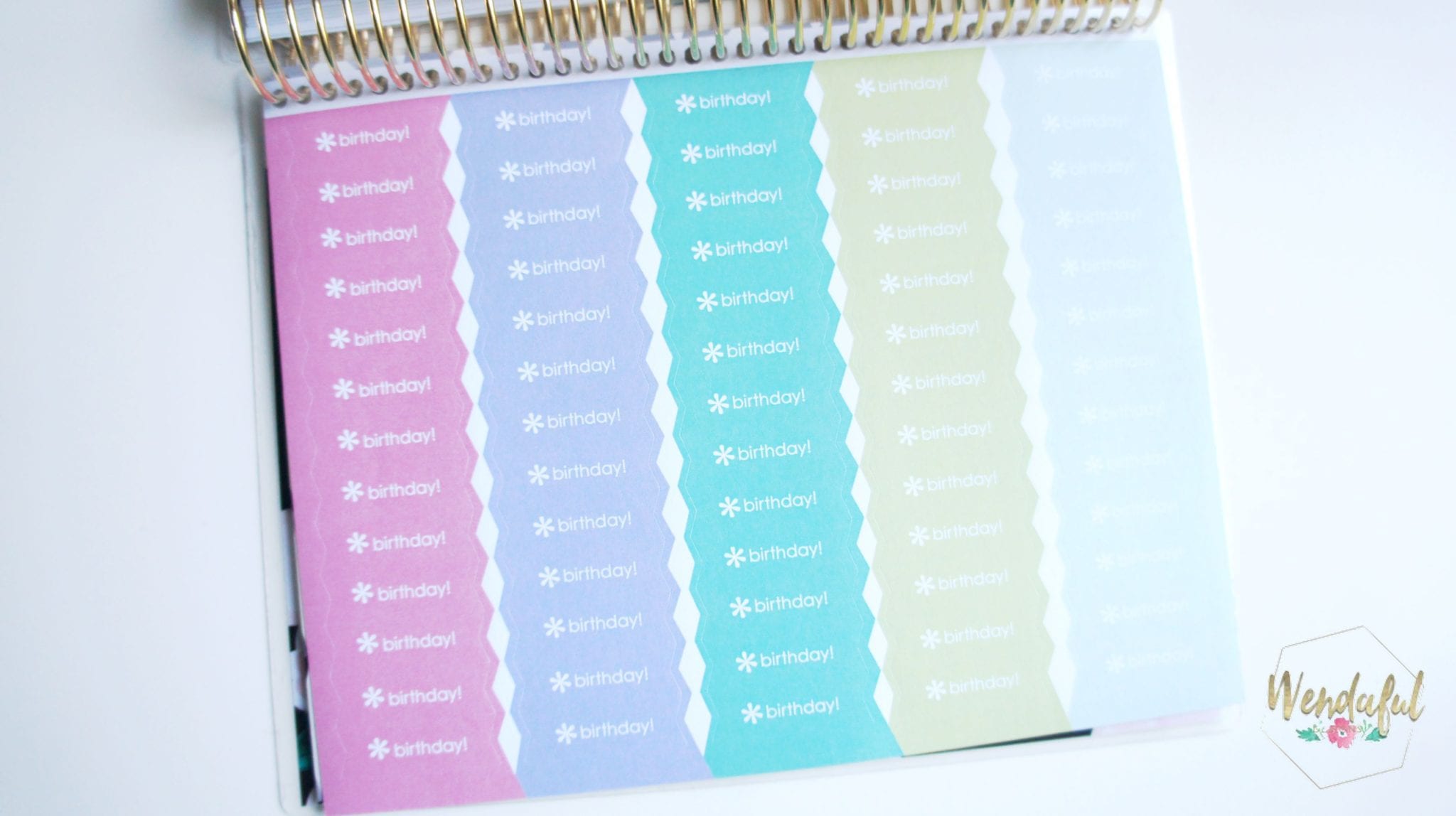 Cute new birthday flags!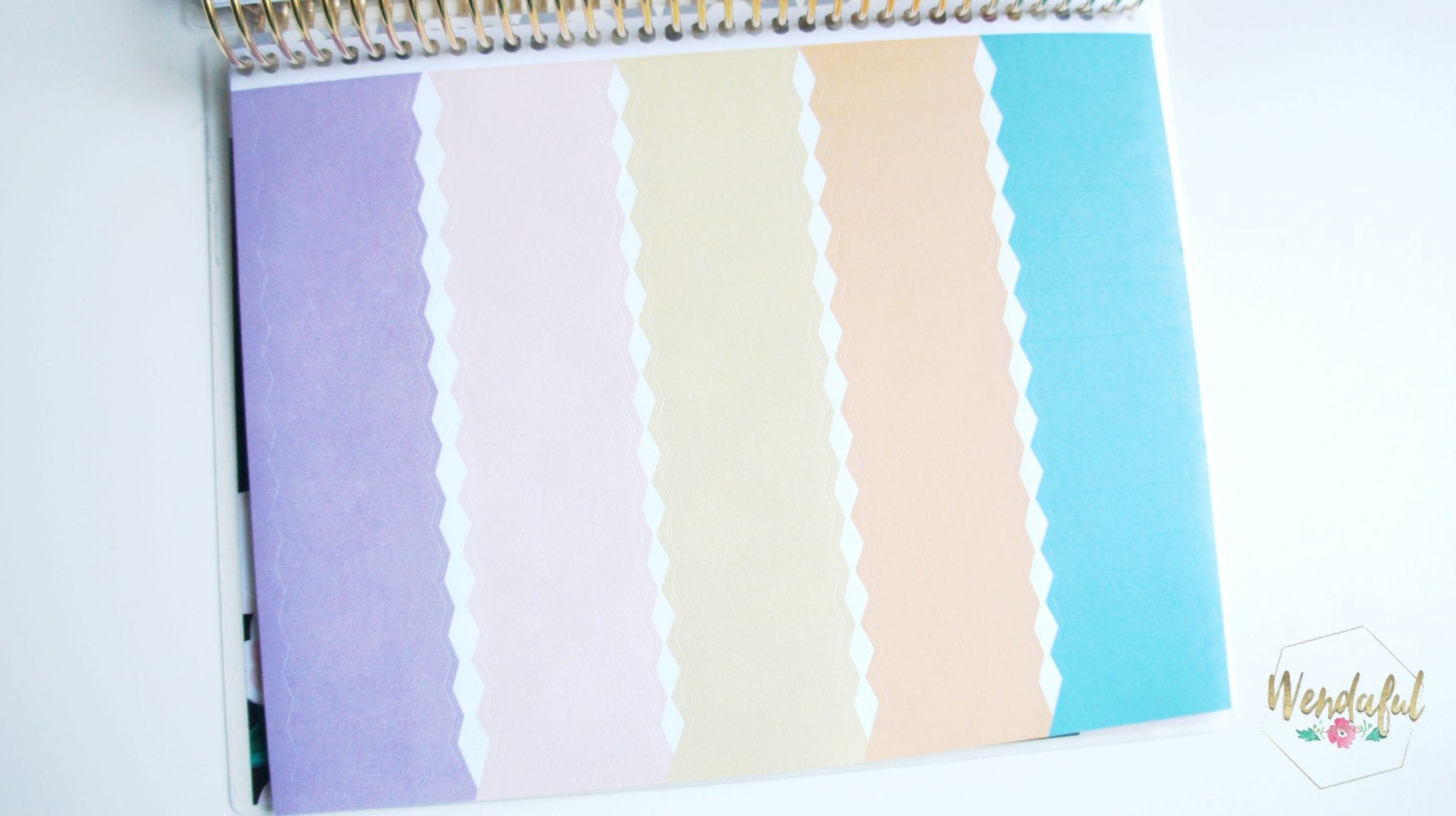 Blank flag stickers! I absolutely love using these! They are perfect for our planners!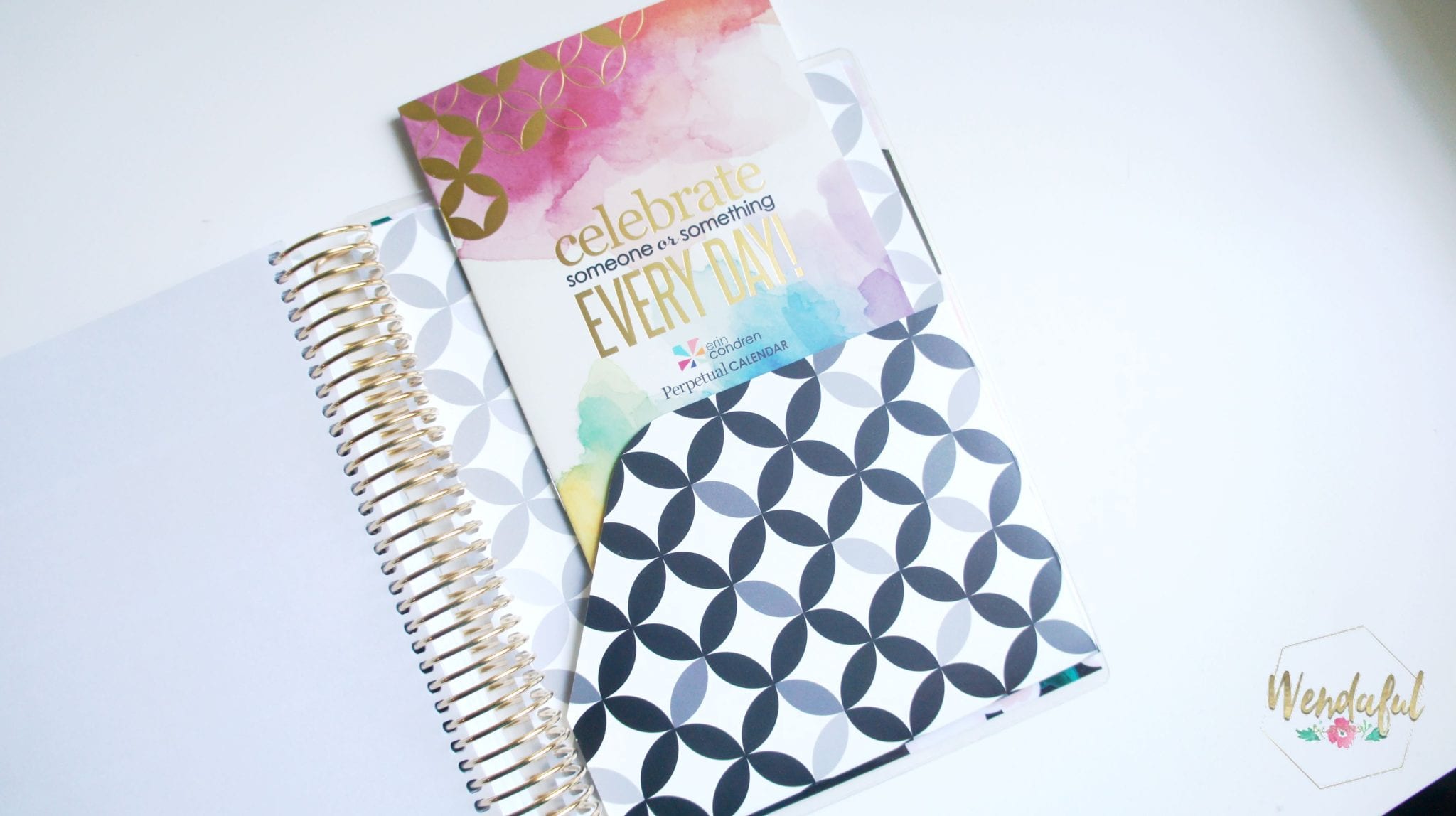 The folder in the back also has the midcentury circles design. The flap is completely detached so it makes it easier to fit papers without ripping out the folder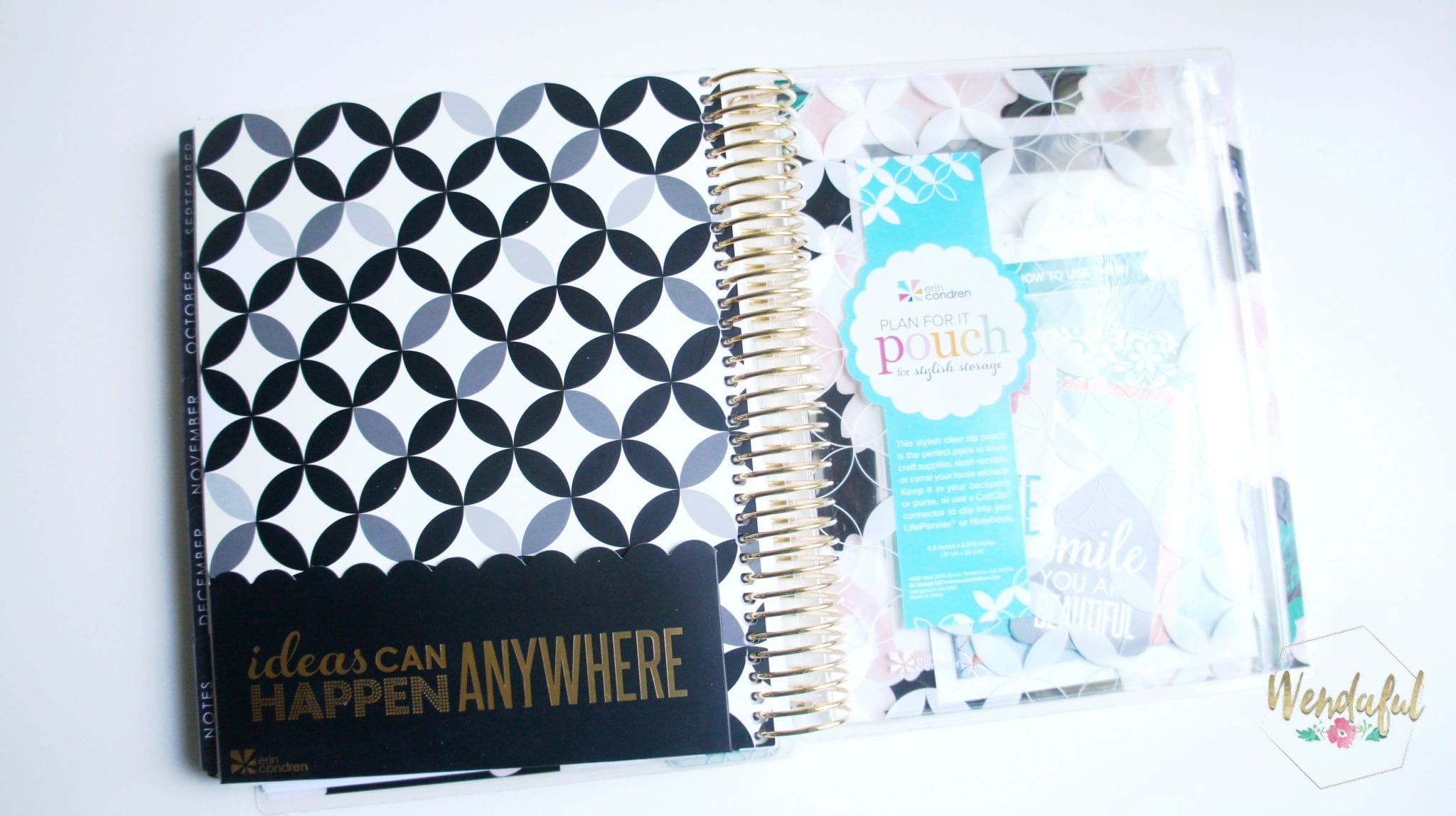 On the other side is a smaller scalloped flap, perfect for storing smaller cards, stickers and more.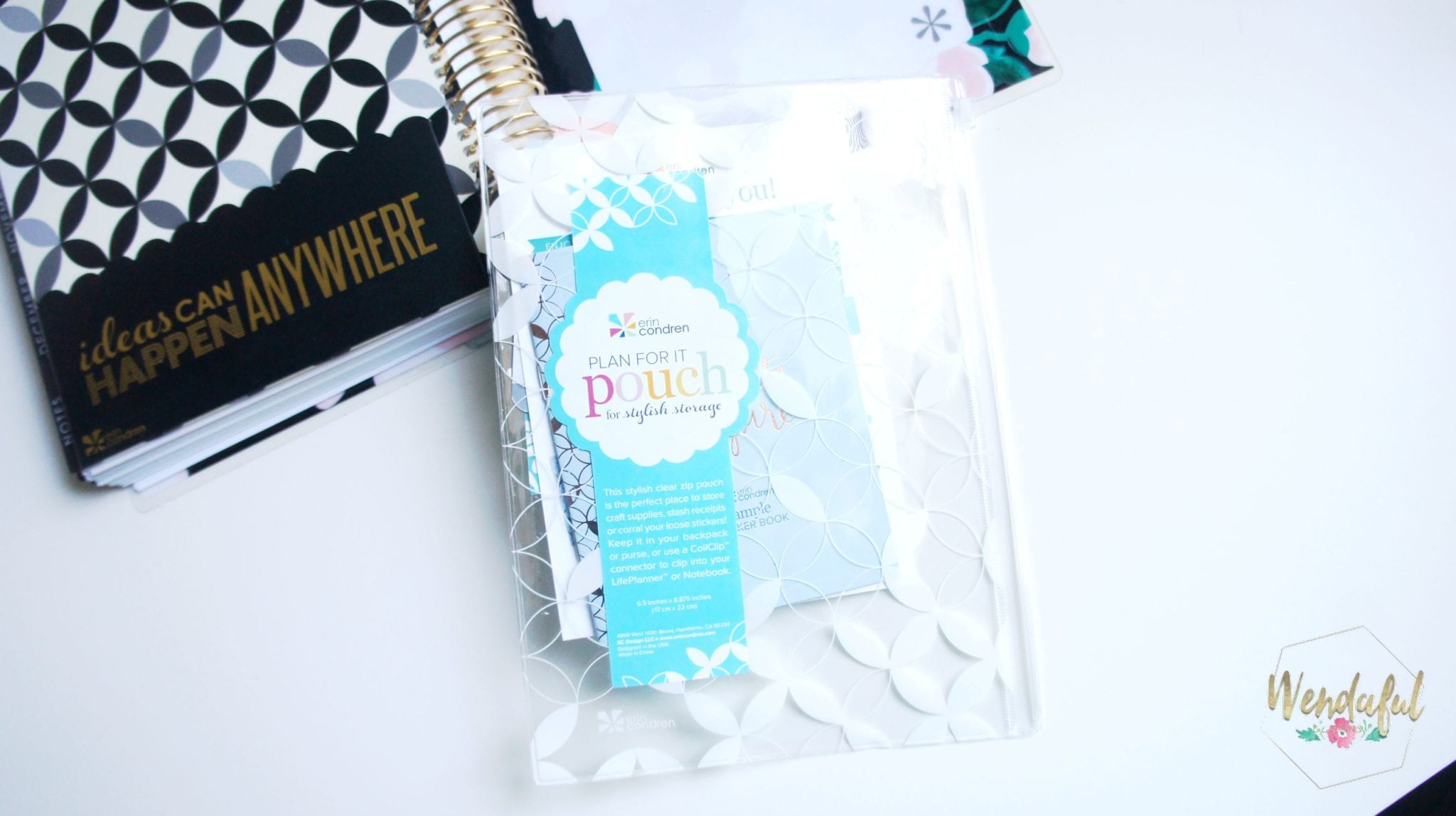 The Plan For It Pouch comes with each planner, but this year the pouch isn't coiled into the planner! I love this new pouch, it's a lot more flexible and way easier to open with its new zipper slider feature! I never really used my old pouch because it was touch to open with the push to close zipper. Use the free coil clip connector inside the pouch to stick it to your pouch, and move it around in your planner! I know some people like in the front of the planner, or leave the coil clip off and just stick it in your purse! Perfect for carrying your pens and stickers!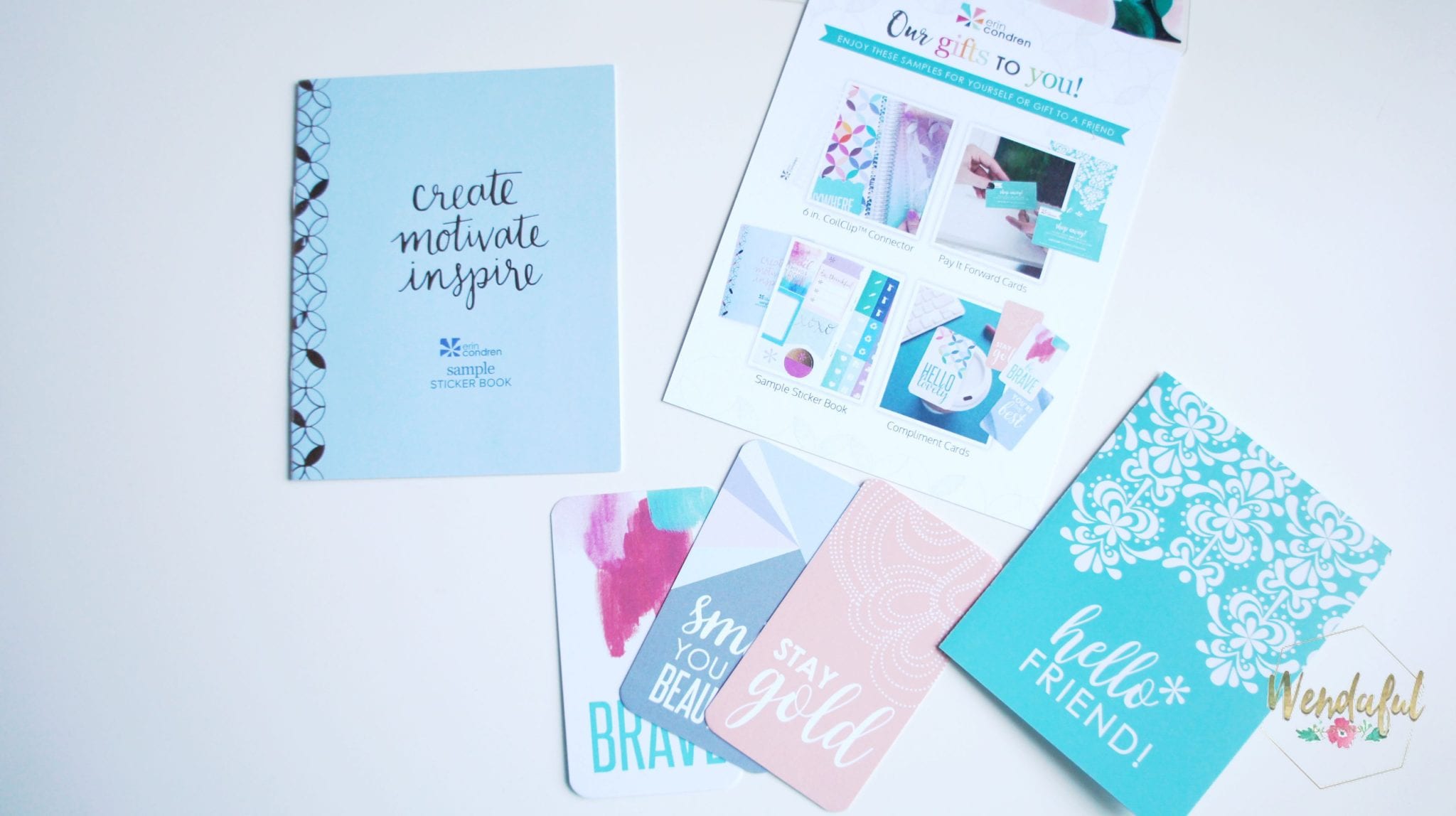 As always, Erin Condren goes above and beyond by providing us with free goodies! Each planner comes with a 6 inch coil clip connector, coupon cards for 20% off, one for you and one for a friend!, a sample sticker book and 3 compliment cards!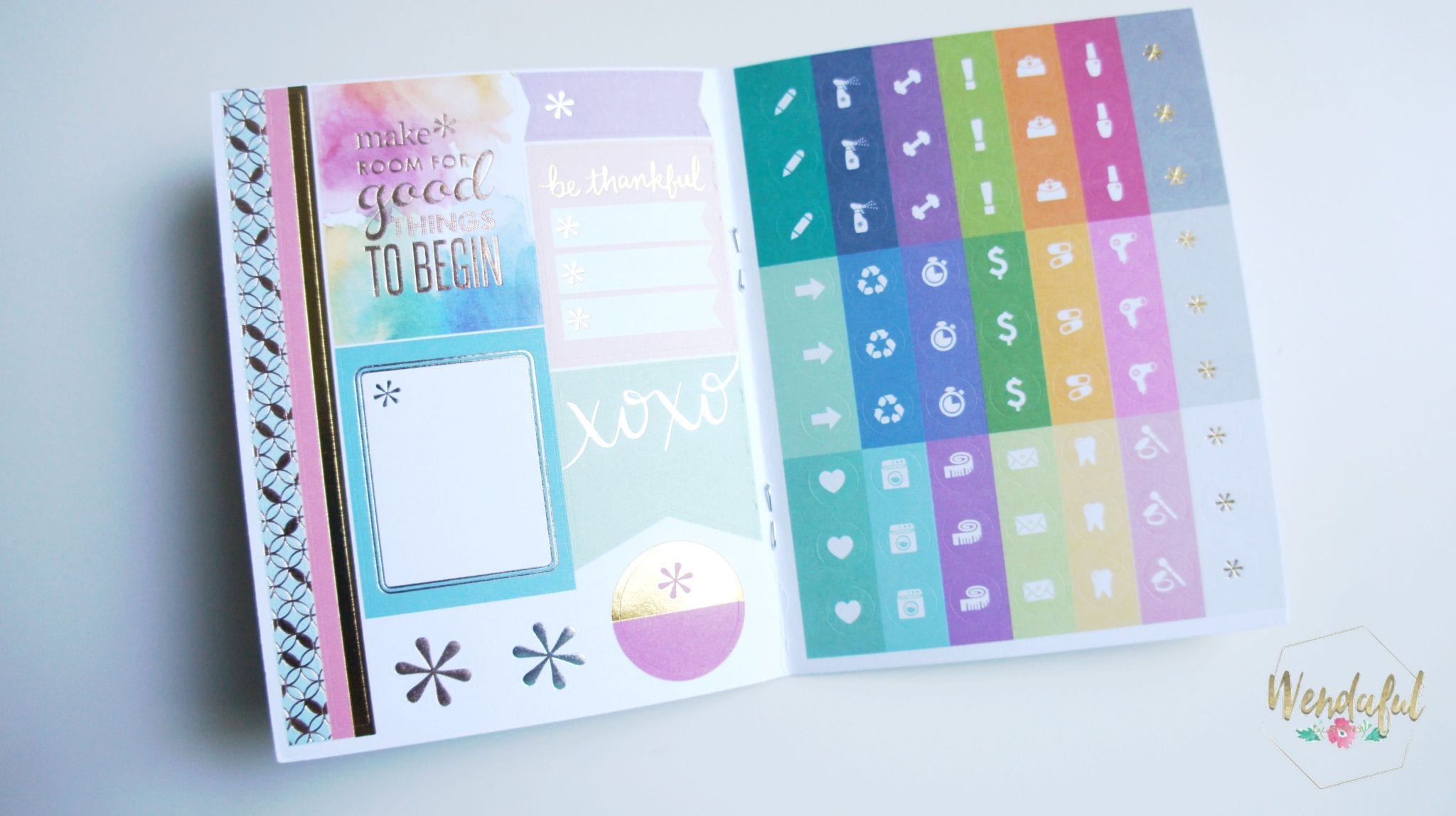 Here is the inside of the sampler sticker book! So much cuteness!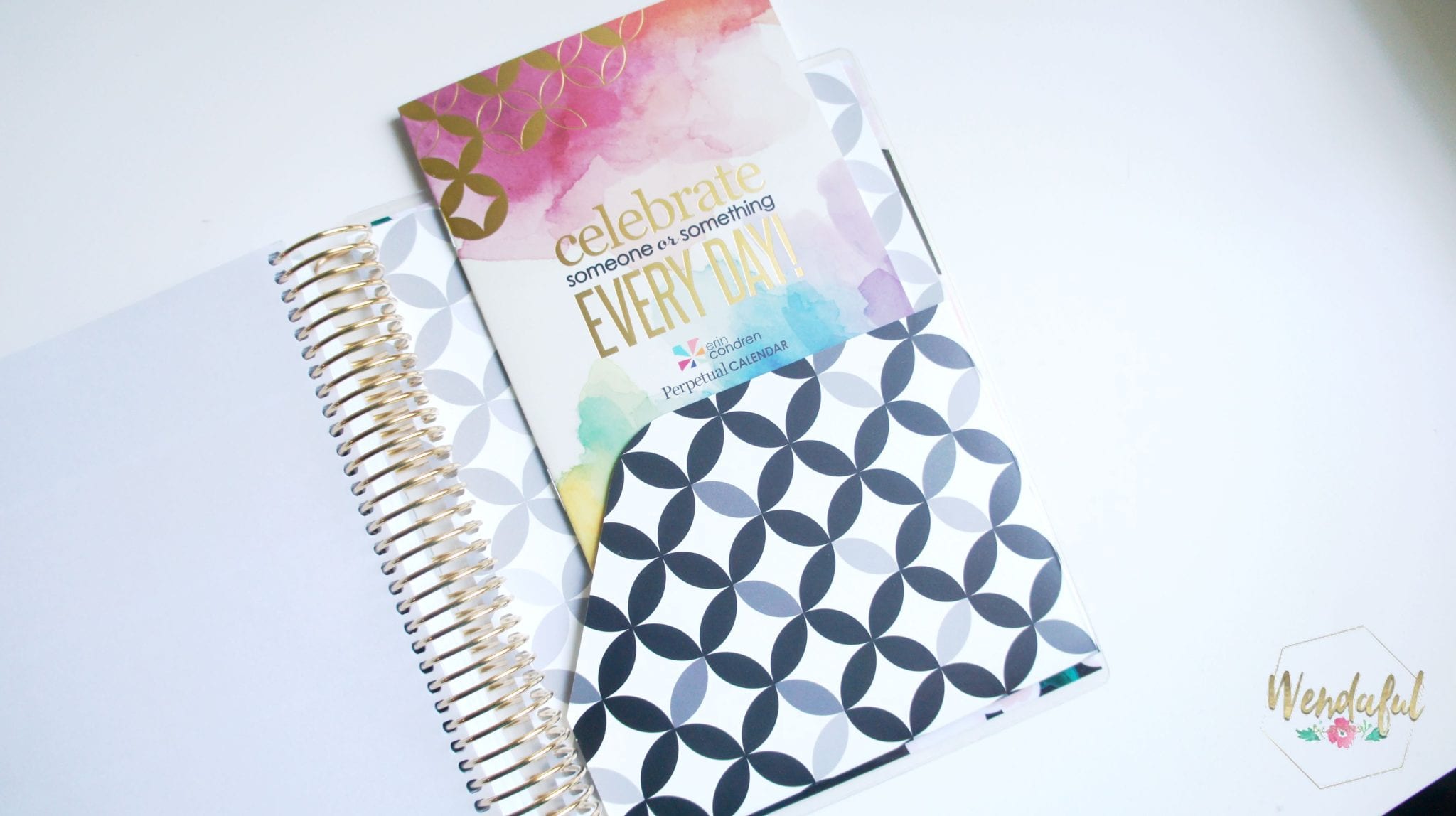 also included is the perpetual calendar. If you have a million of these like I do you can use this is so many new ways! Use it as a gratitude journal, one line a day about your kids, a budget book, record your steps, track your exercise, or use it as an on the go planner that you can carry around in your purse.  There are so many great ways to use this and one comes with every single Life Planner!
Erin Condren has yet again blown the planner game. With so many options to customzie your planner and make this planner yours why wouldn't you want to buy one? When you have a planner you love, it makes you want to use it more every day. Trust me I've bought cheap wal-mart ones before and it was so simple and not cute at all, and I hardly touched it. But having my cute Erin Condren makes me want to open it up every single day and actually use it!
If this is your first EC purchase please click the image below to get $10 off. & use the coupon code you get from the planner purchase to get some new accessories for your planner!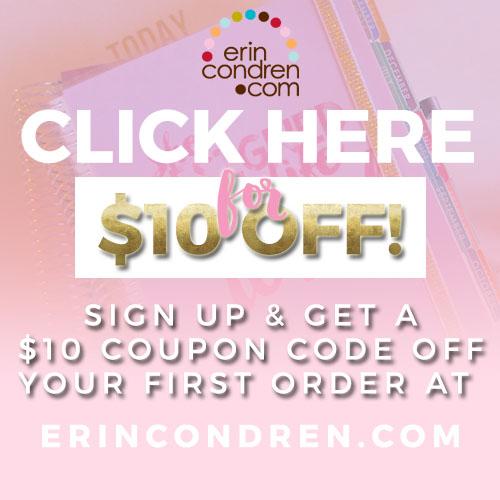 Thanks so much for reading this long picture heavy post!