If you are looking for an affordable, but pretty and useful planner than you have to check out bloomplanners.com! Bloom Daily Planners kindly sent me some planners and pads to review and giveaway too! They have planners that are only 5.5″ wide x 8.25″ tall and have the whole academic year in it from August 2015 – July 2016! I really wish I had this planner when I was in college, it would have been perfect! The size is perfect to drop into your book bag or purse without weighing it down. There's even a class schedule section in it! It's separated by days and has a spot to write the time, class, professor and room, there are multiple pages for different terms too. You will definitely not get lost with this handy section!  Not only this planner useful, it's cute! They have a ton of patterns that can range from modest to super bright and fun! So you will definitely find one that suits you perfectly. & this year they came out with monthly tabs! The tabs are small so you can see all of the months at once, no having to peek under other tabs to see another month! I love that it's so easy to flip through! The colors of the planner all go together too! The tabs match your cover and the fonts will too! The cover is nice and sturdy so it will last you all year! And the back cover has a built in folder for all those papers you will get! The year at a glance is also printed on the inside cover so it's so easy to find!
The bonus sections of the planner include:
A Personal Info Page in case you ever misplace your planner
Yearly Goals Page, to keep your goals in view
Reasons for a Party List – with all the holidays of the year
Address Book Pages, perfect for classmates!
Class Scheduling Pages
Things To Do Lists – always need a general to do list
Notes Pages
2015 in Review/2016 Resolutions Spread
Month on Two Pages
Week on Two Pages
Year at Glance
How in the world did they fit all that into this slim small planner, I don't know, but I love it! It's light and portable but still has so much room for writing and planning! I also love how they have incorporated reflections at the end of the month in the weekly section. They are just questions to help you plan and think ahead. The monthly view is also filled with inspiring quotes to help you live a positive life and chase your dreams!
Here is a look at the covers and how the colors match throughout your planner. The covers include a year a glace for quick reference and a pocket on the back cover (you can hardly see it but it's there!)
Here are the bonus pages in the beginning of the planner that include: yearly goals, notes, holidays list, class schedule, & addresses & numbers:
& the monthly and weekly planning pages! So spacious with a fun cute and girly font!
This planner is perfect for anyone who needs to follow the academic calendar. It can help with scheduling and help with having a place to write assignments, readings, papers, quizzes, group studies and more.
To buy bloom planners, visit their website at  http://www.bloomplanners.com
They also carry other products besides planners such as tear off pads, notebooks, binders and more! They kindly sent me a matching mouse pad for my desk, quote cards, a  to do list pad, grocery list pad, and meal planning pad! They are so thick and sturdy and comes with tons of pages! I absolutely love their meal planning pad. It has a perforated shopping list so you can meal plan for the week, leave it on your fridge then just tear off the shopping list when you go shopping!
I will be giving away this little set of bloom goodies to one lucky winner over on my Instagram account @wendafuldesigns soon! So follow me and enter for your chance to win!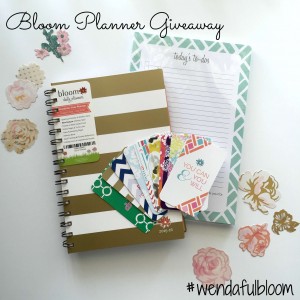 You can also find them on:
To see more inspiring pictures of people using their bloom planners just search the hastags #bloomplanner #bloomgirl
& thanks again to the bloom team for sending out these goodies to me and for a lucky follower! Head over and check out their planners and their many designs on their website at  http://www.bloomplanners.com