What is the Law of Attraction?
"Everything you want is out there waiting for you to ask. Everything you want also wants you. But you have to take action to get it." – Jack Canfield

"Whatever we plant in our subconscious mind and nourish with repetition and emotion will one day become a reality." – Earl Nightingale
The basic principle of the law of attraction is the belief that anybody can create their own fate through the power of their minds. The Law of Attraction pulls in to you everything you require, according to the nature of your thoughts. It is the feeling that like energy draws in like energy. This implies that if an individual is giving off positive vibes, they'll attract good things to them and if they're giving off negative vibes, they'll attract bad things to them.
For example, if you believe you will be rich and living a luxurious lifestyle then you're going to be working hard to make that happen. But if you doubt that you can ever get to that level then you most likely won't ever be rich. Our thoughts become our reality and once we can overcome our fears and doubts then we can truly see what the world has to offer.
You might be a bit skeptical about all this stuff but if you think about it you might prove yourself wrong. For example, have you ever wondered why is it that coincidences always happen?
When we were shopping around for a car, we were set on getting a Honda Pilot. Then suddenly for that whole month, we kept seeing it everywhere! And every time we saw it, we fell in love with it more and more. we worked hard to save up and shop around for it in hopes of finding one we can afford. Maybe it's a popular car or maybe it's the universe's way of bringing it into our lives. Who knows but it worked. A month later we bought our own.
HINT: Every time you use the words or phrases like what a coincidence, everything is falling into place, and out of the blue—you are actually seeing proof that The Law of Attraction is working in YOUR life!
The Law of Attraction Planners
If you want to test out this Law of Attraction and start manifesting more of what you want in life then this planner is for you. This planner is one of the best tools for getting to your dreams and to be constantly reminded by writing it down. This planner walks you through it all. Soon, you'll be giving more attention to your desires, doing more allowing and speeding up the delivery of your manifestations.
This planner does a great job of helping you to think in a more positive way and aligning your goals with your monthly, weekly, and daily actions.
Below you can see my review, thoughts, and specifics of each planner. If you'd like a walkthrough of the planner then do be sure to check out my video down below:
Planner Specifics
3 versions:

Daily Planner  – A5 (5.83"x8.27")

Weekly Dated Deluxe – B5 (6.9″ x 9.8")

Weekly Undated Deluxe – B5 (6.9″ x 9.8″)
You can see the size comparison to an Erin Condren planner down below

Faux leather cover (Eco-Friendly)

They also have other colors for the Weekly Deluxe Planners

Rose Gold
Glitter Gold
Red
Blue
Black
Minimalist design – black, grey and white

Extra smooth high quality 100 gsm thick paper (About 245 pages)

2 Page weekly spread (starting on Sunday )

2 Page monthly spread (starting on Sunday)

2018-2021  Annual Calendar Dates at a glance

Monthly and yearly reflection questions

2 Dot Grid Pages between the Months

20 Dot Grid Note Paper Pages

Elastic band to keep it all together

PRICE: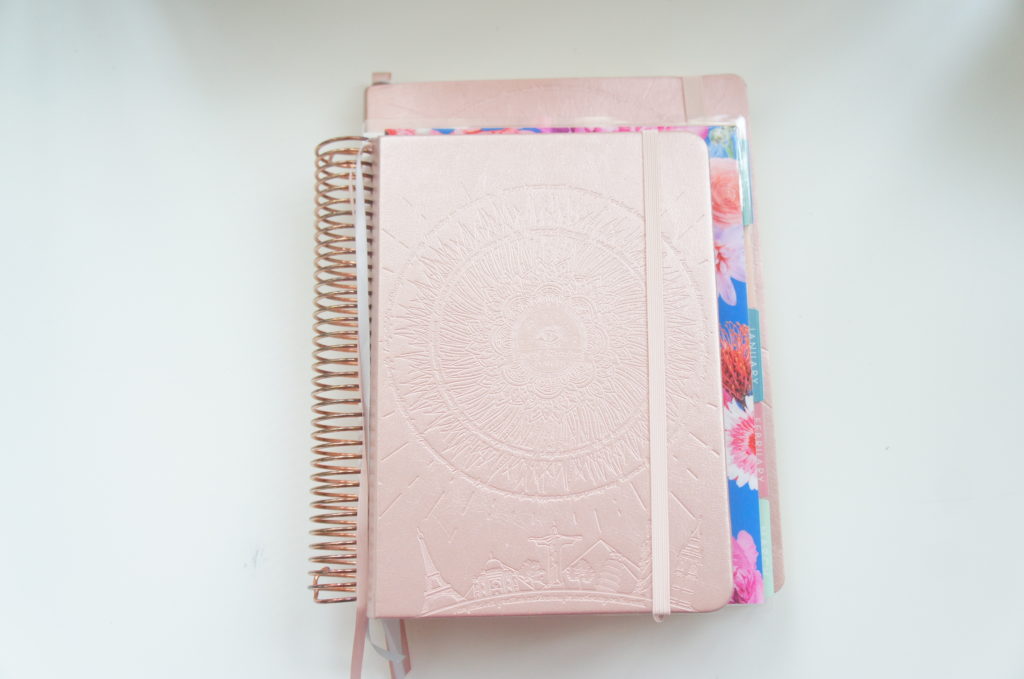 Content For Both Planners
Law of Attraction Roadmap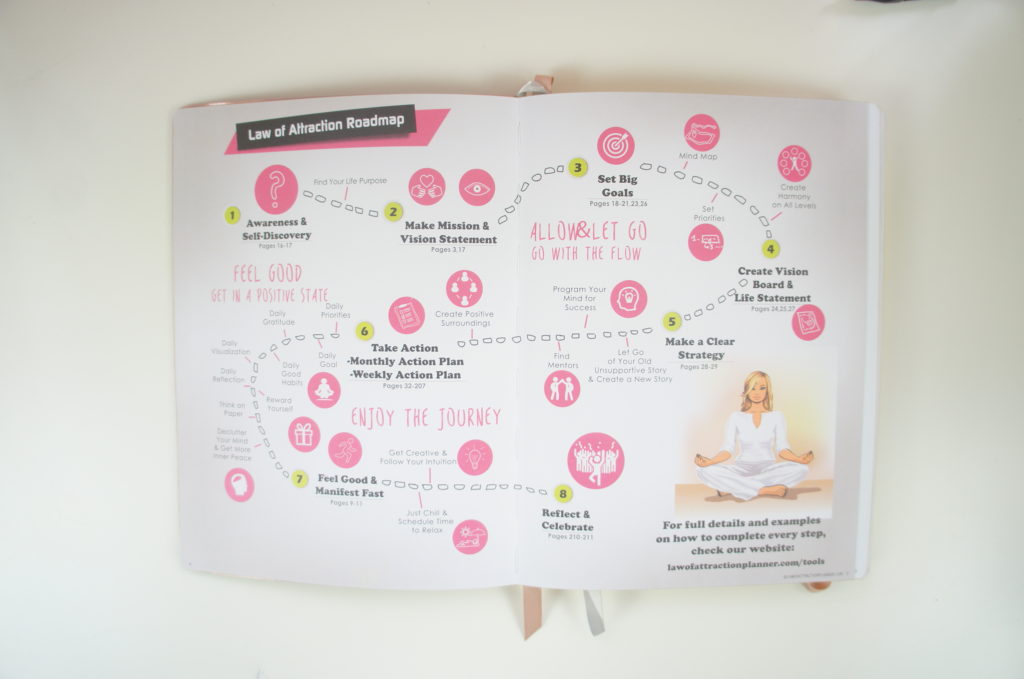 Both planners come with the same law of attraction roadmap to help you find out your goals through a series of steps. There are 8 different steps the authors recommend to complete to increase productivity and create happiness in life. 
My Most Important Life Goal section – Helps you to create harmonic goals
Plan your journey – Helps you plan your success on all levels
How Will I Make It Happen section
If you click on these links you can read more about each of the steps and some examples of how other people filled it out in their planner!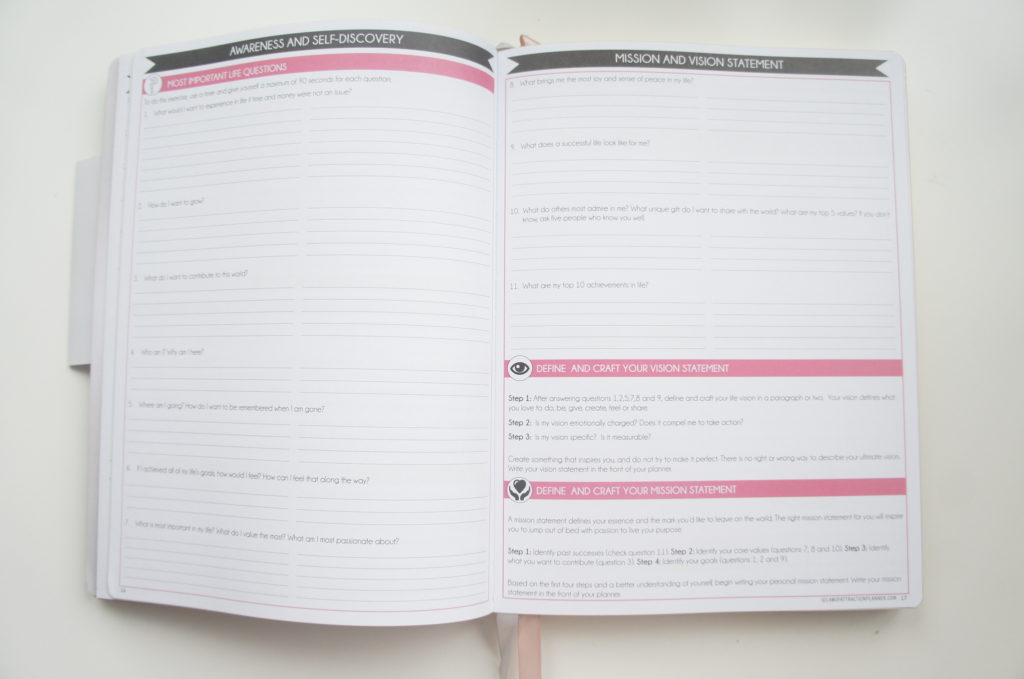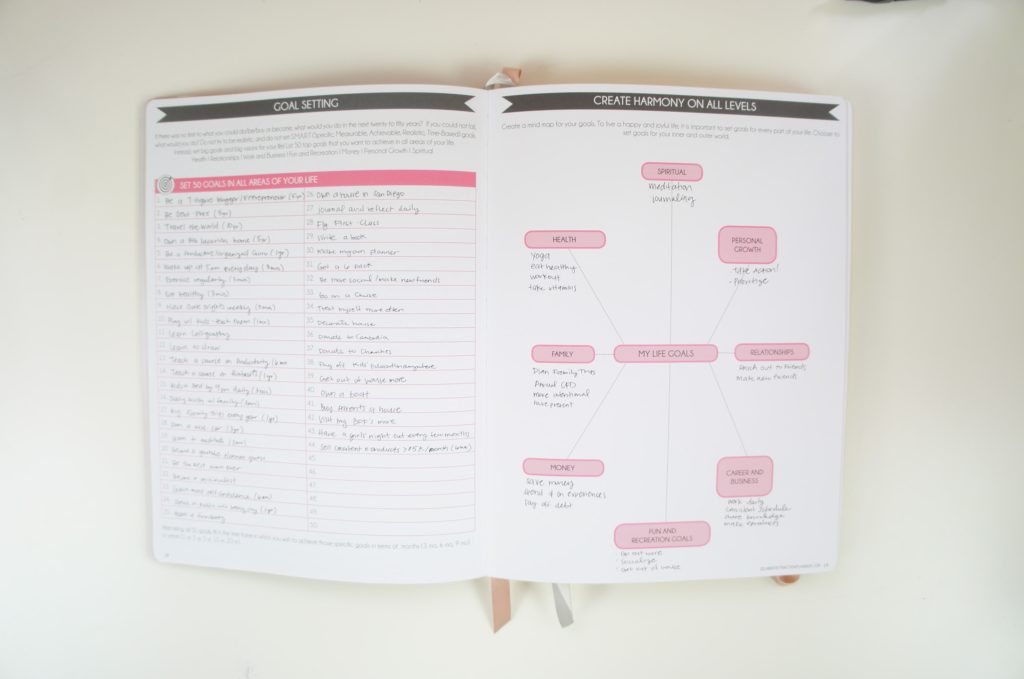 The planner includes a lot of guided questions to help you figure out your life's purpose, mission, and vision statements, break down your goals, figure out your mental blocks and distractions and ways to overcome them.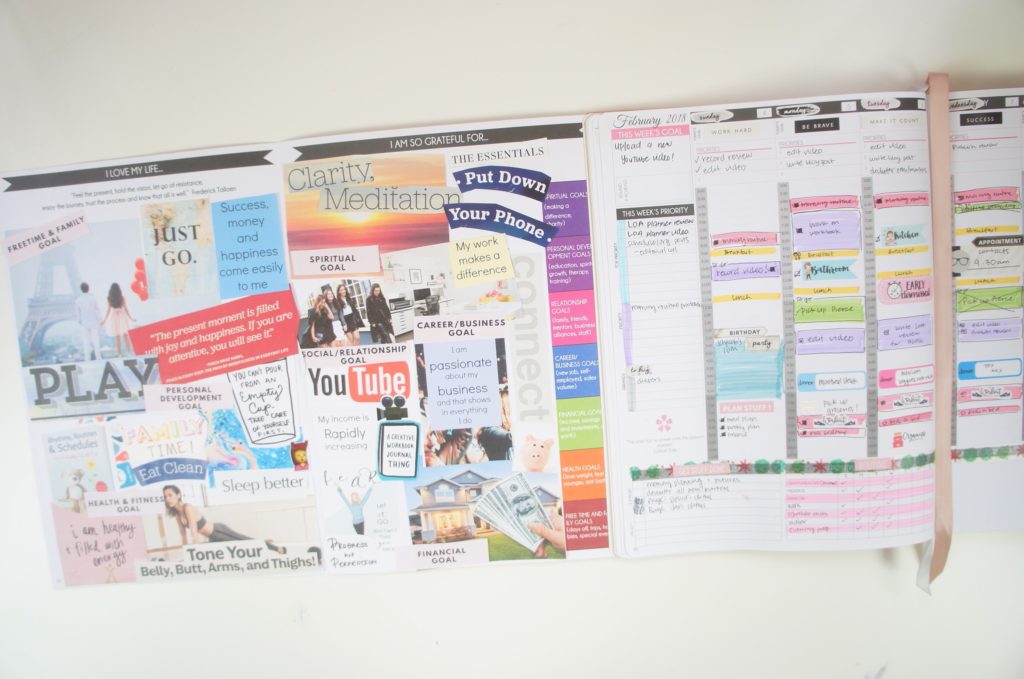 It also has a fold out vision board to stay focused and make sure when you plan you are always in alignment. I like to keep it open whenever I am planning my months and weeks, it's so great to see it constantly!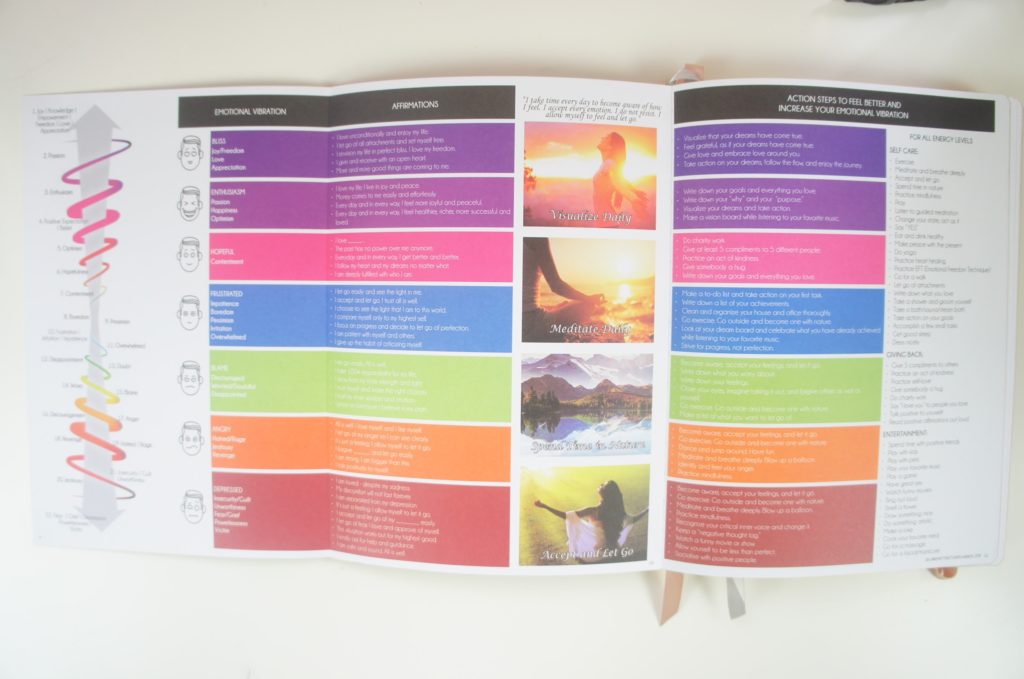 The planner includes a very handy emotional vibrations chart with suggestions for affirmations and self-care actions for you to feel happier and more positive.
There are morning & evening power questions, mind maps, reflection pages, habit trackers, back pocket, and a world map to list your top 20 places you would love to visit in 2018! & there is also an annual calendar for 2018, 2019, 2020 and 2021 (fold-out)
If this sounds like a lot, that's because it is a lot. It took me weeks to finally fill out everything, only because I wanted to be extremely sure and be completely clear about my goals and what I wanted in life. 

To get the most out of this process, you definitely need to commit a significant amount of time.
If you don't fill it all out, the planner itself is still a great productivity tool to help you keep on track daily.
Index & Page Numbers = Bullet Journal/Planner Hybrid
 The planner also has an index and page numbers. There are a bunch of Dot Grid planning pages to help you customize your planner even more! Ever wanted to bullet journal but felt like the calendar pages were too time-consuming? Well with this planner there are 2 pages of dot grid paper at the end of each month and about 24 pages of more dot grid notes pages in the back. You can use it for collections, lists and more! Use the index to easily record and look back to your notes by recording them on the Index page.
Planning Pages for Weekly Planner
Cover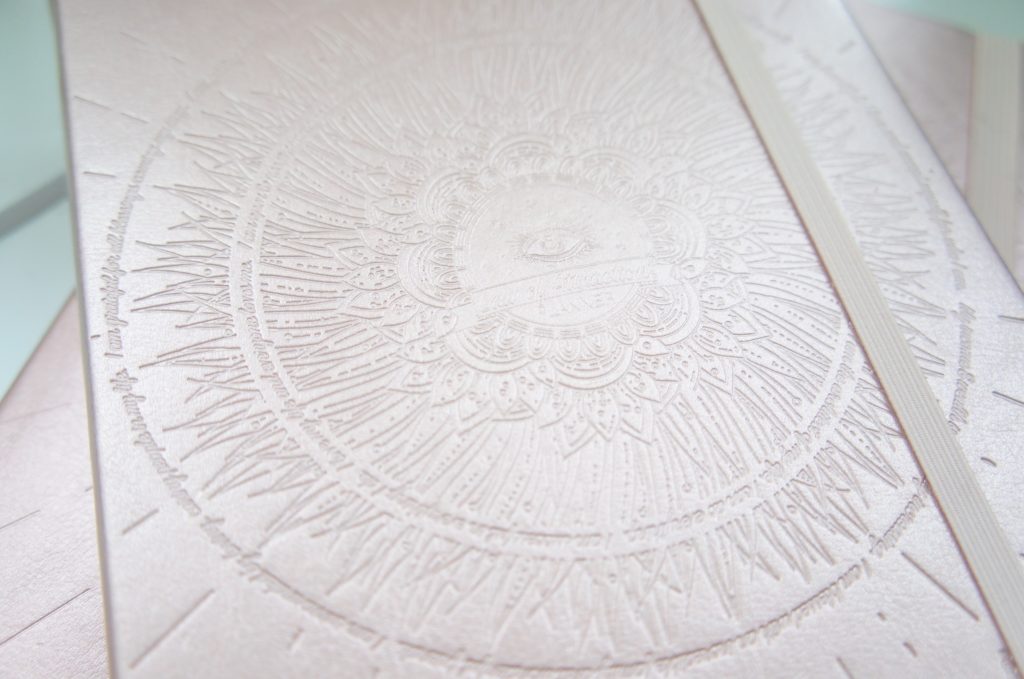 The deluxe planner has a soft faux leather cover and a design with affirmations engraved into it. I like the binding of this planner because it allows it to lay flat without having any rings or coils in the middle.
Monthly Planning Spread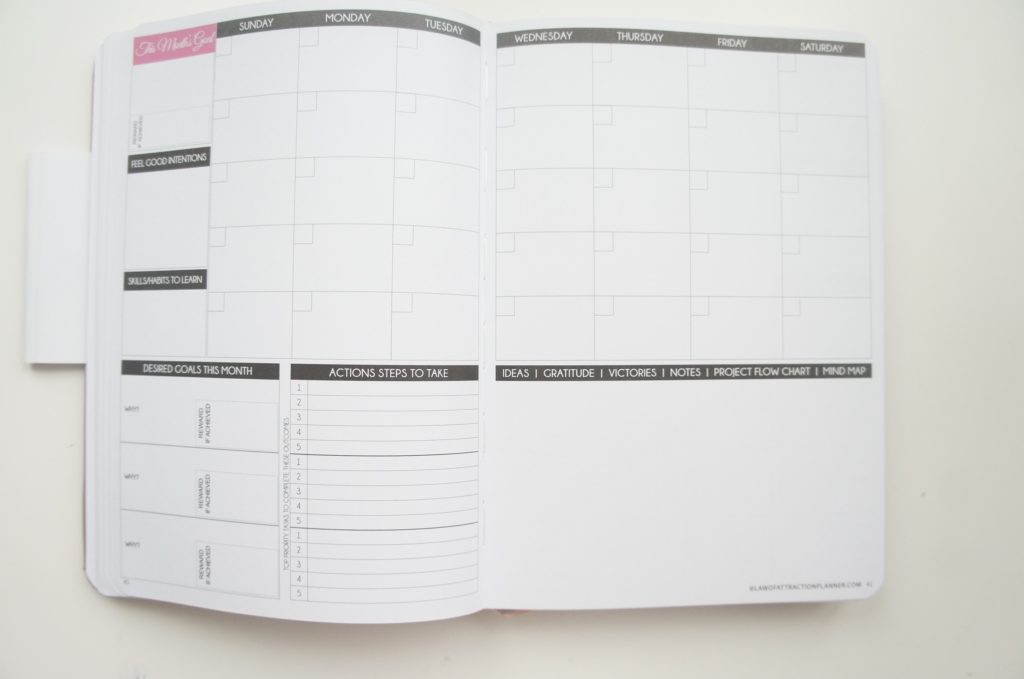 Width & height of monthly squares: 1.7″ by 1.06″ or 44mm by 27mm
The monthly planner pages include spaces for you to fill out the following:
Goal for the month & reward if achieved
Feel Good Intention – list of intentions or actions you will take to feel good and stay in positive emotional vibration.
Skills  & Habits – List the skills and habits you want to learn this month.
Calendar – Use this section to list your most important appointments, meeting, reminders, and events this month.
Desired goals For the Month – Here you can write down your goals, why and the reward
For those goals you can write down the TOP 5 actions steps to take in order to achieve them.
The blank section is to write down more ideas, mind map, or anything else you'd like to track.
Weekly Planning Spread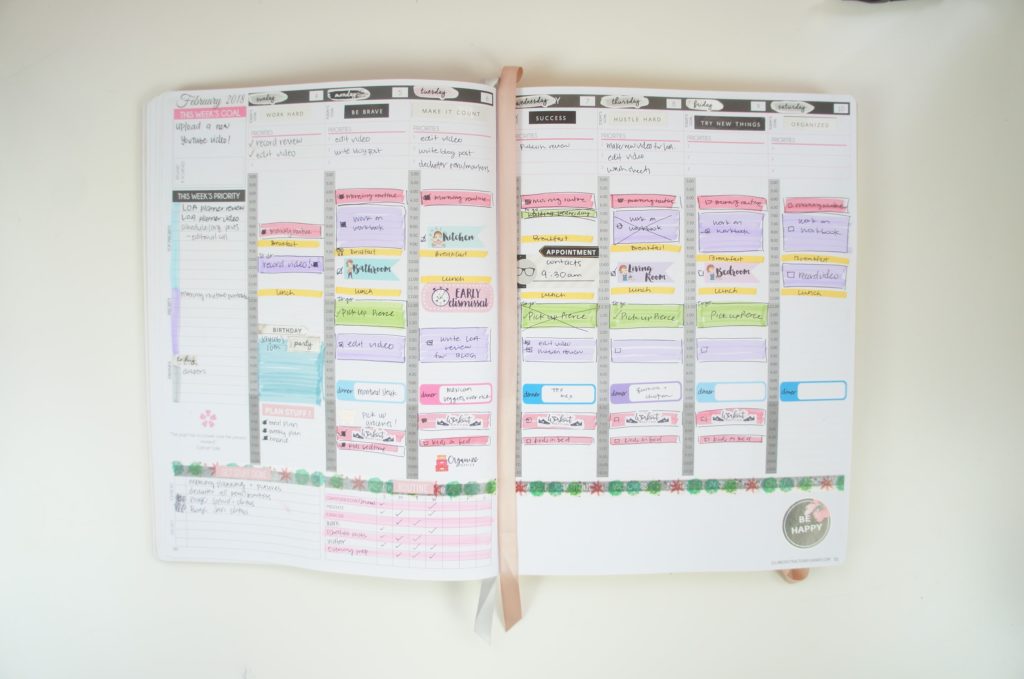 The width of daily schedule in weekly planner: 1.5″ or 38mm (perfect for Etsy, EC or Happy Planner stickers!)
This planner spread is perfect for me, it includes everything I want in a weekly spread. It is pretty similar to the one I sell in my Etsy shop here. 
The weekly planner pages include spaces for you to fill out the following:
Goal for the week & reward if achieved
To-do's for the week in order of priority
Personal to-do list
Habit Tracker
Your daily goal
Your top 3 priorities for that day
A schedule from 5 am to 10:30 pm in 30-minute increments for important appointments, meetings, reminders, events and time blocked times for you to work on your goals
A weekly quote to keep you inspired
& a blank section to write down more ideas or mind map
Monthly Reflection Questions
Each month includes a 2-page spread with questions to reflect on your past month. This section is great. Most planners don't have this within their planners so most times we can't see how much we've actually progressed. Being able to see your achievements and what worked or what didn't work is very important in helping you reach your goals faster and more efficiently! Some of the questions in the planner include:
Celebrate My Top 10 Achievements 
What Did I Learn This Month?
Distractions/Mental Blocks/Fears
How Did I Make Myself Feel Good?
What Did Not Happen? Why?
What Actions Can I Take to Improve?
What Are the Greatest Insights that I have Gained Over the Past Month?
How Do I feel about My Progress This Month?…

…and many other great questions to help you reflect. 
Monthly Dot Grid Spreads And Notes Pages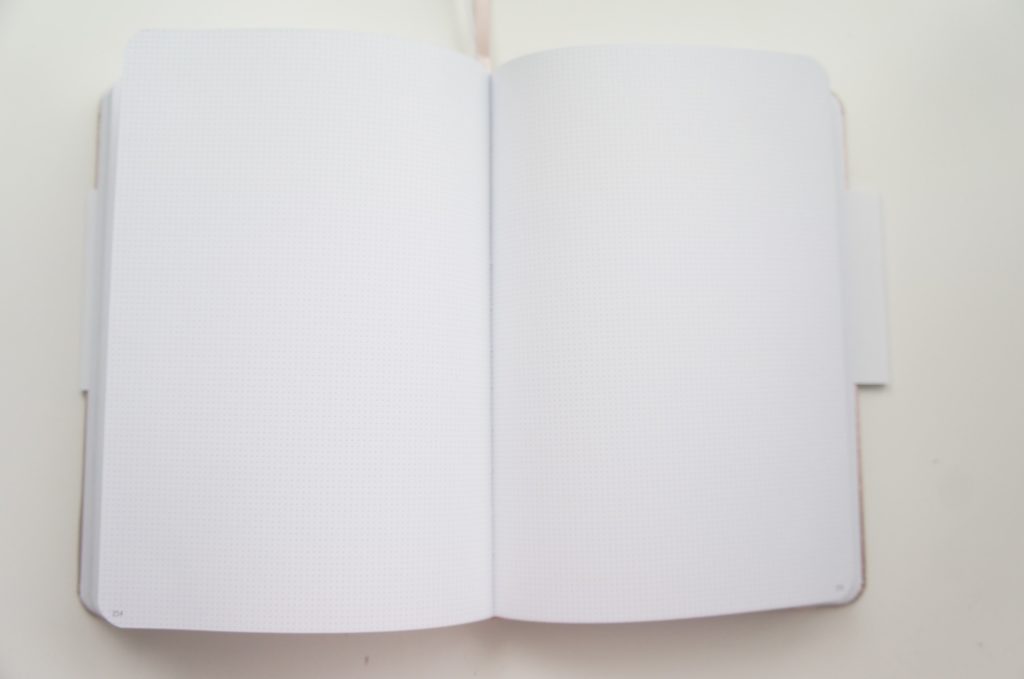 These blank dot grid pages can be used for monthly habit trackers, notes, memories, bill trackers etc. You can bring the bujo experience into your planner with these pages! 
Planning Pages for Daily Planner
Cover
The Daily Planner has a beautiful rose hold hardcover design which makes the planner durable and easy to use anywhere.
90 Day Life Plan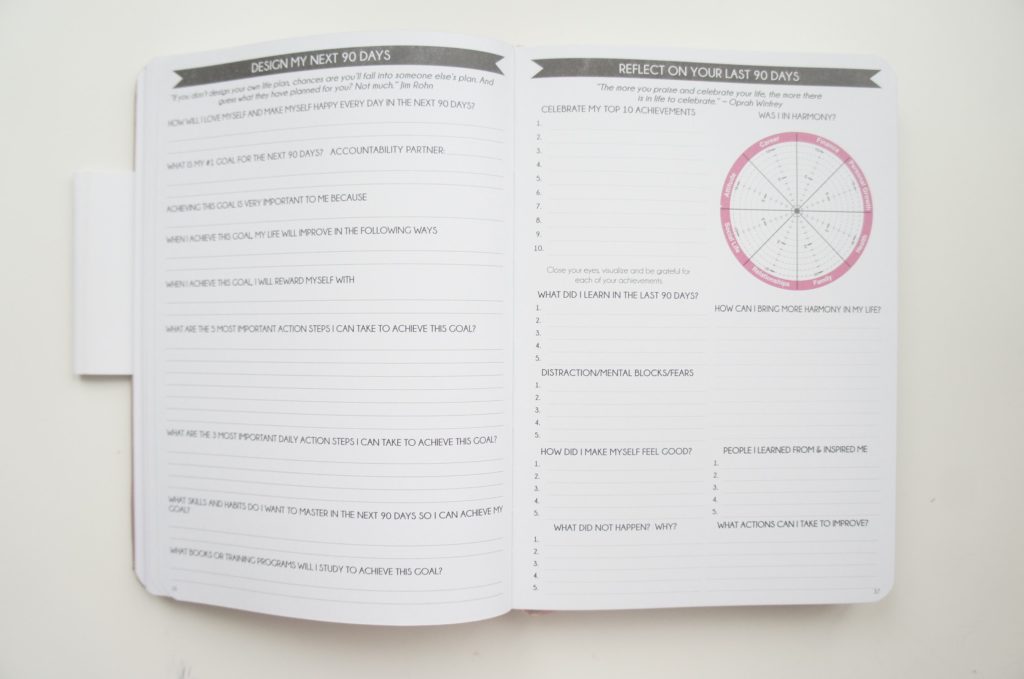 Right after the guided 8 step plan, there are some blank dotted pages followed by 2 sets of pages to "Design My Next 90 Days" and to "Reflect on Your Last 90 Days". In this section, you can plan your next 90 days with direction, clear goals, and action steps to achieve your greatest potential. Designated sections of the planner allow you to design your next 90 days with focused intention and a reflection of your progress.
You can use the reflection on your last 90 days to celebrate your achievements, figure out any obstacles and reflect on your harmony. This section allows you to recognize your progress and feel proud and excited of your success and continue to inspire yourself!
6 Monthly Spreads
Monthly Box Size: 1.25″ by 0.9″  or 33mm by 22mm
Just like the monthly section in the weekly planners, this section is great for appointments, events, meetings etc and helping you to focus and break down your goals for the month.
12 weeks of Weekly Review Pages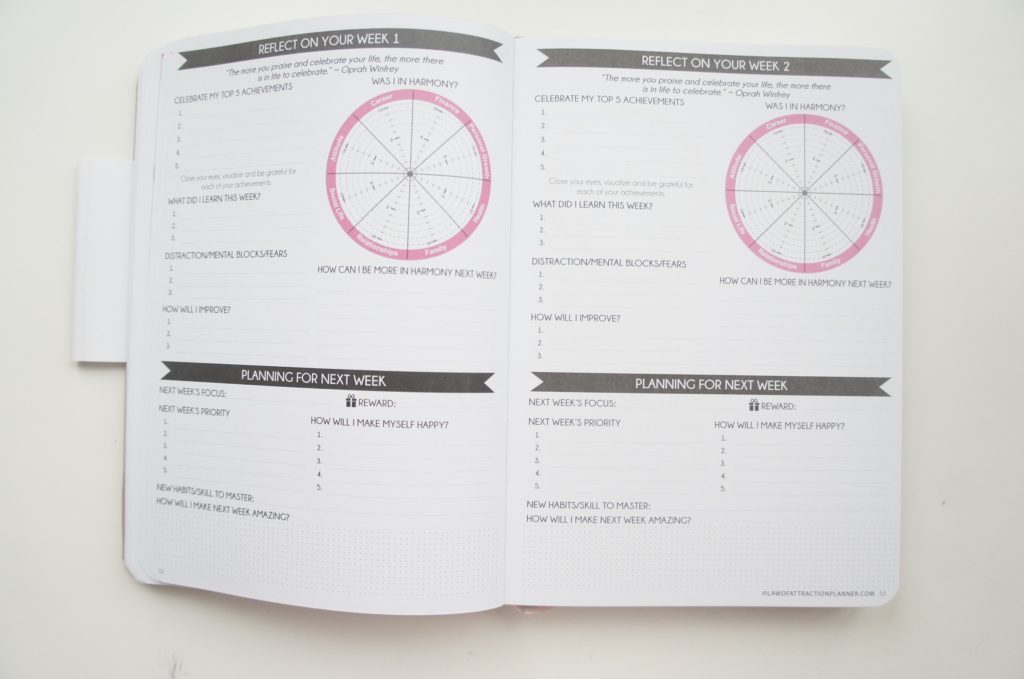 Each week you can reflect on your week to address any challenges, conquer them and stick to a plan to improve yourself and accelerate your progress on your 90-day goals! There is also a section to plan for your next week with a focus, priorities and ways to make yourself happy.
Daily Planner Pages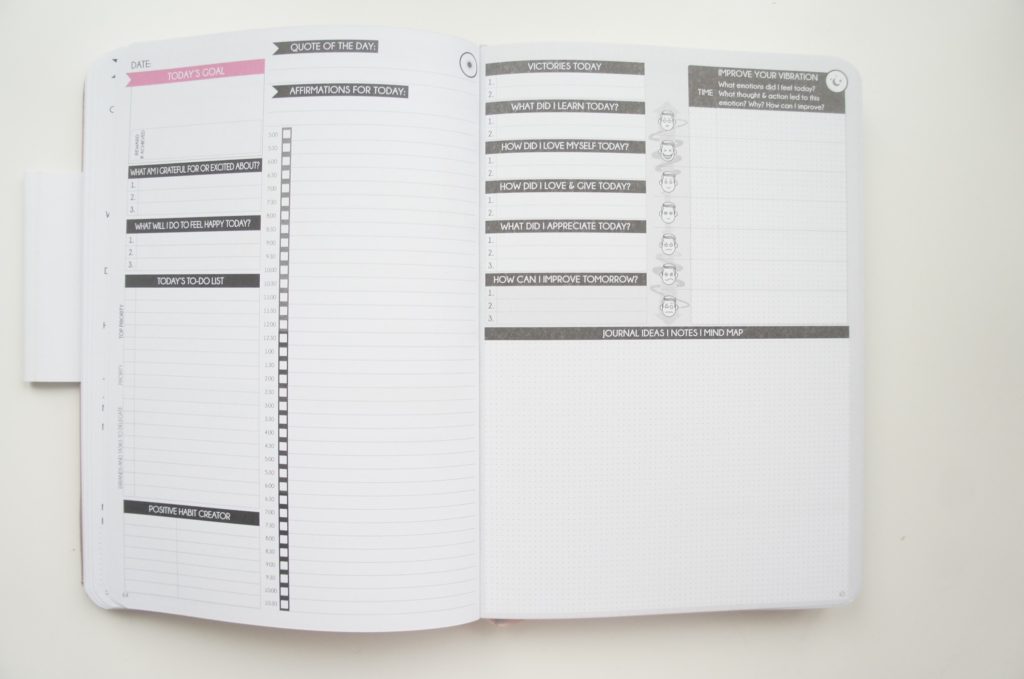 The planner includes over 90 daily planner spreads to schedule plan and reflect on your days. The pages are undated so you can use it just on the days where you are working on your goals.
The daily layout allows you to schedule from as early as 5 AM to as late as 10:30 PM; You can write down your affirmations and quote for the day to lift your moods; and set your intentions to stay happy, grateful and excited throughout the day!
There is a positive habit creator section to help you create positive habits to stay optimistic, inspired and propel you into accomplishing your goals with joy and positivity!
What I love and learned from this planner
Kept me focused on my goals and helped me narrow it down

Clarified what I want

This planner was really in-depth and made me think hard about what I want out of my life. 

It helped me figure out all my fears and distractions and what to do about them.

Helped me reflect back on each month.

At the end of each month, there is a "Reflect On Your Month" section which really helps you evaluate what happened and prepare yourself for the next month to make it better.

How powerful vision boards can be

It made me realize how powerful envisioning your goals can be. I love that it is in my planner so I can look at it every day.

Helped me to celebrate all my little goals with rewards

This planner has designated spots for you to plan ahead about what you will reward yourself with. I tell myself that I can't relax or enjoy myself until I at least do my task for the day. I love that I can decide ahead of time.

Some ideas for a reward can be:

Taking a nice relaxing bath
Binging on a Netflix show
Getting a mani/pedi

Buying some new planner supplies or  a new book

Started good habits

To reach our goals we also have to push ourselves by creating new habits and learning new skills. This planner walks you through the process of deciding exactly what you have to do every single week, in order to achieve those long-term goals.
Pros
Aside from what I told you above other pros include:
It helps you find your big dream goals and helps you focus on the vital few

It helps you break down your goals

Includes goals for all areas of your life

It makes you think about your doubts fears and anything else that's holding you back and how to change it

Vision board flips out so you are constantly reminded as you plan your months and weeks

Has many suggestions and affirmations for your emotional vibes

It teaches you how to use the planner and walks you through it

It has lots of space for writing ideas

It includes tons of dot grid pages in the back and in between months which you can use to customize like a bujo

It has an index to mark sections of your planner to make things easier to find. The pages are all numbered

It breaks down your monthly goals for you every month

Weekly schedule starts from 5 am all the way to 10:30 pm in 30-minute increments

It helps you prioritize your day by choosing your focus and top 3 tasks for the day

It helps you build positive habits daily

There's lots more space for other to-dos.

There are great time management and productivity quotes throughout the planner. None of the generic stuff

Lays flat

Thick smooth pages

Pocket in back for stickers

Soft, leather cover

Pretty metallic cover colors

Elastic closure

2 ribbon markers; one for the month and one for the week
Cons
The B5 Weekly size was too big for me

The time commitment to fill out the questions but then again, you don't have to do it all!

Week starts on a Sunday so weekends are split up

Date titles are a little small and don't stand out

Monthly reflection questions can be overwhelming

No tabs
What do you think?
If you want an amazing resource with a step-by-step guide on how to achieve goals in a way that is much deeper than anything I have ever seen then you should definitely check this planner out.
I found this planner to be incredibly insightful. To order your Law of Attraction Planner and get 15% off just use the code LOA15OFF, visit the Law of Attraction Planner website or look for it on Amazon. 
[for valentine's day they're also having a sale right now for 20% off just check it out their website here!]
Have you used this planner, or do you have any questions? Leave a comment below!
[amazon_link asins='B076Q8FVZB,B073WHZBZ8′ template='ProductGrid' store='wwc045-20′ marketplace='US' link_id='321f7f04-0fa7-11e8-a227-a1d50148cce0′]
These planners were sent to me to review but opinions are all my own!