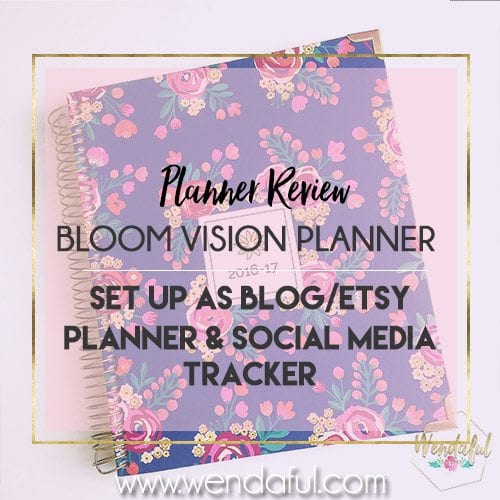 Only a month left until I can start using my new Bloom Vision Planner! I am absolutely loving this new hard cover from Bloom. The design is amazing! I also love how goal oriented this vision planner is. I am first going to go through each feature of this planner and later I will show you how I plan on using it to keep track of my blog posts, etsy shop, and social media! I can't wait to get organized and reach my goals with my new vision planner.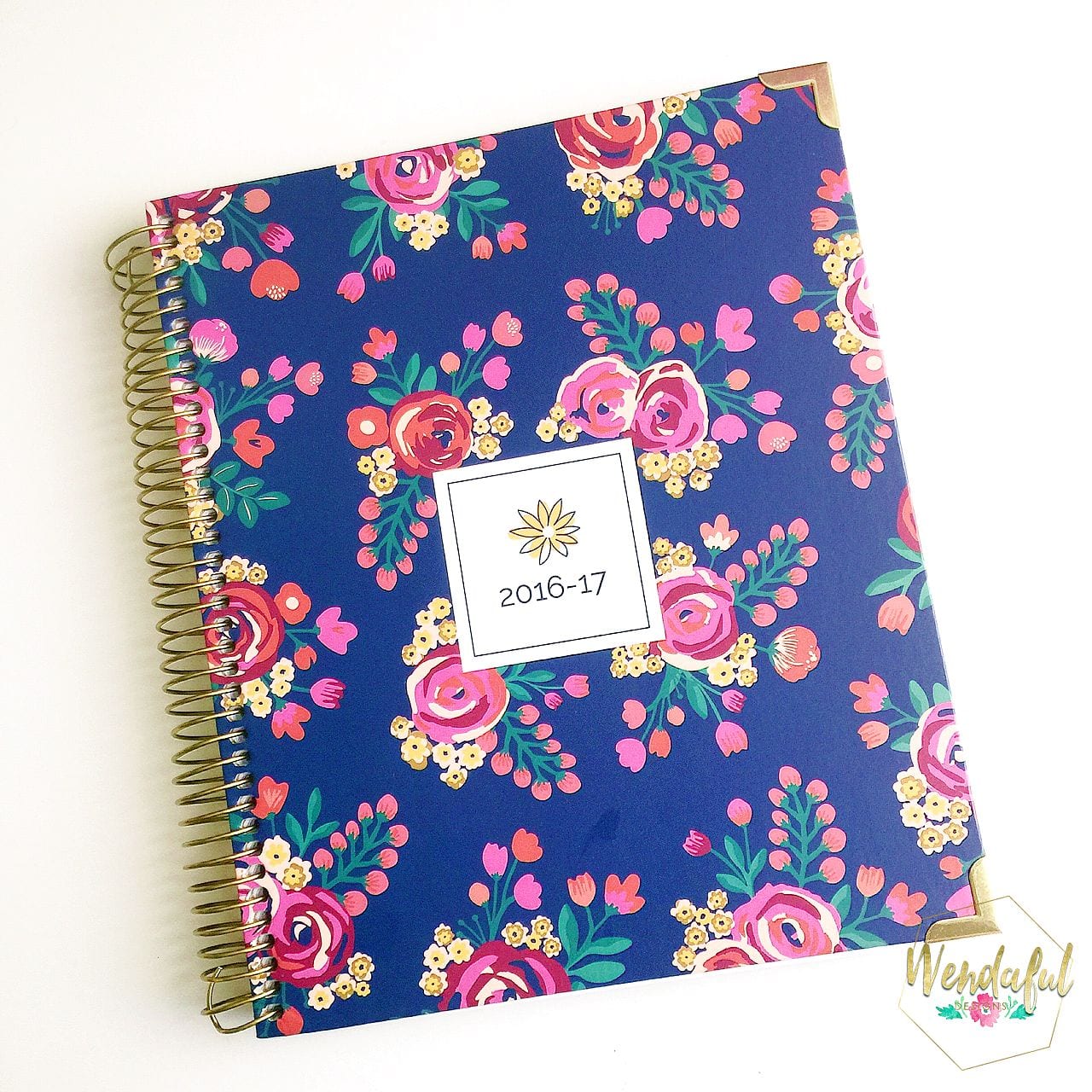 This new cover is beautiful! I love the navy blue background and bright florals. They have one other for this vision planner on their site here.  This cover is hard and has gold accents to make it extra special.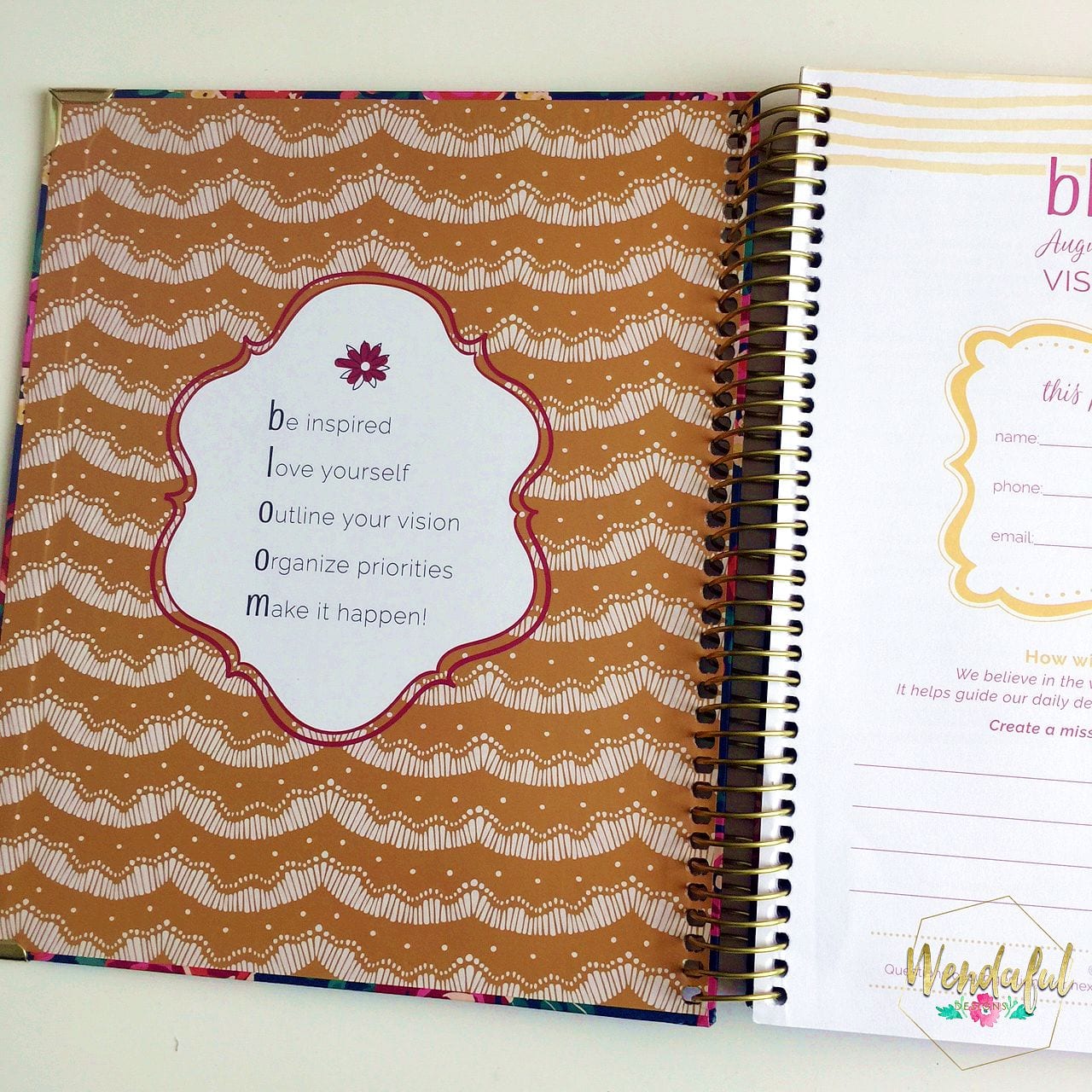 When you first open up your planner you have a section to write down your info.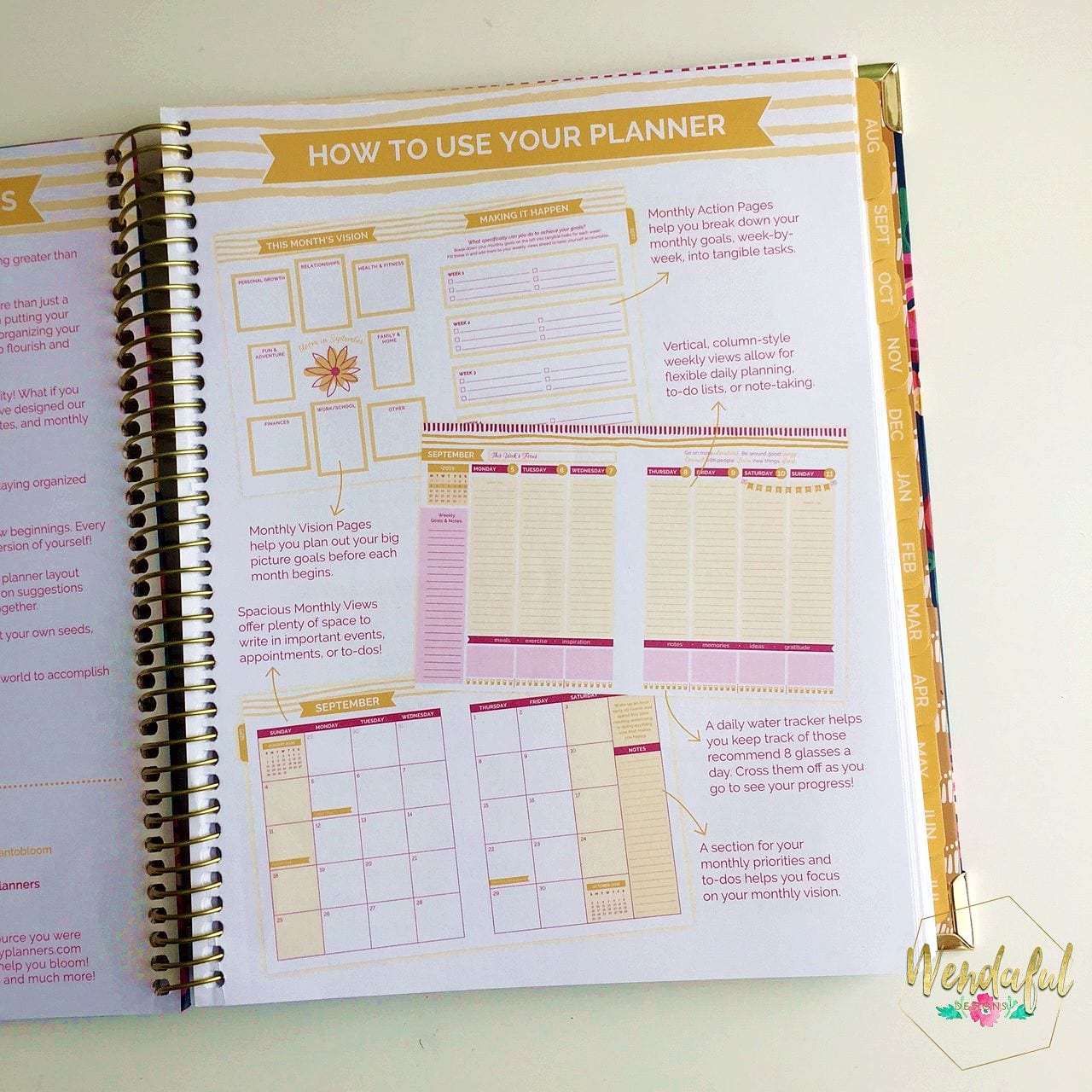 I don't know about you, but I love when there's a breakdown on how to use your planner. There is never a right or wrong way to plan, everyone is different, but having a guide can really help.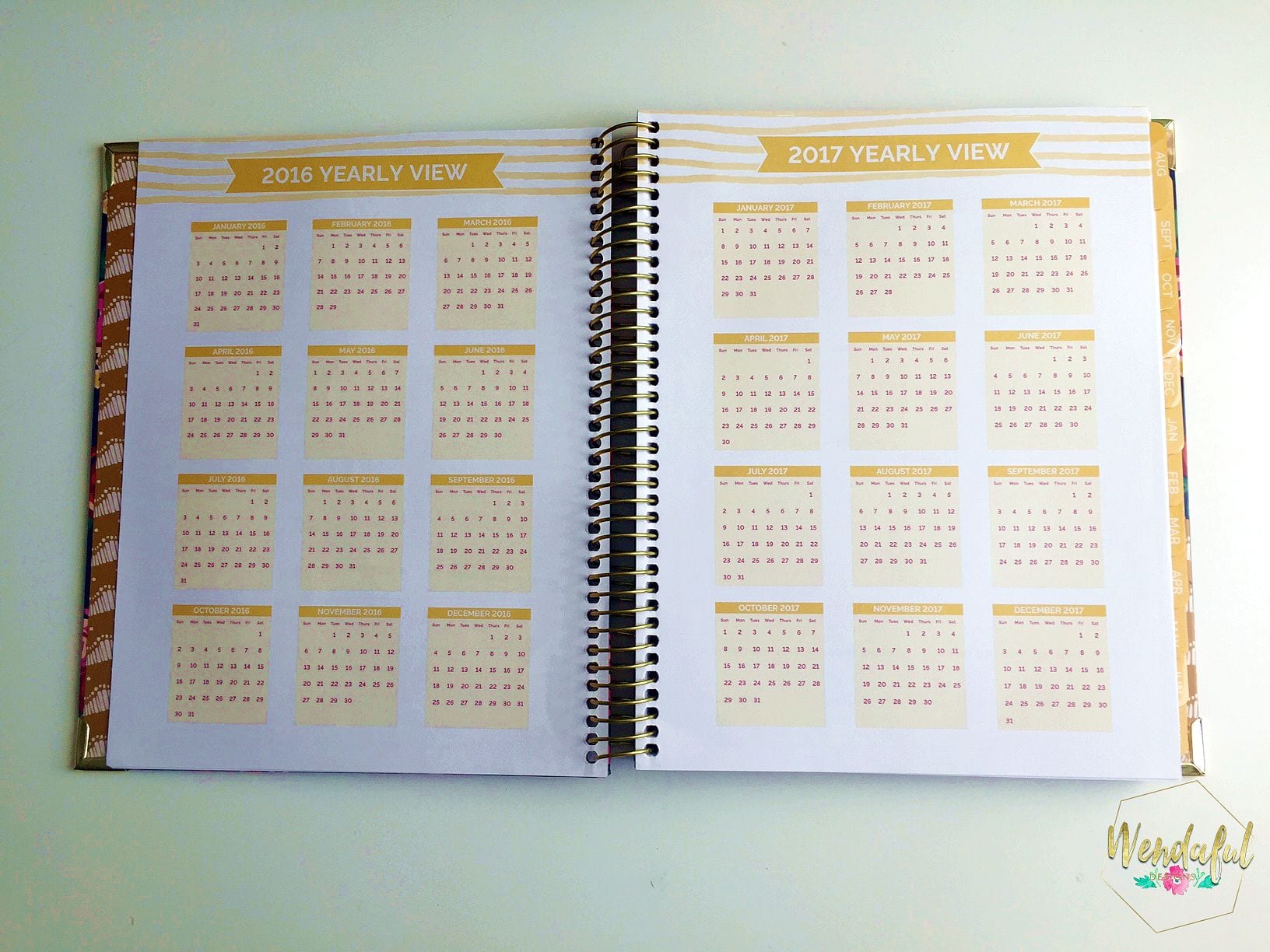 The first calendar is your 2016-2017 yearly calendars. This section is great for tracking, future planning, or just referring to see future dates.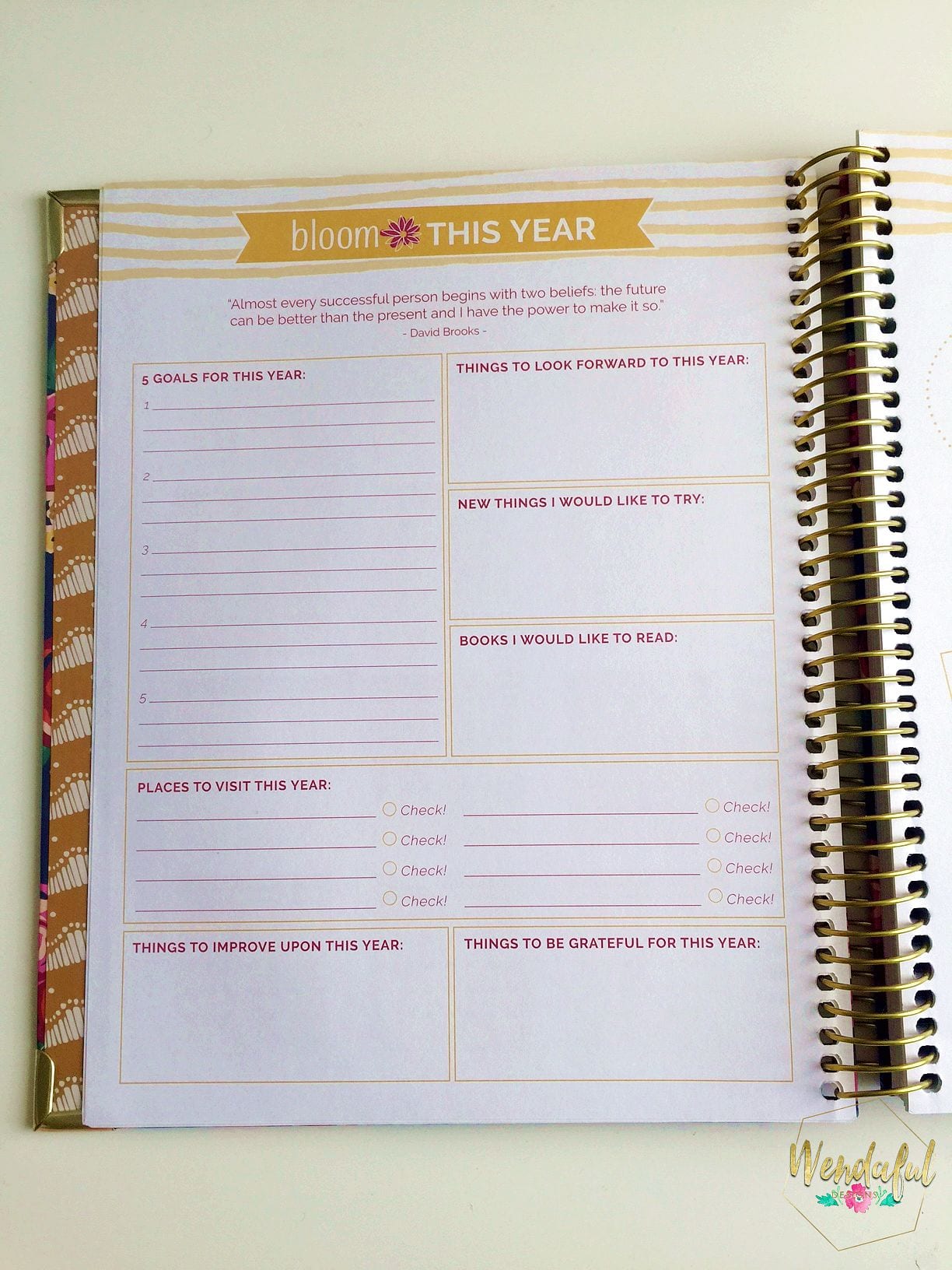 After the yearly calendar is the yearly goals and vision pages. I love this section of the planner. It really puts your year in perspective and the different sections for different goals really help!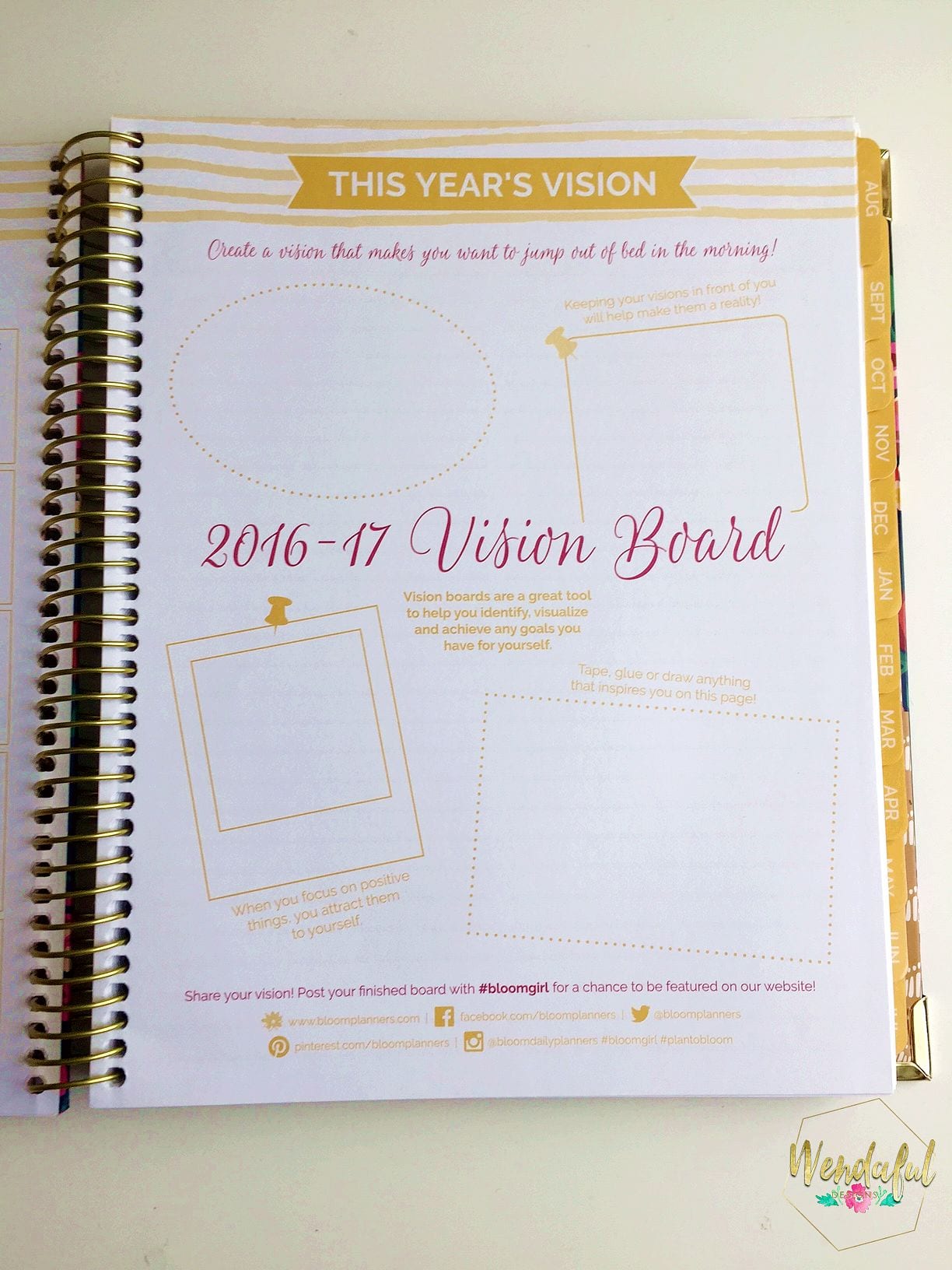 This vision board is perfect for a planner! I have one hung up in my room, but having in your planner is just plain genius! Now when you are using your planner you will always be reminded of your goals.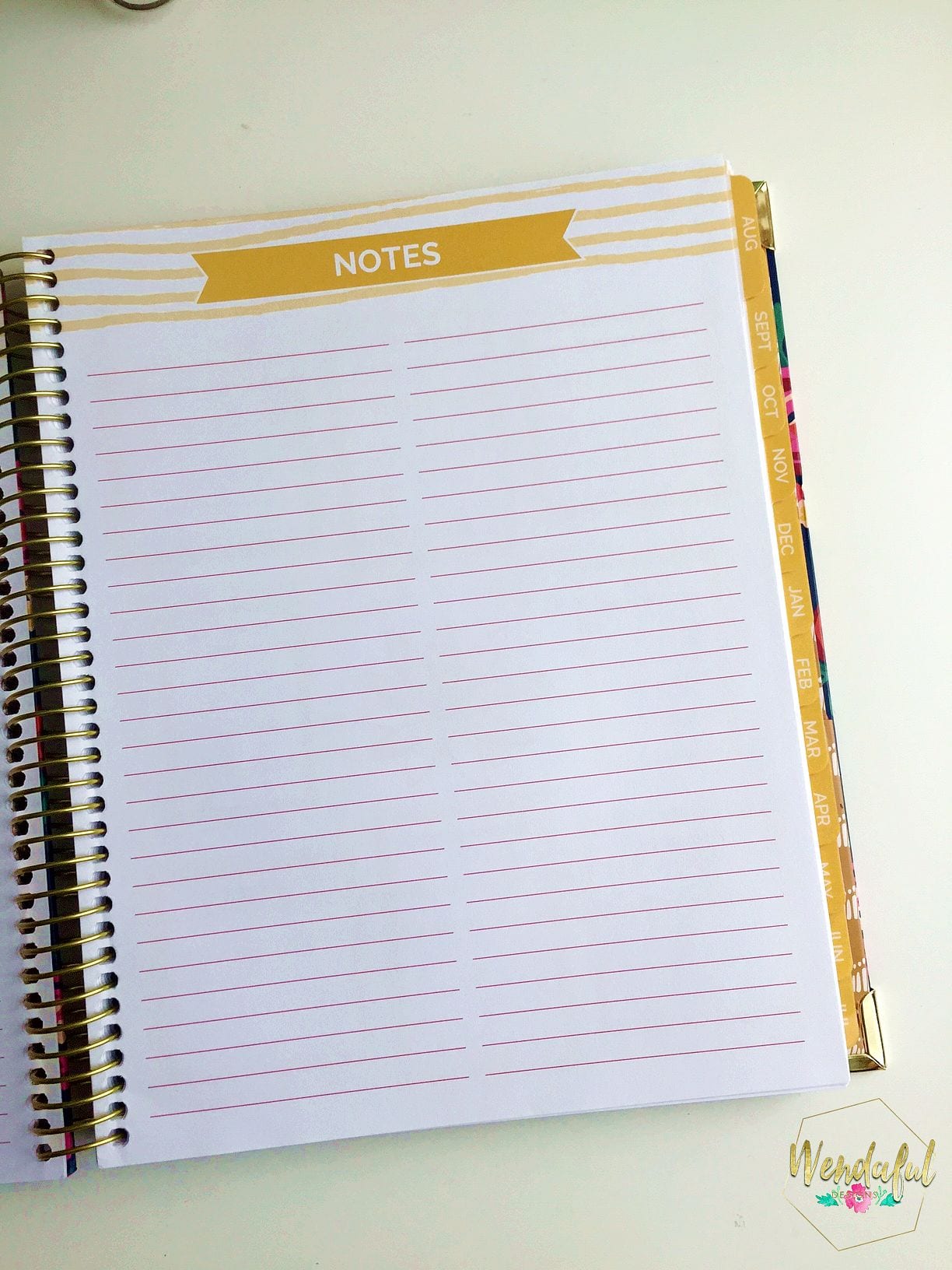 Before your planner starts, there are two pages for notes. You can use it for contacts, passwords, general routines, to dos, etc.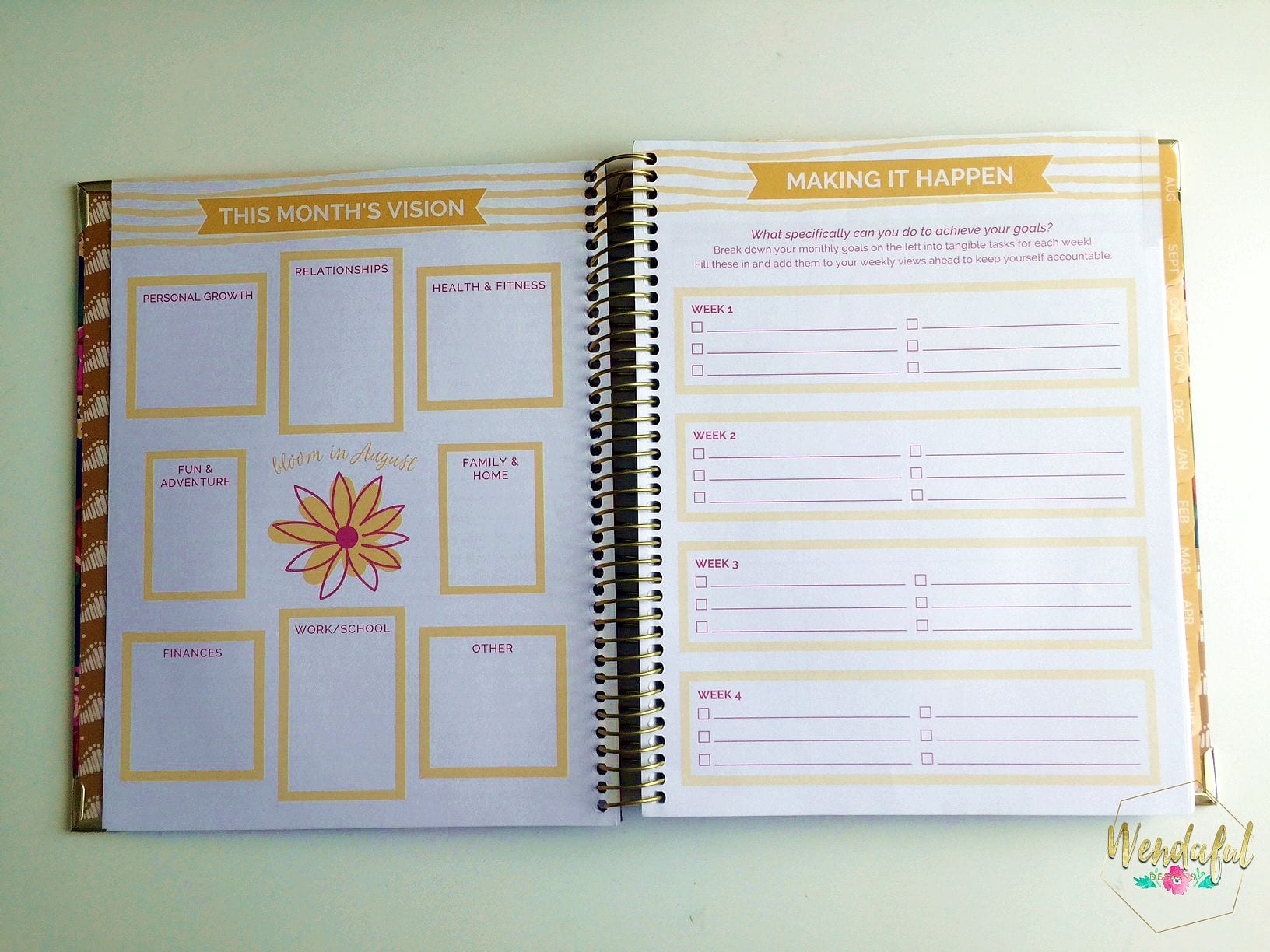 The best part of this planner I believe is the monthly goals pages! I love that it includes these two pages pictured above before every month! It's so nice that Bloom thought of smaller achievable goals every month and week. Your goals change all the time. This breakdown of goals and task list to achieve your goals really makes you stay on track.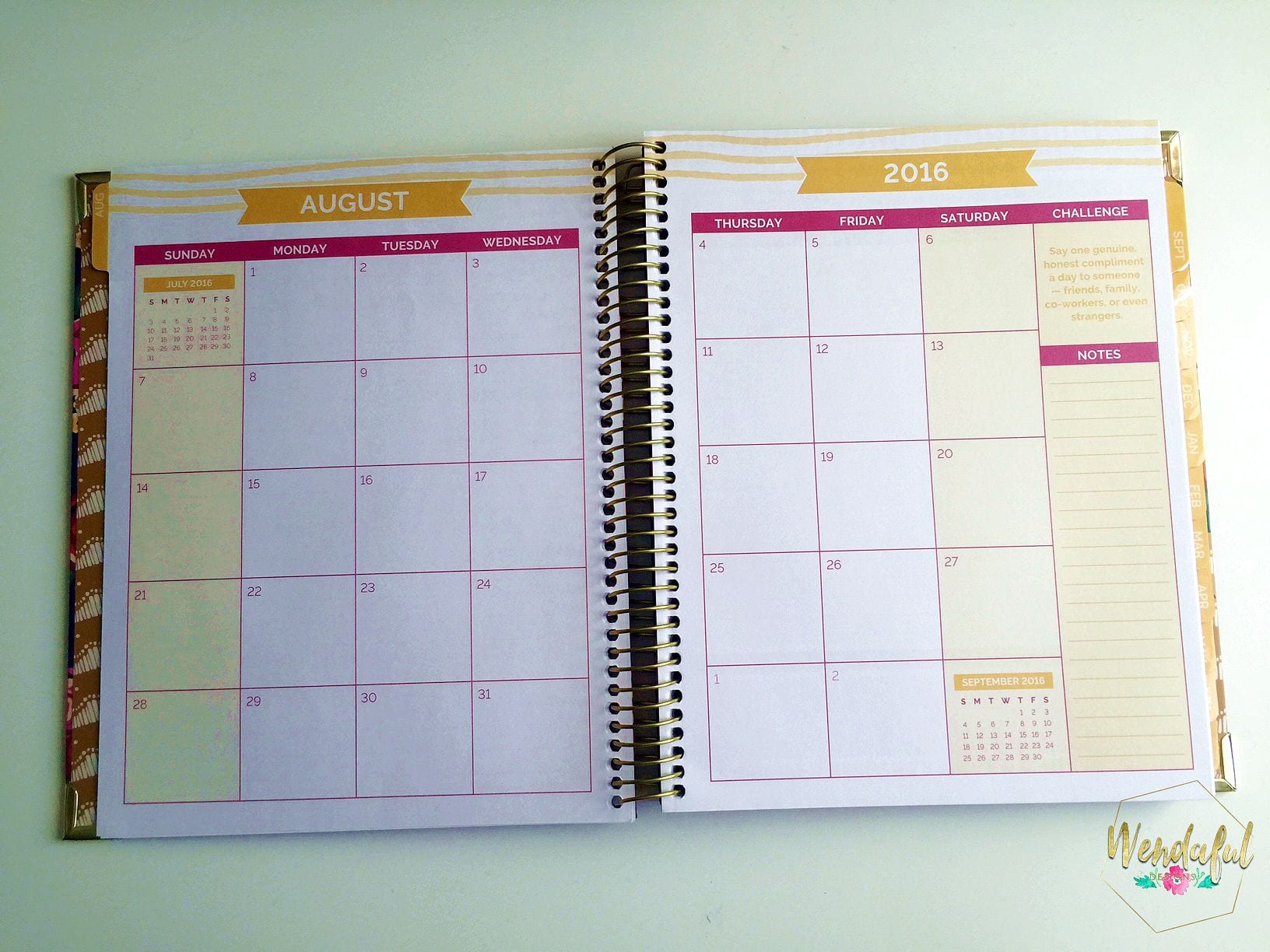 This is the large monthly view! So much space to write. I love the monthly challenges on the side to help you stay happy and healthy in your life.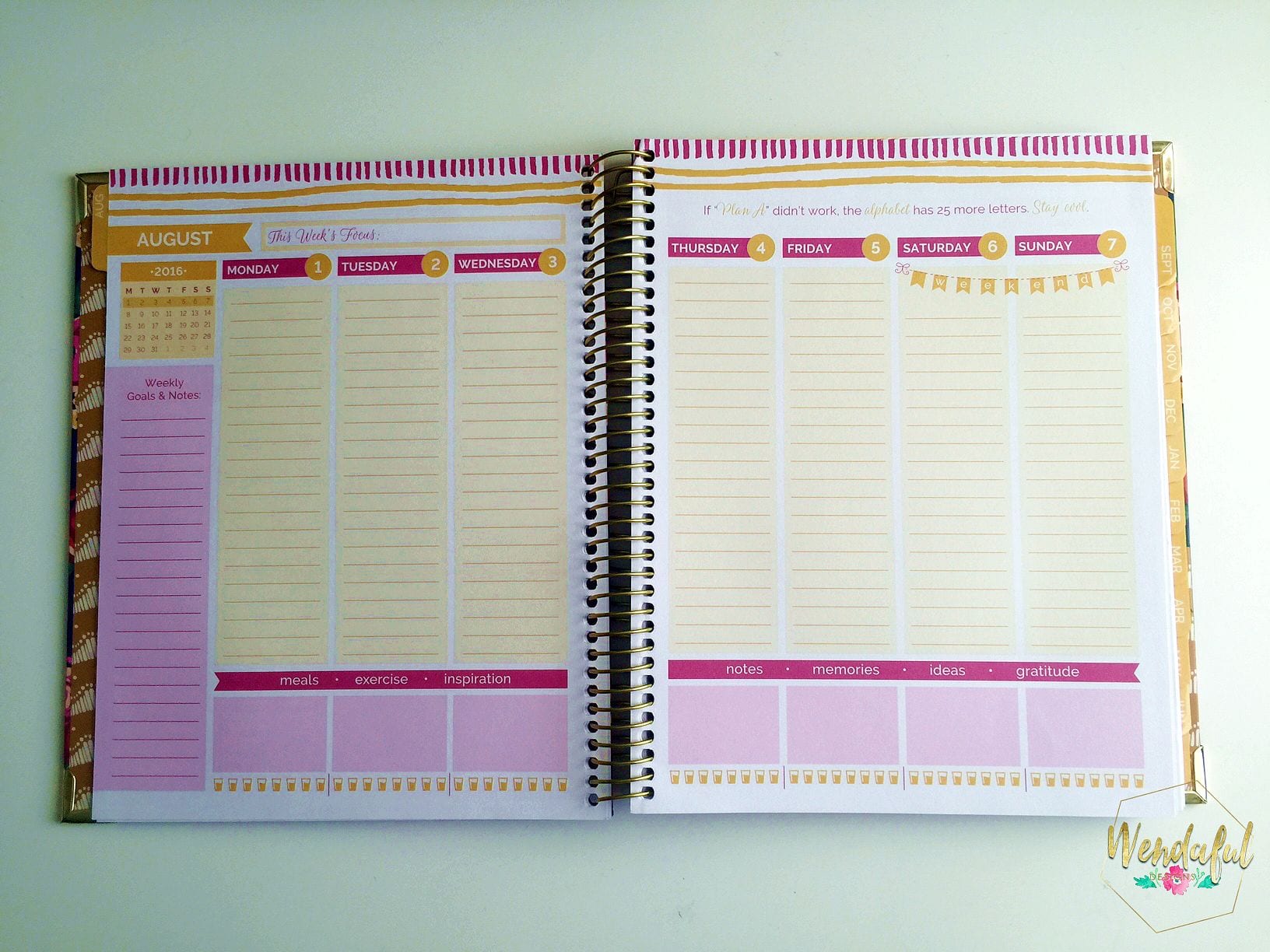 The new weekly view is perfect! I love how it is vertical and inlcudes boxes and water cups at the bottom. It really makes organzing your day so much better. The weekend banner is a cute addition as well!  The lines are perfect for  writing your daily to do lists. These would fit EC Vertical stickers nicely.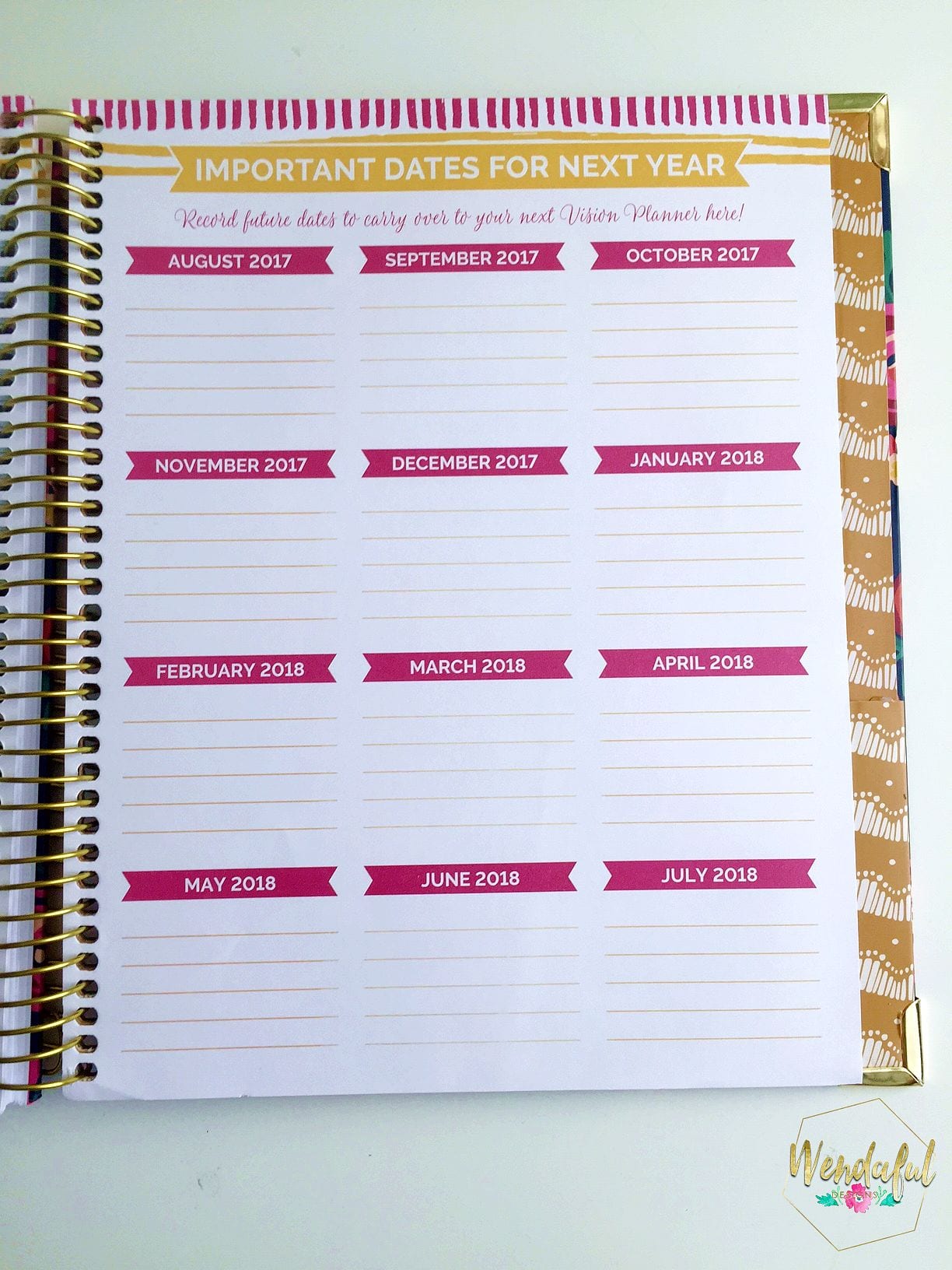 Towards the back of the planner there is a future planning page for the next year.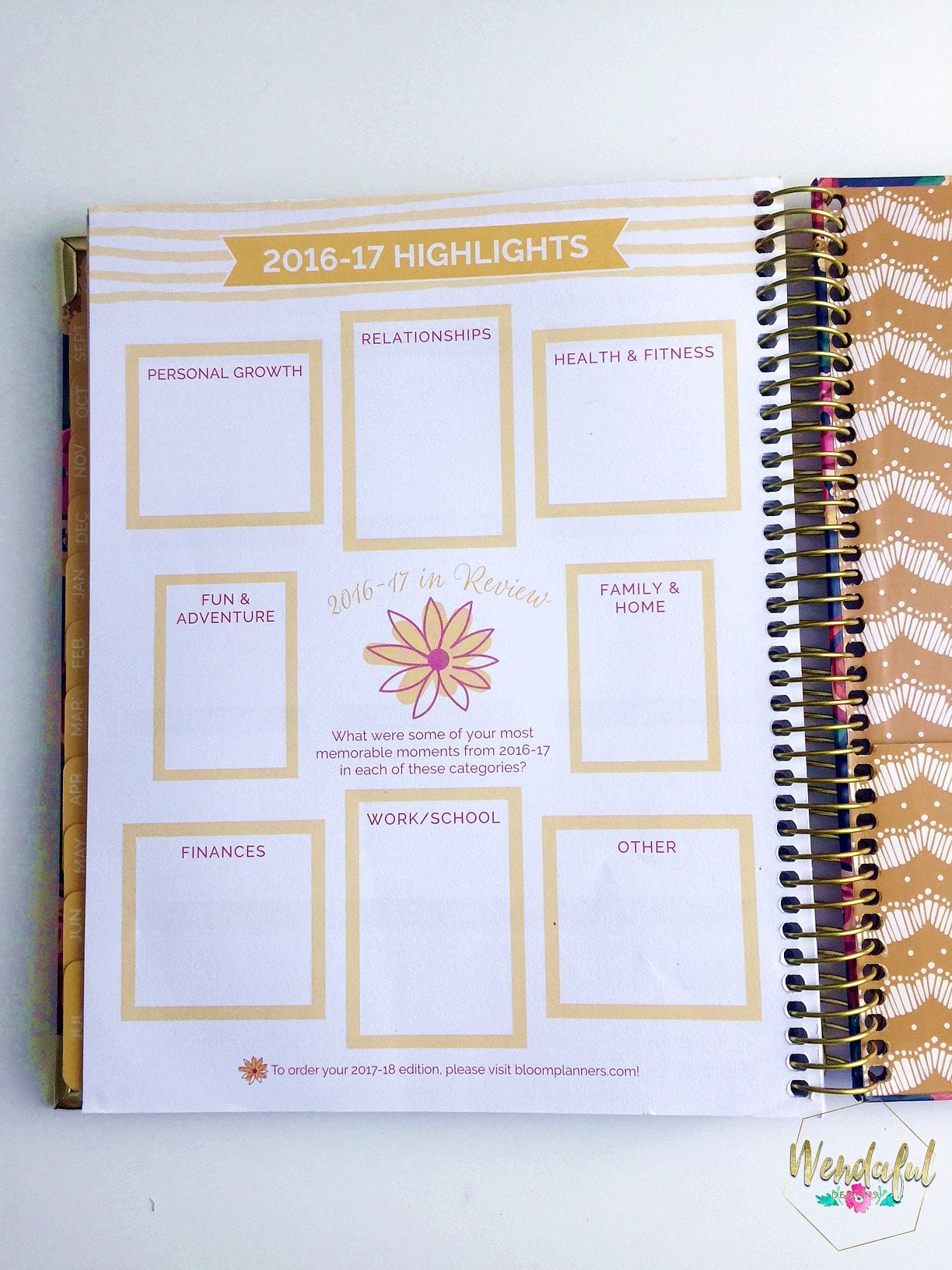 & a page to review your whole year in 2016-2017!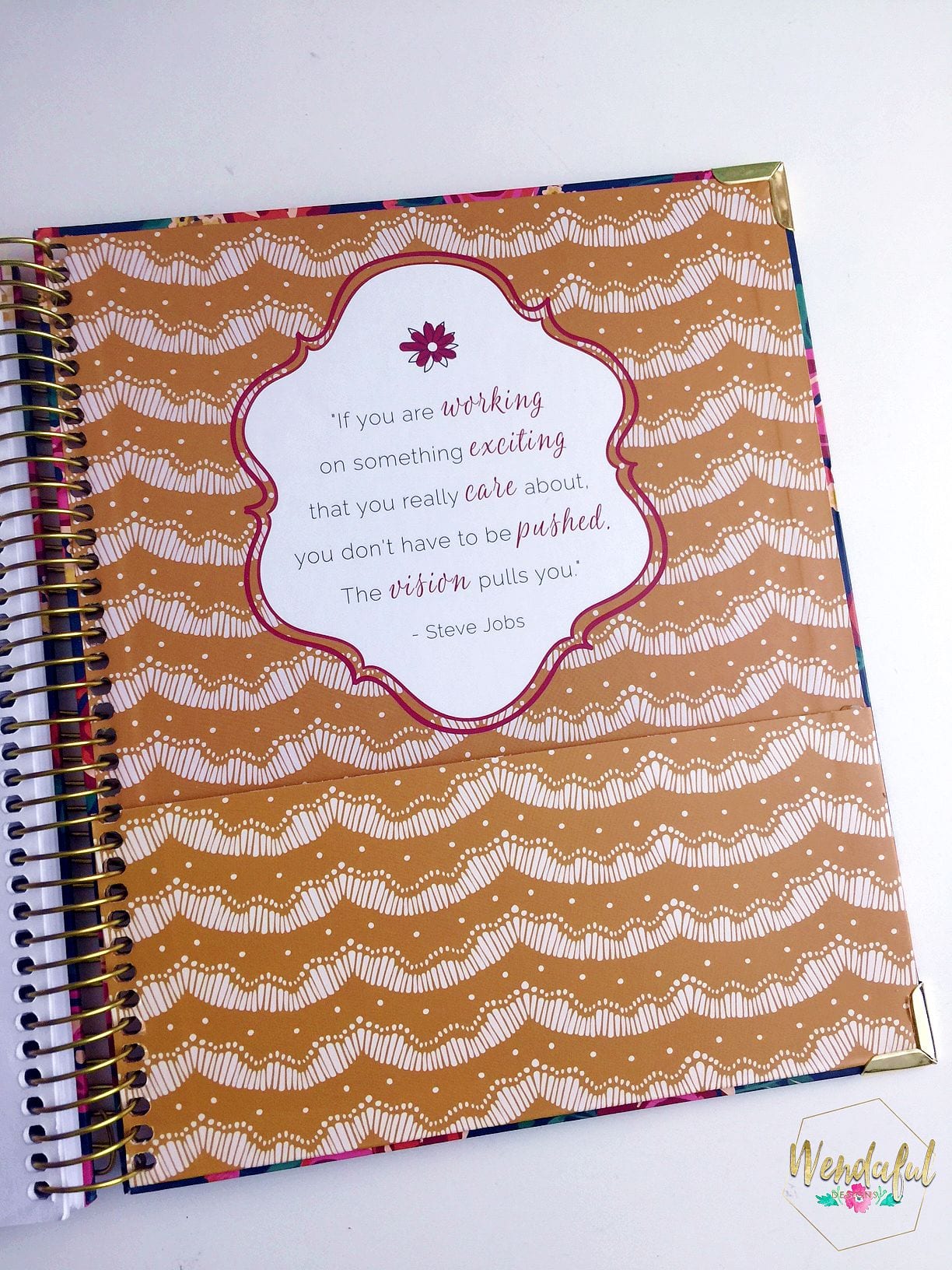 & finally, the back cover includes a sturdy pocket to hold all of your important documents or stickers!
I really love how they designed this planner. It definitely is different from their normal planners. I love how it focuses so much on your goals and plans for the year. I hope it will help me get more organized and reach my goals for my blog and social media channels.
To purchase your bloom planner or to see their other planners click here! http://bloomplanners.com/collections/vision-planners
My Blog/Etsy Planner
Here is how I am customizing this planner to work as my blog/etsy planner & social media tracker: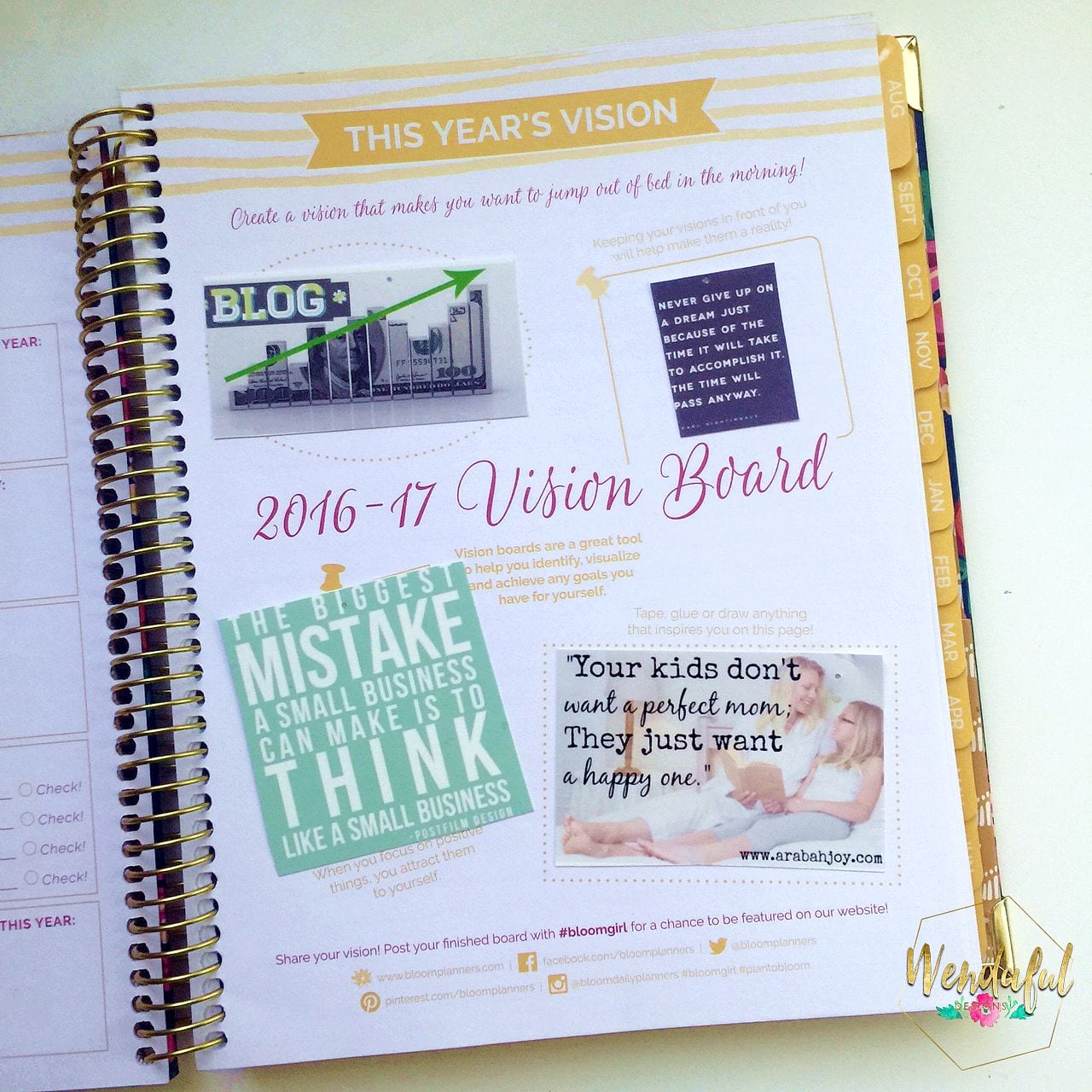 First off, I already printed some quotes and pictures for my vision for the year. I definitely want to start earning more from this blog!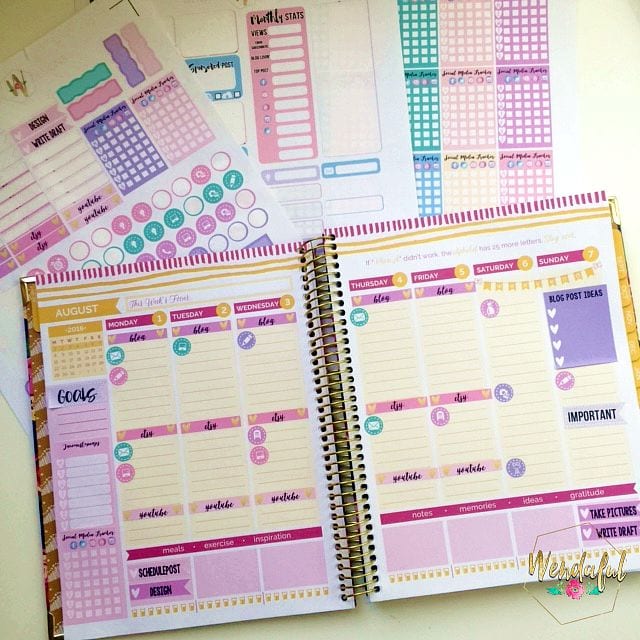 I have some printables on my etsy shop and freebie I will be posting in another post for all things social media related! These stickers are essential for this planner since I will be keeping track of my blog posts, how many views i get, followers, likes, paydays from all my different sources. The weekly view will be where I write my daily to do's. I separated the sections into blog, etsy and youtube. I use the weekend for ideas for the next week. I plan to use the bottom box for my bigger tasks that need to get done for the day, if I don't have time to get the other things done. On the sidebar I have an income/expense tracker and social media tracker. The one thing I need to improve on is writing regularly, sharing my content on social media and posting on a normal basis.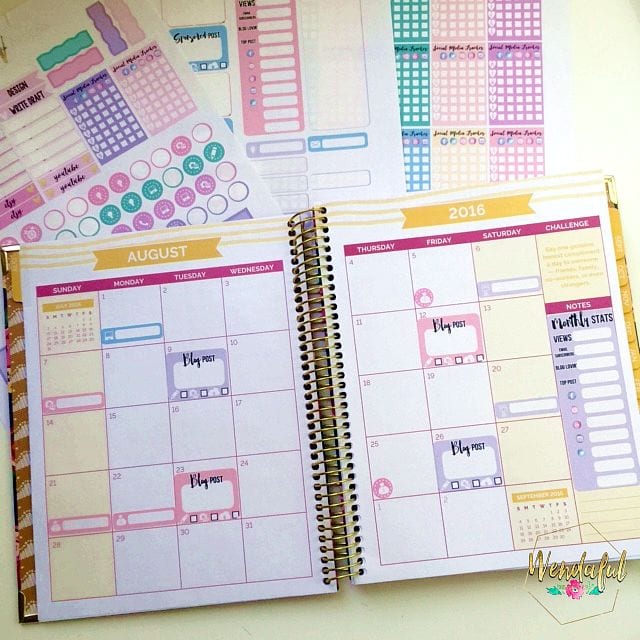 I love the monthly section for keeping track of my paydays. I get paid from different sources so it's hard to know when I get paid. I also will use it as an editorial calendar. My goal is to post every tuesday and friday, but for now I will start with every other week. I also want to start recordingg videos again on saturdays, when my husband is home to watch the kids. I love the monthly stats to see how my views, likes and followers are changing every month.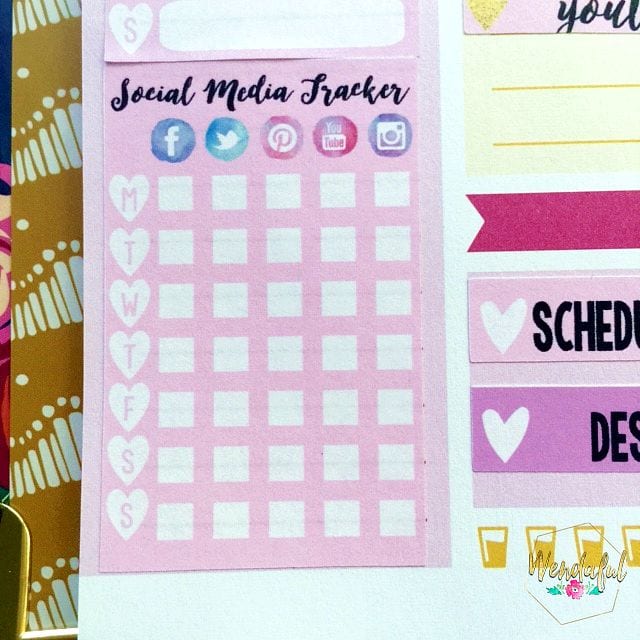 This social media tracker will be a freebie in an upcoming blog post! You can purchase the other printables from my etsy shop at http://www.shop.wendaful.com when I reopen.