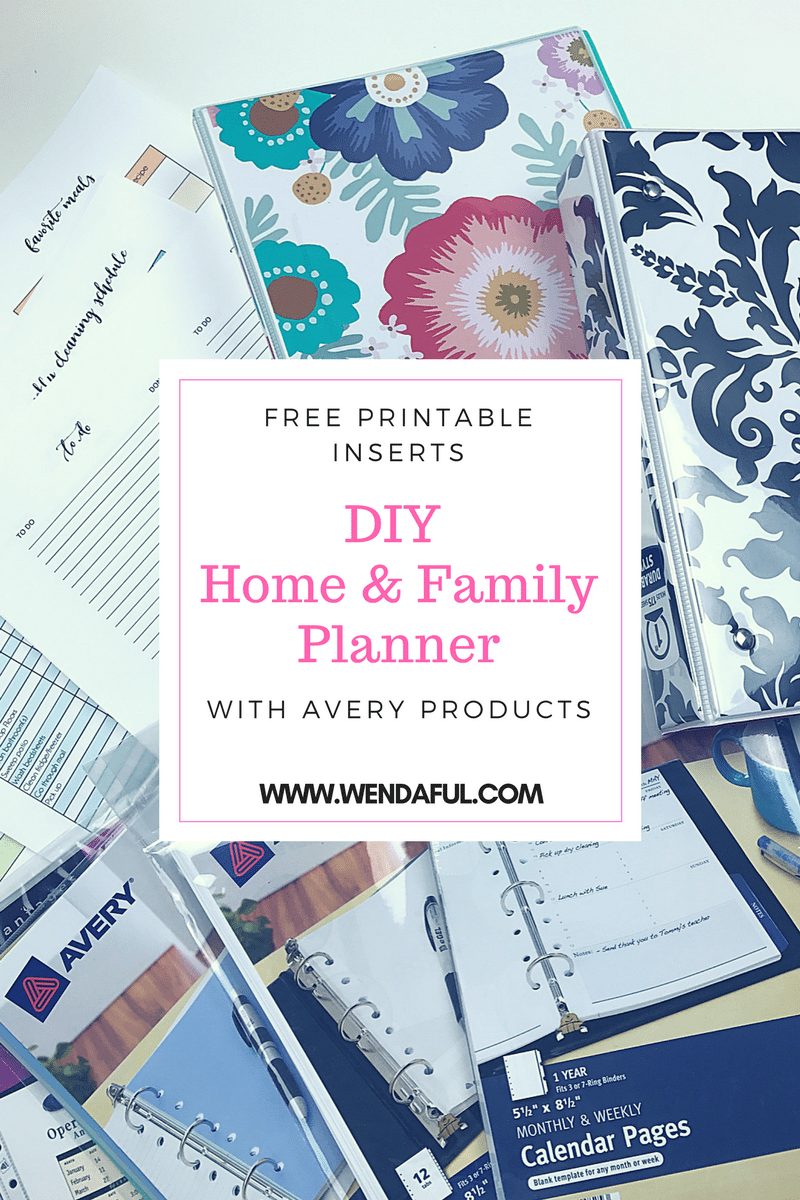 Today I am sharing with you how to make your very own home & family planner! This DIY planner is super affordable since most of the items are from Avery and you can easily find them in stores such as Target, Office Depot or you can find them on Amazon.com. I have been wanting to make one for a while now to keep track of my meal planning and cleaning.  I really needed a family calendar and bill pay checklist so my husband can also check in on it. Since this planner would mainly be used in the kitchen, I didn't want to use my Filofax or Kikki-K planners because I definitely didn't want to get a bunch of sticky foods getting on my leather planners. Luckily Avery has stylish mini binders that are easy to wipe off and are super affordable!
I  bought these Avery mini binder pockets because on Amazon they are only $1.99 as an add-on item for a pack of 5! They are one-sided and do not have tabs. I ended up buying the Avery Mini Dividers  (also only $1.99!) to serve as my dividers.
Products Used:
Planner Setup:
I chose this pretty colorful floral binder to use as my home planner. It is so cute and I love that if it gets dirty I can easily clean it just by wiping the cover. These mini binders also has a pen loop!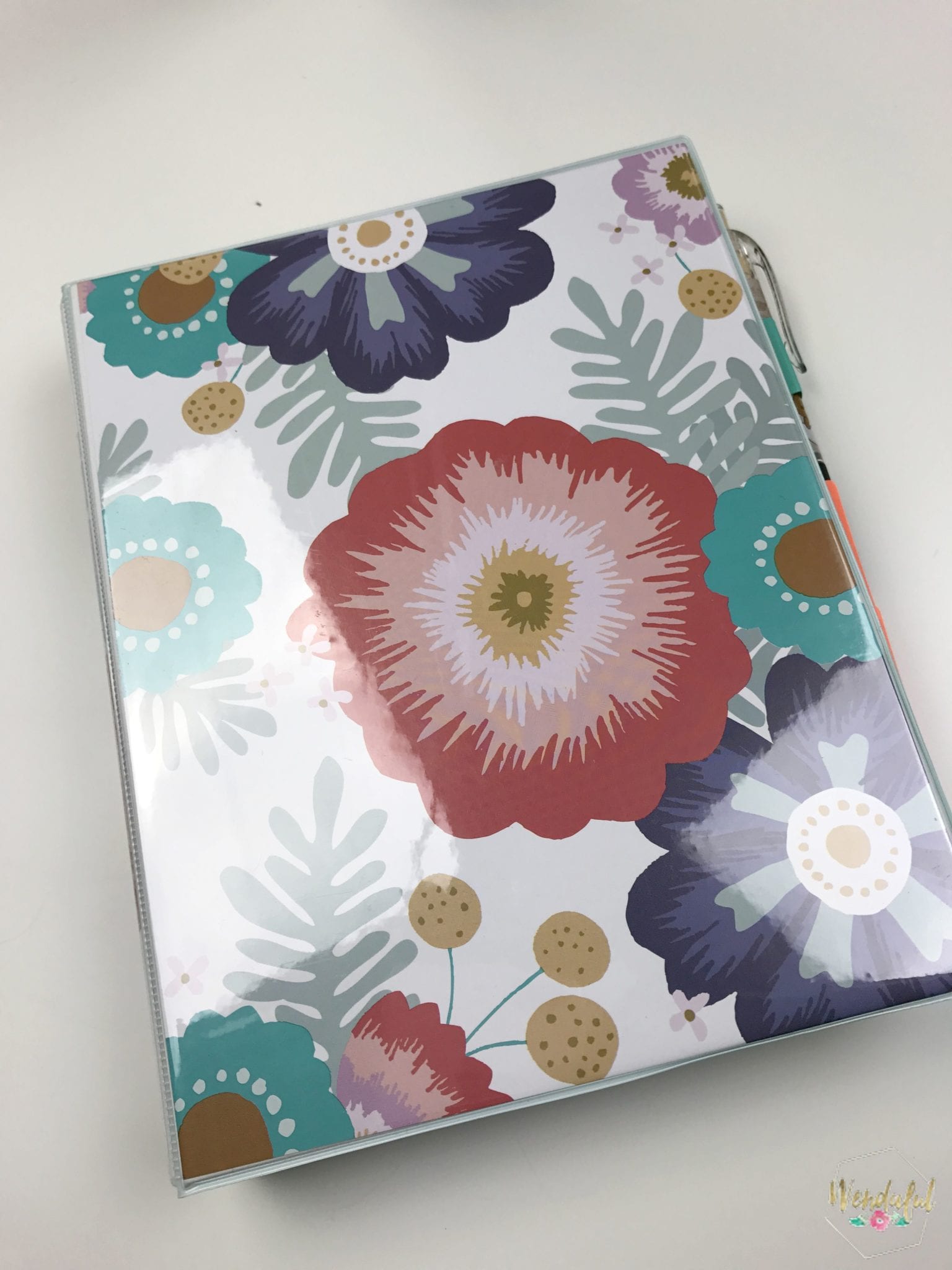 For my planner setup I wanted to make a list of the tabs I would use in my home & family planner using these Avery Dividers.  Since there are 5 tabs I decided to go with "To Do/Cleaning", "Calendar", "Bills", "Meal Planning", & "Notes". I ended up switching up the order of it to make it work best for me. To make it cute I just added some ephemera to the first divider.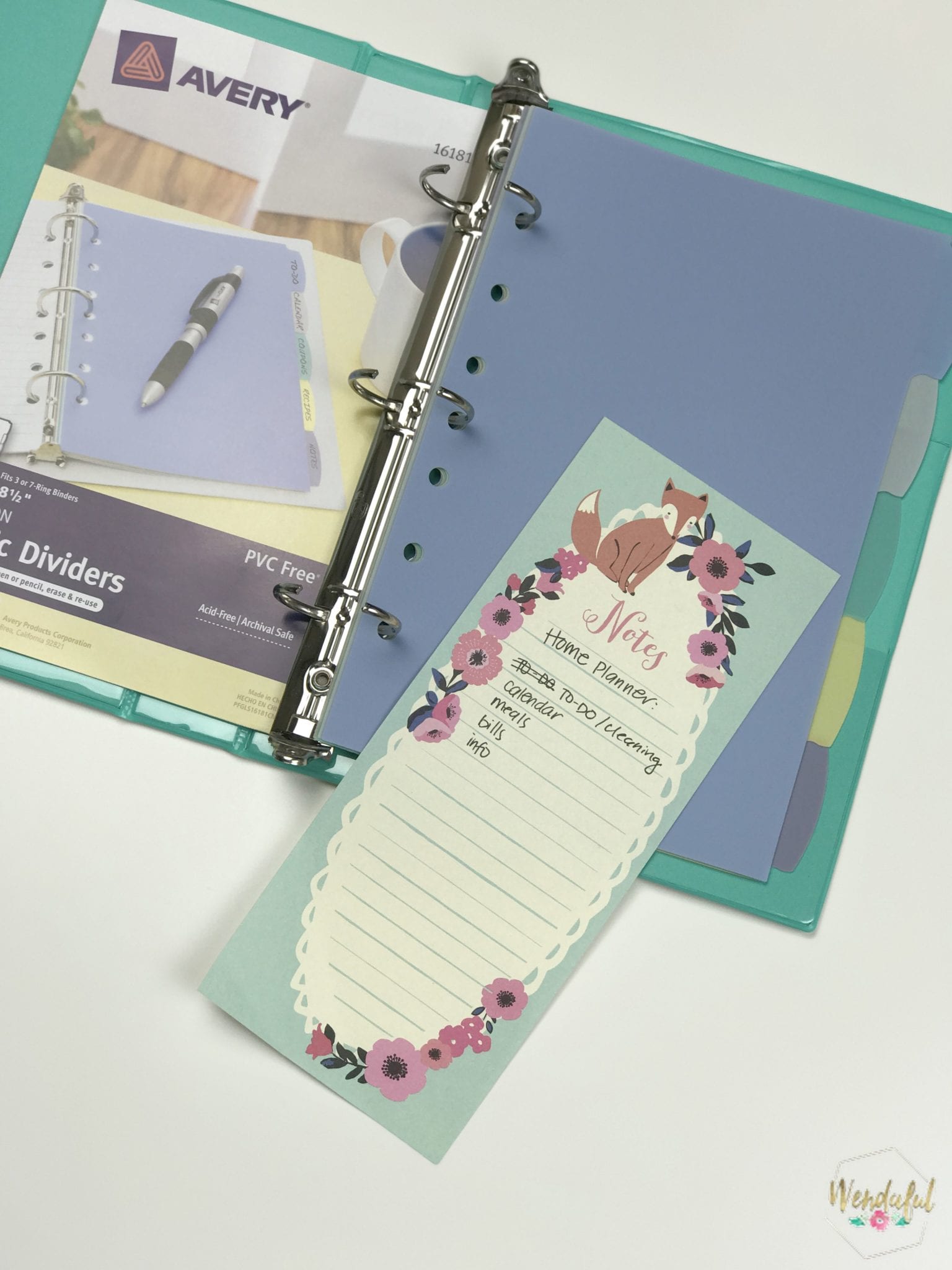 To label my tabs I used some Erin Condren labels and MAMBI stickers. I also added a bunch of ultra tabs for my sub-sections as you will see more of later.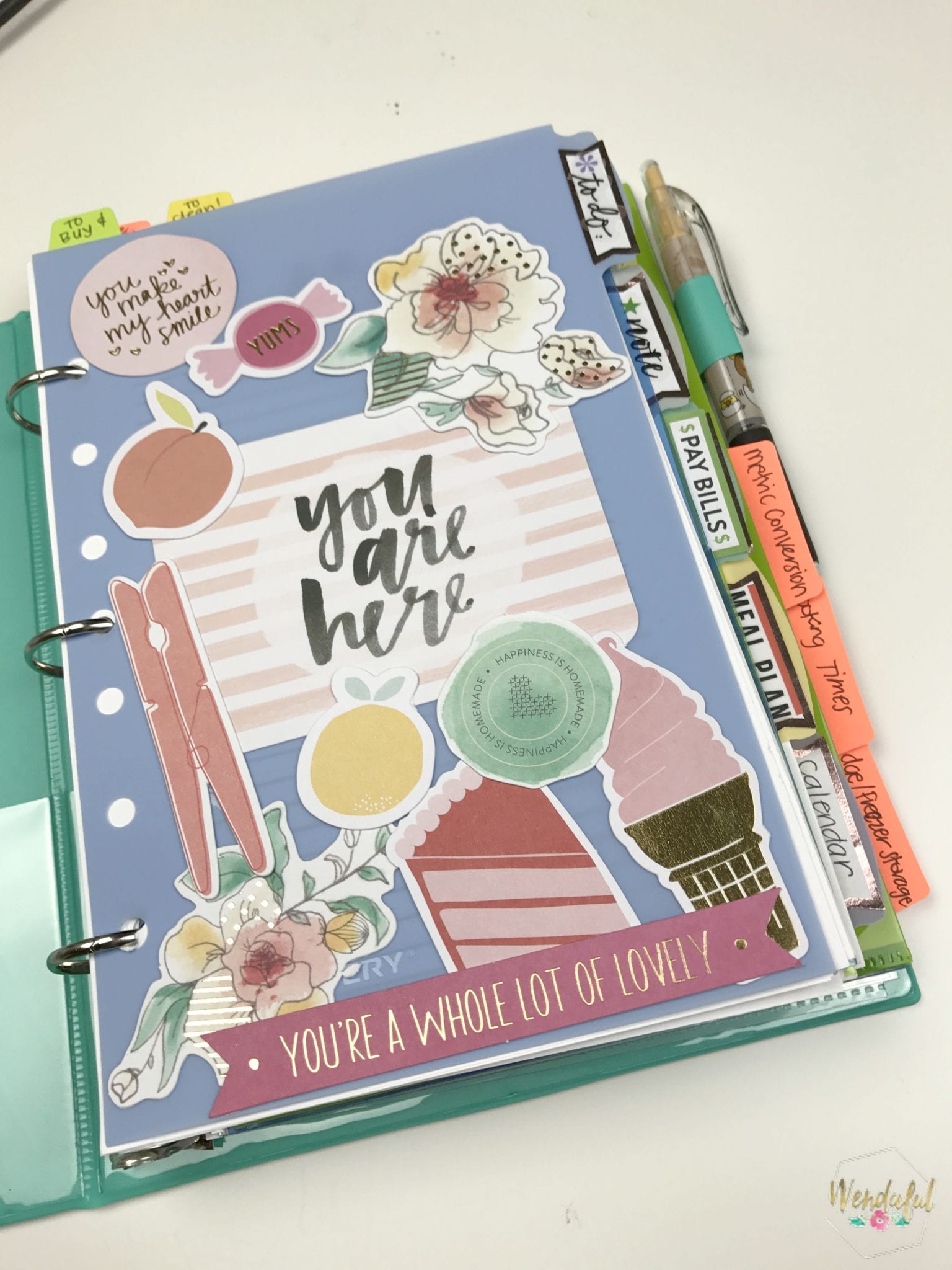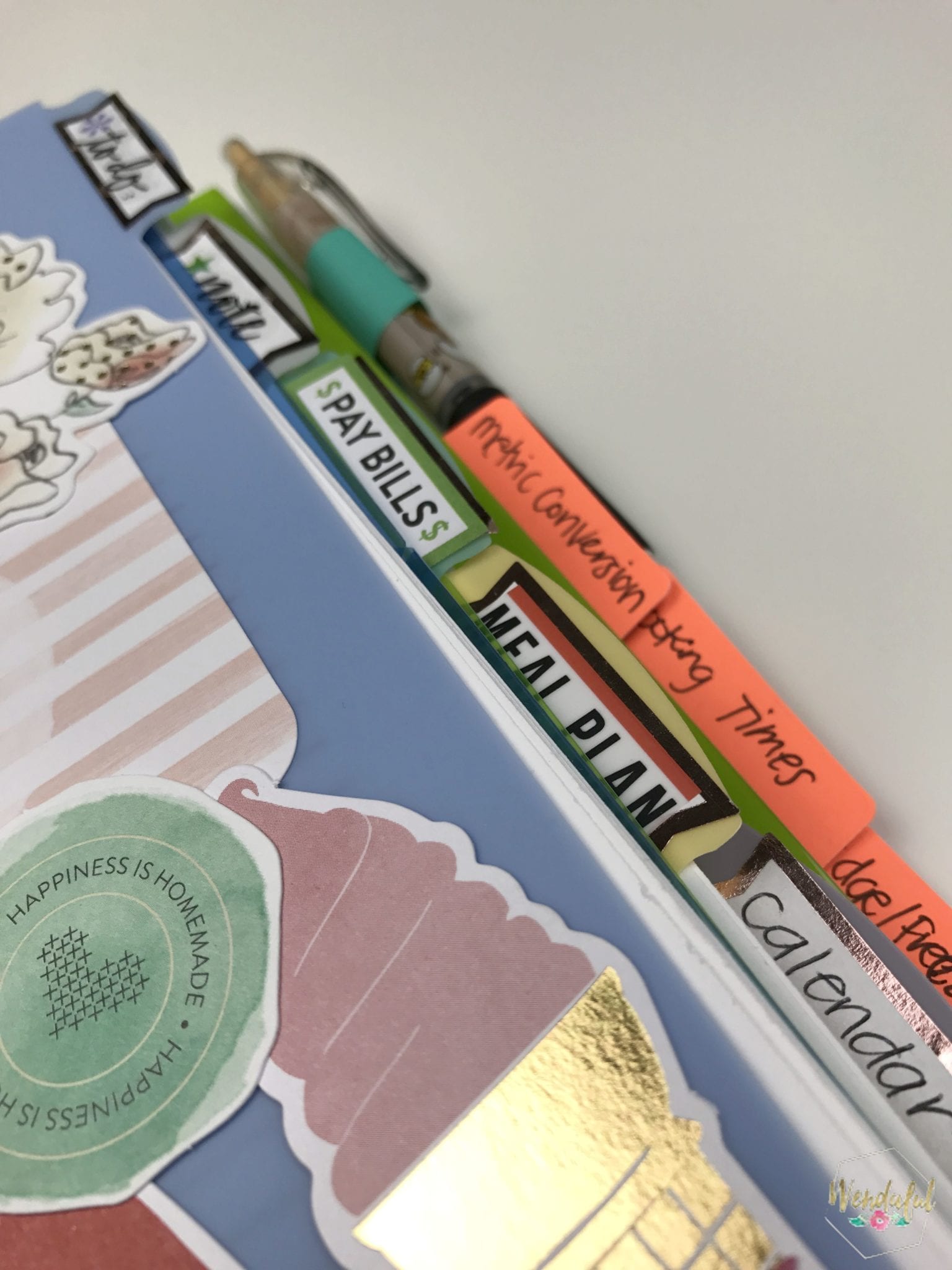 Planner Inserts
Here are some pictures of the inserts I made myself especially for this Home & Family planner! You can find these free printable downloads at the bottom of this post!
To-Do lists – a master to do list for everything home and family related!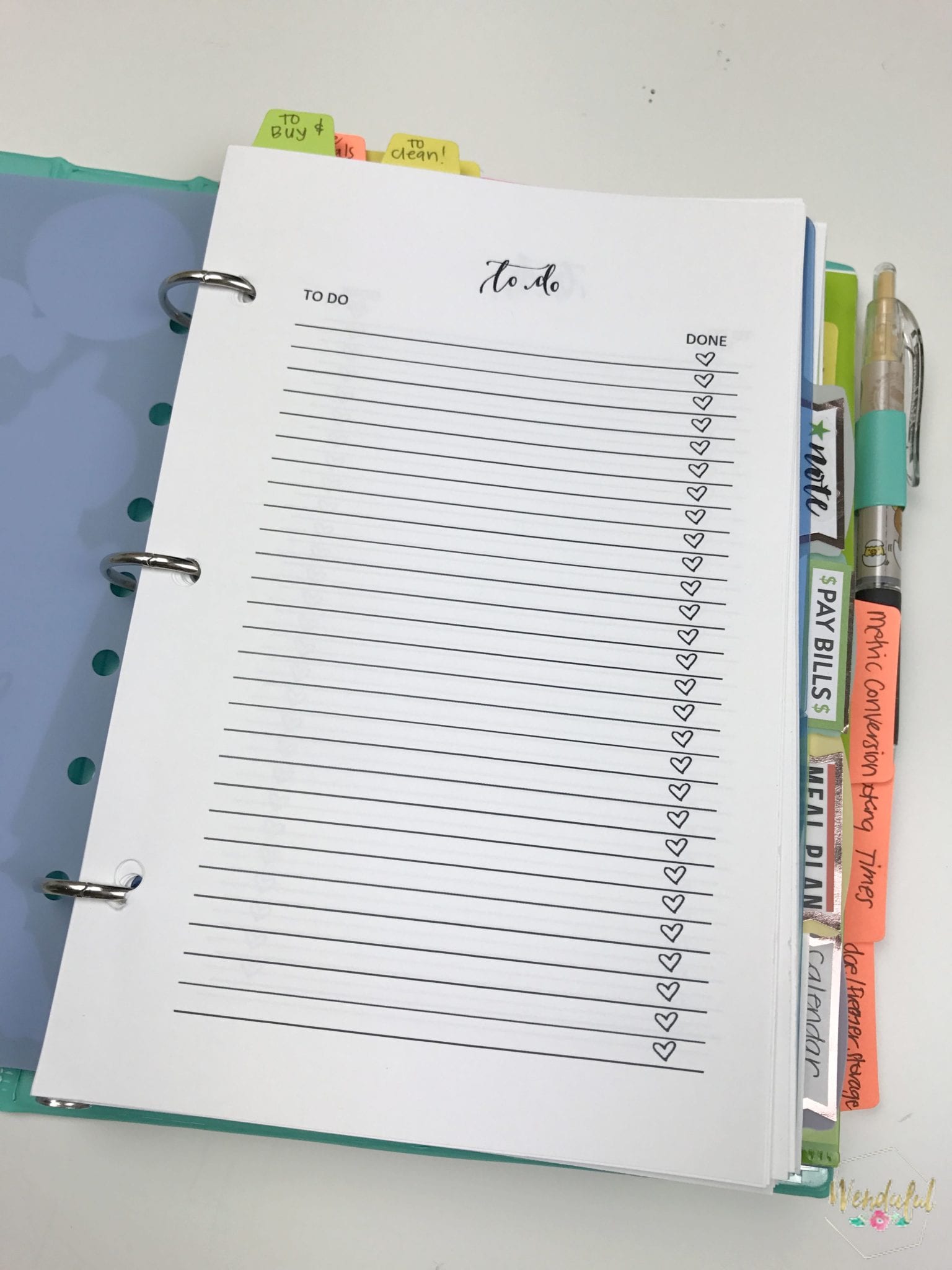 To Buy Lists – anyone can quickly write down what they need for the next time you run to the store!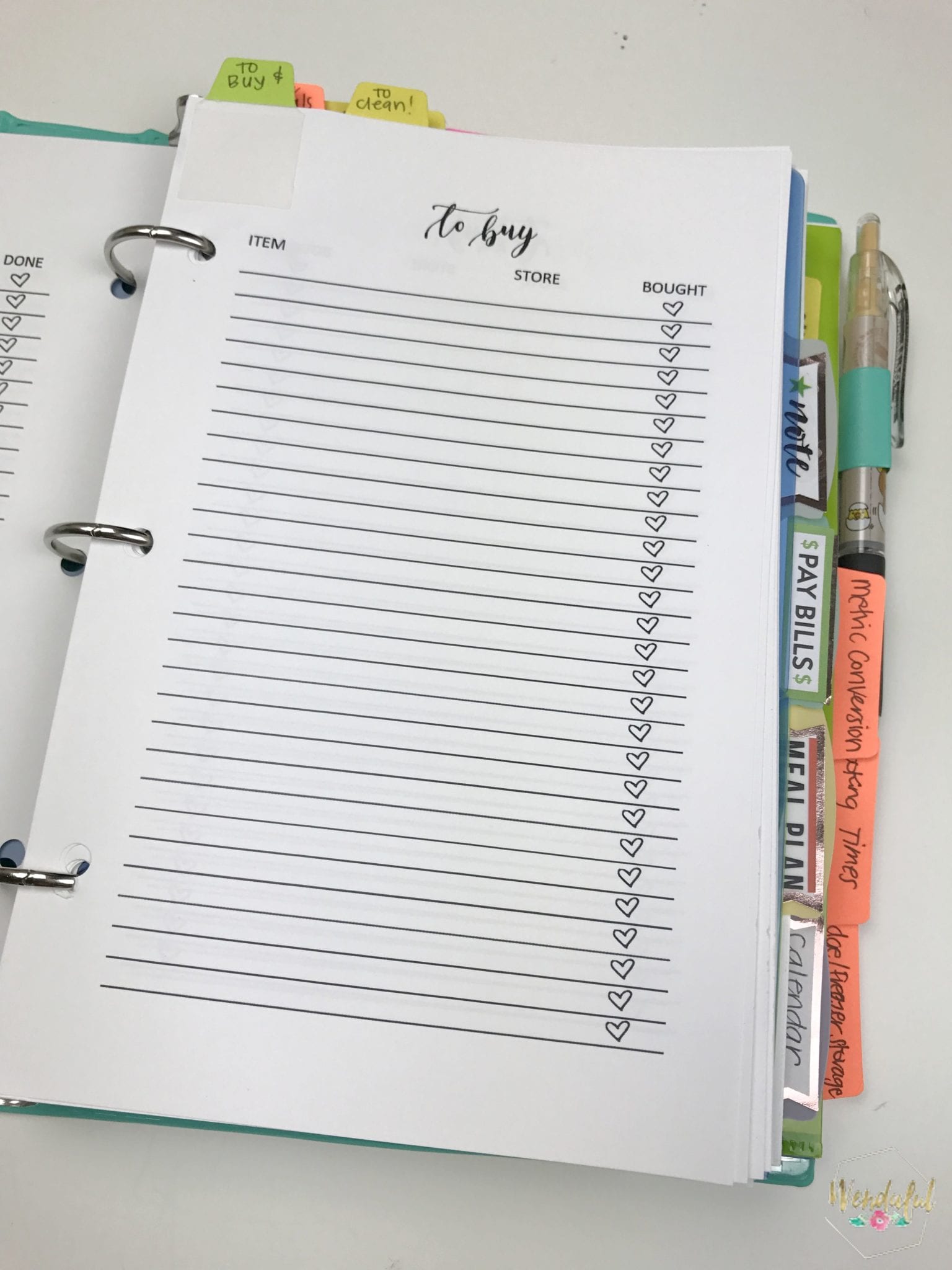 Weekly Cleaning Schedule – simply check it off as you go!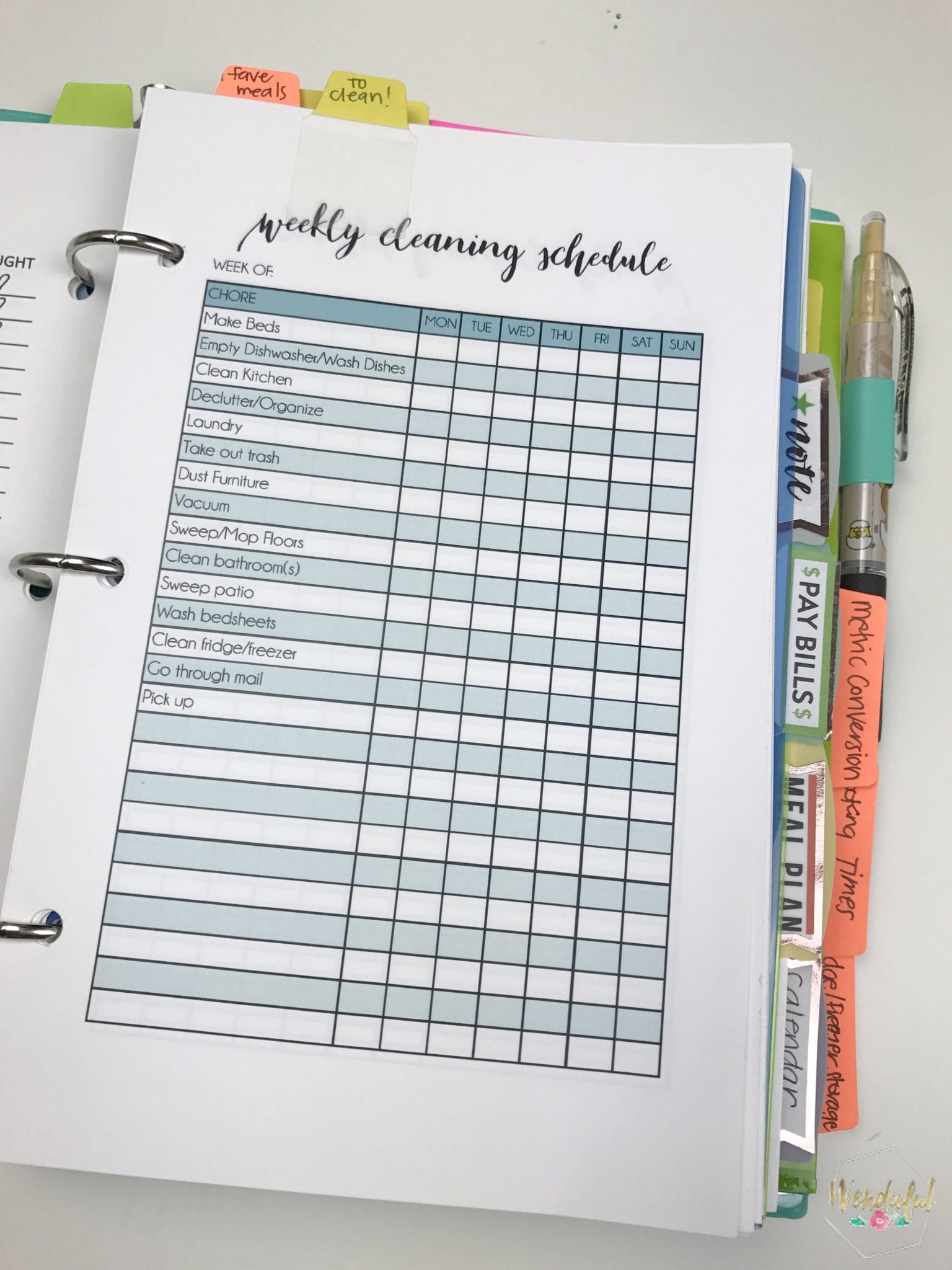 Bills Due – my absolute favorite way to keep track of the bills. I have one in my planner but we also need one in our family binder to make sure we don't miss any bills!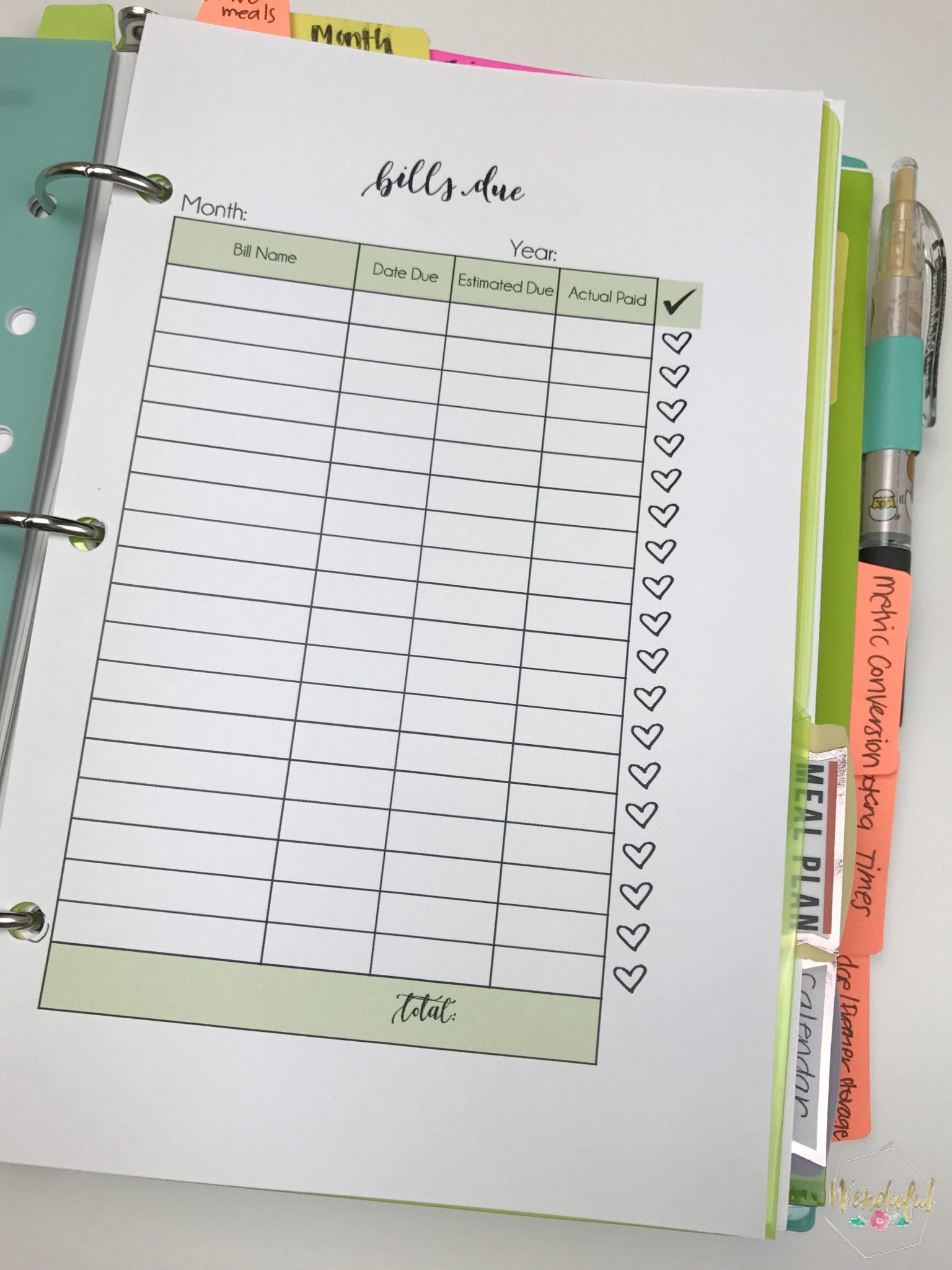 Meal Ideas/Planner – plan your week's meals using this simple printable!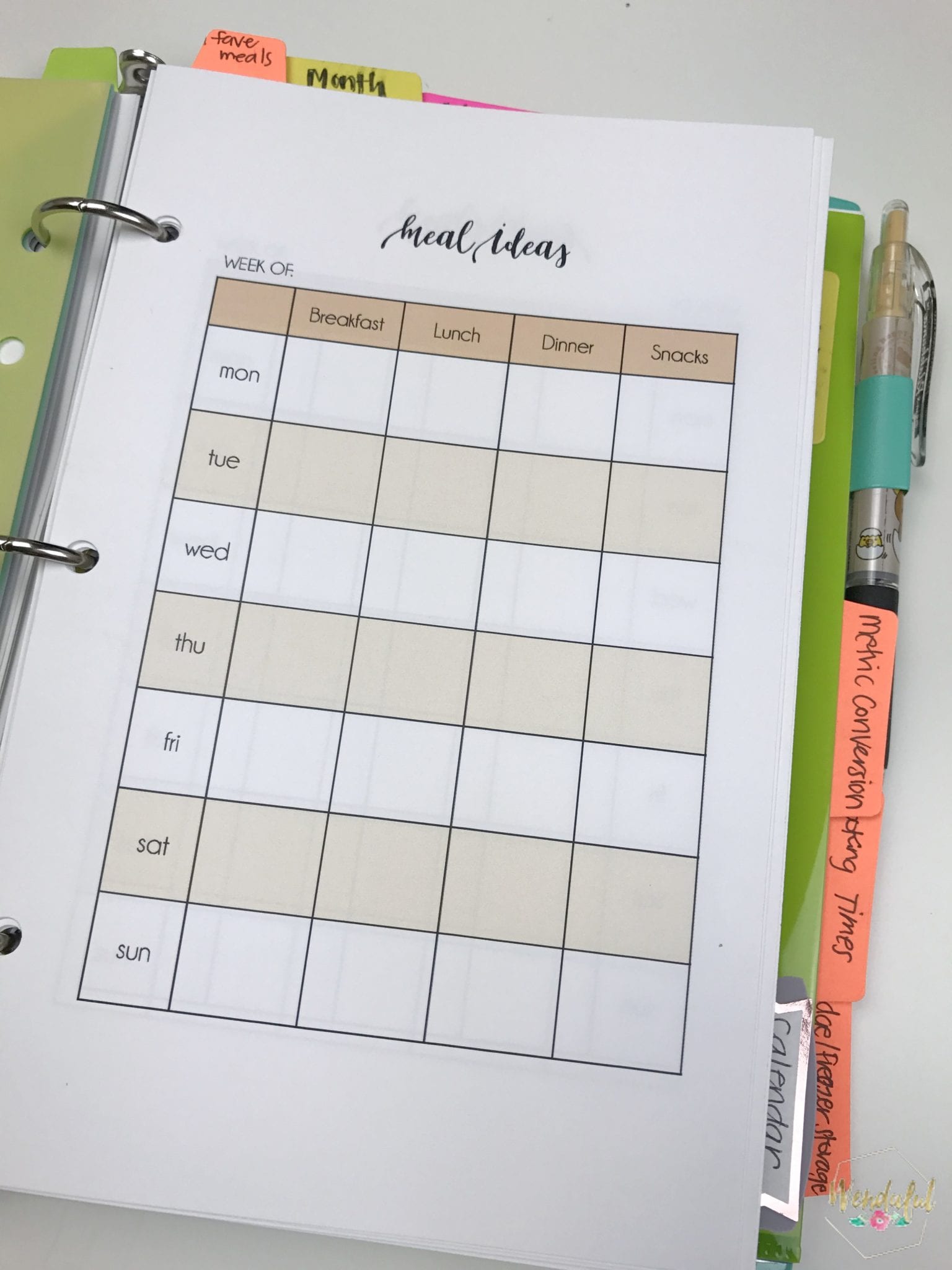 Favorite Meals – great for quickly finding meals to cook and plan for.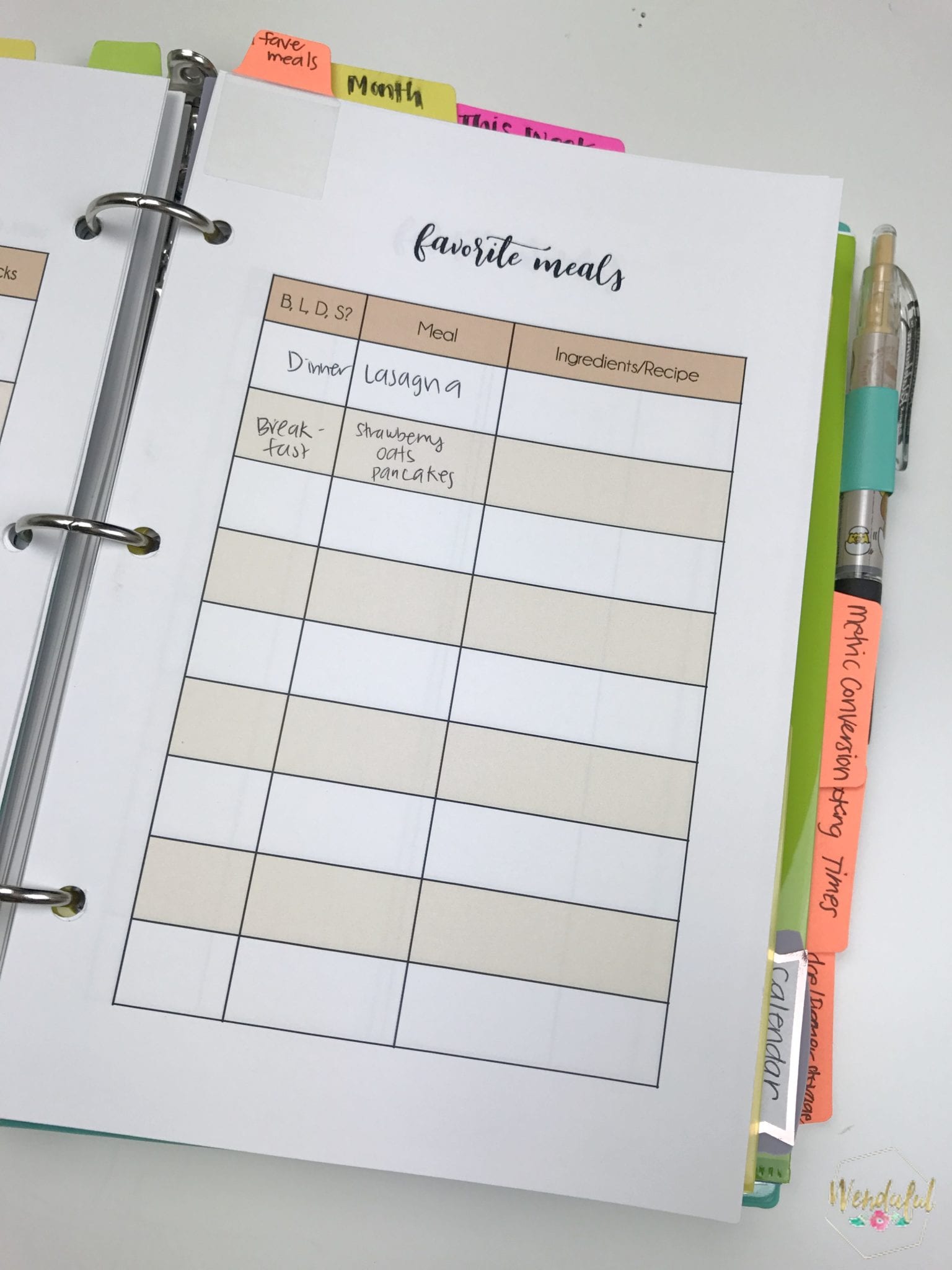 Binder Pockets for printed meal recipes. I love how these pockets don't stick out over the tabs! They're perfect for loose pages.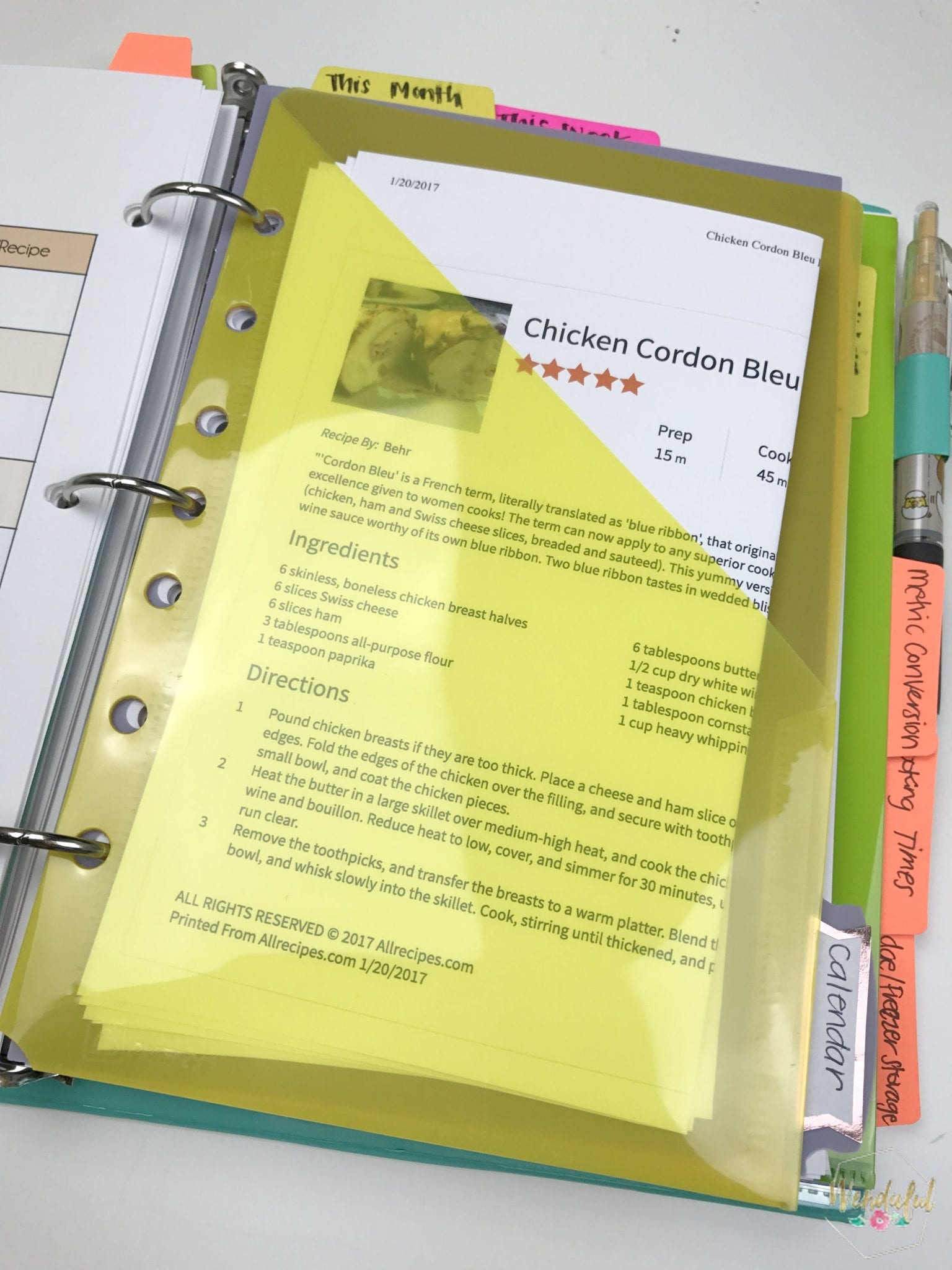 Calendar Pages
I love that the inserts by Avery are undated. I can start using it whenever I want. It includes a yearly overview, and a monthly and weekly layout.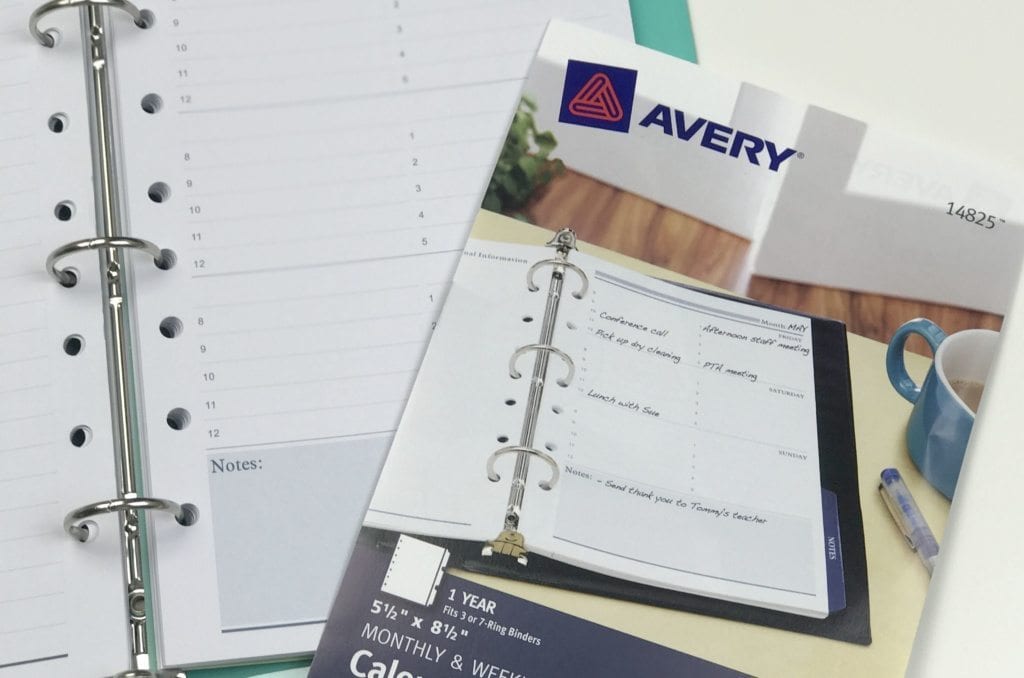 Monthly Layout – I used a large ultra tab to mark which month I'm on. This makes it so easy to turn to the month we are currently in.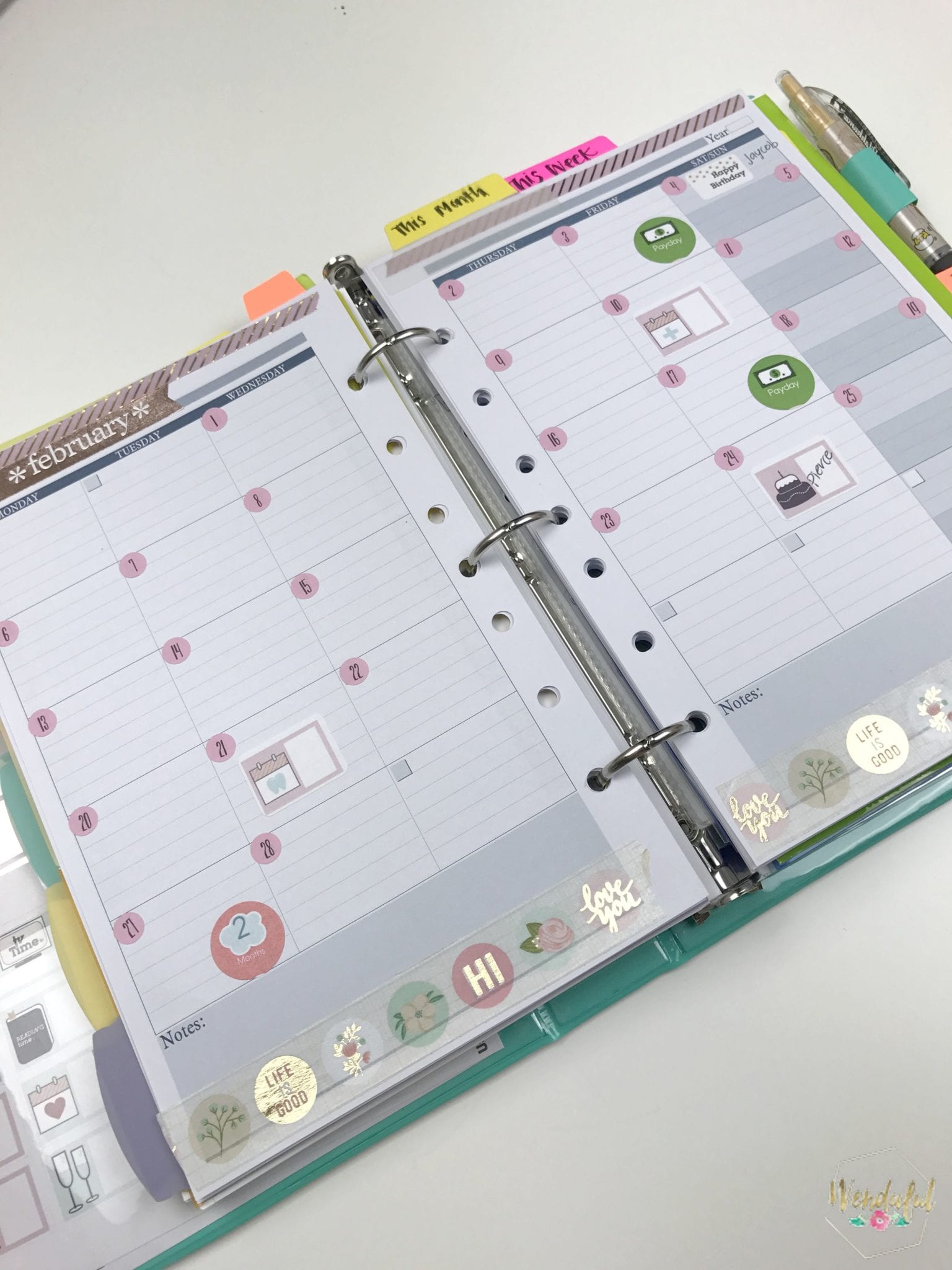 Weekly layout. I used a large ultra tab to easily mark which week I am on.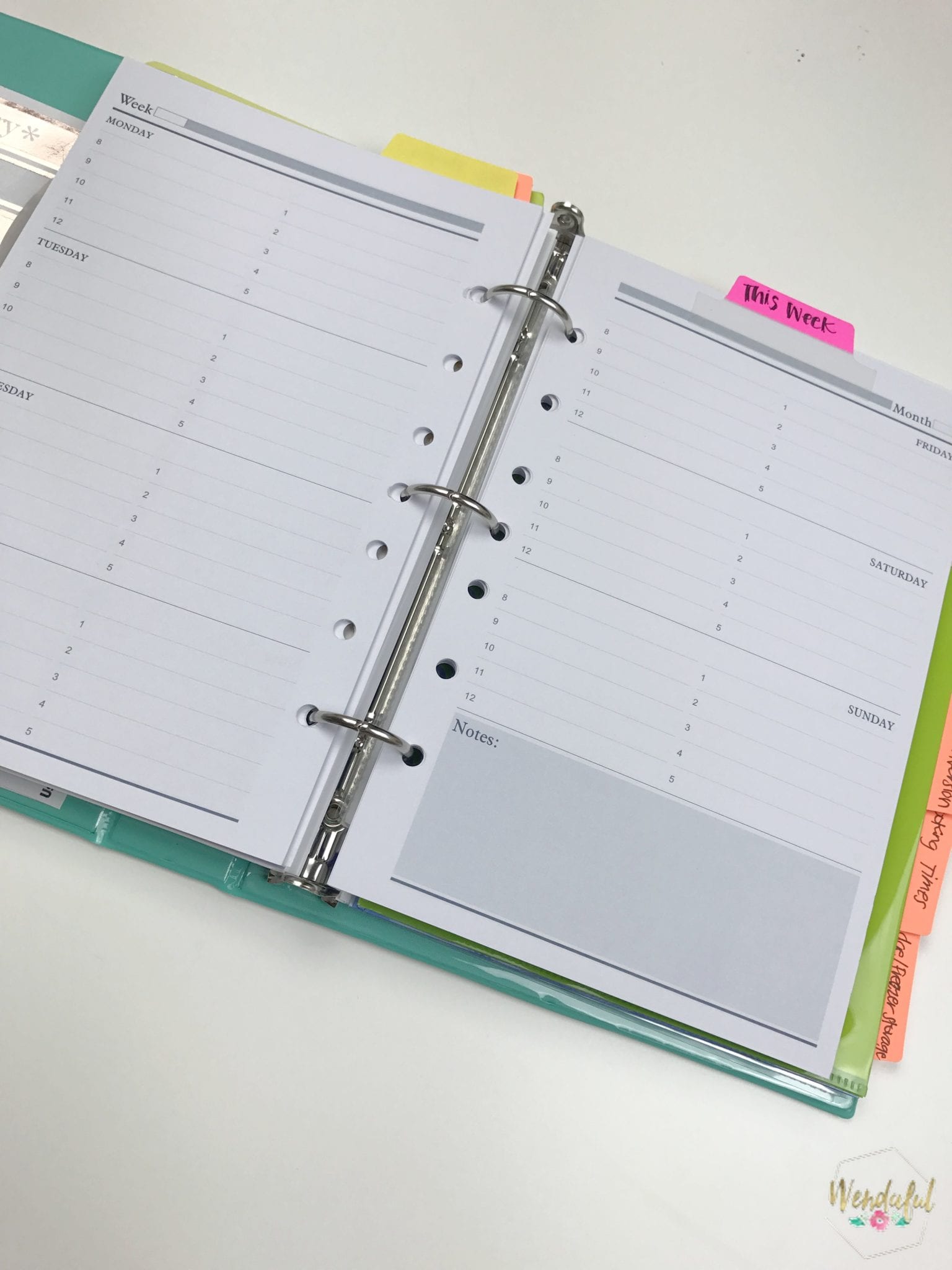 Planner Stickers
Stickers made super easily using Avery Design & Print! It was super easy to print! All you have to do is insert the label number and choose one of the premade designs. You can easily customize it there as well! I changed some of the wordings and font to better suit my needs. When you print on these smaller labels all you have to do is make sure your page is set to 4×6 size and do not click fit to page!
You can also check my other avery stickers posts on my blog. I designed daily stickers, fun circle stickers & water trackers as well.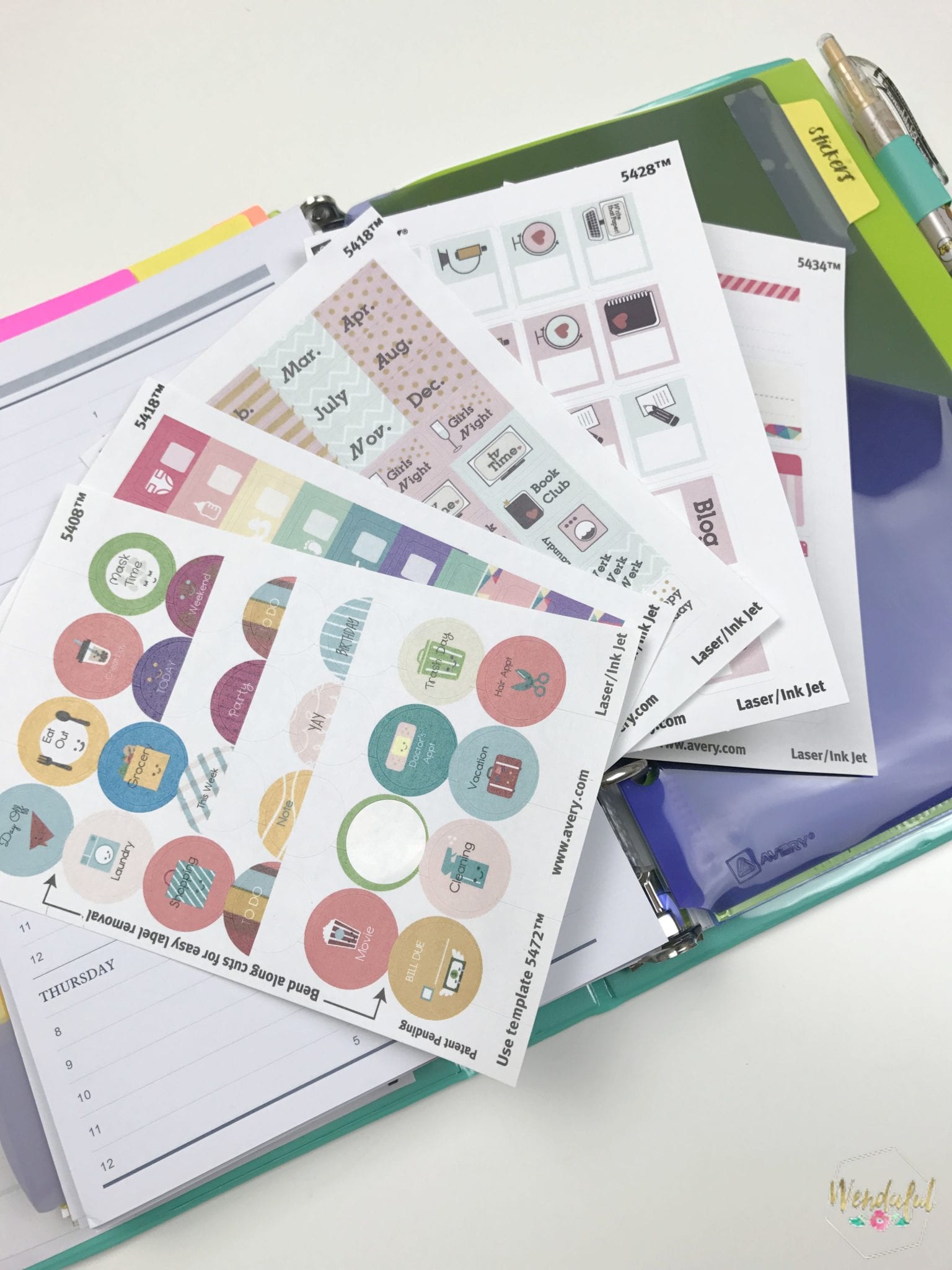 These are my favorite designs in the studio!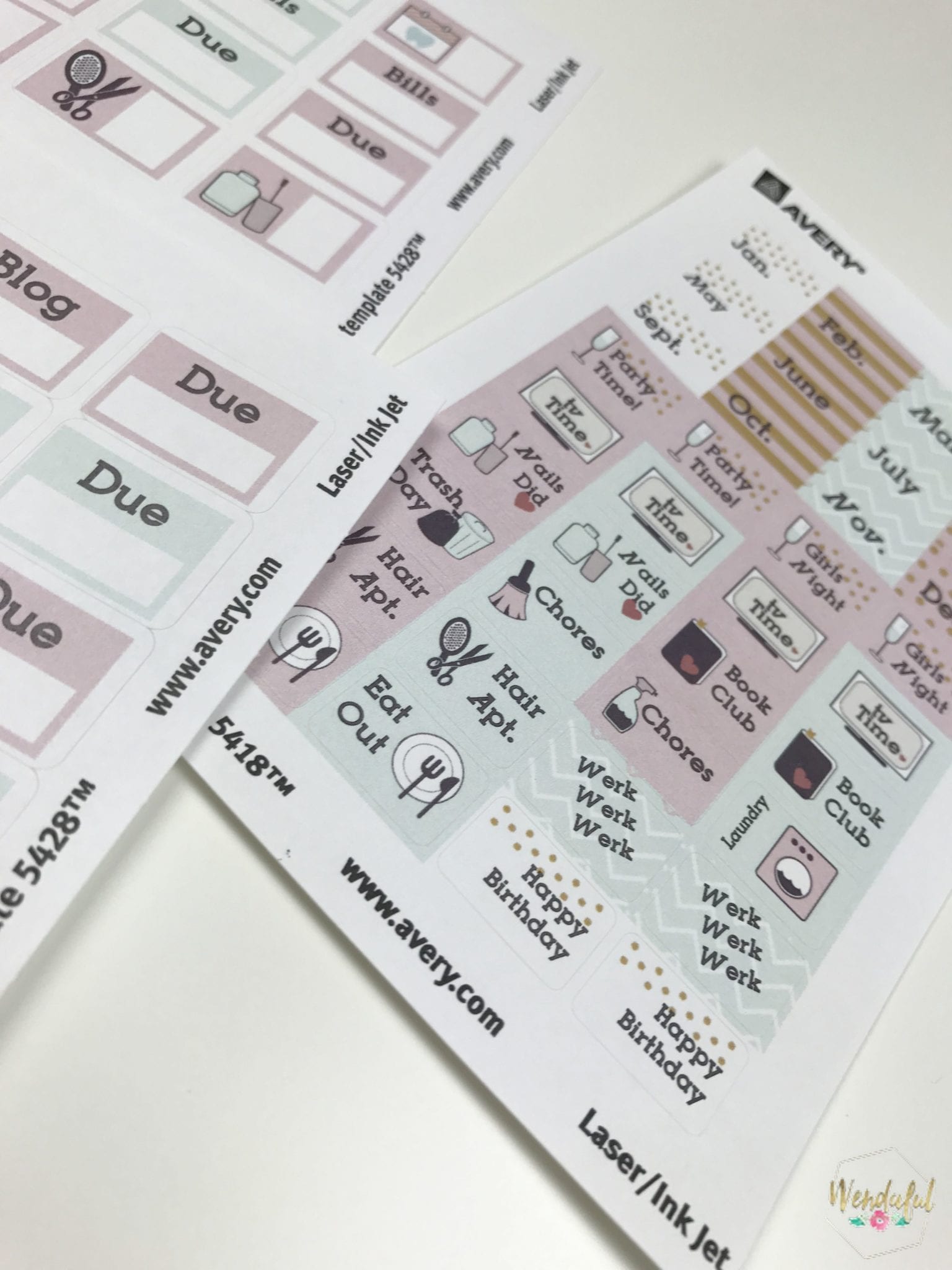 In the very back of the planner I used these full page binder pockets so I can easily access these kitchen cheat sheets I found on everest.co.uk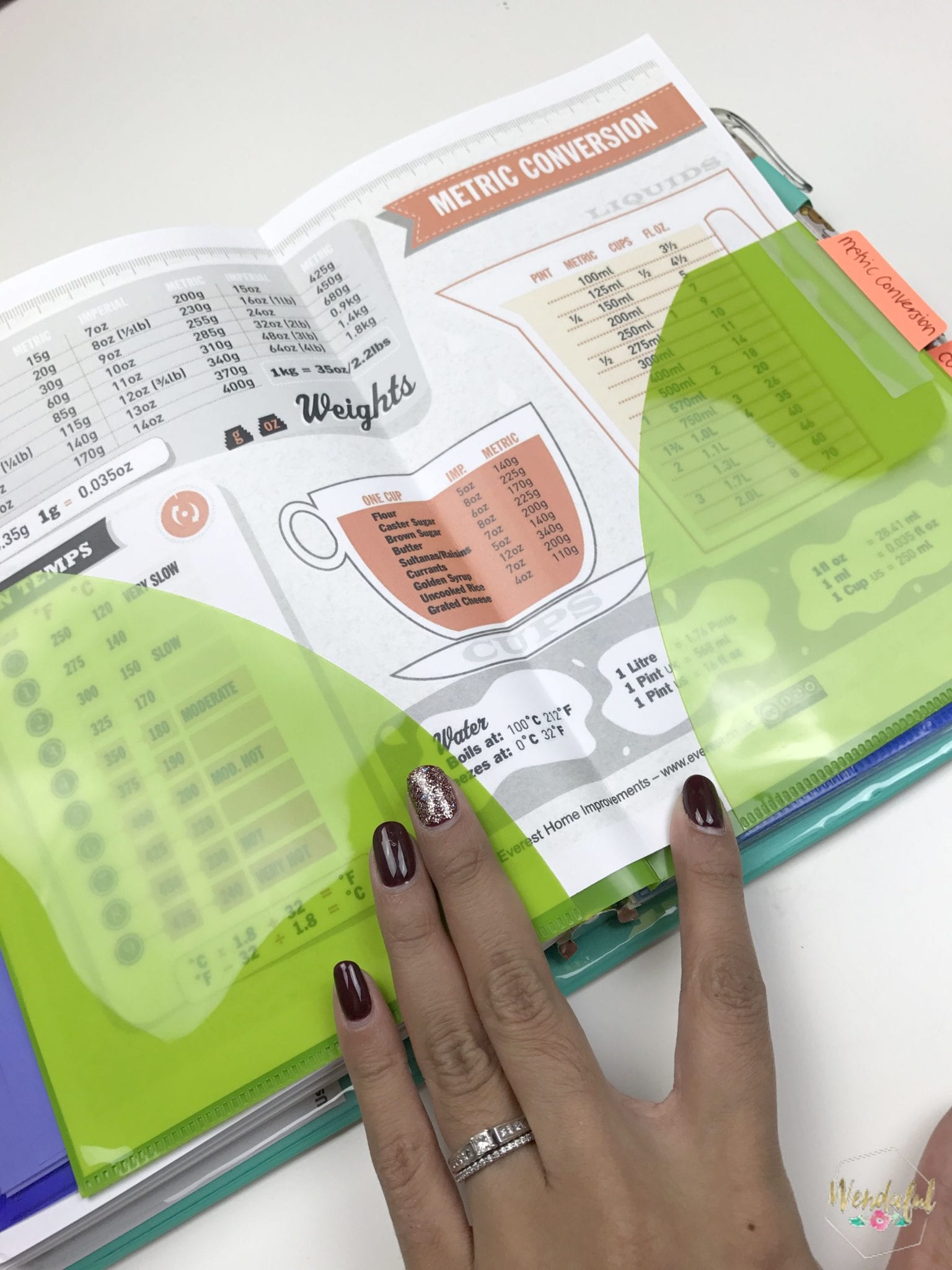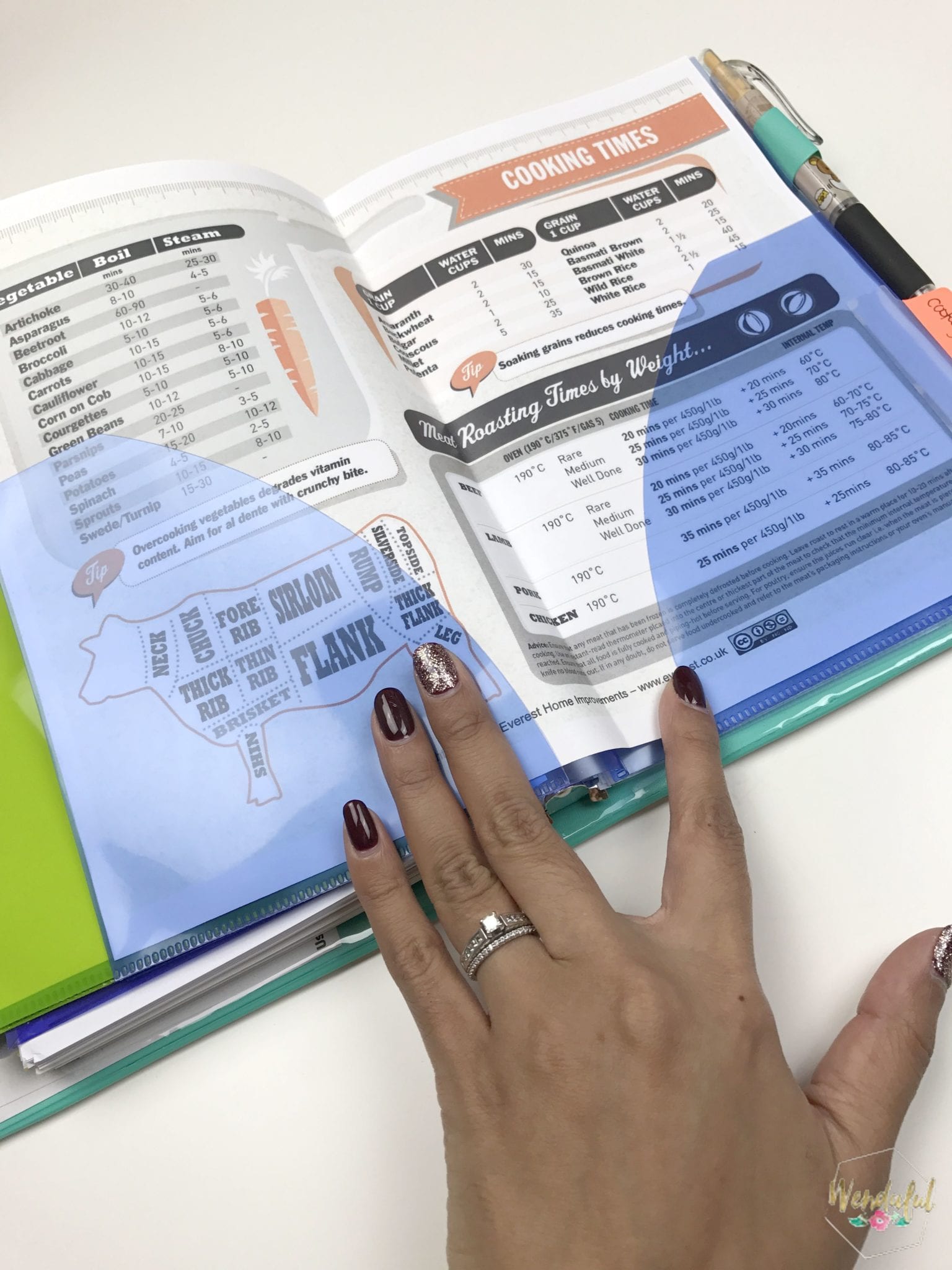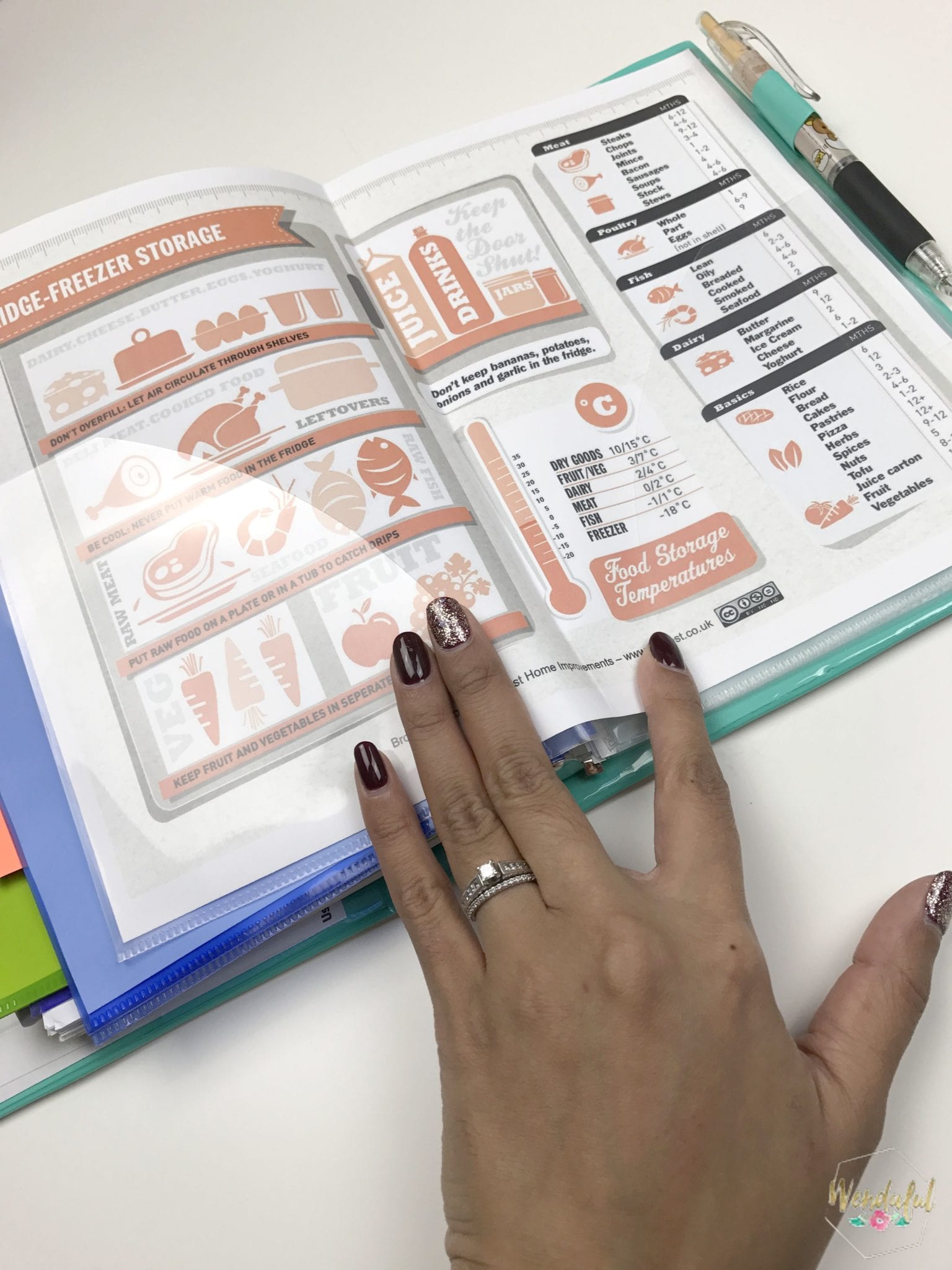 Do be sure to also check out my DIY home cleaning labels.  Print the recipes to store in your planner so you always have them on hand.
Free Printable Downloads:
These inserts are made for the Avery Mini Binders so they are half-letter sized measuring at 8.5 x 5.5 inches. To print simply print 2 to a page (using layout settings), click fill entire page, and cut down the middle. You can also use this method instead by precutting your paper and printing these pages directly on half letter sheets!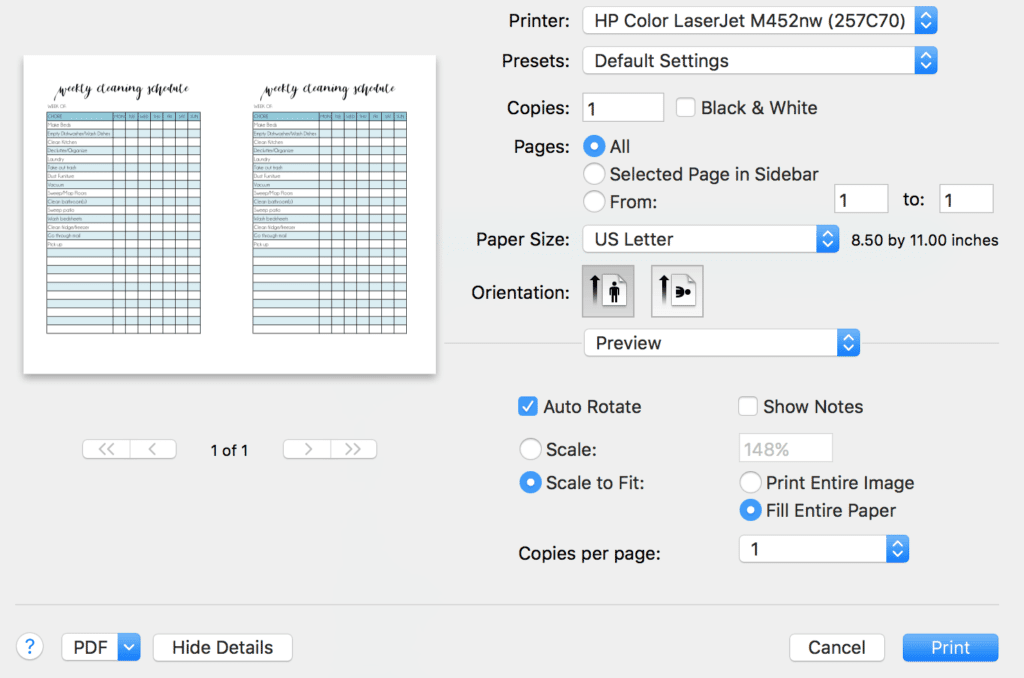 I hope you enjoyed this post and let me know if you decided to make your own home & family planner! Show me pictures by tagging me in your photos @wendafuldesigns #wendaful
Please Note: This post may contain affiliate links. Wendaful is a participant in the Amazon Services LLC Associates Program. By clicking on them and purchasing products through my links, I receive a small commission. That's what helps fund Wendaful Designs so I can keep creating and sharing my designs on this blog!