If you're tired of juggling between your digital planner and your online calendar, I've got a game-changing method for you. Today, we're diving into how you can sync your digital planner with your Google or Apple Calendar using a simple drag-and-drop method. Trust me, it's going to revolutionize your planning game.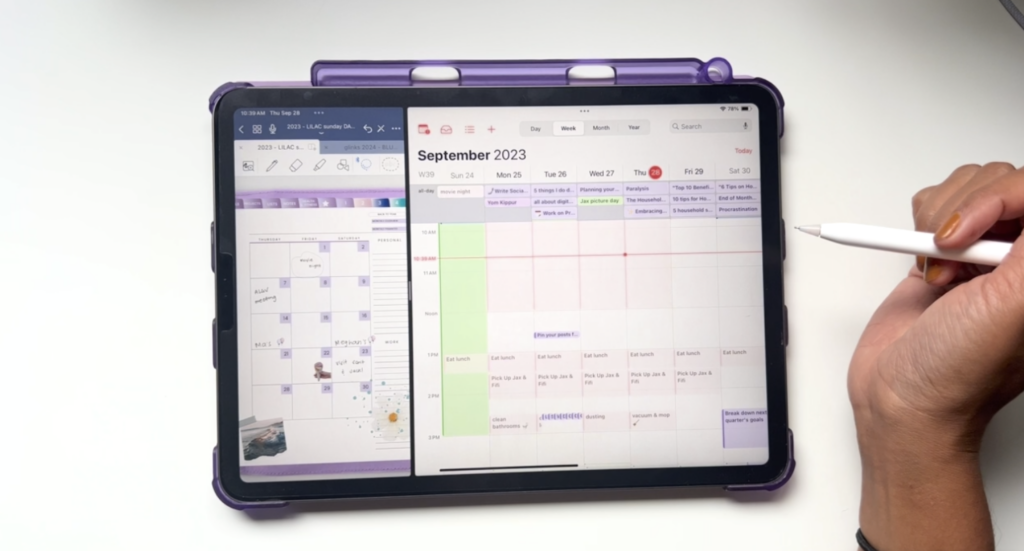 The Problem with Google Calendar Links
Before we get into the nitty-gritty, let's talk about Google Calendar links in digital planners. While they might seem convenient, they open up in a new window, disrupting your planning flow. Sure, there's a workaround, but it involves multiple steps that can be quite distracting.
Why You Might Not Need Google Calendar Links
The drag-and-drop method I show in this video is so streamlined and efficient that you might not even need those Google Calendar links anymore. No more new windows, no more pop-ups—just a smooth, seamless planning experience.
The Drag-and-Drop Method with Apple Calendar
If you're an Apple Calendar user, this method is going to be a game-changer for you. Here's how it works:
Step 1: Link Your Google Calendar to Apple Calendar
First, make sure your Google Calendar is linked to your Apple Calendar. Go to settings, then to the calendar, and add your Gmail account.
Step 2: Open Your Digital Planner and Apple Calendar Side by Side
Open your digital planner in an app like GoodNotes or Noteshelf. Then, use the split-screen feature to open your Apple Calendar beside it.
Step 3: Drag and Drop Events
Simply use the lasso tool to circle the event in your digital planner that you want to add to your Apple Calendar. Drag it and drop it into the specific day and time slot.
Step 4: Customize and Save
Feel free to customize your event with reminders, notifications, or color-coding. Once you're satisfied, hit save.
And there you have it—a simple, efficient way to sync your digital planner with your Google or Apple Calendar. No more juggling between apps or dealing with pesky pop-ups. Just a smooth, streamlined planning experience.
If you found this blog post helpful, don't forget to share it and subscribe for more awesome planning tips and tricks.
If you'd rather have your events inside of your digital planner use this video to learn how to do so: https://www.wendaful.com/2023/05/the-ultimate-zoomnotes-tutorial