I've been a GoodNotes user for almost a year now and love it, but I have been seeing a lot of love for other note-taking apps such as Noteshelf.
I wanted to test out different options for my digital planners so I recently bought Noteshelf 2 to compare it to.
It is hard to choose the best note taking apps for your tablet, so I want to help you decide which will be best for you.
In this post I will be going over the features of both apps in relation to digital planning. I will be putting a "✅"next to the app that i think won in that category.
I currently have video tutorials for the GoodNotes app, but will be sharing tutorials on Noteshelf very soon.
Be sure to check out my new digital planner here: 7 Reasons You Will Fall in Love with my New 2021 Digital Planners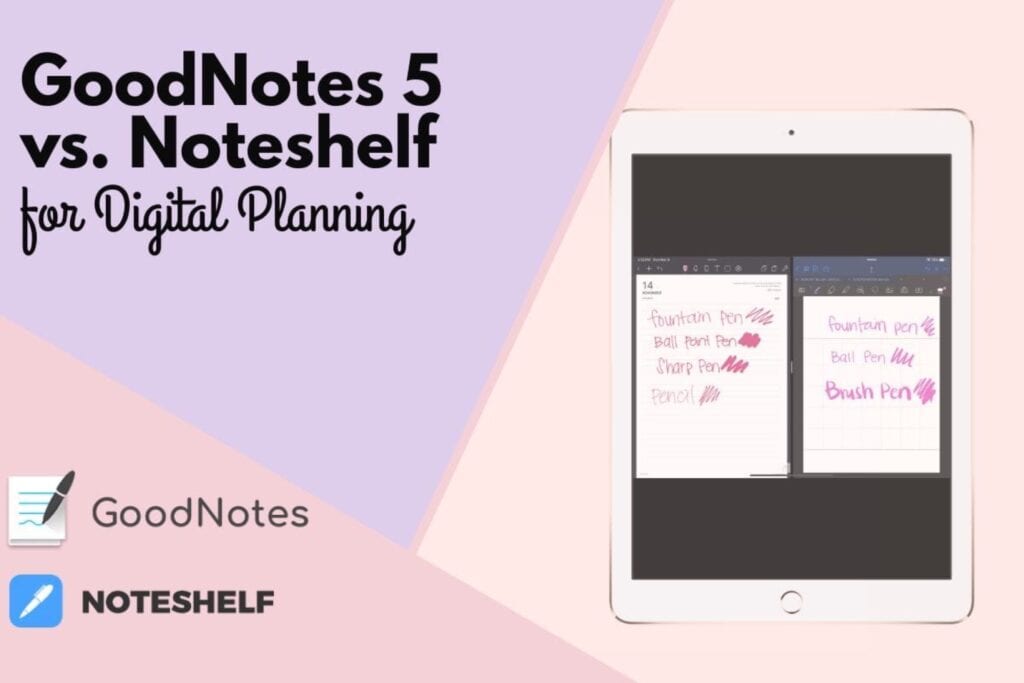 Pricing

GoodNotes  ✅

In GoodNotes you only need one purchase for all platforms. GoodNotes 5 is available on the App Store for $7.99. No need to buy it separately on your mac.

Only available on iOS

Get it here: https://www.goodnotes.com/

Noteshelf

Mobile app on iOS is $9.99. But if you want it on your computer, you will need to buy it separately.
The Mac app costs $7.99 USD.
If you are on android, you can get the mobile app for only $4.99 through the Google Play Store
Get it here: http://www.noteshelf.net/

Folders & Documents/Multiple Windows

GoodNotes ✅

Folder system is easy to use and organize.
Multiple tabs can be open, and you can have your planners side by side
Has lots of way to open up multiple windows. Drag and drop, action menu, window icon, tabs, etc. (see my IG reel here)

Noteshelf

Able to open up multiple windows but no tabs, just new windows.
Can add a second window by dock or by holding down a new notebook you want to open and selecting open in new window
Can change color scheme of the app
Can access thumbnail view by swiping from right and can expand it to full screen easily
Has a blue scrolling bar to make scrolling through pages faster and easier

Images/Stickers

GoodNotes Cropping Images Tool

Noteshelf Cropping Images Tool

GoodNotes

Can change the Lasso options for selecting specific things, like just handwriting or just photos
Resizing is very easy
Only way to move layers around is to cut and paste and make sure last image imported is on top
Has a dedicated photo tool, so you can import photos quickly. This tool also allows you to adjust the width and height of any image you import.
When you import an image you can crop the image with rectangle or freehand, but there is no eraser option.
Can only import one image at a time, can be a hassle having to do it one by one!
Can select images and move or resize them with photo tool.

Noteshelf ✅

Can lock images so you can edit other things like text without moving that image/sticker.
Can select images  easily without needing to click on a separate tool
Can arrange layers by moving it to front or sending it to back
When copying and pasting stickers it doesn't give you the option to resize automatically, instead you have to either click out of it then select it for the image box comes up or use the lasso tool and select resize. And if it's too small you have to zoom in first to resize it, because the rotate button takes over the entire box.
When you paste an image you have to use the lasso tool to paste it and when the lasso tool is selected you aren't able to zoom in and out of your page. You have to hit done before you can zoom in — again this makes it hard to resize stickers.
Add images from photo library, media library, or files.
Has a media library for you to import images,and vectors from pixabay or unsplash!
When you import and image you can click edit, and it has options for you to crop freehand or with rectangle, then allows you to continue editing until you hit done. There is also an eraser tool so you can edit the background more.
Able to import multiple images at once, and select all of them to resize it all evenly.
unable to adjust width and height of images

Search Feature

GoodNotes ✅

Able to search through the notes taken on your own handwriting and even convert them into text.
Can search within a notebook/planner or throughout your entire app

Noteshelf

You can search through the notes taken on your own handwriting and even convert them into text. But it does take a bit longer.

Clicking on links

GoodNotes

Links can only be used if you are on read-only mode. So you have to leave edit mode to click on a tab or link.

Noteshelf ✅

Can write and click links without an extra step. Can sometimes be tricky if you're in pen mode because you can accidentally draw on your links/tabs
But also has an option to disable links and make it read-only mode.

Drag & Drop

Goodnotes can drag and drop text into Google Calendar

GoodNotes ✅

You are able to long-press on an image to copy it or bring it into a new tab easily
Can drag and drop tabs into new windows
Can drag and drop thumbnails into new windows, so you can easily plan on 2 different pages of your planner simultaneously.
Can drag and drop notebooks/planners into new windows
Can drag and drop thumbnails into planner spreads as images

Noteshelf

Unable to drag and drop text into different apps, just have to copy and paste
Can drag and drop thumbnails into planner spreads as images
can drag and drop from different windows apps too

Writing & Text Options

noteshelf app can save styles, font, size, & color

noteshelf vs. goodnotes pens

Goodnotes Convert to Text requires an extra step in order to copy it

Noteshelf's Convert to Text allows a quick way to copy or make a textbox quickly

GoodNotes

You can have 3 favourite pen colors in the toolbar which makes it super easy to change pen colors
3 different kinds of pen: Fountain, Ball Point and Brush Pen. The brush pen is great for calligraphy
Scribble doesn't work as good because the textbox automatically is very small, you can still write outside of the text box though.
You can easily move around text box before typing in it
Text box style has more options and you can choose custom colors for the text box background box.
Convert to text requires an extra step to copy it
highlighters has the option to make straight lines
pens can make straight lines if you hold it down

Noteshelf ✅

They have 4 different pen styles: Fountain, Ball Point, Sharp, & Pencil.
The fountain pen works better than the GoodNotes version, and makes your handwriting look gorgeous!
Has styles and formatting options like bulleted/ numbered lists, and checkboxes for your text box
Can save as many different format options as favorites, and have them show up on the text toolbar (size, font styles, color!) makes it so easy to change styles for headers, sub headers, and body text.
Don't like that the text box tool doesn't allow you to move it once you set it. You have to use the lasso tool for that.
Scribble works good in this app, but you do have to write inside the text box. If you write outside of the textbox it will just create a new textbox. However once you do write in the box you can continue writing outside the box.
Text box style background is limited to only the transparent option or the 9 other colors on there.
Much easier to align and indent etc.
Convert to text option makes it easy to copy to clipboard or convert it to text box.
you can make straight lines with the highlighter or pen if you select the tool plus select on the shapes tool too. The highlighter also has a rounded shape as well as a square shape tip.

Paper Styles

GoodNotes

Noteshelf

GoodNotes

GoodNotes options for paper styles is pretty limited, but they do have planning pages.

Noteshelf ✅

Noteshelf has lots of options for paper styles, and you can even download more!
Their planner option has the ability to select your start and end dates and includes, yearly, monthly, weekly, daily.
They also have a noteshelf store where you can download sample planners and more templates for parents, health and fitness and more.

Other Features

Noteshelf Media Import

Goodnotes

Able to bookmark and save pages to favorites, but no color code.

Noteshelf ✅

Has audio recording!
Can also select emojis and use it to add it as many times as you want on your page
Can bookmark important pages, name and color them to search with ease.
Apple Watch App – take voice notes on your watch hands free
Final Results
GoodNotes- ✅ ✅ ✅ ✅
Noteshelf- ✅ ✅ ✅ ✅ ✅
Very close! Now it's all a matter of personal preference. I'm still debating which to use. although Noteshelf does have lots more features, I did find it harder to resize, zoom in and out, and switch between tools. Goodnotes is a lot more fluid and allows multitasking to be easier, and it has the option to resize images and stickers' width and height.
I also love how easy GoodNotes makes it to drag and drop pages, images, text, and more even with Google Calendar.
I'm going to play around with Noteshelf and give it a few weeks before actually deciding which I will be sticking with.
I hope this helped you in choosing which app you will end up with. I may be playing around with both until I finally make a decision. Let me know what you think in the comments below.
After choosing an app, head on over to my shop where you can buy your new 2021 digital planners. Currently there is a sale for 20% off until Sunday Night November 15th! So get it quickly before the price goes up!