When I plan my week I feel a lot more clear about my days and things get done in a reasonable time. It helps me to reach my goals easier by taking it one little step at a time. When you think of your big goal it may seem impossible, but once you break it down into quarterly, monthly, weekly and even daily action steps, it gets a whole lot easier and absolutely possible. In this video I walk you through exactly how I use my digital planner to review and plan out my weeks and days to be more productive.
How I Plan My Week:
Look at my monthly calendar. The first thing I do when I am planning my week is first checking my monthly calendar to see if there is anything big coming up. I like to check the current week as well as the following week for any appointments, birthdays, or special events that is going on. That way I can prepare ahead and get started on it this week.
Transfer events from monthly to weekly. After checking my monthly calendar I simply like to use the lasso tool in the GoodNotes App to copy and paste the events of the current week into my weekly plan.
Do a weekly review. At the end of each week I like to use the weekly review pages to track and celebrate 3 big wins for the week, reflect on what's working and what's not working, and 3 ways I can make next week better. This may seem tedious to do each week, but it's an important part to keeping my goals moving forward, so it's worth the 5 extra minutes!
Check my goals and projects pages. Once all the big rocks are in, I like to check on the progress of my goals and projects and decide what I need work on this week. When I do this in my digital planner, I like to open 2 windows of my planner in GoodNotes so that I can easily transfer items from the goals or projects pages to my weekly planning pages.
Break down and plan out my goals for the week. Using the Weekly Plan page I like to decide on 3 big goals for the week. These are things that I want to focus on for the week. Then I like to break it down into actionable steps. These actionable steps should only be 30 minutes or less. Then I like to set a deadline or a date to work on those steps.
Plug in my goals and actionable steps into the weekly spread. I then like to spread out all those actionable steps into my weekly plan on specific days to work on them. I know realistically I can only get about 2-3 things done per day so that's how I plan my goals for the week.
Input my routines and meals. For my workouts, cleaning and meal planning I like to simply copy and paste last week's stickers and writing into this week's plan. Then I would use the eraser tool to erase the old meal plan and check marks. I have a set schedule for what I work on each day of the week so not having to rewrite this in my digital planner every single week saves me a lot of time.
Brain dump. At the beginning of the week, I like to do a brain dump for everything I need to remember or get done using the work/personal lists. As the week continues I would either plug those into my days or just check them off as they get done.
Habit tracker. Then, I like to copy and paste last week's habits and paste it into this week's habit tracker to ensure I am working on my goals. I like to adjust it week to week if I have new habits I want to incorporate into my week.
Plan my day. If I have an extra busy day or just want to be more on top of my to do list I would simply click on the date in my weekly planner to go to my daily planner page for that day. There I can time block my days so I can see what I need to work on when and also plan out all the little things including making time for self-care and gratitude.
Decorate and highlight! Finally, I like to spend some time making my planner pretty. I would usually open up a new window side-by-side and drag and drop stickers into my spread. If I don't have a sticker for a certain item I also like to open up google and search for images to input in my spread. Opening up the safari browser side-by-side with the GoodNotes app allows me to easily drag and drop images. Throughout the week I also like to add images for memories. I also like to use the highlighter tool to color code my tasks so I can see what's what in my planner. It makes it easier for me to visually balance my life. If I have all the colors in my day then I know it's a well balanced day. If it isn't then I can easily move things around so I can make sure I'm balancing work and personal life tasks.
So that's exactly how I plan out my week, each week! It may seem like a lot of time, but it takes me on average about 30 minutes a week. It's time well worth spending because without it, I would not be as productive as I am. I hope you enjoyed this video and it gave you ideas for how to plan out your week.
If you're new to digital planning be sure to check out my previous videos here:
Getting Started with Digital Planning: A Basic Introduction
My Digital Planner Flip-Through & How to Navigate
Get your digital planner in my shop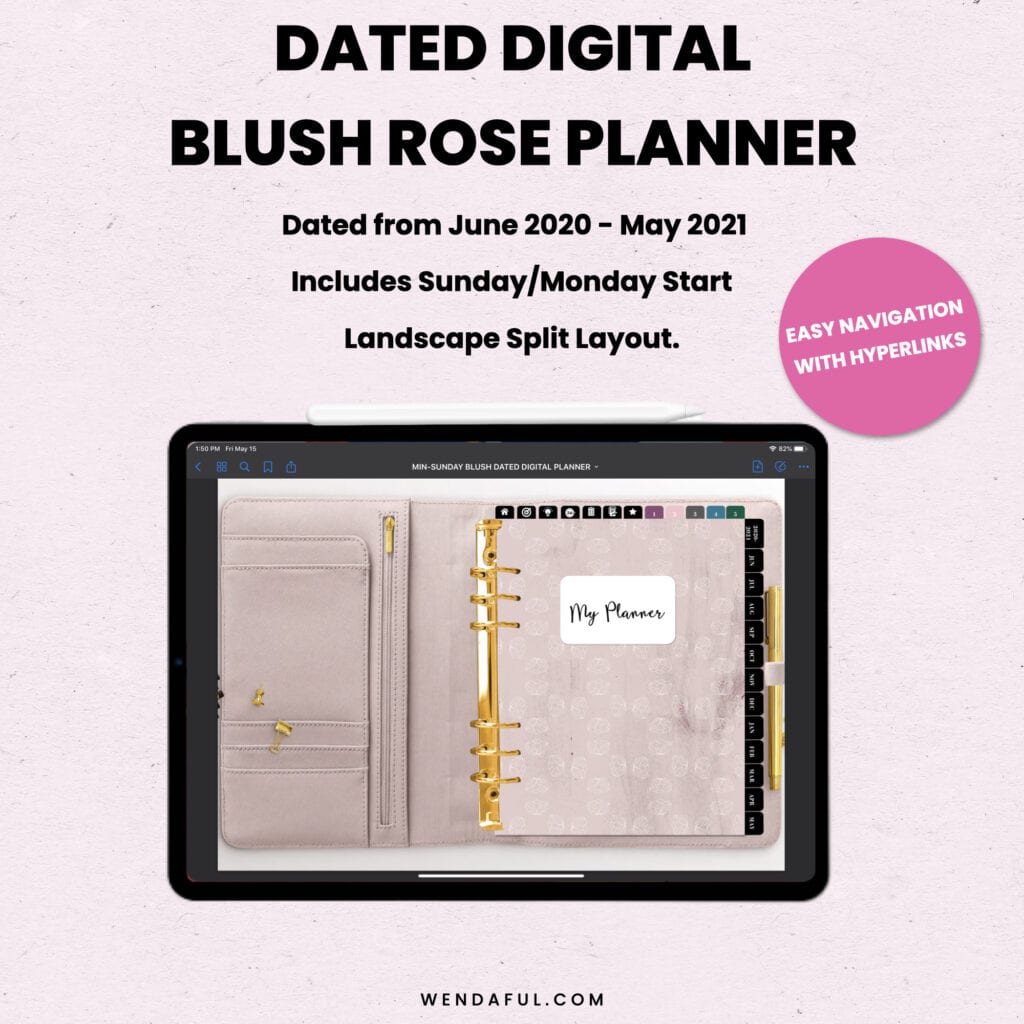 ITEMS MENTIONED OR SHOWN IN THE VIDEO:
Stylus for iPhone: https://amzn.to/3goJ82f
Ipad Pro 11″ 2020: https://amzn.to/2Zyc6H6
Apple Pencil: https://amzn.to/2Xu7rDu
GoodNotes 5 App: https://apps.apple.com/us/app/goodnotes-5/id1444383602
*********************************************************************
*Some of these links are affiliate links, that means I receive a small commission at no extra cost to you.*
Way Home by Tokyo Music Walker https://soundcloud.com/user-356546060
Creative Commons — Attribution 3.0 Unported — CC BY 3.0
Free Download / Stream: https://bit.ly/tokyo-music-walker-way-home