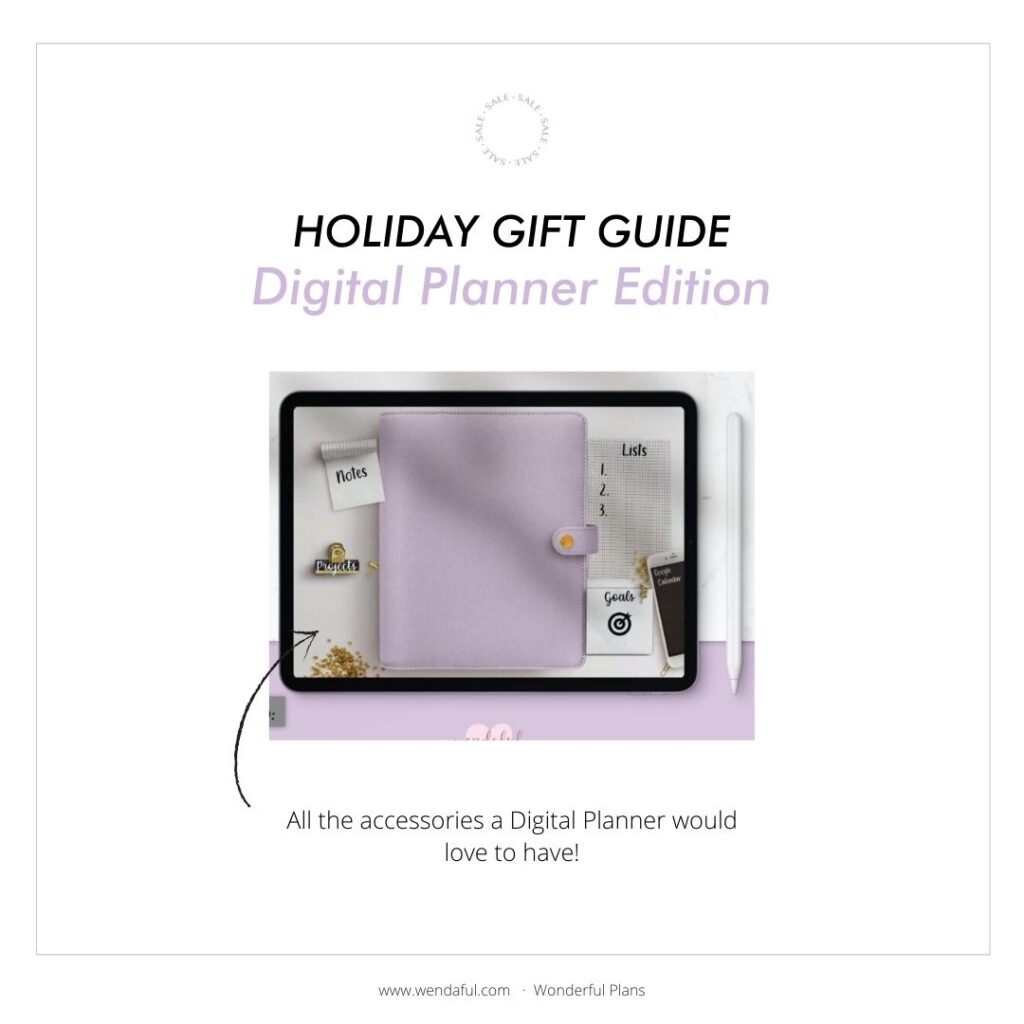 Have you finished your holiday shopping yet? Don't worry, me neither. No matter how early I start there is always some people left on my list when December hits. I'm having a hard time finding the perfect gift for everyone. My family usually exchange wish lists to help though.
I love making my wish lists for me and my family. We fill it up all year long and I just put it into my Google Keep. If an idea pops into our head and we don't have a pen or paper or our phones nearby, we just talk to our Google Home, "Hey Google! Can you add [so & so] to Paul's wish list?" and just like that our wish list is updated. We also all have our own special headers and it makes it fun and easy to share with our family. 
We also use Google Keep to store our family's wish lists so when we are on the go, we can easily access it. 
As I am coming up with ideas for people and checking people off of my list using these free printable christmas inserts, I like to take pictures and add a link to the item before I deciding on buying it or not. This lets me budget and take my time of thinking of the most thoughtful gift. 
As I was making my wish list, I noticed most of my items were for digital planning. I am obsessed, to say the least. I love all my accessories that I've bought for myself this year. So if you have a family member or friend who recently got into digital planning, then this list will be sure to make them happy too! I know I will be sharing these items with my family too!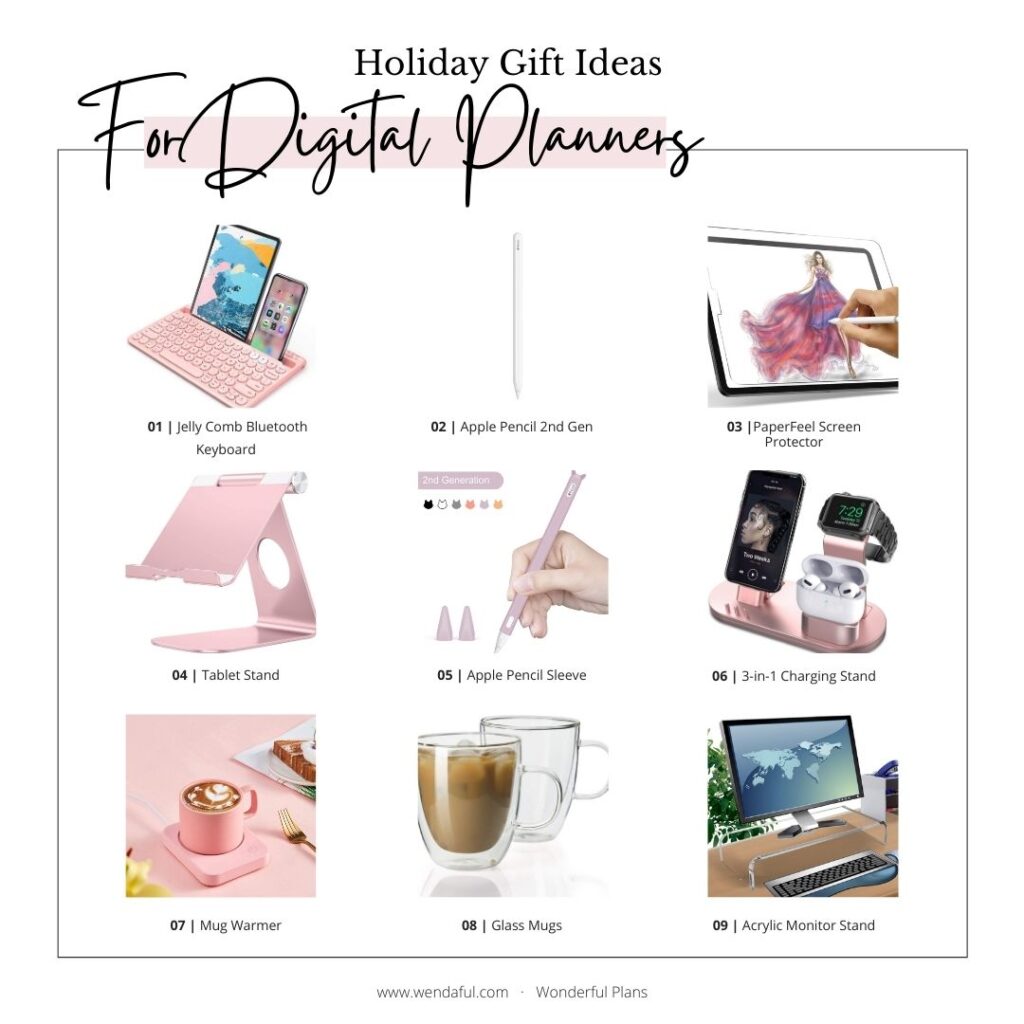 Holiday Gift Ideas for Digital Planners
1. Jelly Comb Bluetooth Keyboard – I have the pink ipad case with a keyboard, but would love to switch to a detachable keyboard like this one instead. It would make it easier to use with both my phone and ipad, and I wouldn't have to lug it around with my ipad everywhere. I only type on my ipad when I'm at my desk. This pink keyboard also comes in black and aqua blue. The round keys makes this keyboard look soft and cute!
2. Apple Pencil 2nd Generation – My apple pencil was a game changer for me. I used to use just a stylus, but it kept skipping. The Apple pencil is just so smooth and makes me feel like I'm writing with a normal pen. Of course this pencil only works with certain ipads so be sure to research before buying!
3. Paperfeel Screen Protector– The other key component to get the pen-to-paper feel with digital planning is by using a paper-like screen protector on your ipad. It has a matte feel to it so it doesn't slide around as much. You also don't get that glare neither! 
4. Tablet Stand
This would look so cute on your desk while you are planning. It keeps your tablet at eye level so you don't strain your neck or back. This adjustable tablet stand can hold your tablet horizontally or vertically and meet your demands of multiple viewing angles when using the tablet.
5. Apple Pencil Sleeve for 2nd Generation – The soft silicone sleeve hugs your pencil tightly to prevent sliding, and protects your pencil from scratches, dirt or any other damage. The super thin designed sleeve allows you to still charge your magnetic pencil without taking off the pencil case. It also comes with 2 Protective Nib Covers: The tip protectors prevent your pencil nib from moving around, scuffing or scratching the surface or any damage.
6. 3-in-1 Charging Stand– Charging Stand for Your Apple Watch, iPhone & AirPods Accessories. Never run out of battery with this cute stand and charging station! 
7. Mug Warmer – If you're like me, you make cups of coffee and are constantly microwaving it. I am always forgetting to finish my coffee, especially when I am working. This cute mug warmer can sit on your desk and keep your coffee warm all morning long. No more cold coffee! 
8. Glass Mugs – I love these cute clear mugs for my coffee. I can see how much I have left and it just looks adorable.
9. Acrylic Monitor Stand– I love acrylic, and this monitor stand will make your desk look so glam and modern. It will also help you reduce the strain on your eyes and neck, helping you work more efficient. It also frees up some space on your desk so you can store things underneath.
10. My 2021 Digital Planner – Need an all-in-one goal setting and weekly/daily planner? My 2021 Digital Planners has it all! 
11. Artful Agenda – for the simple easy to use digital planner. This doesn't let you to write on it, but with the sync to your calendars, monthly, weekly, and daily layouts, and the lists and stickers. It can be a great option for someone who thinking iPad digital planning can be too complicated. 
Apps for Digital Planning
Bonus! If you're new to digital planning and don't have an app yet be sure to get GoodNotes for iOS or Noteshelf on iOS & Android. See my comparison of the two apps here.
Share This List
If you're a digital planner yourself, just download this PDF version of this with links so you can send it directly to your family or friends 😉 : Holiday Gift Ideas for Digital Planners PDF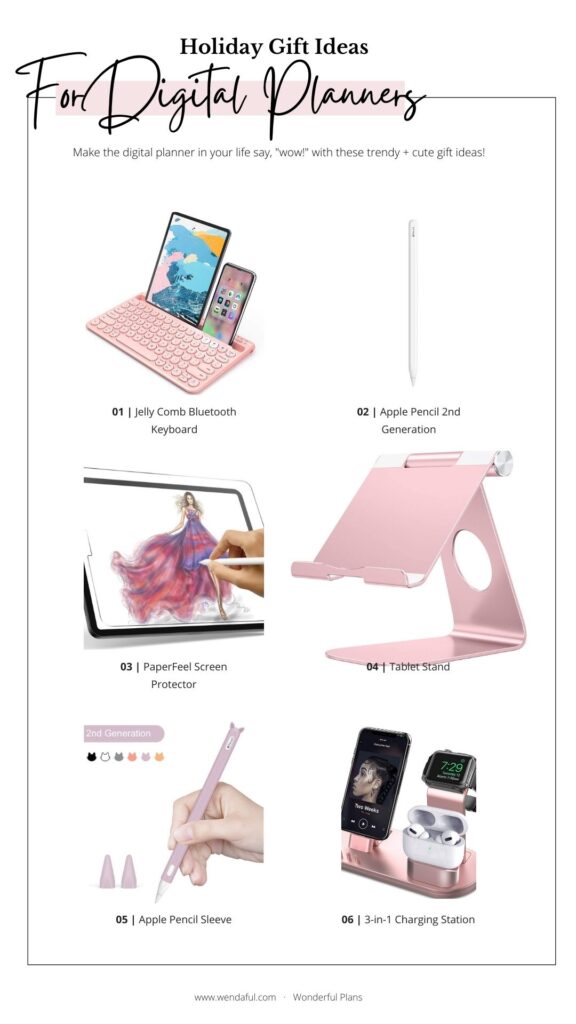 Some of the links in my blog posts are affiliate links. If you click on the link and purchase the item I will receive a small commission or referral fee at no extra cost to you. Regardless, I only recommend products or services I use personally and believe will add value to my readers.