It can be difficult to get all of your daily tasks completed, especially if you're like me and you like to make detailed daily plans. If you need help with how to plan for a productive day, and would like to try out new systems to help you stay organized, try my favorite tools, Sunsama and my digital planner, to see how it can help you be more productive! I'll walk you through how I use it and why it has been so effective in helping me organize my schedule and reflect on the day as I plan each day in advance.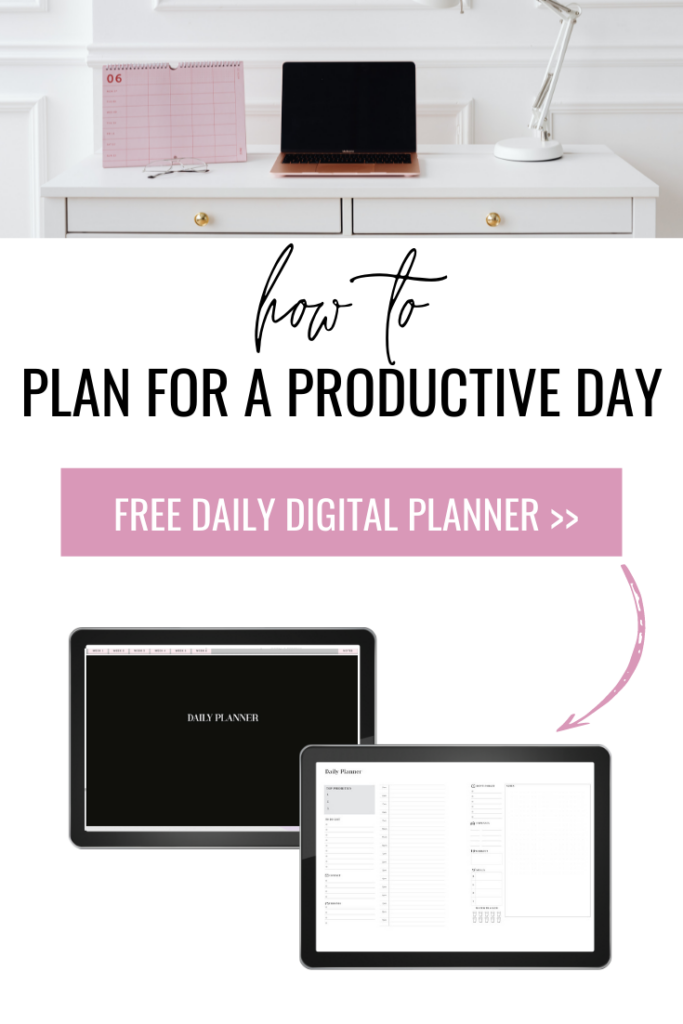 Why I Use My Digital Planner Each Day
As we know, we're constantly bombarded with things to do and appointments to keep. It's easy to feel like we don't have enough time in our day for everything that comes up, but using my digital planner each day has helped me better organize my tasks, appointments, and responsibilities so I can get more done each day.
My digital planner gives me that pen to paper feel, just digitally. I love using it to get everything out of my head. It's much easier to lay things out on digital paper instead of having them bouncing around in my mind all day long. Even better, if something changes or I need to change an appointment or task altogether (because we know that happens sometimes), it's as easy as pressing delete and making those changes immediately. I like to plan and decorate my planner the night before. This is also where I reflect on my goals and habits, track things and write out lists of all sorts.
My digital planner is the first step in my planning process. It's so helpful to see all of my appointments, lists, tasks, etc., laid out before me on one page each day.
How I Use the Sunsama App
As soon as I am done planning in my digital planner, I'll open my Sunsama app on my computer. From there, I'll scan over my calendar to see what tasks are scheduled for that day.
In Sunsama I can also check for any meetings or events that were previously entered into Google Calendar. (Although if I use my digital planner with zoomnotes, I can also see it there as well!) If I see something that needs to be done today that isn't currently listed on my planner, then I'll use Sunsama to set it up before I forget. It also helps me from forgetting any big deadlines or appointments.
Then, I will start to enter any tasks I wrote down in my digital planner into Sunsama. I can set time estimates and even drag them into my schedule to plan when I will work on them. This lets me see realistically how much time I have to work on tasks.
From there I can also drag in my ClickUp projects and emails. After that, I like to keep all of my tasks organized by category or context (work, home, errands, etc.).
Sunsama makes it really fast and easy to timeblock and schedule out your day. Sunsama walks you through planning your day to make it even easier. Sunsama also helps asks you what obstacles will likely get in your way and how to overcome them.
Throughout the day you can click on a task you want to work on for that day, and go into focus mode. Then you can tally up how much time it took you to complete the task.
At the end of the day you can see what you got done, and what you didn't get to. Sunsama walks you through this as well. I love the daily reflection as well. It reminds me to reflect on what I did yesterday and sets some personal goals for tomorrow.
For example:
Did I achieve my Goals?
Did I achieve my Targets?
Am I happy with what got completed?
If not, why not?
What can I do about it tomorrow?
What does success look like for tomorrow?
The reflection keeps you accountable every day! Another thing about Sunsama is if you accidentally forgot to record how long it took you to finish a task, or if you realized afterwards that you made an error recording time; You can always go back and edit your timesheets!
The next morning after logging all your activity within 24 hours, there is a nice report generated which shows where most of your time was spent during that period. They also just released a weekly review dashboard too!
Learn more about Sunsama in my previous blog post here: The #1 Productivity Tool You Need to Focus and Take Action Now
How Planning Ahead Made Me More Productive
Each day, I spend time planning out what my goals are, both long-term goals and short-term goals. Sometimes it's hard to get started each day, but reflecting on what I want to accomplish each day helps me to get moving in taking care of my responsibilities. When I wake up in the morning, I spend just 10 minutes planning out my day. Since all of us have different responsibilities that we must take care of during our days, not every goal is going to be achievable every single day. However, even if you don't complete a goal today, make sure you understand why you didn't complete your goal so that you can work on improving your process for achieving your goals. Many people think they can do their entire to-do list each day when in reality they would be much more productive if they focused on one task at a time and worked through their daily tasks by completing smaller steps until they achieve their bigger goals. Sunsama provides an easy way to start implementing these small habits into your daily routin
How Reflecting on My Days Helps me to keep moving in the right direction
Every day, you have a choice of what to do with your time. Should you be building your business? Studying up on a new marketing strategy? Cooking at home instead of going out to eat? Each day brings about an incredible amount of choices and oftentimes we think we don't have enough time to spend on everything we want to do. However, as I reflect back on my days using both my digital planner and sunsama app , I am reminded that with careful planning each day, I can accomplish all that is important to me in one 24-hour period. Here are some tips
Reflecting on my days using both my digital planner and Sunsama app allows me to acknowledge what worked well each day. It helps me understand why certain activities caused more stress than others so I can adjust my daily plans accordingly. It provides an opportunity to look back at how I've been spending my time each week, month, quarter or year. While I don't want to beat myself up if there are areas where I need improvement, it gives me something concrete to refer back to when making future decisions about how to better structure both work life and personal life.
To use both my digital planner and sunsama app most effectively, I schedule time each day to review my schedule. It can be as short as 5 minutes or as long as an hour – it just depends on what works best for me. I also typically take time at night to reflect on what I've done during that day, but I do try to limit those nighttime activities as much as possible so I can get a good night's sleep. The apps themselves are designed to be simple, easy-to-use tools that make planning less of a chore.
How to Plan Your Day step-by-step
There are two kinds of people in life: those who plan out their days in advance, and those who rely on spontaneity. While it's certainly possible to be successful without a daily plan, most people find it helps them get more done in less time. If you want to create an efficient morning routine or learn how to manage your time better, try these four steps:
First , decide what you need from each day. Do you have important appointments? What tasks do you need to accomplish?
Second , analyze your schedule. Think about when during your day things will happen that could interfere with your plans—morning meetings or after-work plans with friends, for example—and decide which times will be best for accomplishing what needs to get done. Then take a look at how long you realistically have in each block of time and re-arrange accordingly.
Third , write everything down. Get yourself a planner that works for you—digital planners and apps like the Sunsama app allow you to set due dates and reminders through your Google Calendar so there's no excuse for forgetting something important! Then write down everything: every activity, every appointment, everything else in your busy life along with where it is happening at what time… Everything .
Finally , review your notes before getting up in the morning so nothing gets forgotten later on when things get busy. Once you start doing it everyday there won't be any slip ups and soon all those little bits add up to give us more time than we even thought was possible!
I hope this guide has been helpful! Happy planning everyone 🙂

Try a Free 14 Day trial of Sunsama to see for yourself
I wanted to make sure I was able to fully commit to sunsama's plan and calendar system, so I started with their 2 week free trial. This allowed me plenty of time to experience all aspects of sunsama's interface and capabilities – allowing me plenty of time to explore its features before I took my commitment further. You get 2 weeks free without obligation so take advantage now: try it at https://get.sunsama.com/wenda
This blog post contains affiliate links. If you purchase the app through our link we may receive compensation which helps support this site.