In this post, I'm going to show you how one of best productivity tools that has completely upgraded my system and workflow.
In today's world it can be difficult to stay productive. Your phone, email, social media, all of your notebooks, planners, to do list apps and tools… it all gets so overwhelming! Instead of working through our to do list with intention, our days gets filled up with urgent tasks that keep popping up At the end of the day, it's hard to say whether we came out ahead or behind.
If you are like me, you've tried to get your act together with all of the newest and latest apps. I mean, who doesn't want to be more productive?! But it's hard trying to figure out how to use them while juggling work and life at home. What if I told you there was a way our productivity could improve if we were able to centralize all of our tasks ––– project managers, to do lists, emails, calendars, notes ––– into one single daily to-do list?
Luckily, there is an app that can help! I use an app called Sunsama. It's so easy because it automatically pulls in all of my meetings from my calendar into Sunsama when they are scheduled, and it integrates with all of my project management tools, emails, and lists. It's perfect for any type of busy person who wants to stay organized while managing their personal life as well.
Today I want to share how using Sunsama has made me more productive. The Sunsama app is a productivity tool that will help you manage your business, personal life and work all in one place. You can create tasks, time block your work, and sync it up with other apps like Clickup or Asana to make sure you are most productive.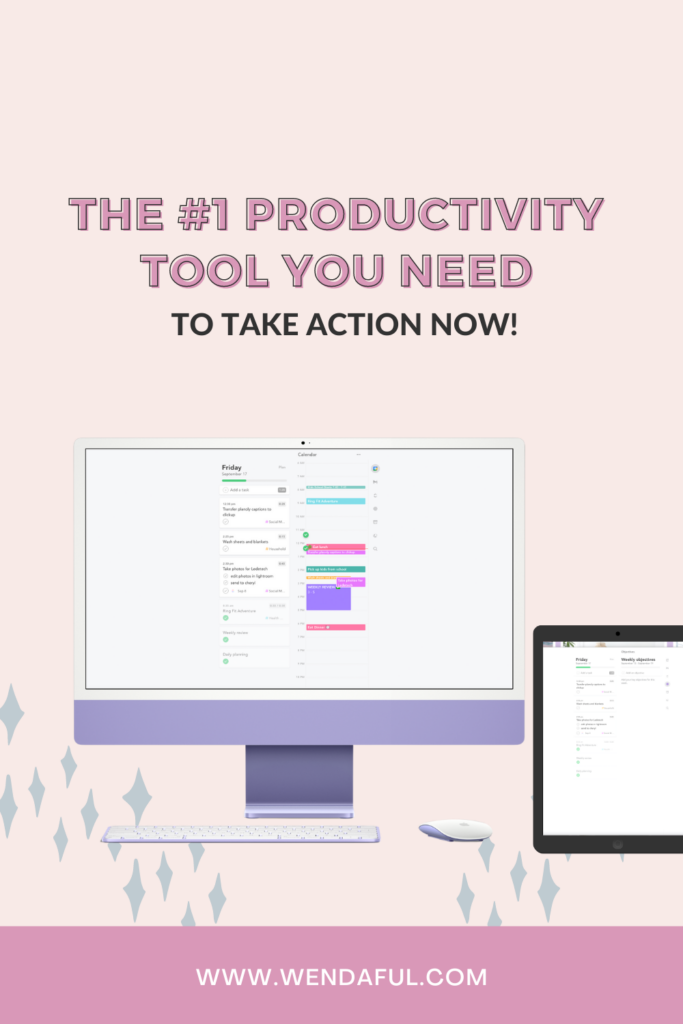 About Sunsama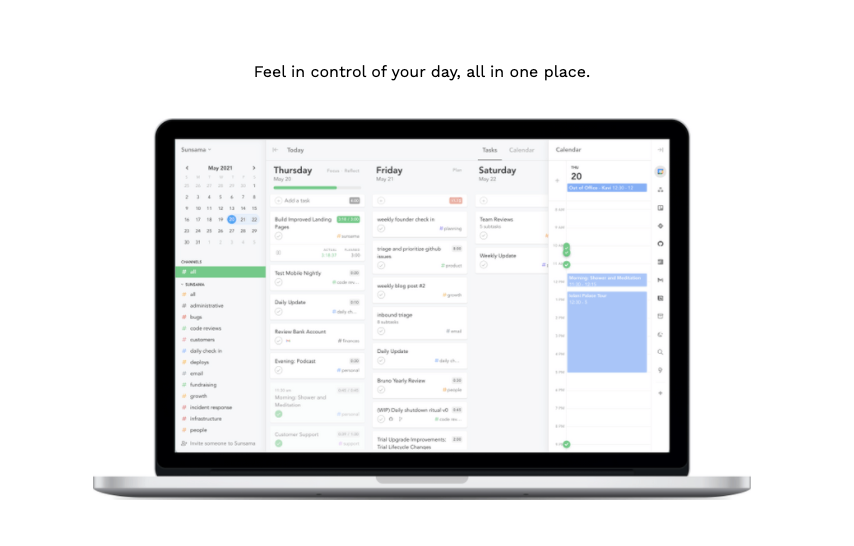 Sunsama is a project management app that can be used online or on your iOS and Android devices that lets you create to-do lists, manage multiple projects and tasks, and gives you a daily summary of your day. It's a tool for planning your time. and helps you to stay focused on what you want to get done today. It has a minimal design and is very simple to use. It can help you stay on top of all your important projects and to-dos without getting overwhelmed.
The workflow of Sunsama walks you through planning your day, making sure you can get it done in your day and reviewing it.
I find it really helpful to be able to time block my tasks and reflect at the end of the day on what I got done.
It keeps me from getting overwhelmed by breaking down everything and helping me to focus on only today's tasks.
It centralizes your to do list. Sunsama recognizes that people have different ways that work comes to them, and allows you to pull in tasks from multiple other apps like Clickup, Asana, Google Calendar, your emails, and more.
Sunsama is easy to use. Just add a task, set a due date, add a time estimate, add a context or channel to categorize it, and decide whether or not you want to time block it into your schedule.
Sunsama is cross platform, which means you can use it on your phone, tablet or computer.
Sunsama reminds you when it's time to re-evaluate your planning, and give you a chance to adjust your plan as needed.
Why you will love Sunsama:
You no longer have to worry about forgetting things
You can make sure you don't overlook any important deadlines
You get to decide when you start and finish each day
Be able to focus much better by time blocking your tasks simply by dragging and dropping
Save time by having all your tasks in one place
Stay on top of your work every day, no matter how busy you are
Feel less stressed about your work
You will end each day feeling accomplished and not burnt out
Features of Sunsama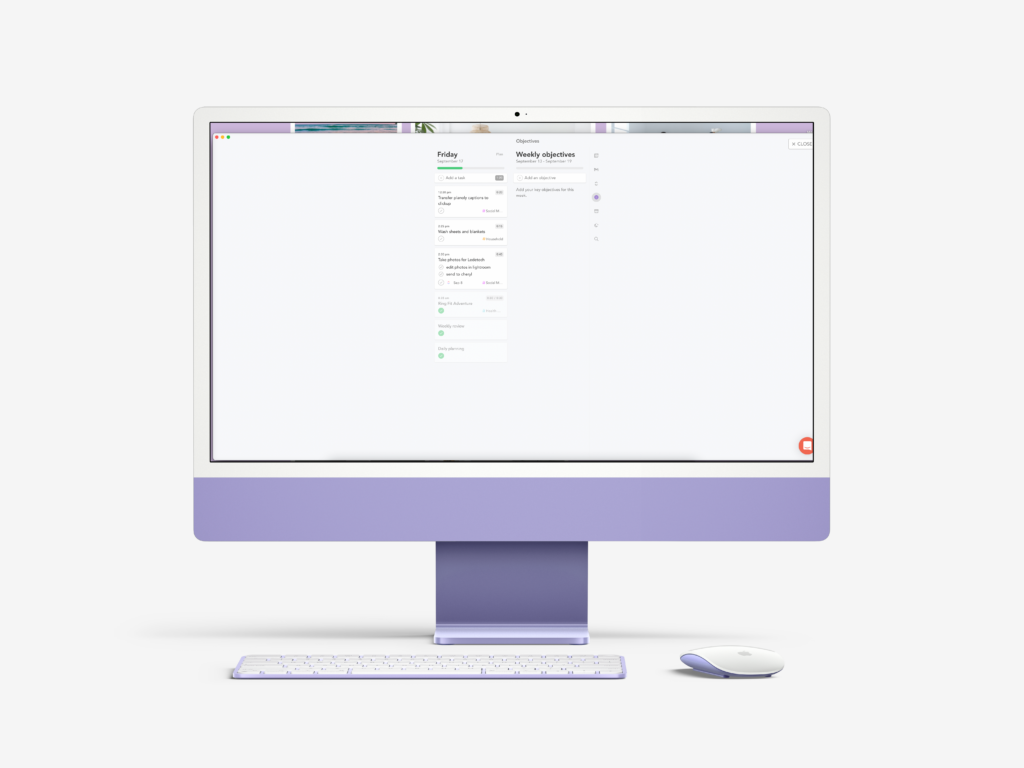 Daily planning
Before you start your day, Sunsama walks you through your daily planning. You will be guided to reflect on yesterday to see where you spent your time, what you finished and what you didn't get to. This helps you to understand if you were spending your time on things that were important to you.
The next step guides you on making a plan for what you're going to accomplish and when. You can add tasks directly in sunsama, or you can add in your calendar events, tasks from emails, or your other tools. In this step I always make sure I set a time estimate to all of my tasks, and then drag it and drop it into my calendar. This helps me to see what I can actually get done that day.
When I plan my day, I always try to aim for only 3-5 big things in my day. Then leave room for all the little things that pop up.
The next step in the daily planning process is to bump back tasks that aren't essential for you to get done today. So you will get 3 columns for Today, Tomorrow and Next week, where you can push back your tasks that can wait and plan for them next time.
Then you can choose when you would like to end your work day, time block and/or order your tasks chronologically and then see your finalized plan and either share it, or just see a summary of your day. I love that it also gives you an area to write out any obstacles that may get in your way.
How To Be Consistent With Using Your Planner
Channels & Contexts
The channels and contexts are there for you to organize your categories. You can keep it as simple as Personal and work (contexts), or you can further break it down into sub-categories (channels) like I do. This will help you to see where your time is going. The contexts will allow you to see and group related channels. This can also help you filter out tasks when you're working so you can better focus. For example if you are at home, and you don't want to see any of your work tasks you can select personal and only your personal tasks will show up.
Integrations
Sunsama syncs with a lot of different apps and tools. Sunsama allows me to quickly add in other to do's and reminders for a specific day, and it also lets me pull in things from my gmail and calendar.
Sunsama integrates with Trello, Asana, ClickUp Jira, ToDoist, Google Calendar, and Outlook to help you stay on top of all your work each day.
I love that there is an option to keep bringing in the same task from your other tools too. For example, in ClickUp I have projects that may take multiple days. So I can easily use the filter and include already imported tasks as well. Then I can add it again and add a subtask or just change the title in sunsama to what I want to work on that day.
Focus Mode
If you hit the key "F", you can access Sunsama's focus mode. This will show you only on the next task on your list for today. When you click on the play button next to the timer you can also enter focus mode as well. To go back you can hit esc or F again. I love using the timer when I am working, because it makes me feel more focused on that one task and makes me want to work faster.
You can also focus only on today if you want to see your tasks list and calendar for today only. To enter this mode just click on "focus" at the top of your day.
Reviews and Shutdown
Another thing I love is their reflections and the daily shutdown ritual. This helps you to end your workday on time, so you can avoid burnout. I love seeing this because it allows you to journal your reflections and celebrate what you got done or didn't get to.
The first step shows you the tasks that you completed and how much time you spend on them. Then it has prompted questions to reflect on what you did, what you learned or where you struggled. After this you will see a blank screen that says "Done for the day". Then you can just walk away and be done for the day. This is great to plan ahead so when you do this you should definitely stop working and go do something fun for yourself or spend time with your family.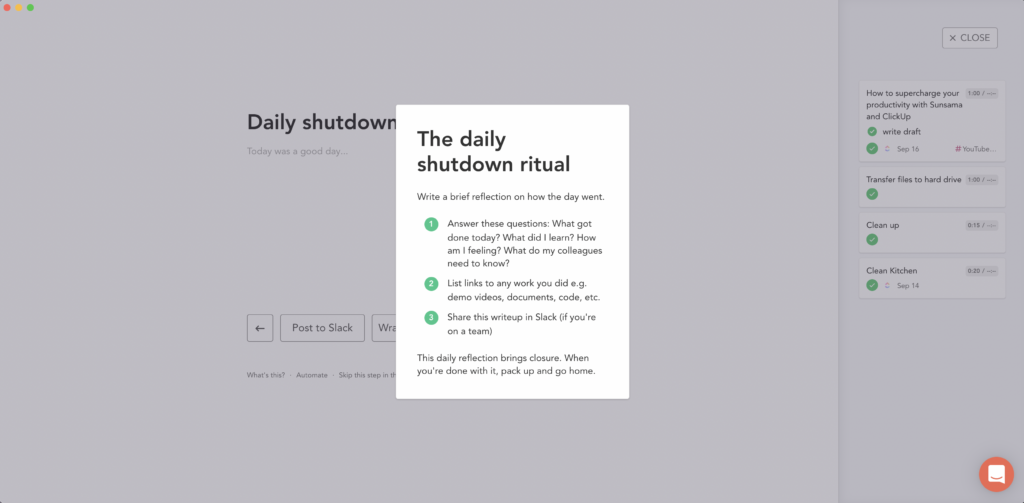 Sub-Tasks
I love breaking down my tasks and it is super easy to do in Sunsama. You can even track time for tasks that are in your sub-tasks and it will add to the total time. Sunsama also allows you to add that same time to the next day if you didn't finish it all and the time spent on it will also roll over to the next day.
Time Blocking
You can view your daily tasks in a list form or time block it into your schedule. This helps you see if you really can get it all done in a day. I love that it allows you to estimate how much time a task will take as well as how long it actually took you. If you don't want these tasks into your main calendar you can create a new "to do list" calendar in Google so that your tasks can be sent there instead. You will have to access your account settings and change your default calendar. I have mine sent to my business calendar.
How to Plan & Schedule Your Days to Get Things Done
Roll-Over Tasks, Archive & Backlog
If you didn't get to a task, it will automatically roll over to the next day. If this happens too often, you can set it to get sent to your archived tasks. You can set how many days until it gets sent to your archive. By default it is set to 4 days. Your archive list will help you to see why these tasks weren't getting done and helps you assess if they are really that important or not. To access the archive list you can click on the moon icon. If it's not as important you can move these to your backlog. If it is important to you, then you should add a time estimate, plan it for a specific day and block off time to work on it.
If there are tasks that you would like to get to "someday" you can place them in your backlog. The backlog is accessible by clicking on the filebox icon. You can drag and drop tasks there too.
Benefits of Using Sunsama in Your System
By centralizing your to do list from all your apps and tools, you will be able to prioritize more
You will save time by not having to switch between all of your tools since it will all be in one spot
You can track and measure your progress from all of your projects. Seeing what you got done every day helps you to keep moving forward toward your goals.
How I Use Sunsama In My Digital System
As we know, we're constantly bombarded with things to do and appointments to keep. It's easy to feel like we don't have enough time in our day for everything that comes up, but using my digital planner each day has helped me better organize my tasks, appointments, and responsibilities so I can get more done each day.
My digital planner gives me that pen to paper feel, just digitally. I love using it to get everything out of my head. It's much easier to lay things out on digital paper instead of having them bouncing around in my mind all day long. Even better, if something changes or I need to change an appointment or task altogether (because we know that happens sometimes), it's as easy as pressing delete and making those changes immediately. I like to plan and decorate my planner the night before. This is also where I reflect on my goals and habits, track things and write out lists of all sorts.
My digital planner is the first step in my planning process. It's so helpful to see all of my appointments, lists, tasks, etc., laid out before me on one page each day.
As soon as I am done planning in my digital planner, I'll open my Sunsama app on my computer. From there, I'll scan over my calendar to see what tasks are scheduled for that day. In Sunsama I can also check for any meetings or events that were previously entered into Google Calendar. If I see something that needs to be done today that isn't currently listed on my planner, then I'll use Sunsama to set it up before I forget. It also helps me from forgetting any big deadlines or appointments.Then, I will start to enter any tasks I wrote down in my digital planner into Sunsama. I can set time estimates and even drag them into my schedule to plan when I will work on them. This lets me see realistically how much time I have to work on tasks. From there I can also drag in my ClickUp projects and emails. After that, I like to keep all of my tasks organized by category or context (work, home, errands, etc.). Sunsama makes it really fast and easy to timeblock and schedule out your day. Sunsama walks you through planning your day to make it even easier.
If you want to create an efficient morning routine or learn how to manage your time better, try these four steps:
First , decide what you need from each day. Do you have important appointments? What tasks do you need to accomplish?
Second , analyze your schedule. Think about when during your day things will happen that could interfere with your plans—morning meetings or after-work plans with friends, for example—and decide which times will be best for accomplishing what needs to get done. Then take a look at how long you realistically have in each block of time and rearrange accordingly.
Third , write everything down. Get yourself a planner that works for you—digital planners like Sunsama app allow you to set due dates and reminders so there's no excuse for forgetting something important! Then write down everything: every activity, every appointment, everything else in your busy life along with where it is happening at what time… Everything .
Finally , review your notes before getting up in the morning so nothing gets forgotten later on when things get busy. Once you start doing it everyday there won't be any slip ups and soon all those little bits add up to give us more time than we even thought was possible!
Why You Should Use it Alongside your Project Management Tool
I love using Clickup as my project management tool, but in order to get things done on a daily basis I always use Sunsama.
Clickup is amazing, but it is a project management tool and not the best for planning out my day. There are ways to make a weekly kanban board and add your tasks using automations, but I love the simplicity of daily planning with Sunsama. I like to use Clickup for organizing everything else.
As someone who always has new ideas and things to bookmark, my backlog is huge and it can get quite overwhelming! Sunsama has a lightweight backlog that you can use for storing tasks you want to work on sometime in the future, but it's for things in the near future only. Sunsama is designed to be your daily and weekly task list. It's not designed to be a fully featured project planner. So that's why I need Clickup to organize my all of the things.
So you see, Sunsama is not meant to replace your project management tool but to work alongside it to help you create an intentional, calm, and focused plan for just today.
Final Thoughts
You'll never have to worry about being out of time again when you use the Sunsama app and your project management tool together.
If you want to be more productive, it helps to have a project management tool that can help. The Sunsama app is one of the best tools I've seen for this because it makes work life so much easier by taking care of all your scheduling needs and keeping track of what tasks need attention.