Need a free holiday planner? Read more to see how you can get this for free from gifts.com!
With Christmas fast approaching, it's easy to get overwhelmed with all the different things you still need to do before the 25th. Whether it's putting up your Christmas decor or preparing for guests to arrive, you probably feel like you have a laundry list of tasks with no time to relax and enjoy the holidays with a cup of cocoa. That's why using this Christmas planner from Gifts.com, you can avoid overwhelm and enjoy time with your loved ones by keep tracking of everything—even if there's only a week till Christmas!
This planner has over 15 different pages so you can prepare for things like Christmas dinner menu, check items off your gift list, and even keep tabs on any memorable moments throughout the holiday season. After all, the most important part about Christmas is being present for your loved ones, so savor your time with them by staying organized and avoiding stress with a planner you can reuse time and time again!
The planner includes over 15 pages of helpful Christmas resources, from a gift tracker to a travel planner, so you can beat the holiday stress and stay organized. Plus, there's also a fillable calendar and checklist, so you can reuse this planner for years to come! Simply download and print these Christmas planning pages to stay on top of your holiday to-dos.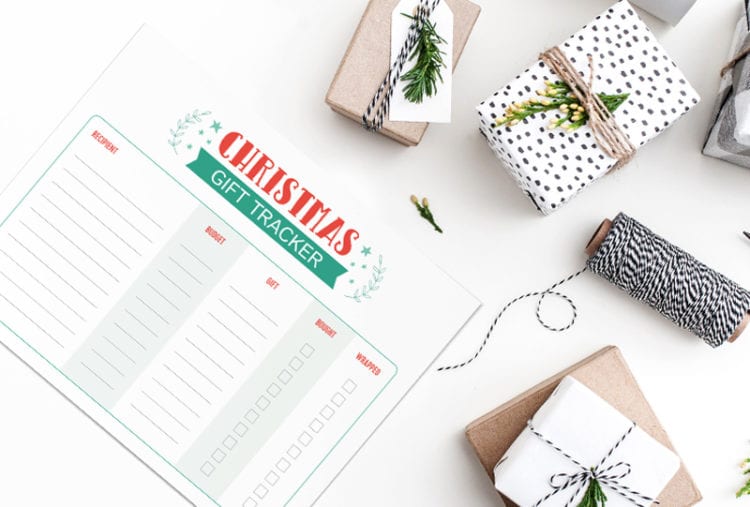 Christmas Planner Printables
As you prep for the Christmas season, you're likely juggling many different to-do lists. That's why this Christmas planner has tons of resources to help you keep your tasks in order. Here's a list of what is included:
Calendar – Use this blank calendar year after year by filling in your own dates. Mark all your important celebrations, parties, trips and of course, Christmas!
Decor Planning – Decorating can be one of the most fun ways to get into the Christmas spirit. Use this section to plan what decorations will go up and whether they'll be inside or outside. Don't forget to mark a date for when you'll put the decorations up and take them down.
Shopping List – Use the shopping list in this Christmas planner for scheduling weekly trips to the grocery store or noting what ingredients you need for your big Christmas dinner.
Budget Planner – Avoid financial stress by planning your budget ahead of time. Set budgets for the gifts you plan to give, the holiday meals you plan to make and the decorations you're going to buy, like stockings and ornaments.
Christmas Recipes – One of the best parts about Christmas is all of the delicious food! Keep all of your favorite recipes on hand so you don't have to hunt for them later.
Christmas Menu – If you're the one serving Christmas dinner, you can use this page to outline the entire menu from appetizers to desserts!
Christmas Card Tracker – List the names and addresses of the family and friends you plan to send Christmas cards to on this page. Once you've sent your holiday card to them, check them off!
Thank Yous – Use this page in the Christmas planner to keep track of all the cards and messages you'll send expressing your appreciation for the gifts you were given.
Traditions – Never forget a tradition by noting all the different things you do every year to celebrate. If you don't have any traditions, use this page to mark the new ones you'll create!
Gift Tracker – Make a list of every person you're going to give a gift to, then check off when you've bought their gift and when you've wrapped it! If you need some inspiration, learn how to wrap a gift and how to make a gift bag out of wrapping paper.
Party Planner – If you're hosting a party, you have a lot to think about and plan for. Keep track of everything your party needs from cocktails to decorations for the occasion!
To-Do List – As you get closer and closer to the 25th your to-do list will likely grow longer and longer. Organize your weekly—or daily—tasks with a seasonal to-do list.
Trip Planner – Keep track of flights, hotel reservations and other important booking information with the trip planner page.
Guest Planner – Have guests in town? Use this sheet in the Christmas planner to write down all the people you expect to visit, how long their visit is and any fun activities you have planned for their stay.
Cleaning Checklist – Whether you're prepping for a party or wrapping up the holiday celebrations, you likely have some cleaning to do. Use this checklist to organize your cleaning by room and task!
Memorable Moments – The best part of Christmas is all the new memories you'll create. Make sure you never forget them by jotting them down in your Christmas planner.
Thanks to gifts.com you can instantly download this 15+ page planner below! Time to get your holiday planning into high gear!
Instructions for Printing
Download the Christmas Planner using the button above.
Print out the pages. You may want to resize them (use this link to learn how) on your printer so it can fit this inside of your planner.
If you need more than one page of a certain part of the planner, print out extra sheets.
Enjoy your Christmas planning!