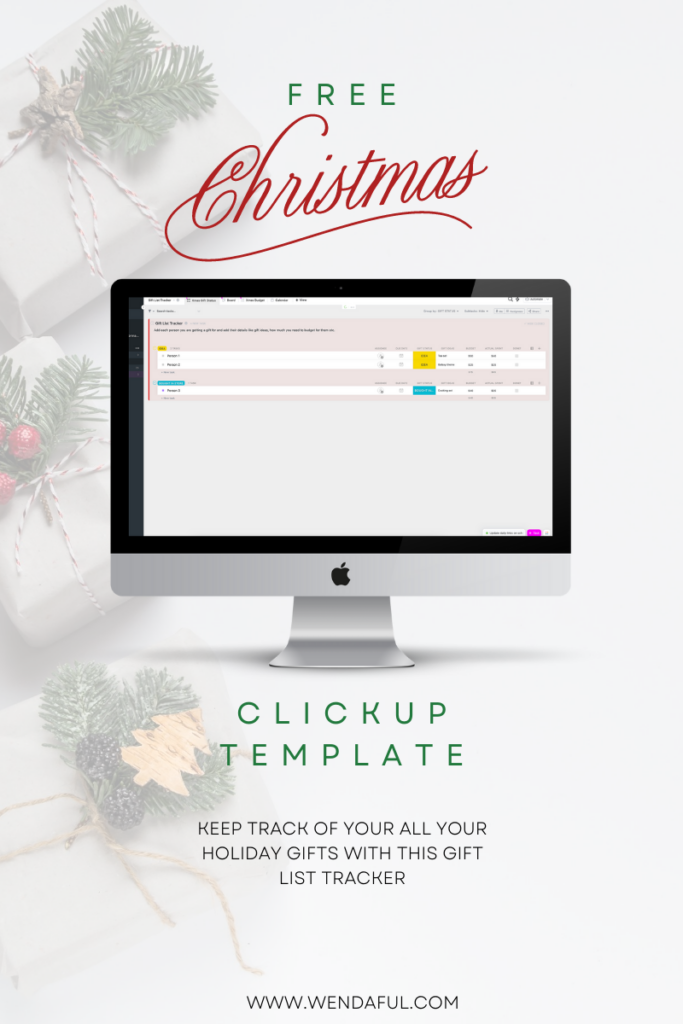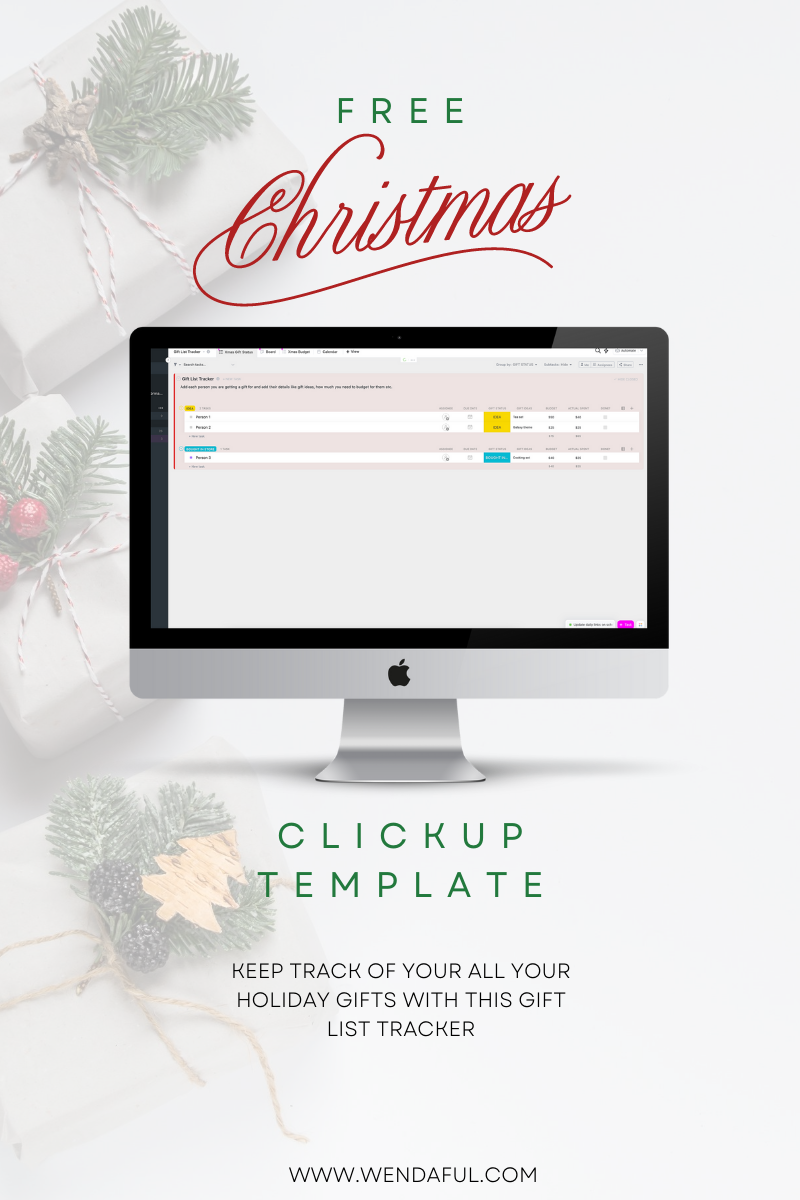 Looking to simplify your life this holiday season? One way to do so is by making sure you stay on top of all the Christmas gift lists you need to fill this year. With so many people and presents, it can be hard to remember who's getting what and when – that's where ClickUp templates come in handy! Whether you're planning your holiday shopping or trying to keep track of office gifts, these templates will help you and your staff organize and visualize the process before it even starts! Here are three ways ClickUp templates can help you stay on top of your Christmas gift lists this year.
If you're more of a pen and paper planner check out my other free printable gift list tracker here:
1) Download my Free Template From ClickUp
This year, I'm taking my holiday gift list preparation to a whole new level. I started my shopping already—but I wanted to share how I have all my lists organized and ready to go. Using my template from ClickUp , I was able to compile everything in one place so that when December rolls around, there won't be any last-minute stress trying to remember who needs what gifts. I love using this template to see how much I've spent and how much is left in my budget as well.
2) Start Organizing by Person
Before you even begin making a list, start thinking about who will be receiving gifts from you. If you have kids, an approach is to make a list for each child. If it's adults only, make a list for each adult. That way, when it comes time to purchase gifts in order to stay organized, you know exactly which recipients need something new in their lives and can prioritize accordingly.
3) Setup Reminders
The holiday season is hectic and there's a lot going on. To keep you from forgetting about people, use templates in your project management software to add reminders. In ClickUp, you can add a reminder for a task by clicking on the due date and selecting a date. This will come in handy especially if you need to order something online early so it will get here in time for Christmas. Setting reminders will allow you to stay organized and not forget anyone!
4) Use Custom Fields Functionality
Using templates for tasks is a great way to stay organized throughout your entire business, but templates aren't always built with every possible use in mind. I have included custom fields for budgeting and expenses, the gift status, and gift ideas. Feel free to add your own if you'd like. Let's say you have multiple lists of people that need specific gifts, and they all have different sizes. You could add a size field so each contact knows exactly what to buy. Be sure to also check out my other ClickUp Templates here. 
5) Set a Budget for Each Person and Track How Much You Actually Spent
This is one I've used since my last few Christmases. Make a gift list and set a budget for each person based on how much you think they'll appreciate a gift from you. My rule of thumb is to take our total income and divide it by the number of people. Then we typically move the money around from there like more for the adults and a smaller budget for kids. Once you have your budgeted amounts down it's time to add them into your project plan in ClickUp and track how much you actually spent by putting numbers in for how much was budgeted vs spent next to each item. I love seeing the total spent under each column. This helps me stay on budget and makes sure everyone gets a gift!
6) Different Views for Different Purposes
In my ClickUp Template you will see 3 different view types. One is a list view for the entire budget so you can see the total sum below. The second one is for the Gift Status List, so you can see which gifts are wrapped, what's coming in the mail, or what still needs to get purchased. The third is a board view so you can drag and drop each person in which stage they are in the gift status. All views show an aggregate amount per section (which can be edited) as well as lets you drill down into how much money is left by individual gift if desired. I love using ClickUp because of how you can view the same information in multiple different ways.
Stay Organized this Holiday Season with this ClickUp Template
This template is great if you have never used custom fields before. I hope it gives you some ideas on how you can use ClickUp. If you are already using ClickUp, there is a ton of value for you as well because I have added a number of details to each item that most people will need when creating a gift list or wish list. In addition, there are example items for each category so your customers understand how to fill out their own lists.
DOWNLOAD YOUR FREE TEMPLATE BELOW
This template also includes lists for your holiday to do's, holiday cards, and holiday menu! How To Get Organized Like A Pro With A Home Management Binder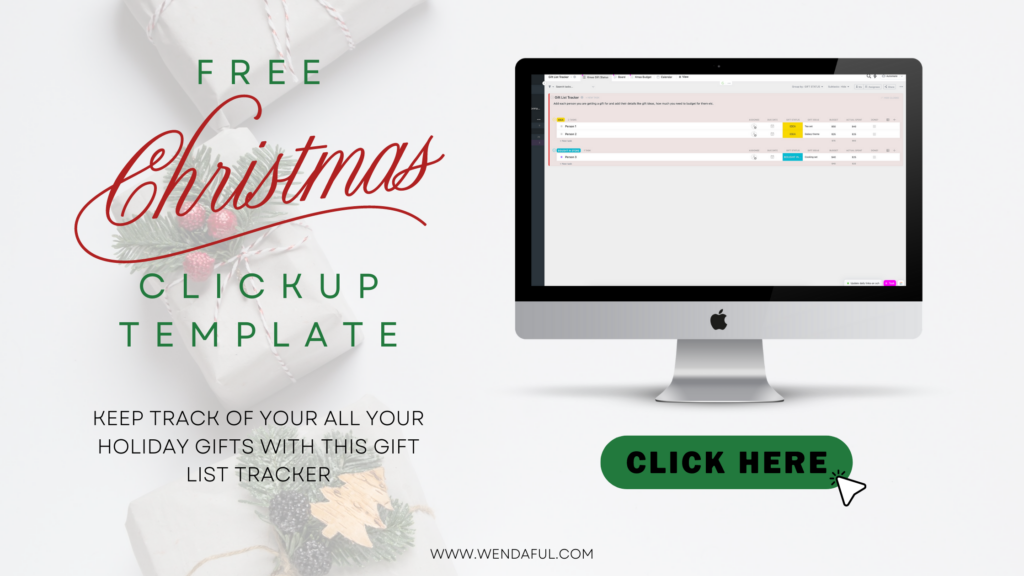 How To Get Organized Like A Pro With A Home Management Binder