Everybody has a busy life and with that, they often find themselves struggling to keep up with their home and family management. This can be a major hassle not only because of the mess that it creates, but also because it can be extremely difficult to get things done when you can't find anything you need. Imagine being so organized that when someone asks you a specific question you know exactly where to find it and give the answer to them within seconds? This is what you can achieve with a home management binder.
A home and family management binder is essentially a collection of all the documents and information that you need to effectively manage your home and family. This could include anything from bills to photos to mortgage papers – the list goes on and on. The great thing about having a home and family management binder is that it ensures that everything is organized in one place so that you can access it quickly and easily. This makes it much easier to keep track of your finances, schedule appointments, communicate with your loved ones, and so on.
So why not get started today by creating your very own home and family management binder? It's an easy task that can have a major impact on your ability to live life to the fullest.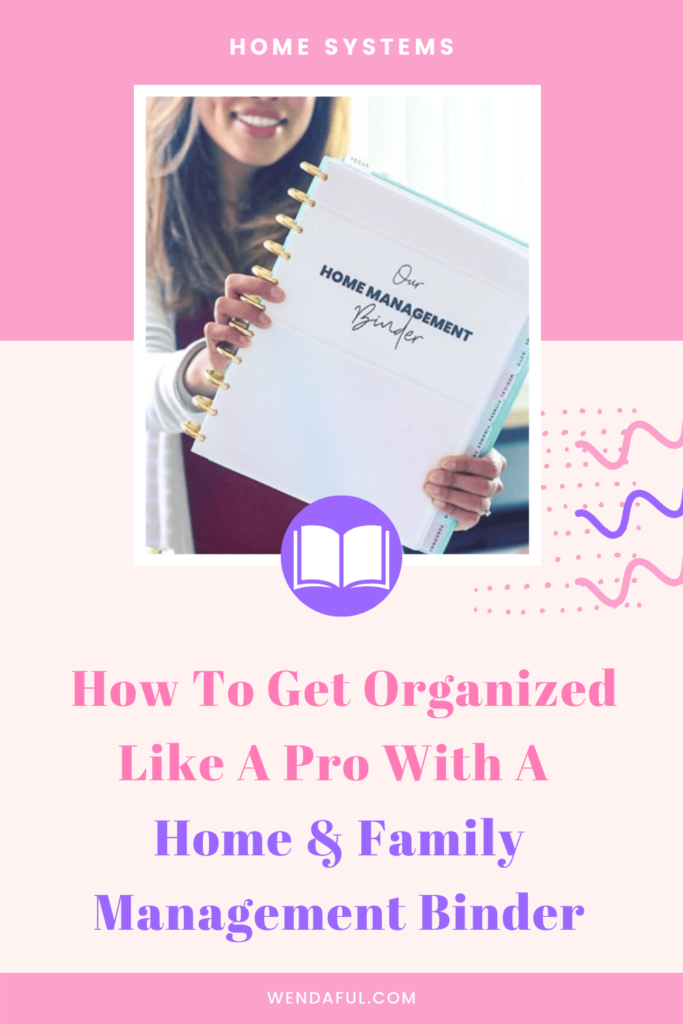 For more home systems check out these posts:
Home Management Binder System Flip-Through
10 Tips for Staying on Top of Your Home Life as a Stay-at-Home Mom (or Dad)
How to Clean Your Home Effectively (with Checklist)
Why is a Home & Family Management Binder So Useful?
A home management binder can be a valuable tool for organizing your home and keeping track of your important family information. A binder can help you keep track of important dates and events, as well as store important documents such as insurance policies and mortgage papers. A binder also makes it easy to access important information when you need it, whether you are cleaning up after a party or trying to remember where you put your car keys.
What Should I Include In My Home & Family Management Binder?
A home management binder can help you keep track of important information, such as your mortgage information, insurance policies, and contact information for important people in your life. You can also use the binder to store important documents and photos. You should include:
-Your name and contact information
-Your current address
-Information about any mortgages or loans you have (including the name of the lender, account number, interest rate, etc.)
-Information about all of your insurance policies (name of company, policy number, coverage amounts)
-Location and contact info for all utilities (gas/electric/water) in your area
-Names and contact info for all members of your household (include pets if applicable)
-Names and contact info for all landlords or property managers in your area
-Names and contact info for your children's school or extracurricular activities
-Household services and appliances
-Medical information
-Auto Maintenance and Repair Records
How Do I Actually Use My Home Management Binder?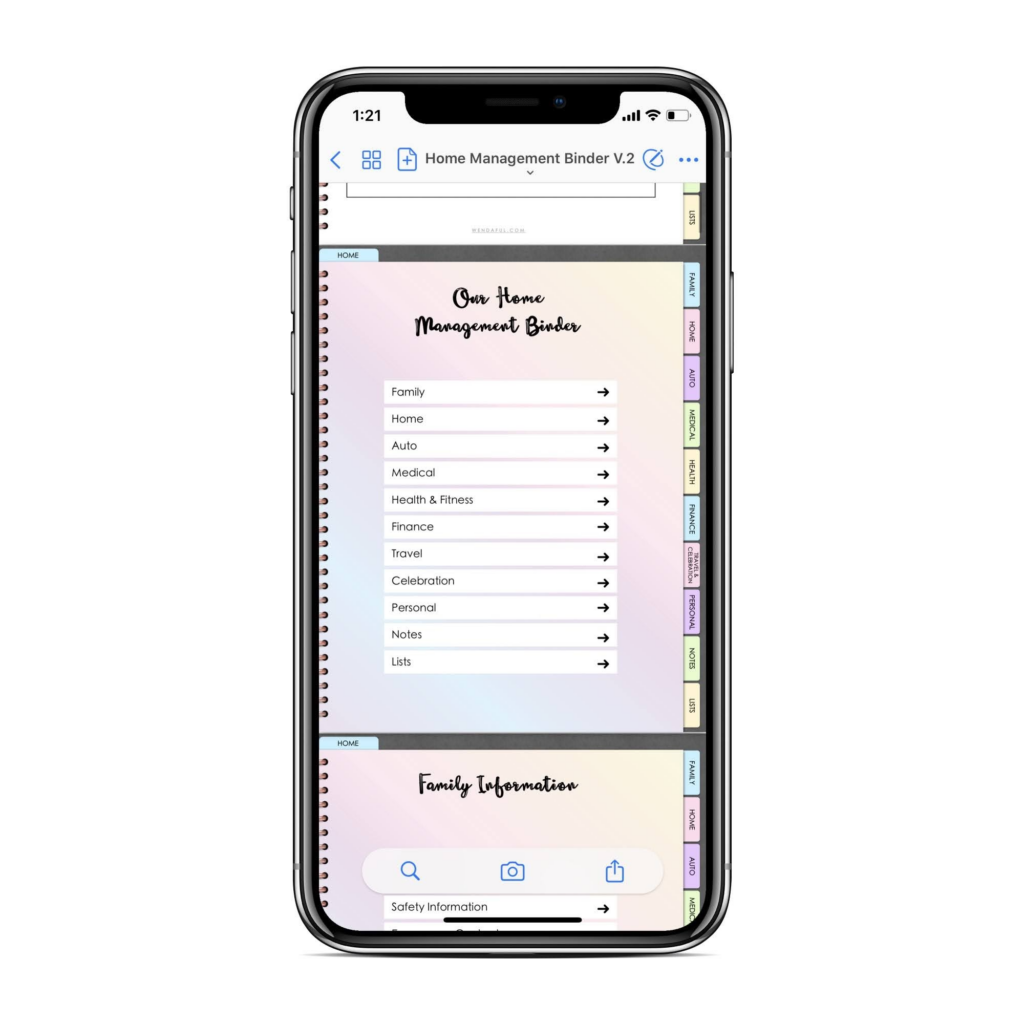 There are a few different ways that you can use your home management binder. One way is to actually use it as a reference guide. This means that you can go to the particular section that you are looking for and then you can start taking action on the items that are listed in that section.
Another way to use your home management binder is to set goals for yourself and then to track your progress. This will help you to stay on track and to make sure that you are achieving the goals that you have set for yourself.
Finally, another way to use your home management binder is to keep track of all of the changes that are happening in your household. This will allow you to keep track of all of the new things that are happening in your life and it will also allow you to keep track of all of the changes that are happening in your household.
With my printable and digital home management binder you can have a physical copy in your home and a digital version with you on your phone wherever you go! My new version of my home management binder – the household hub – is also editable! So you can pre-fill out the forms before you print it out!
Here is everything included in my home binder:
Family Info & Contacts

Important Family Information
Emergency Info
Friends and Neighbors Contacts
School contact info
Children's height/weight tracker
Safety Info
Clothing Sizes

Home Management

Cleaning services, and cleaning routines
Home projects and home
maintenance contacts
Home and appliance info and details
Cleaning checklists
 Auto Management

Medical Info

Doctor/Dentist Appointments and Visits
Medical Info
Symptoms, Blood Glucose Tracker, Medication Log, Prescription Information, Allergy Information and more
Dental Care and Health Care Info

Auto Management

Car Information
Car Care Checklist
Auto Maintenance and Repair records

Health & Fitness

Sleep Trackers
Variety of Workout Logs and Trackers
Before and After and Weight Loss Journey Trackers
Body Measurements Log (Monthly & Weekly)
Training Plans

Meals

Recipes to try
Go To Meals
Favorite Take Out Places
Super Food List
Grocery Shopping List
Weekly and Monthly Meal Planners

Travel/Vacations & Celebrations

Vacation Tracker and Bucket List
Travel Info, Budget and Planner
New Places To…See, Do,  Go, Eat
Birthday and Anniversaries List
Holiday Cards
Favorite Hotels & Restaurants
Packing Checklists (2 Versions)
Holiday Shopping Lists
Gift Ideas List
Shopping and Wish Lists

Personal Care & Hobbies

Grooming Services
Books to Read and Movies to Watch
Tv Shows
Self Care Checklists
Wellness Routines
Gratitude Tracker

Finance

Bank Information
Credit/Debit Cards
Loans
Investments
Variety of budget trackers
Online order tracker
Expense Tracker
Savings, Debt and Debt Snowball Trackers
Monthly and Yearly Bill Trackers
Yearly Financial Summary
Annual Income Tracker

 Records & Documents

List of documents
Birth/Death Certificates
Drivers' Licenses & ID cards
Social Security Carts
Passports
Diplomas
Marriage/Divorce
Immunization Records
Inheritance Records
Deeds/Titles
Tax info
Insurance Policies
Vehicle Registration
Adoption/Custody Agreements
Investment Plans/Stocks/Bonds
Military Records
Pictures/Memories
Is A Home Management Binder Necessary?
While a home management binder is definitely useful, it is not necessary in order to take care of your home. There are a number of different online tools that you can use to help you to stay organized and to get everything done.
By having all of your important documents, bills, and payments in one place, you can easily keep track of your finances and stay on top of your schedule. Additionally, a home management binder can be helpful if you have a lot of random papers cluttering up your living space. Rather than having to search through files and folders every time you need to refer to something, having everything readily available in one place will make it much easier. However, keep in mind that not everyone needs or benefits from a home management binder. Some people prefer to keep their important documents electronically stored instead of physically located. If this is the case for you, then a home management binder may not be necessary or feasible for you.
Conclusion
A home management binder is a great way to get organized and to start taking care of your home in a more streamlined way. Not only will it make your life a lot easier, but it will also help you to save a lot of time and money.
If you're looking for a home management binder with tons of pages and everything you need to keep track of your home and family be sure to check out my printable and digital home binders here. You will get access to both versions included!
The digital version is perfect for on the go, with all the information you need at your fingertips. The printable version has a lot of pages with spaces to jot down notes and organize your thoughts.
Regardless of which version YOU choose, make sure to fill it with all the important info about your home and family! This way, everything will be at your fingertips when needed and chaos will be kept to a minimum!