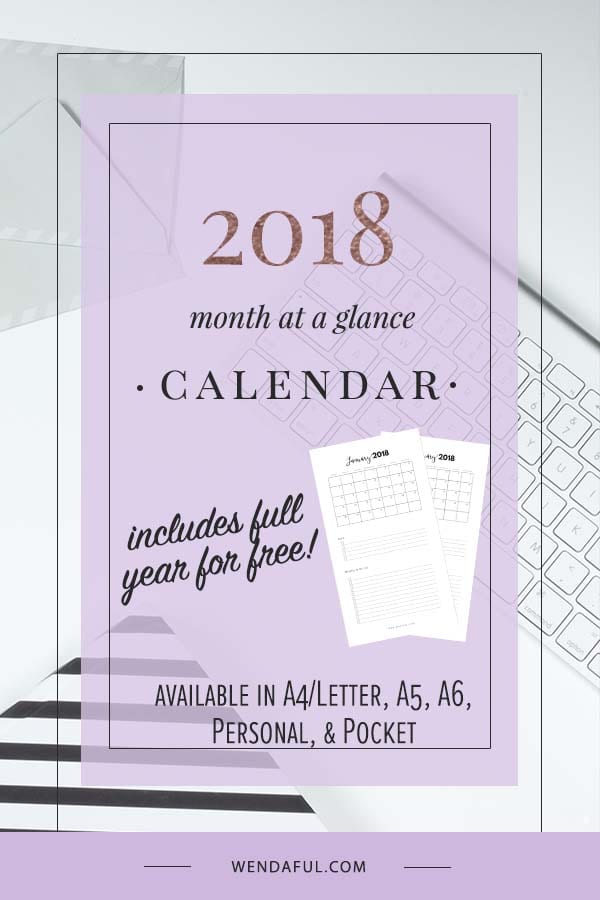 2018 is almost here and I wanted you to be prepared. The month at a glance is a great way to write your monthly to-do list and focus on the big picture goals for the month. You can also see at a glance how busy your month is. I like to use symbols for different events such as balloons for birthdays, triangles for appointments, etc.
I have resized this printable to fit the most common sizes of planners. If you need a size that isn't listed just be sure to check out my post on How to Resize Printables here.

To download your freebie for your 2018 month a glance calendar just click the image below to sign up and you'll be sent your freebie right away!
In your download link, there will be a folder in Dropbox, and you can choose which size you'd like and which format you are most comfortable in printing with.
No-crop are for printing straight onto pre-cut paper
Crop is for printing one per page onto any size
& spread prints two to a page on either a4 or letter size paper
The sizes included are:
A4/Letter
A5
A6
Personal
Pocket
I hope you love this freebie! Tag me on Instagram or Facebook so I can see it in your planners!