In this ultimate guide, we're exploring Systeme.io, the all-in-one platform that has truly redefined the way I sell digital products, conduct email campaigns, deliver courses, and more.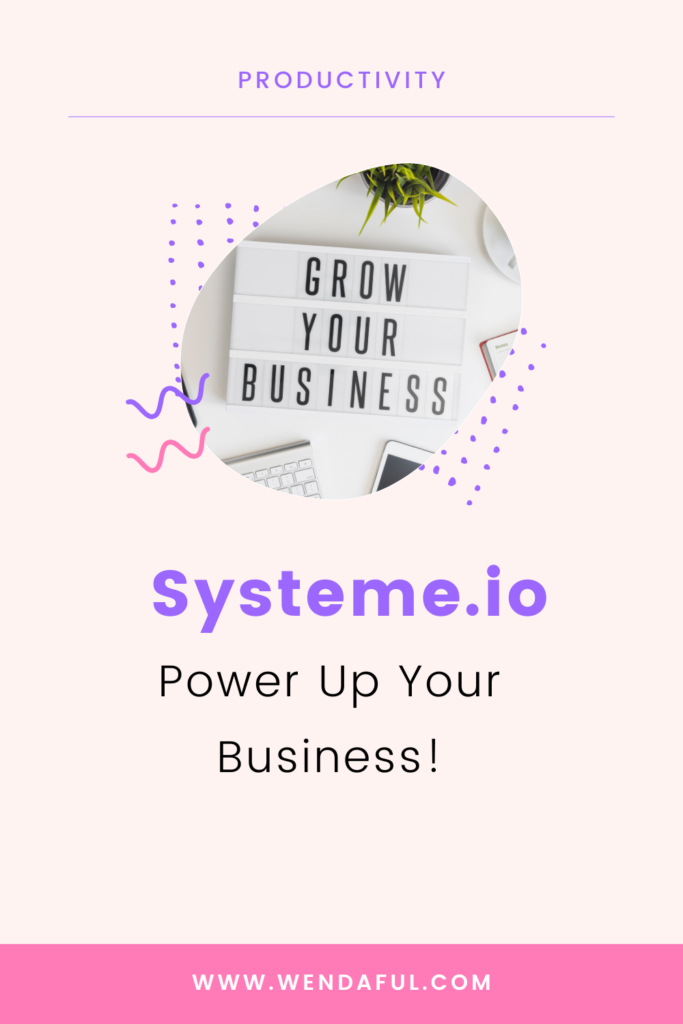 The Journey Towards the Right Platform:
Like many entrepreneurs, my journey towards finding the perfect online platform for sales funnels was filled with trials and errors. I experimented with various platforms, including Teachable, Kartra, FG Funnels, and Podia, each with its own strengths. However, I was searching for a platform that was not only affordable but also somewhere I can do everything all in one place, easy to master and rich in features. That's where Systeme.io stood out.
Cost Comparisons:
When we talk about cost-effectiveness, Systeme.io is a clear winner. While Kartra and FG Funnels start their pricing at $99 and $97 per month respectively, and Podia comes in at a more affordable $39, Systeme.io steals the show with its starter plan at just $27 per month. Although because my business has many funnels and email marketing campaigns I opted for the webinar plan which gives me up to 50 funnels. They even have a free plan that lets you get started with 3 funnels!
Systeme.io's Price Plans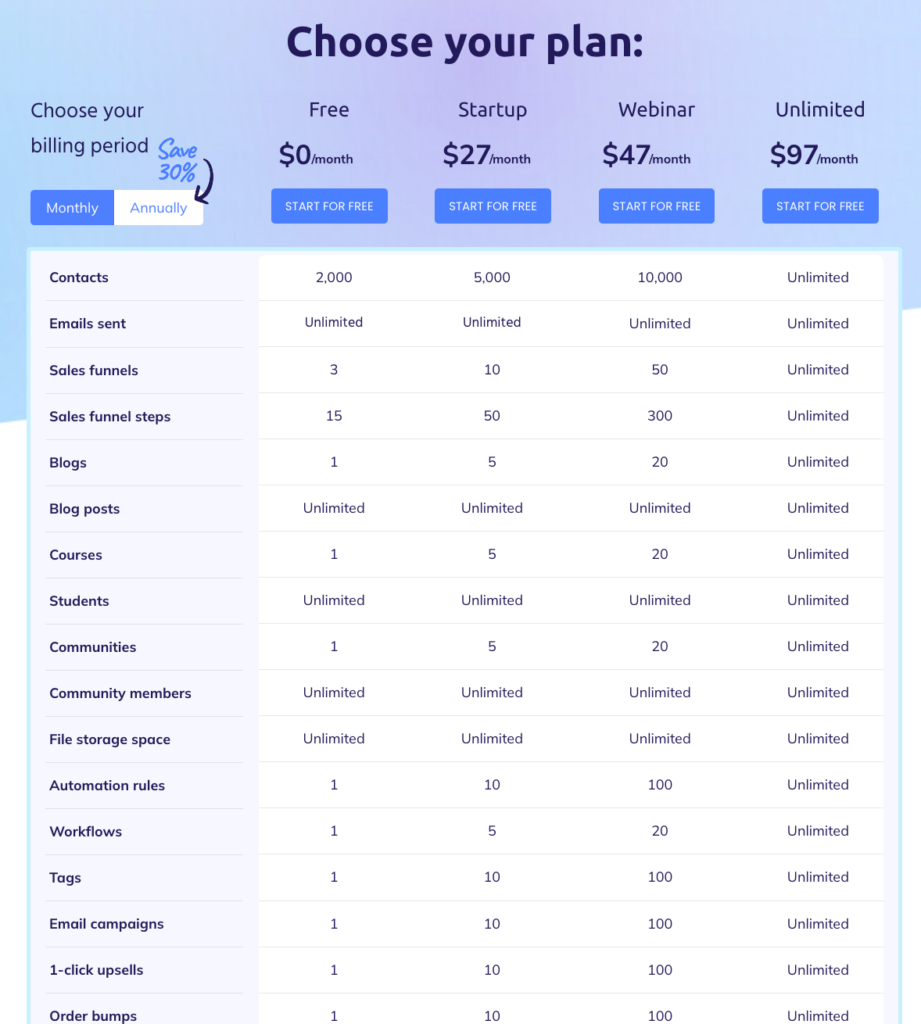 The All-In-One Solution:
One of the key benefits of Systeme.io is its all-in-one functionality. Before, I had to subscribe to various services such as email marketing platforms, Shopify for e-commerce, and others for different aspects of my business. Now, thanks to Systeme.io, I've been able to cancel those subscriptions and streamline everything into one user-friendly platform. This not only saves costs but also simplifies my workflow significantly.
Why Systeme.io?
Ease of Learning:
Unlike its competitors, Systeme.io proved to be the most user-friendly. Its intuitive platform, easy navigation, and comprehensive features allow you to master the system quickly, saving precious time.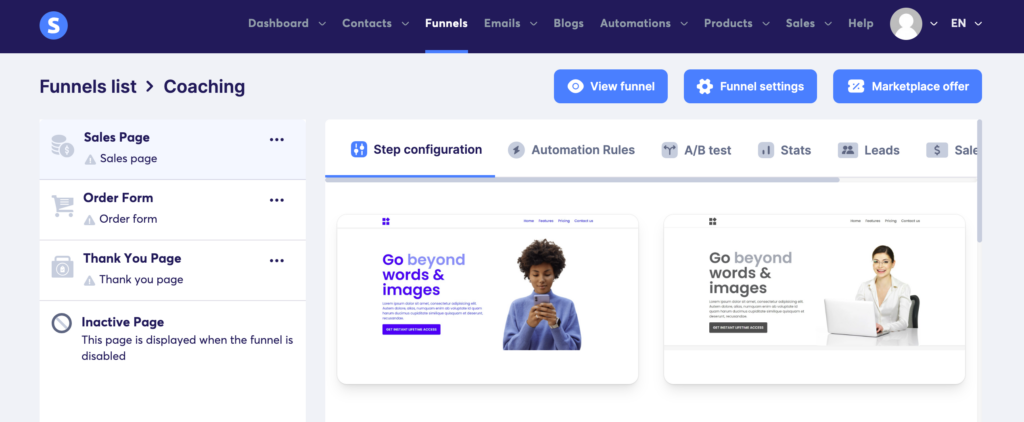 Selling Digital Products:
Selling digital products has never been easier, thanks to Systeme.io's seamless drag-and-drop funnel builder and integrated payment gateway. What used to take hours now only requires a few minutes.
Email Campaigns:
With Systeme.io's built-in email marketing software, crafting and sending newsletters, follow-ups, and promotional content is effortless. Plus, with its detailed analytics, I can track campaign performance and gain invaluable insights for future strategies.
Delivering Courses:
When it comes to course creation and delivery, Systeme.io shines. The user-friendly interface and automation features simplify student enrollment and course content delivery. If you want to see the funnel in action you can take a look at my sales page for my signature course the productive game plan here.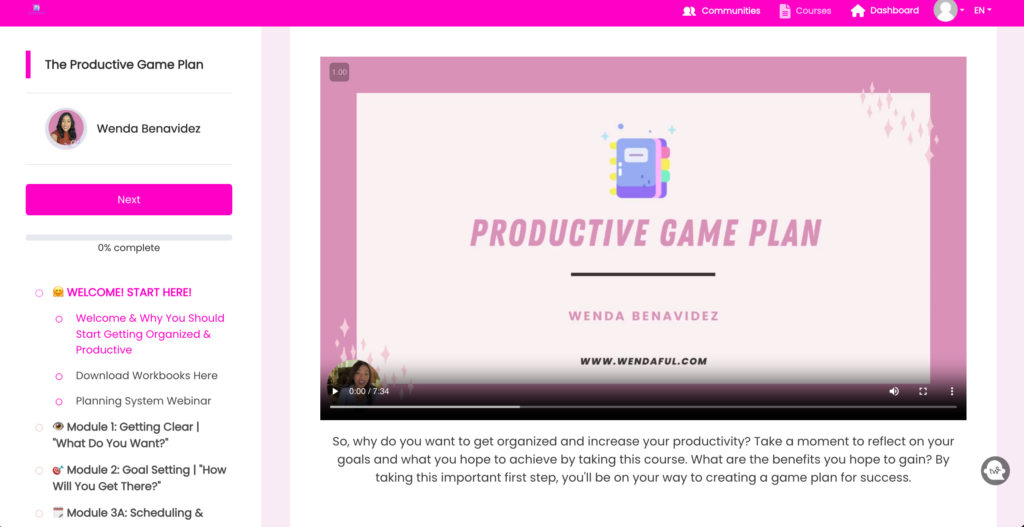 Migration Support:
One major perk of Systeme.io was their migration support. Their dedicated team ensured a smooth transition of my course content from the previous platform, saving me from potential technical difficulties. I moved my entire course from Podia to Systeme.io and they brought over all the videos, images, files, and even the sales page! It took a couple of weeks but my course was up and running and I didn't have to do anything! They only help you migrate though if you buy the annual plan which was extremely affordable compared to its competitors.
Conclusion:
Choosing Systeme.io has undoubtedly been a game-changer for my online business. Its blend of affordability, ease of use, and feature-rich tools has revolutionized the way I sell digital products, run email campaigns, and deliver courses. Their top-notch customer service and migration support provided an easy transition, solidifying Systeme.io as the ultimate choice for digital entrepreneurs.
At Wendaful.com, we are committed to helping you navigate the world of digital productivity and organization. Stay tuned for more tips, tricks, and insights on how you can leverage platforms like Systeme.io to drive your success. Remember, with the right tools and strategies, the digital world is truly wendaful!