This post brought to you by Red Robin. The content and opinions expressed below are that of Wendaful Designs.
Today the family and I decided to take a trip to Red Robin for lunch. I wanted to share this experience with you all! We just moved to the Sacramento area and have always noticed how lively this center was. Red Robin always seemed to have a crowd, and we were craving a juicy burger! We are very picky about where we take our kids out to eat as they do not always have the best restaurant etiquette.
As soon as we walked in we noticed right away that there were tons of families. We instantly felt at home. With the crowd that was there I was sure that we would have to wait about 30 minutes, but they seated us within 10! They already had a high chair ready for us too! As the kids and I sat and got settled our waitress came by and introduced herself. She then told us about their rewards program and told us that you can get a free birthday burger when you sign up for Red Robin Royalty
I couldn't help but notice all the nice framed artwork on the ceiling! How cool!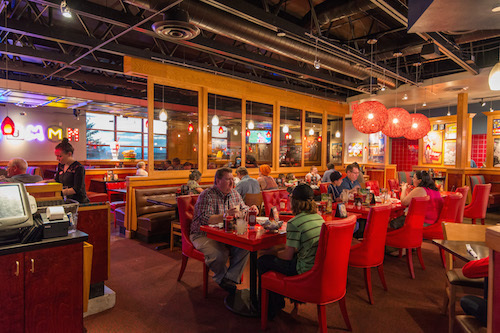 As we waited for our drinks we looked over the menu. They had so many good looking burgers and some other entrees as well. I was surprised to see the kids menu filled with so many options too. My oldest ordered the sandwich cheese bites, and my youngest went with the pizza. My husband and I quickly noticed their wide selection of adult beverages! What caught my attention were the adult shakes! Yum! We definitely will have to come back without the kids for a drink or two at the bar!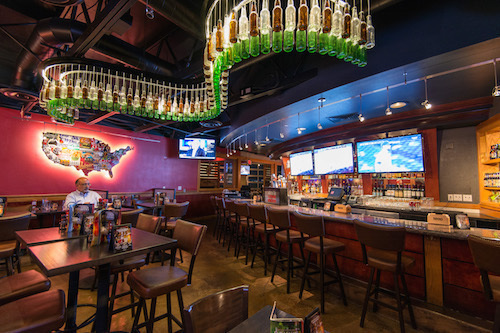 After ordering our food my youngest son, who's almost two, started throwing a fit. He screamed very loudly and threw his paper down. A waiter quickly picked it up for us. Luckily for us no one else noticed. The restaurant was so lively and bustling with fun that a crying was baby was not a problem! I instantly felt better and was able to sit down, relax and enjoy my time there.
Our food came out all together and my sons started gobbling it all up! They are very picky eaters so I was so surprised to see them going to town with their food. They don't usually eat a lot neither. We typically let them share an entree. Luckily we ordered them separately this time, because they both cleaned their plates off! Even the healthy sides of broccoli and apple slices! I can tell they were having a good time and enjoyed their food because as they were eating they were both doing a little dance.
It was so nice to enjoy a lunch with my boys at a restaurant without feeling embarrassed or sorry. We enjoyed the fun and lively environment and were able to have a few laughs as we ate our delicious tender burgers! Red Robin's is a great place to bring the family. I would love to come back here for a drink with some friends or a date night. It is definitely a place I would come back to again and again!