Hey everyone! Today I will be showing you how I organize all of my hoarding planner supplies! It's been a year and I've managed to de-stash quite a lot but I still have more stickers and post it's than an average person. There's just something about buying new supplies for your planner before you've even got to use your old ones! It's so fun, don't you agree?! It's a bad habit I know because we end up never even using half of it! But anyways here is how I handle the mess!
So this is my whole planning area! I've gathered quite a collection but am able to hide it very well within boxes and my favorite little drawer system that I got from Michael's for only $34! It's similar to the alex drawers from ikea but all of these drawers are the same size and about half the price! I will be further going into detail on how I store my stickers, sticky notes, pens, planners, page flags, washi tapes, stamps, ephemera, paper clips and more! Let's get started on stickers!
---
Here is my favorite planning piece of furniture! These drawers are so nice for hiding all the little planner supplies and keeping them away from little toddler hands. It isn't too deep so you can easily put small items without them getting lost. I have 5 drawers that I use to store my (1) etsy stickers, (2) washi tapes, (3) stamps and ink pads (4) store bought sticker books and albums (5) ephemera & miscellaneous items.
---
My sticker drawers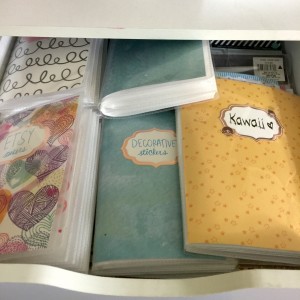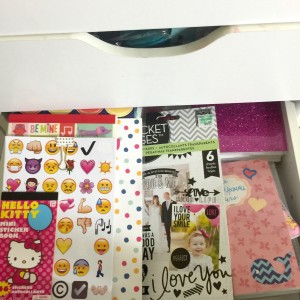 & my sticker book albums! I love using these $1 photo albums to store all of my stickers! I can separate it by category or type and it's so easy to flip through! I got the bigger 5×7 ones from amazon for about $6-7. I had to cut a lot of the store bought sticker sheets to fit into these albums, but the end result is perfect to me! Etsy shop stickers fit perfectly! I have one for all etsy shops, and two for my own shop separated by decorating and planning.
This is what the store bought stickers look inside each of my photo album sticker books!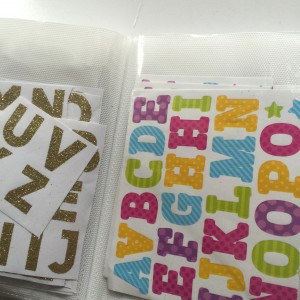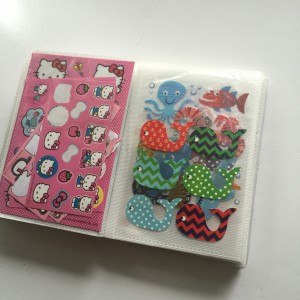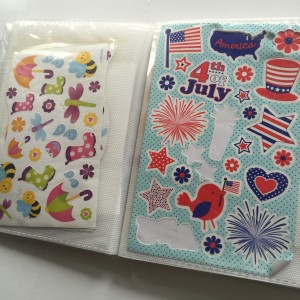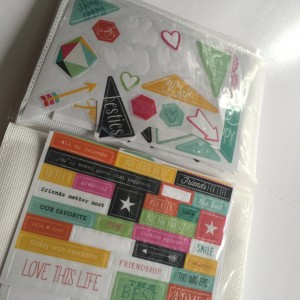 & this what the kawaii and etsy shop stickers look like inside! the kawaii ones are in a 5×7 album by the way.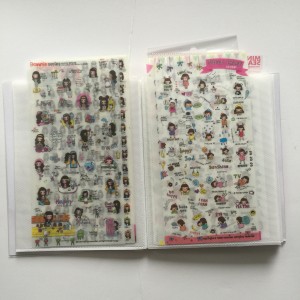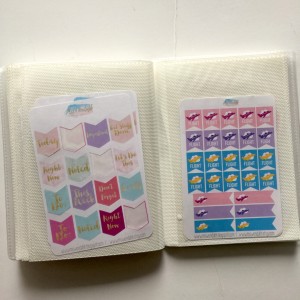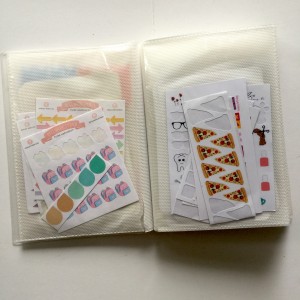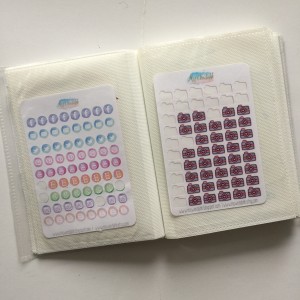 ---
Here are my other two drawers that include my ephemera and stamps! I love that everything fits perfectly!
---
Now on to the bookshelf! I use a 9 cube shelf to store my planners and other planner supplies! It is perfect for separating everything! On about 3 shelves you will see that I store all of my coiled planners, midoris, and ringed binders!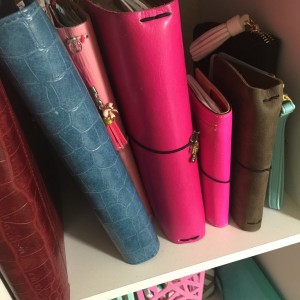 Then I have a a few shelves just for larger to do list pads, a box with inserts and dividers, project life cards, and bunches of $1 target tin cans to store some of my hardly ever used pens!
& in these storage boxes are my many many post its, page flags, and more! I also have an A4 sized sticker album for bigger store bought stickers!
On my desk I have some of these cute jars & a ring holder to store some pens flowers and my favorite washi tapes!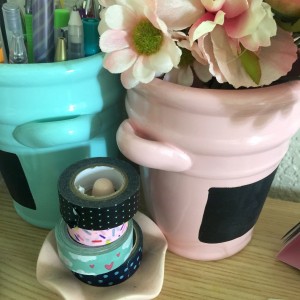 & I also store cute paper clips in this small clear acrylic tray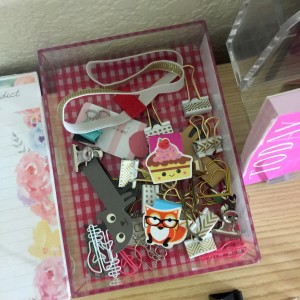 I have more paper clips, page flags and knick knacks inside my desk drawers as well! But yup,  that's just about it! Hope you enjoyed this little tour of my planner supply organization!