Hi Everyone! My shop will be open this weekend finally! I took a pretty big break to just catch up on orders, then stayed closed to just enjoy my free time! I used this last week however to design tons of new stickers for the summer! I've also made a sampler sheet that is bigger than my other stickers to let you test out all of my favorite stickers from my shop! So this post will just be about my new releases and what to expect. If you'd like to shop for these stickers then please head on over to http://www.wendafuldesigns.etsy.com to shop now!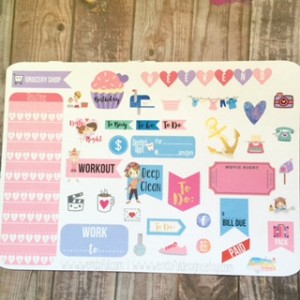 This is my first sampler sheet! it's like a glimpse at all the stickers in my shop all on one 5×7 sheet!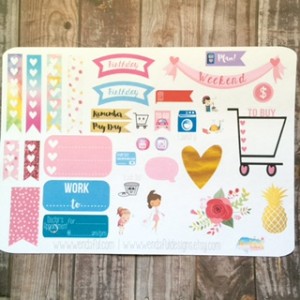 This is the 2nd sampler sheet! These two samplers are some of my favorites and such a great way for you to test out my stickers without spending too much!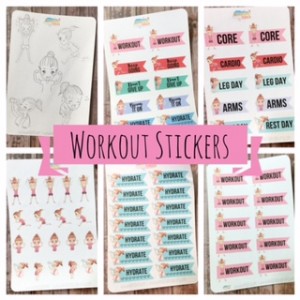 So my first set of new stickers include some great illustrations by Inma! She was so great to work with and I just love these fitness/workout stickers. There are a total of 6 sheets all geared towards working out. It is bikini season and we are all trying our best to get into a workout routine. Use these cute stickers to mark them in your planner and help push yourself to get those workouts in! The motivational workout stickers will help pick you up whenever you feel like quitting. And as the temperatures rise it is more important than ever to stay hydrated so use these stickers to help you get those 8 glasses of water everyday!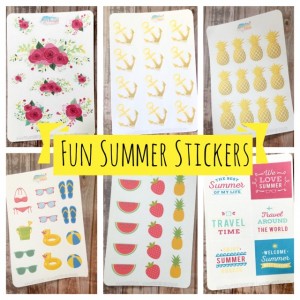 These next set of stickers were for summer specifically. I just love gold foil and pineapples and anchors just reminds me so much of summer. Decorating your planner will be a piece of cake with these fun summer stickers. & I don't know about you but it is getting hot out here and I am dreaming about the beach! I will definitely be using these stickers to mark down days when we head over to the beach or the pool!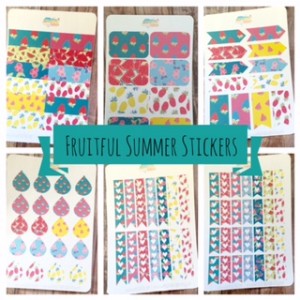 My next set is called the fruitful summer stickers set! It includes washi tapes (made to fit the EC boxes), rounded squares, flags, tear drops, long checklists, and short checklists! These stickers are perfect for decorating your week! the fruit patterns are so bright and colorful!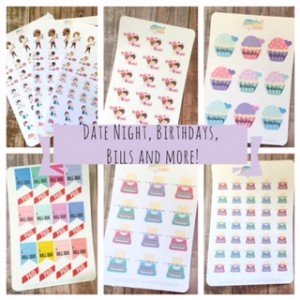 Finally my last set isn't really a set, just some other new releases! My favorite has to be the cute couple date night stickers and the bill due/paid stickers! The bill due stickers has a spot to write down your bill and amount and then a paid sticker to mark when you've paid it! I also love using my cupcake birthday stickers to mark down birthdays in the monthly view. You can also use them in the weekly boxes! The multicultural cleaning girls were a highly requested sticker sheet so I've finally got around to it! & finally typewriters! They're just too cute not to include in my shop!
So yup those are all of my new releases — whew! It was a lot of work and I hope you like them! You can get your stickers here at my shop on etsy!