Have you seen or heard about KateDori's? All it is is a Kate Spade passport holder, I bought mine from an outlet for $33. I love it but I hated that I could only fit a few notebooks, and couldn't close it nicely, without an attached band. Well today, I am so excited to share with you how to use your katedori, as your own passport fauxdori! You can put as many as 5-6 notebooks (though with a little overhang) and have a strap to close it all up! So now I don't have to carry around two passport fauxdori's anymore! Just my lovely KateDori! I absolutely love it!
What you will need:
Plastic or Laminating sheets with Laminator
Elastic
Single Hole Punch
Binder Clip
Ruler
Scissors or Knife
Tutorial:
So the first thing you will need is a plastic sheet. I just used a laminating sheet 5mil, and ran it through my laminator.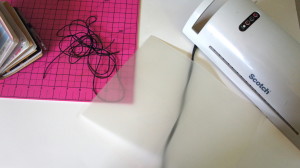 Then you will have to cut it to size, to fit the katedori pockets. You will want to cut it to 6.75 inches wide and 4.85 inches high. You can then corner the edges so they aren't sharp.
Fold the plastic sheet in half down the middle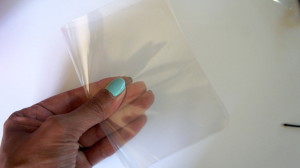 Hole punch once on the top & bottom middle
Grab your elastic and run it through the holes over & over again until you have the number straps you would like. I went with 6 just because I can. In case I'd like to add a sheet or two. This method of threading the elastic works well because you cant see the back anyways! Try to get the elastic tight enough to curl your plastic a bit.Even them out until it's all nice & even. Mine was a little too tight but still works. Then just tie a knot!
Then place it in your katedori pockets and start inserting your notebooks!
Strap Tutorial
Now to make your own strap to wrap around and close your little katedori just grab a binderclip and more elastic. Cut about 12 inches of elastic and then tie a square knot, leave a little excess strap for the next step. Once you have your loop strap attach it to one end of the binder clip and tie a double knot with the excess. Cut off the excess to make it look neater. Then just place your binder clip on the back cover of your katedori! Please note that this method does cause an indent in your katedori's leather!
Bonus: turn that same binder clip into a pen loop by super gluing  in some elastic bands to the sides of the binder clip!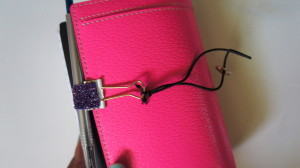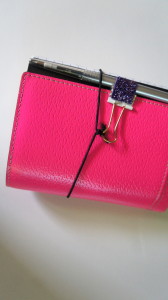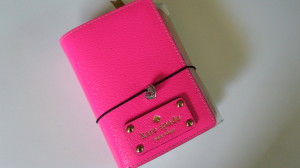 This is what your notebook holder would look like without the katedori!
& that's it! That's how I am able to use my katedori as a fully functional passport planner! It is stuffed and hangs over a bit but It beats carrying two! I love the color of my katedori and love even more now that I can use it as a real notebook holder!
I hope you enjoyed this tutorial! I was so ecstatic to find a way to make my katedori more functional! Let me know if you end up getting a katedori and DIYing it like this! I'd love to see pictures tag me on instagram at wendafuldesigns!