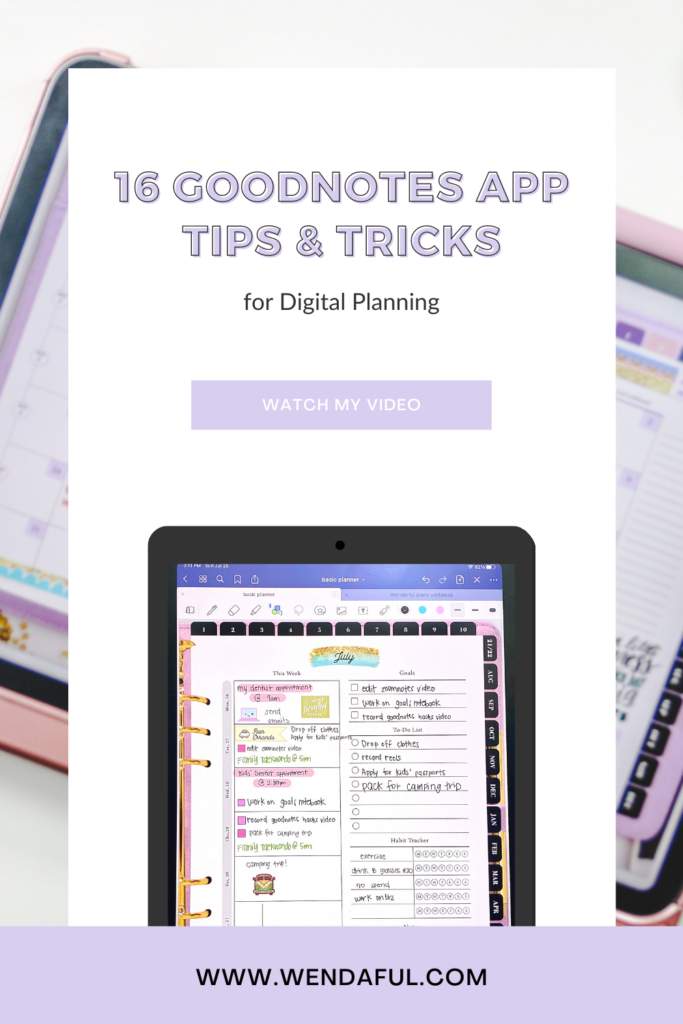 In this blog post, I'll share 16 goodnotes tips and tricks for digital planning. Whether you're an experienced user or just getting started with the app, there's something here for everyone to help make digital planning a lot easier.
Related Posts:
00:00 – Intro
00:59 – Lasso Tool
The lasso tool is a very powerful tool. You can convert handwriting to text, resize things, move things around, copy and paste, take screenshots and more!
01:32 – Elements Tool
The brand new Elements Tool is a clipboard management tool that allows you to save individual or groups of elements such as images, text, handwriting and more! Goodnotes Elements Video- https://youtu.be/ZrfWTWmnvzQ
02:31 – Textbox Tool
You can choose different styles and even create little stickers with the textbox styling options in Goodnotes.
03:48 – Eraser Tool
There are 3 kinds of erasers – Precision, standard, and stroke. The options available makes it easy to switch between your current tool and the eraser.
05:11 – Flipping Pages
Scrolling through your planner can be easier, with the horizontal or vertical (continuous) scrolling options. It's really a matter of preference. I use horizontal on my iPad, but the vertical for my phone.
05:54 – Editing PDF
Ever wanted to change what's on the planner or PDF? With this tip you can now! Easily cover up things using the white screenshot or pen.
07:03 – Custom colors
Use hex codes, or the wheel to further customize your colors.
07:51 – Custom sticker sizes
With GoodNotes you are able to change the width and/or height of any image! These are perfect for fitting your square stickers perfectly into a rectangular box.
08:47 – Adding Custom Pages
This trick will allow you to add in any other printable easily to your new digital planner. Franken-planning has never been easier! Customize your digital planner exactly the way you want! Adding Your Own Printables – https://youtu.be/6sW6BgJzIWE
10:08 – Rearranging Pages
Easily rearrange groups of pages at a time. Customize Planner Sections – https://youtu.be/KXlWrCKAT5Q
11:15 – Opening Links
Hate switching between Edit mode and View mode to click on a link? Do so easily, simply by holding down any link. A menu will pop up!
12:02 – Search
You can search within a document or all of your documents. The search option even can read your handwriting!
12:26 – Auto Shapes
Create straight lines, boxes and circles easily with your shape tool or your pen by just holding it down!
13:08 – Google Calendar
You can't sync Google Calendar into GoodNotes, but you can use it side-by-side. I show you how to exactly here.
14:09 – Split Screen Options
Working in split screen is so great on the iPad! You can easily drag and drop things, create reminders in other apps and more! In this section I show you all the ways you can use the split screen options.
16:21 – Scanning
Finally, the last tip is creating a PDF file with your scans. You can scan anything and it will create a crisp and clear PDF for you to write on. I love using this for stickers too! Paper Stickers to Digital Stickers – https://youtu.be/snOtXPnHz_s
Goodnotes is available on iOS and is a one time purchase for every device you own, as long as it's on the same iCloud account! It automatically syncs to all of your devices. So you can be sure to always have your planner with you EVERYWHERE!
Watch the Video on YouTube Here:
Now that you've learned about the 16 best features of GoodNotes, it's time to put them into practice. Share your favorite tips and tricks below!
Latest Posts: