Even though we're staying at home and all of our plans are cancelled, planning is still important to help us stay productive and on top of things.
Maybe weekly or monthly planning, not so much, but daily planning for sure.
We don't know when or how long we will have to stay home during this COVID-19 outbreak. However, we can still plan each and every day that comes. You can still plan your week too, but I think daily planning is what is most important right now.
Planning will let you know if you are staying on schedule or not in your day. You will greatly reduce your stress by properly planning your day because you will go into your day knowing exactly what to do and be prepared for any problems.
Things You Can Plan for in Your Day:
Your morning and evening routines

A list of things to do to have a good start and end to your day

Your meals

Meal planning can help to make sure you're eating healthy and will save you time from trying to figure out what to eat

What to clean in your house

Now that we're home more, we can see all the problem areas and take care of it to make sure everything is clean and organized
You can plan what chores you will get done on which days or during what time. Do you like to do it all in one swoop once a week or a little bit each day?

Projects you want to get done

These can be personal or work related but needs its own block of time to get done
Finally, you can work on those side projects of yours

Your work & meetings

If your work requires you to have a skype or zoom call you'll need to schedule those in
You will also need a list of what you will get done for work each day

Kids' school work & meetings

The kids will also be having weekly meetings with their class so be sure to plan for that
Teachers may also assign work for the kids to do each day, make sure they're getting them done in a timely manner

Time to exercise

Being cooped in all day can make anyone feel lazy, beat the laziness by moving your body for at least 30 minutes. Exercise also helps you feel more focused, happier and more energized.

Time for outdoors

Get some fresh air, it can do wonders! Take breaks and go for a walk or a bike ride with the family
You'll come back feeling refreshed!

Time for hobbies/arts & crafts/journaling/reading/tv time/family time etc.

Don't forget to make time for some fun stuff in your day!
Now that we're home we can really make time for all those family game nights, for that mystery novel or to binge on your favorite TV shows (Westworld, Better Call Saul or Ozark, anyone?)
How to Plan your Daily Schedule:
I like to plan my daily schedule in Google Calendar. My ClickUp project management tool syncs with it so I can plan out my specific daily workouts and chores so it gets scheduled into my daily planner too. I can also look through my projects and see where they can fit into my daily plan. If you'd like to try out ClickUp for free click here:
https://clickup.com/?fp_ref=jdajm
Start with your wake up time and time you will go to sleep

If you don't plan when you will wake up or go to sleep, your days won't have structure and you can waste your entire day. Make a schedule for your day by starting with when you will wake up.

Schedule in when you will do your morning routine

What time do you want to start your morning routine? What will you do? Will you do it before the kids get up, or before you have to start work? You know those emails and urgent kids' demands will bombard you if you don't make time for yourself first.

Schedule in when you will eat your meals (breakfast, lunch, and dinner)

What will you eat and when? I like to set reminders because when I am busy I tend to forget that I'm hungry. And when I don't eat for a long time I start getting irritated really easily, or reach for unhealthy snacks.

Schedule in time to do daily chores

I follow a similar version to Clean Mama's cleaning routine, and do laundry every day.
Mondays – Bathrooms, Tuesdays – Kitchen, Wednesdays – Declutter/Dusting, Thursdays – Vacuum/Sweep/Mop Floors, Friday – Catch All Day.

Schedule in time for your projects and tasks

Prioritize your top 3 tasks that must get done first and work your way down the list
Schedule in a timeblock for when you will work on these things

Schedule in the start/stop times for when you will work and take breaks

If you don't you can overwork yourself and get burnt out

Schedule in when you will exercise or workout
Schedule in when you will get outside for fresh air

When can get outside? Before dinner? Early in the morning?

Schedule in when you will do something fun for yourself

Make time for socializing. Just because we're home doesn't mean we can't reach out to family and friends. Or just make time to hang out with the family
Make time for yourself to take care of your physical and mental health by doing something that makes you happy. Plan with stickers in your planner, journal about your day and scrapbook some memories during this quarantine, watch your favorite TV show, play with your kids, read a book, have a movie night with the family.

Schedule in when you will end your day and complete your evening routine

Finally end your day by having an evening routine. Having an evening routine will prepare you for another successful day tomorrow.
How to Plan your Routines:
Your routines will include a list of steps of what you will get done during a certain time period, though it doesn't necessarily have to be at a specific time. You can have routines for the way you do things in a order for anything such as: morning routines, afternoon routines, work start/stop routines, dinner routines, bedtime routines, etc.
To plan your routines just make a list of the things you want to do during your day.
Example of my morning routine:

Drink water
Brush teeth
Get ready
Make coffee
Enjoy 15 minutes of quiet time
Start a load of laundry

Example of my evening routine:

Wash dishes
Pick up
Read stories to kids
Take a bath/shower
Brush teeth
Skin care routine
TV time/Cuddle
Bed time
---
Here is an example of my daily plan I like to use a mix of
time blocking
and color coding to plan my days: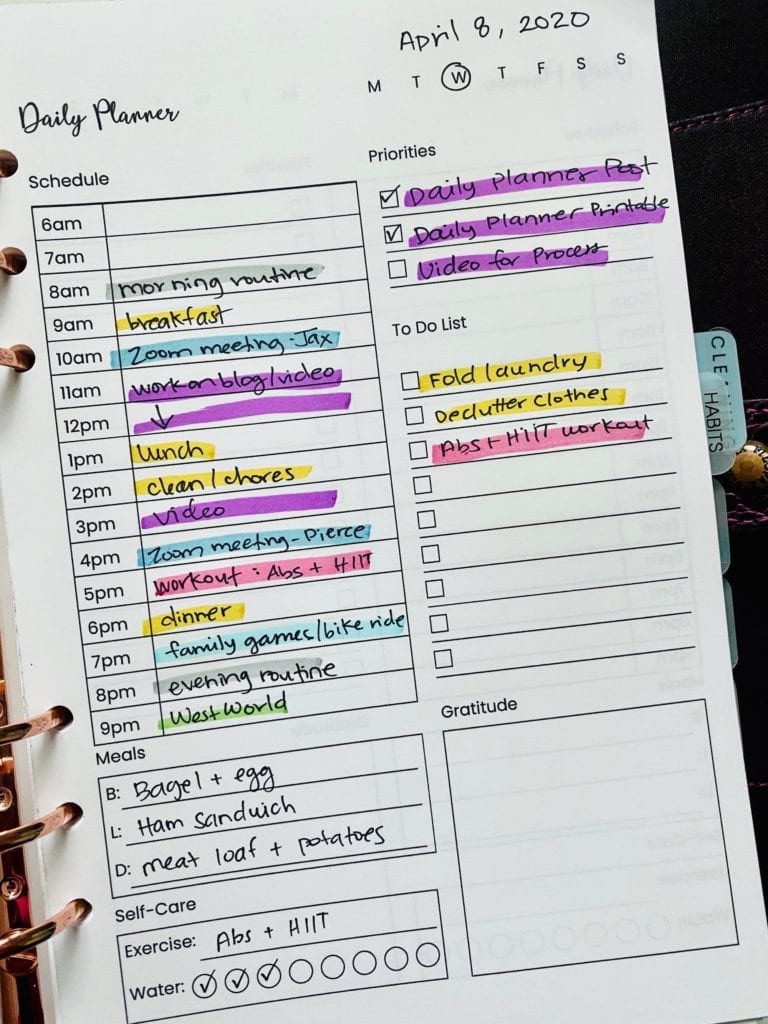 I created this planner so that you can properly plan for all areas of life and remember to take time to be grateful during this time. There are sections for your schedule, your priorities, your to do list, meals, self-care, and gratitude.
---
You can download your printable in multiple sizes by clicking the image below: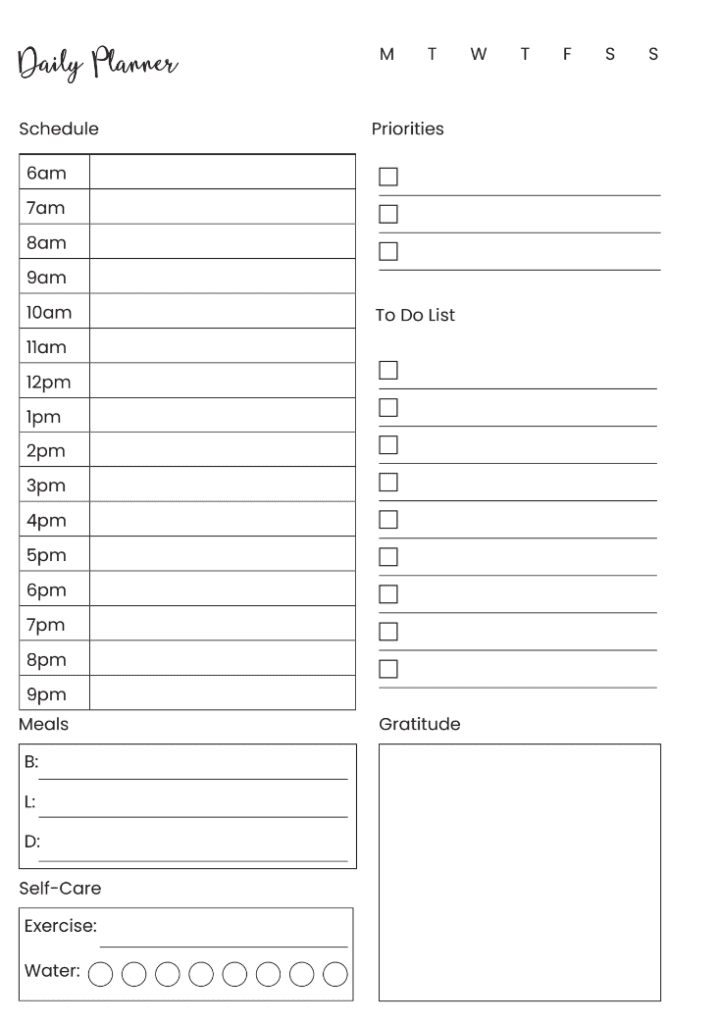 DOWNLOAD YOUR DAILY PLANNER HERE
---
If you'd like to learn more in detail on how to plan more productively, my new workbook, Wonderful Plans, includes so much more. Take your productivity to another level and get my system for planning here: Wonderful Plans Workbook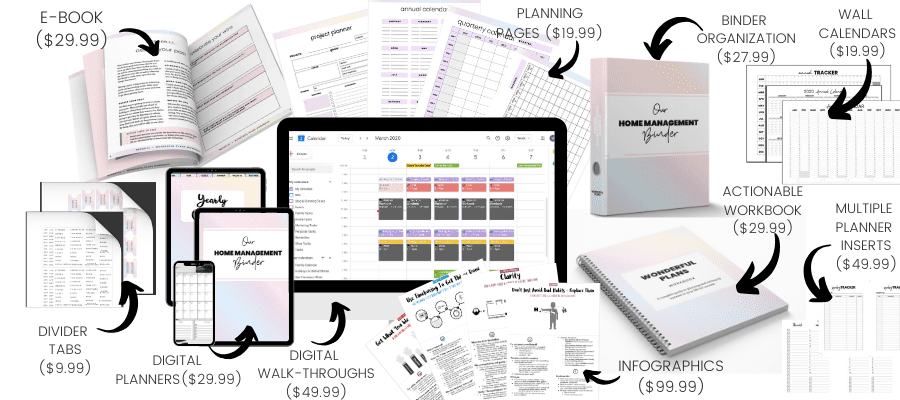 ---
Pin this post for later: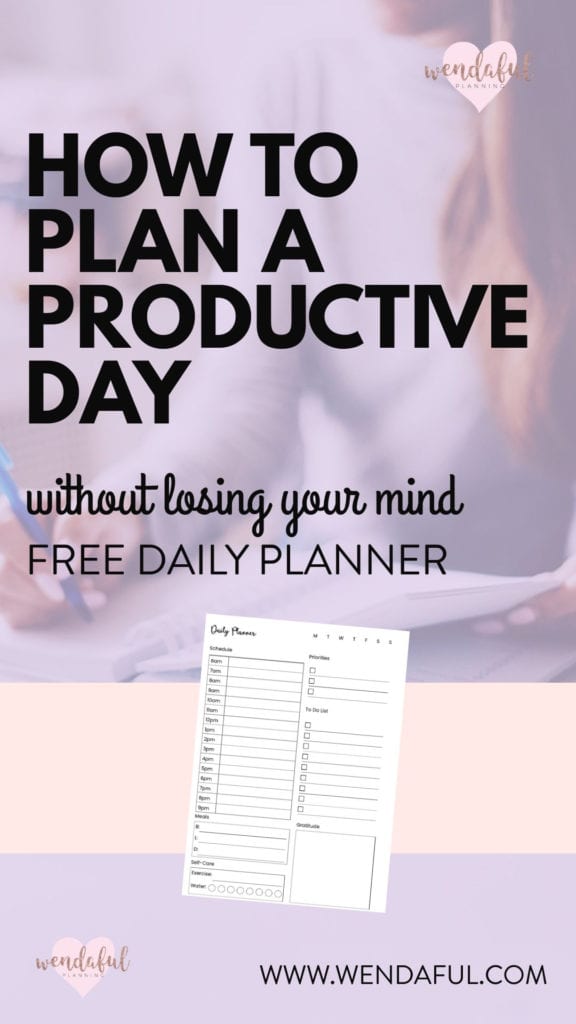 ---
*Please note that some of the links in this post are affiliate links. If you click on the link and purchase the item I will receive a small commission or referral fee at no extra cost to you. Regardless, I only recommend products or services I use personally and believe will add value to my readers. Thank you for supporting this blog!*