I'm writing from California, where we have a shelter-in-place order. That means we have to stop all non-essential travel. During this COVID-19 outbreak, it's important for all of us to stay quarantined at home so we don't catch the virus, and more importantly we don't spread it to someone else. We have no idea how long it will take to contain this outbreak. At first it was a couple of weeks, now officials are saying a couple of months. However, we can't just let all this time pass with nothing to show for, we need to learn how to make the most of your time at home during this quarantine.
The first week at home didn't seem so bad. You were able to relax and do what you wanted to do. But now that you realize that this can go on for months, you're starting to go a little crazy! You may be feeling a little frazzled with having to keep the kids busy, trying to homeschool, and still trying to get your own work done. All this time cooped up can be damaging to our mental health. So to stay healthy try to find productive and healthy ways to fill the time instead.
So how will you choose to use this extra time? Sit idly by and waste time watching Netflix shows for months straight? Or walk away knowing that you spent each day feeling fulfilled and useful? I know Netflix all day sounds like pure bliss but you need to realize that you will feel better if you get more done during this time.
I don't know about you, but I always feel unhappy whenever I don't get anything done. If at the end of the day my house is messy, the sink is full of dishes and I didn't do my daily workout, then I would feel terrible about myself. In order to enjoy our time during quarantine it's important to try and stick to our routines so we can feel good about ourselves and feel happy about making the most of our time here in the now.
Life at home without a regular routine of school or work can get quite hectic. It can cause you stress, make you feel out of sync, and like life is passing you by. Whether you have kids at home or not, having a routine in place will help you get back to normalcy a bit.
Don't just let this time in quarantine make you feel anything but happy. Don't let this time pass you by. Don't just survive this time, try to make the most of the time you have. Be intentional with every minute you get. Enjoy this time to finally do those someday projects you've been wanting to do, but never had the time for. Enjoy this time to just relax and spend much needed quality time with your partner or kids. Enjoy this time to really take care of yourself. Make the most of your time at home during this quarantine.
I've never experienced a pandemic like this and it feels absolutely strange that this is really happening. Try your best to be present, be mindful, and learn how to make the most of your time at home.
In this post I will be sharing with you how to make the most of your time at home during quarantine.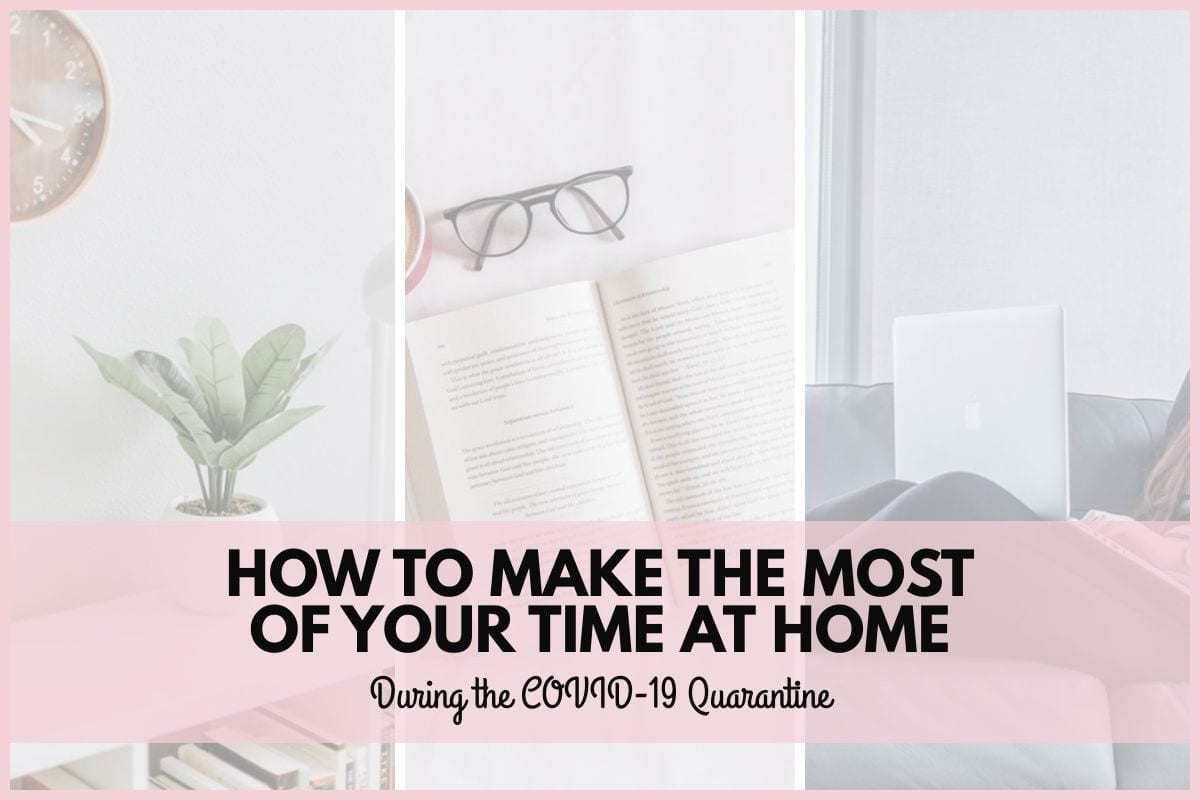 Get ready for the day

Don't spend an entire day in your pajamas if it makes you feel lazy. If you're comfortable in them then by all means, but if it contributes to you not getting the things you want to get done, then change.
Take a shower to wake yourself up. Put on your favorite clothes, dress up, get ready, do your hair. Do whatever you need to do in order to feel good about yourself and that will help make you feel ready to take on the day.
Have a great morning routine to help you ease into your day.

Find time to exercise

Don't give up on your workout goals just because your gyms are closed. There are tons of way to still get exercise. Go for a walk, do some yoga, download a fitness app, find a workout routine online, watch fitness videos on youtube — there are so many options for at home workouts.
Try to move your body for at least 30 minutes a day. Exercise releases endorphins, which makes you happy. Happiness helps make the most of your day.

Go outside

I am so grateful that we are still allowed to go outdoors. With spring just starting, the weather has just been so beautiful. And with kids, being cooped up all day in a house can be taxing. Take some time to go outside and enjoy nature. Go for a quick walk, or just sit outside and enjoy the weather.

Eat healthy

Make time for family meals – this will ensure everyone's eating healthy.
Meal planning and prepping also helps you save money and takes the decision making each night easier.
Spend time cooking together. It's a great way to bond and the kids can even help out.
Stick to your normal breakfast, lunch, and dinner routines. Don't skip any meals.
Stay away from junk food. It can be easy to snack when you're home all day so just don't buy any junk food so they're not around the house.
When you stick to your regular routine of eating your life will feel more normal too. So if you usually ate breakfast at 8am try to stick to that schedule.

Break up your day

Try to schedule smaller time blocks in your day. If you find it hard to stay focused smaller time blocks may help you get more done without feeling stressed. If you have kids, doing this will also be helpful so you can attend to what they need in between each time block.
Working in smaller blocks of time can be really helpful in your new schedule. Taking breaks is actually good for your productivity too.
You'll be able to focus much better if you take regular breaks.

Sleep at a reasonable time

I know how easy it can be to stay up all night and sleep in when you don't have nowhere to go, but try not to. You need to be able to get up at a reasonable time to get the most of your day.
If you're working from home, you probably will have to start at a certain time too.
And if you have kids, they probably won't let you sleep in all day. If you sleep at a reasonable time you will be able to get up early.
Getting up early will allow you time to ease into your day.

Have a daily plan/goal

Each night pick 1-3 things that would make you feel accomplished if you got them all done the next day.
Plan and visualize your entire day on what you want it to look like. If we don't structure our time, we will just spend it on pointless stuff. Doing this will help you feel more motivated, focused, and happier, because it gives you a direction and a purpose.
Don't try to stick to a scheduled routine during this time. Our schedules will not be the same as before, so don't be so hard on yourself if you don't stick to your scheduled routines every day. Instead keep your routines, but be flexible with your schedule.

If you happen to wake up at 9am instead of 6am, just continue your regular morning routine then.
Missed your 10am workout? Try to do it as soon as you remember.
If you skip on a daily chore, just get to it the next day.

Be flexible, and give yourself some compassion. Relax a bit and don't be so hard on yourself. This is a strange time to be in so enjoy your days at home, be flexible on your schedule and get back to your routines as soon as you can.

Virtually connect with your friends and family online

Although we cannot visit friends and family we are still able to connect online. FaceTime, Skype or Zoom with your friends and family whenever you can. Connecting virtually is a great way to feel less alone and let your loved ones know how much you care about them.
My kids have been playing video games online with their cousins too. It's a great way for them to stay in touch too. They use Xbox Live to talk to each other on their microphones and play Minecraft together online.

Keep your house clean

Start spring cleaning. Now that everyone is home you can probably get some help with those spring cleaning projects you've been wanting to do. Clean out the fridge, empty the garage, or deep clean behind all the appliances. This is the perfect time to start fresh.
Just because no one is coming over doesn't mean we need to keep our house filthy. I always believe that my home represents my mind. If my house is a mess, my mind feels like a mess. I get stressed out, feel overwhelmed, cannot think straight. Having a messy house can also make life so much harder, because it makes it hard for us to find things when we need it. A messy home takes away the peace and beauty from a home. So stick to your regular cleaning routines so you can feel happier and make the most of your time at home.

Take up a hobby or catch up on some of your shows

 If you want to make the most of every day you need to do what you want. You have extra time now, so take advantage and do what you want. Don't just do nothing. Make this time count. Time spent on enhancing your creativity and accomplishments pays off. Practice playing the guitar or learn how to draw.
This list is great and includes so many productive things you can do like tour the Louvre or take up a free class from an ivy league school! Check it out here!
As with anything, too much of one thing can be bad. So don't spend your entire days binge watching your favorite shows. Instead set limits so you still get to enjoy it, but you don't feel bad about it when you've wasted an entire day doing that.

Limit media intake

There is A LOT of news right now. It can be hard to focus when all you hear, read and see are COVID–19 updates. Don't spend hours scrolling because you won't get through them all. There is a lot going on right now but it's just going to stress you out and cause you anxiety. So read 1-2 articles from a trusted source, and go do something else to take your mind off of it.
Even the World Health Organization says it's better for your mental health to limit your media intake. If there were going to be news about finding a cure for the coronavirus, you'll be sure to know about it. For now, all we can do is wait and stay home to be safe.

Be present

Shift your mindset and think positive.
We can't control what is going on or what is going to happen. We can only control what we are doing, how we are feeling and what is happening right now. Focus on yourself in this moment right now. Things aren't great, but you are home and you are safe.
Take each minute that you are home and be mindful and present about what is happening. When you are completely present, everything else around us doesn't become a problem for our minds anymore because we're not worrying about all the things. Only what is present.
Don't let the fear of the future ruin your present. Worry will only add to your anxiety. If you are present in everything that you do you will feel much happier and will definitely make the most of your day.
When I am with my family, I try not to think about what work I need to get done. I just play with my kids and enjoy their laughs, their jokes, and their company. I am grateful to just be around them and that we're all together and healthy.
When I am working, I try not to think about anything else except the task I am working on.

If you're working, set boundaries by setting your own hours to avoid burnout

Now that you're home and you don't need to work your typical 9-5 it can be easy to work too much or too little. If you don't set boundaries you can easily start working into time that should be spent on yourself, with your family, or with your partner. And if those boundaries aren't set and work spills over into your personal life then that can cause stress, anxiety and lead to depression or guilt.
If you're not working, use this time to update your resume, update your LinkedIn account, make a list of potential jobs you can apply for, or look for online/remote jobs you can work for.

Keep a journal

This is a weird time to live in right now, and there are so many feelings to be felt. Write in a journal to keep your mind in check. Write everything you're feeling. Find time each day to write about what you're grateful for, what you're hoping for, or just write about what is going on in the world and in your life.

Practice self-care

Self-care doesn't just have to be mani's and pedi's. You can still find ways to take care of yourself. Unwind at the end of the day and make a routine where you focus on yourself. Do something that makes you feel good. Read a fiction novel, watch some YouTube videos, moisturize your body and your face, ask your partner for a massage, etc. Schedule time each night to practice self-care and don't skimp out on it!

Unwind & Reset

At the end of the day, take some time for your evening routine. For me, that's cleaning up after dinner while the kids bathe, putting the kids to bed, reading them a story, watching TV with my husband, taking a bath, and then going to bed. Doing this each night ensures we go to bed on time and start the next day feeling prepared and ready.
All of these tips will help you to make the most of your time at home, and be happier. You can either let this time pass you by and wait til this whole quarantine is over (which can be months!) or you can try to enjoy it and do what you can to still live your life. When it's all over, you'll feel a great sense of accomplishment and be grateful that you didn't waste all those weeks or months of your life.Today is a great gift that we've been we given. So let's use it wisely.
Next week I'll be sharing some tips on how to work from home with kids so if you're struggling with that, stay tuned.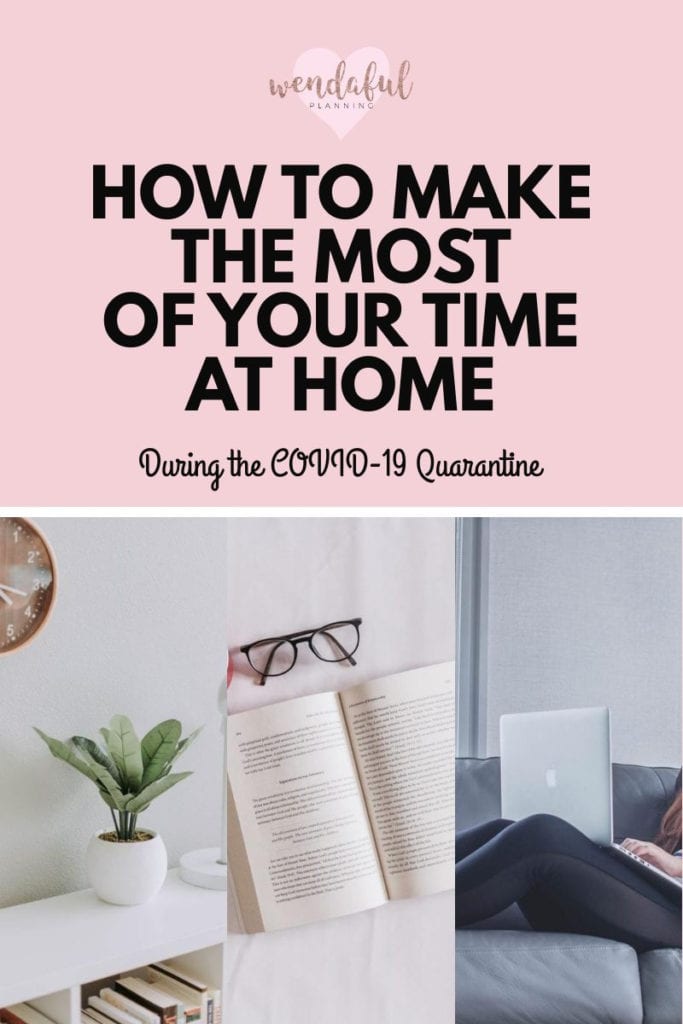 If you find yourself with some free time and want to learn my step-by-step process on how I plan my years, months, weeks and days then sign up below!