If you're like me, always on the lookout for tools that can help streamline your brainstorming and note-taking process, then this blog post is just for you. I recently stumbled upon Scrintal, an app that brings mind mapping and note taking together to support our creativity. I gave it a try and was genuinely impressed, so I decided to make a video review to share my thoughts with all of you. And guess what? There's an amazing discount waiting for you at the end of this post!
Scrintal: An App for Creative Thinkers
So, what's the deal with Scrintal? This app is designed for creative thinkers who want to level up their brainstorming game. It's an all-in-one solution for generating, connecting, and visualizing ideas in a super user-friendly environment. Writers, designers, entrepreneurs, students – we can all benefit from this app!
One of the standout features of Scrintal is its ability to provide you with a clear, at-a-glance overview of your work. You can see the big picture and easily spot connections between your notes, boards, and cards. It's like having a bird's-eye view of your entire creative landscape! However if you're more linear then do check out Sunsama.
Scrintal understands that creative thinking can sometimes be messy and chaotic. It embraces your crazy-messy thought process by letting you connect notes to different boards and cards. This way, you're free to brainstorm in whatever wild and wonderful ways your creativity takes you, knowing that Scrintal has your back by keeping everything organized and connected. Another fun planning app is Artful Agenda.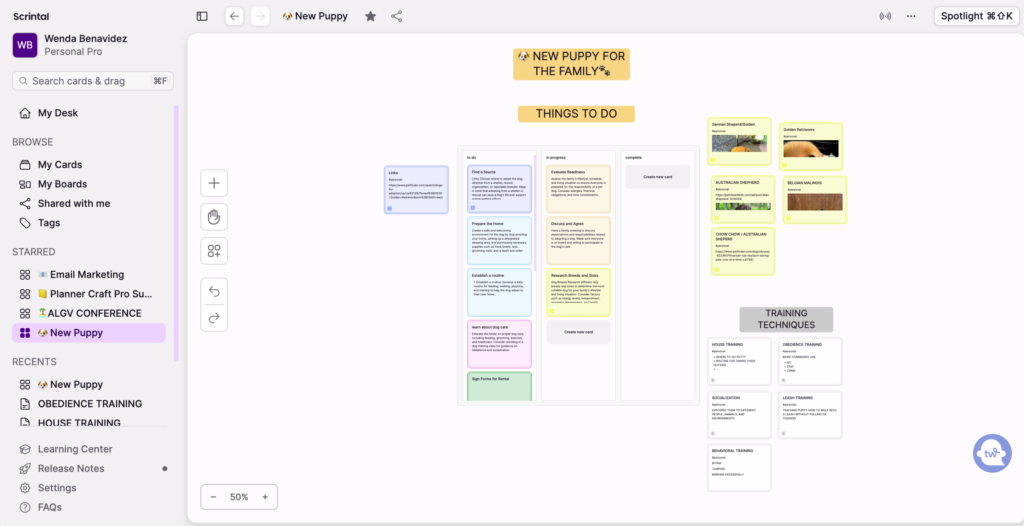 Why Scrintal Rocks
Here are some reasons why I fell in love with Scrintal:
Mind Mapping Magic: Scrintal lets you create stunning visual maps of your thoughts, and it's a breeze to organize and rearrange your ideas.
Note Taking Nirvana: Add notes, images, links, and more, right within your mind map. It's super convenient and keeps everything in context.
Teamwork Dreamwork: Collaborate with friends or team members in real-time. Now brainstorming sessions are easier and more fun!
My Video Review of Scrintal
Alright, enough with the chit-chat. Here's my video review where I dive deep into Scrintal's features, show you how to use them, and share my personal experience with the app. I share my email marketing plans in there, and even shared a fun project I was working on which made it so much easier to see everything at a glance.
Or watch it on YouTube here: https://youtu.be/8ehC-0OqKIA
Snag an Exclusive Offer!
Convinced that Scrintal is the creative boost you need? Great! Click the link below and use the promo code "WENDAFUL50" to get a whopping 50% off your Scrintal subscription.
👉 Grab your 50% off Scrintal subscription here: https://bit.ly/WENDAFUL50
Final Thoughts
Scrintal is a game-changer for creative thinkers, and I genuinely believe it can transform the way we brainstorm, take notes, and develop our projects. I'm loving it so far, and I'm sure you will too! Don't miss out on the chance to get your hands on Scrintal with an amazing 50% discount. Happy creating!
Keep reading: Top 5 Back To School Apps To Save You Time and Stress