Right now, we are all stay-at-home parents. As a stay-at-home mom for 8 years now, I've come to love routines. Which is why I created a whole product based around creating systems and routines!
If you're anything like me, you need structure in your day to handle all of the day's little tasks while still getting your most important things done. I've talked a lot about routines and creating routines, you can read more here:
How To Get Into A Scheduled Routine for Stay at Home Moms
Routines & Daily Planners – Free Editable Printables
Reasons Why Planning A Daily Routine Will Make Your Life Easier
In the free workbook below, I will give you examples as well as printables to help you plan out your routines. Keep reading to learn the 5 routines you need to survive being a stay-at-home mom.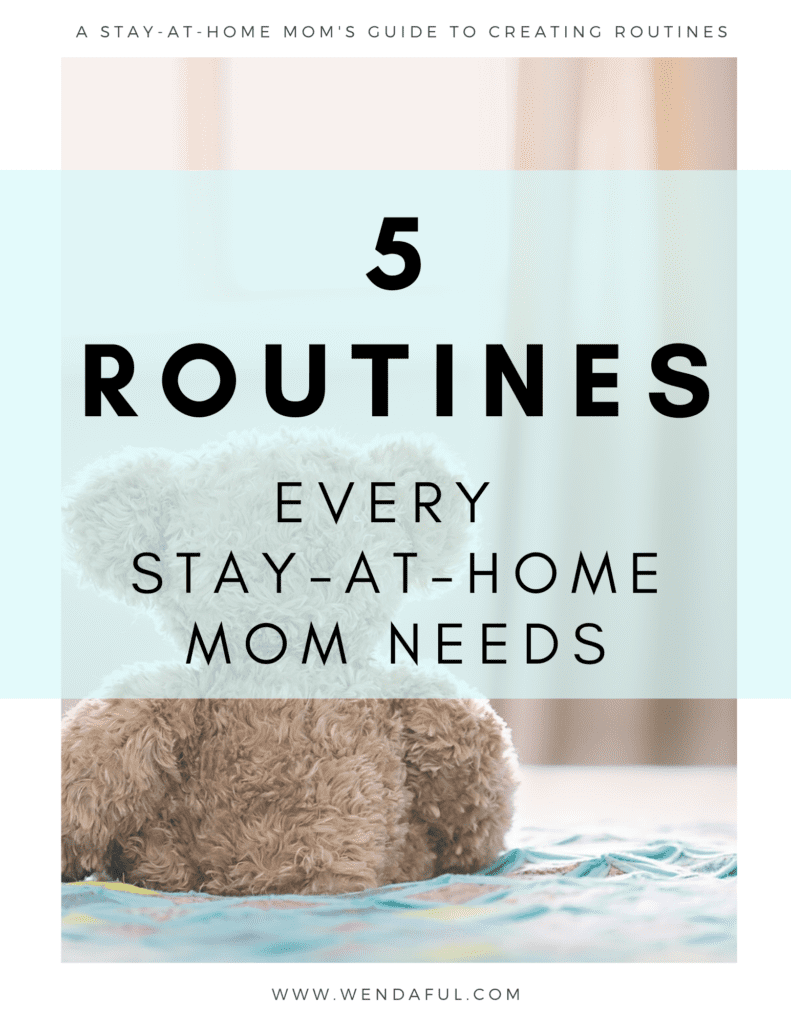 How to Create Routines
It is a true fact that the most organized, on-time people you know all have one thing in common: They repeat the same tasks in the same order, each day. You probably think daily routines are boring, especially if you live a life full of spontaneity! But the truth is, if you set up reliable routines for the more mundane aspects of your life, such as getting ready, making dinner, cleaning the house, getting enough sleep, then you will free up more time to enjoy the rest of your life!
The goal of any good routine is to make certain behavior patterns into habits that you practice until they become second nature. It takes a few weeks (or months) of everyday use for any action to become internalized. In the meantime, use these tips to create and stick to your new routines.
1. Post the steps of your routine where you can see them.
When you have a list laid out in front of you, you just do it. Make it visible, put in your fridge, or your mirror. Post reminders where you can't ignore it. Use post-it notes on your mirror to remind yourself of the steps of your skincare routine. Put a list of all the things you need before heading out the door, right by the door or on the door!
2. Set a watch or phone alert to go off five minutes before you're scheduled to begin a new task.
That will give you time to finish whatever you are working on, and refocus. You may also need reminders to help you stay on track.
3. Set a day to start over.
If you fall off on your routine because of vacation, a houseguest, or an unexpected event like an illness, mark a day on the calendar when you'll pick up where you left off. You don't have to be perfect every day to make a difference in your life.
4. Start small.
If creating a whole new life routine at once feels like too much, pick one small thing – like making the bed or sorting the mail – that will make your day easier when done regularly. Figure out an easy way to do it. Will you throw out junk mail immediately instead of dropping it in a pile? Will you open bills and put them with your keys so you remember to pay them the next day? When you consistently do this for two weeks, add another tiny thing. Before you know it your larger routine will change.
5. Don't give up.
If you have a hard time with a part of your routine, try doing it a different way. More often than not, just a tiny tweak can make a difference. If you can't seem to plan your meals on Sunday night, for example, try Tuesday evenings when the grocery store is empty
5 Routines Every Stay-At-Home Mom Needs
1. Morning Routine
The morning hours are not often our favorite time of day. We're naturally night owls, and can have trouble falling sleep, so dragging ourselves out of bed in the morning is a struggle. No matter how much we want to sleep in, the kids always seem to wake us up early. How you start the morning can set the tone for your entire day. If you are constantly rushing around and to getting to school a few minutes late, you don't have time to stop, think, and focus on priorities. You're anxious, stressed, and flustered.
That's why having a calm and relaxed morning routine before the kids get up is something all stay-at-home mom needs. Even if it's just 10 minutes before, those 10 minutes will help you feel relaxed before the hustle and bustle of the day starts. For your morning routine I highly suggest you fit in time for your: Mind, Body & Soul.
2. Day Time Routines
Being productive during the day means managing time, setting priorities, and resisting the distractions that make us forget what we were trying to do. We can easily waste a day without being intentional with our time. Stay on task with these routines, and a few ground rules.
3. Dinner Time Routines
At times, dinner time feels chaotic with the kids demanding snacks, art projects cluttering the dinner table, or a last-minute rush to the grocery store. Avoid all of that with these strategies. Meal planning can seem like a chore – decision-making, planning, prioritizing, and then navigating the supermarket. Instead, think of it as an exercise in creativity – figuring out what you can make from the ingredients in your home, or getting the most meals out of one common ingredient.
4. Bed Time Routines
After a long day with the kids, stay-at-home moms are wound-up, and can't turn off their racing brains by the time lights-out rolls around. The key is to start planning to go to bed long before the clock chimes 10. A reliable and consistent pattern can help you reset your mind to get ready for sleep each night, and wake up physically and mentally refreshed. An organized morning begins the night before, and here is what mine looks like:
4. Cleaning Routines
Cleaning is something we have to do for our homes. We may not like to clean but having a clean home is something we all enjoy. So get it done quickly with a schedule, make it automatic. Make it fun by multitasking – listen to music or a podcast, dance while you clean, have your spouse and kids help out, use cleaning products that smell good, or do all of the above!
My free workbook will help you:
set up your routines,
offer you tips for setting up your routines,
give you habit ideas to put into your routines,
show you examples of all 5 routines,
provide you with meal planner and cleaning routine printables
time blocking schedules
morning and night daily schedules

---
If you want done-for-you checklists, printable or digital home management binders, planner inserts, wall calendars, and ebook to teach you all about goal setting, planning, productivity, procrastination, staying on track and online calendars, then you have to check out Productive Game Plan: