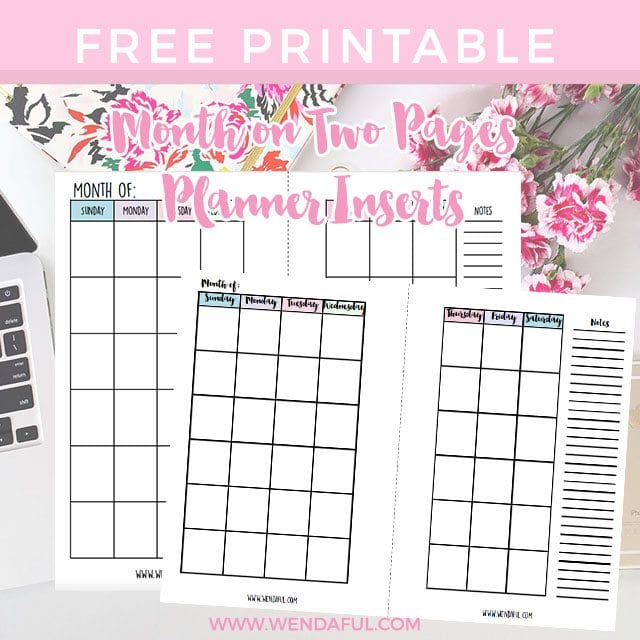 Finally! Undated monthly inserts! Plan your month with these free printable month on two pages view inserts! I use the monthly overview as my storyboard for planning. It is a great overview to see all of the important events in your planner.
Today I will be sharing a ton of month on two pages planner inserts! They will come in Pocket, Personal and A5, & will have options for a fun scripted or printed font! For pocket and personal sizes, I also included a download that you can print on letter sized paper with crop marks! This way you can print them on regular letter sized paper and cut them out easily. Please refer to this post here for more instructions on printing inserts. I know a lot of people have had trouble printing my inserts. I will definitely start working on a tutorial on how to print on pre-cut paper. It is very easy and you don't have to worry about cutting your paper imperfectly.
The best part of undated inserts is that you can use them for forever! They can start anytime you'd like, which is good since I posted this 17 days late of the new year.These monthly inserts are all Sunday start. You can easily write in the month and year on top of these inserts, and write in the dates for the year. In my Etsy shop I also sell date dots that are small enough to fit these undated inserts! You can even get monthly stickers to title each month to make it look cuter!

To download my month on two pages inserts just click on the image for the one you want!
Free Printable Undated Monthly Inserts
Pocket Size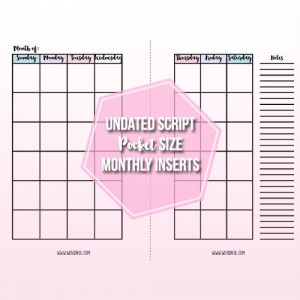 Personal Size
A5
Let me know what you think of these inserts! I hope these inserts help you find your planner peace and help with setting up your new planner!