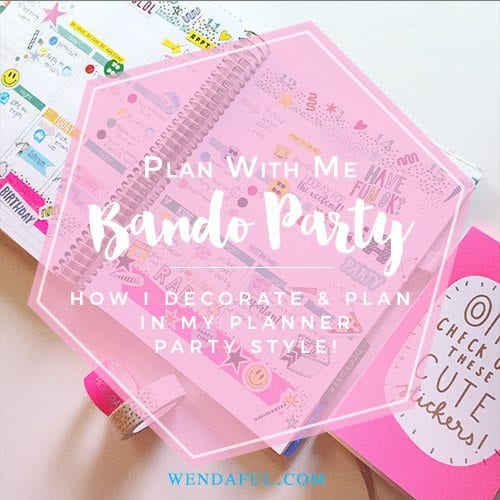 Hi Everyone! Today I wanted to show you how I plan in my Erin Condren Planner!  So this will be like a plan with me showing you how I decorate my planner. This week is my son's birthday party. We are doing a minion themed party but I wasn't digging the yellow and blue in my personal planner that I decorated so I instead opted for a party theme. I had this Bando sticker book and thought that definitely screams party! So I grabbed my supplies, put it on my desk and started planning!
Before planning I always grab my supplies. I usually find stickers for a theme, in this case, a bando party theme, some cute washi tapes to match (typically only two), some post it notes, scissors, and my sticker binders!
So this is what a typical pre planning week looks like for me. I write down everything I need to do for the week on each day. I try to color code so I have a general idea of what kinds of stickers I will be needing.
The very first step to decorating my planner is always my washi tapes! I always place them on the top row and bottom row. I sometimes like to layer them. Here I just ripped them instead of cutting with scissors because I wanted to give a messy party look (and partly because I'm lazy). I thought this bright pink hooray was absolutely perfect for my theme.
The next step is highlighting the biggest event for the week! My son's birthday party is Sunday so I used Bando's alphabet stickers to spell his name – Jax. Then I added party tid-bits from the book to decorate the planner.
Here is a close up for the event day! Added some fun quote and party stickers.
Here I started putting in some headers and planning type stickers. You can see that I use my top row for appointments and outings, the middle for my blog/Etsy to do's, and the bottom row for my personal to do's.
Then I just used my sticker book to basically place as many stickers possible onto my spread.
The Bando Sticker book also has these cute little dot stickers! Perfect for my to do lists! So I just started replacing my post its with these dots and writing it in!
It also already had some arrows which I love to use to mark for places I need to go!
Here is what it looks like using all Bando stickers! I wrote down all of my to do's and took out all of my post it notes.
I then needed more stickers! So I started decorating a bit more! It's like a party in my planner!
The next step is grabbing my sticker books filled with Etsy shop planner stickers! I like using Etsy stickers to accentuate my events and to do's. Here I used a TV sticker for my monday Night Show – Jane the Virgin (great show by the way) & a car sticker for when I drive to pick my mom up.
I always plan to clean one area of my house every day. Some days if it is needed and I have time I would tackle more in a day. But I love using these cleaning diary stickers to mark each day of the week I need to clean the house.
Here I am using my small watercolored social media stickers to highlight emails, Etsy related to do's and a blogging sticker!
I use my side bar as a general overview of the week. For goals I want to get done that week, things I need to buy and places I have to go.
I then add more stickers like these kawaii stickers to the rest of my to do's, highlighting all the important stuff.
& that's how I decorate and plan – BANDO PARTY STYLE. Hope you liked this post and let me know in the comments below if you'd love to see more posts like this!! Thanks for reading!