Getting your kids to follow routines and do their chores is always hard. I've posted before about getting kids to do their chores, here and here, but nothing ever really sticks.
Summer just started and my kids have no clue what to do with all of their free time. We've been struggling to fill our days and I didn't like them watching tv or playing on their iPads all day. I knew something had to change. So I set out on a mission to create routine and behavior charts so they know what to expect when.
I made these behavior and routine charts to help them visually see what I expected of them each day. I haven't made a behavior chart for my 2-year-old yet, but she's learning to look at the icons of the routines and follows along with the boys.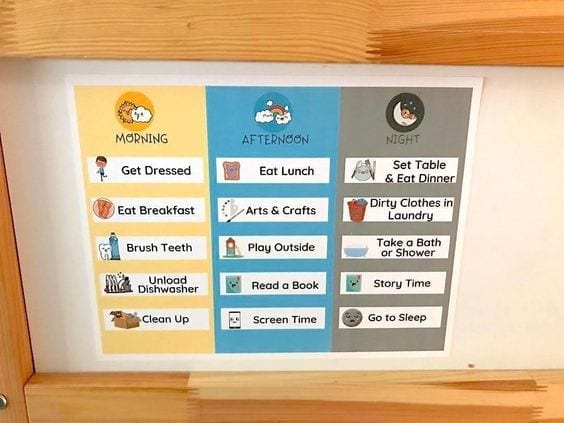 Each day they wake up they look at their routine chart, which I've taped up to the end of their bunk bed. They never ask me what they have to do, and they know if they want screen time later they have to do productive activities first.
For their behavior charts, I put them into a clear folder I found at Daiso, works just like lamination, and I use a wet erase marker to give them stars each day. I put them onto clipboards and leave them on the counter so I can constantly refer to them whenever I catch them being good! They love seeing me give them stars and they continue to be good to earn more!
As an incentive I let them choose their own reward. My oldest who is 7 really wants an iPod, so each week he wants a reward of $10. We don't give our kids an allowance, but I think this is a great way for him to learn how to better behave to earn his own money. My 5 year old wanted a trip to Chuck E. Cheese's.
This routine really helps them earn points/stars on their behavior charts! They are no longer fighting or whining as much, and they are doing their jobs without me asking them to. They cooperate together and help each other out. Sometimes they try to split up tasks just to finish faster, but as long as their jobs are done, and no one's fighting, I'm a happy momma!
I'm not using the chore charts, but I included a blank one just in case anyone wanted to use it. I think the behavior chart and routines covers most of the kids' chores already. They know what to do when I ask them to clean up (pick up toys, make their beds, wipe down surfaces, empty dishwasher, pick up living room, etc).
For the printable charts, I've included a pre-made one with our routines and cute little icons to help non-readers. I also included a blank version so you can fill it out yourself. If you'd like to edit it  I have included editable files for you so it is easier to fill in your routine in the blank versions! These are the fonts I used:
---
Download Your Kids' Charts Here:

Let me know if you end up using these charts in your home! Follow me on Instagram
@wendafulplanning
and tag me so I can see!