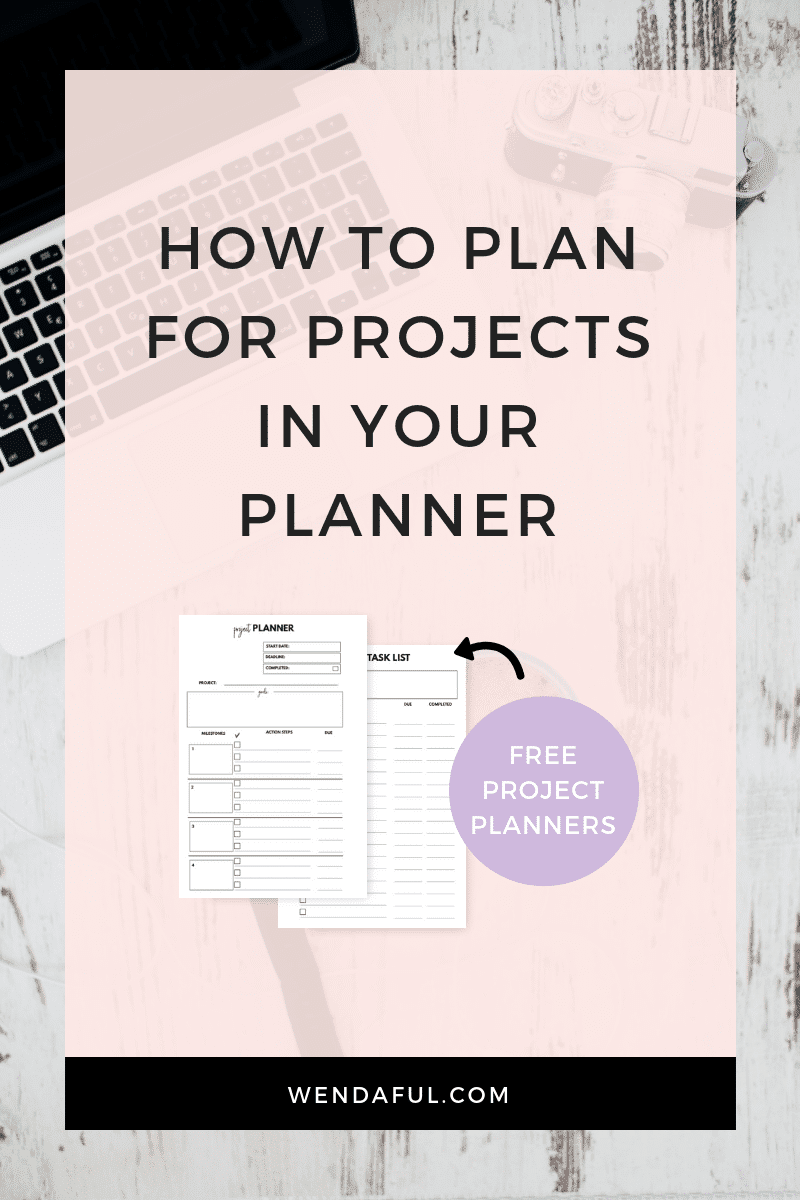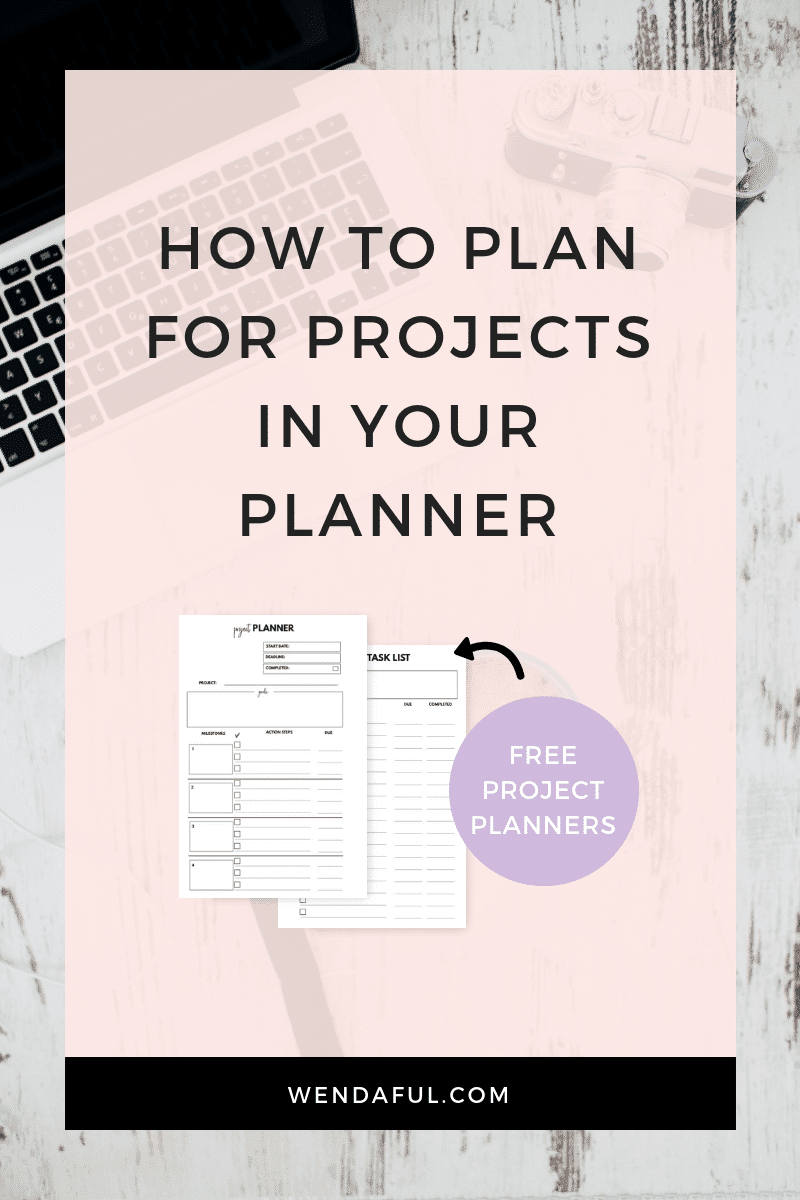 What is a Project?
Firstly, let's define what a project is. If you're writing down "start a blog" on your to-do list, you're already setting yourself up for failure. Starting a blog takes multiple steps and should not be written in your daily to-do list. That's a project, and that's where a project plan will help to make sure that your "start a blog" project gets done. So a project is anything that requires more than a single action or steps to get done.
STEP 1: Set a Category
So to begin I always like to set a category for that project. So if it's starting a blog – that would go under business. Then I would set a goal date or a deadline for when I want to finish that project by. If you don't set a deadline you will keep putting it off and you'll wonder why a year has gone by and you still haven't started that project. I like to set a few projects each year and try to accomplish 1-2 per quarter.
STEP 2: Brainstorm
The next thing I like to do is brainstorm all the steps required to complete that project. I usually use post-it notes so that I can reorder and reorganize the steps later. It's a lot easier than rewriting it in order. In this step, I simply just write out all of the actions that are needed to get this project done. If you don't know all the steps required right now, that's okay too. Just get out as much as you know right now to get started.
STEP 3: Categorize & Organize
After brainstorming you can categorize and organize all those steps. This will all depend on your project and how your brain works. Categorize it the way you see fit. For example, for starting a blog I would have a section for website, one for content creation, and another for marketing. I then would try to list them in the order it needs to get done so that each action will be ready for the next action. I try to include as much action words and details so nothing is fuzzy. These tasks are the things that will eventually go into my weekly/daily to-do lists.
STEP 4: Reference & Notes
In your project plan, it's also important to have a notes section to reference any links, blog posts, names, books, etc. These things will help in completing your project but aren't necessarily actions.
STEP 5: Get Started
After completing your project plan the only next step is to get started. Look at the first item on that list and transfer it to your weekly or daily list and do it. Slowly you'll see yourself going through all those steps and you'll have finished a project successfully!
I hope that was helpful for you in learning how I plan for projects to get the big stuff done! Let me know what methods you use to plan for projects and if you have any other tips you want to share!
---
DOWNLOAD YOUR PROJECT PLANNER HERE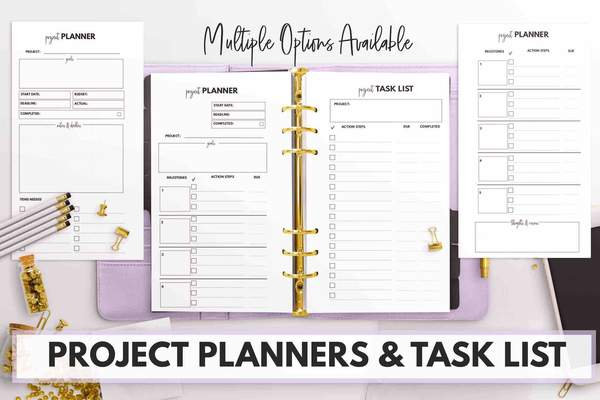 This project planner comes with a title page, index page, project planner and task list. It comes in the following planner sizes:
A5
Half Letter
MHP
A6
Personal
Personal Wide
Download Here
– Formats include: a TWO PAGE SPREAD w/ CROP MARKS
– These printables are formatted to be printed on any size paper (a4, letter, or pre-cut paper, etc) 
– Crop marks for easy cutting
-Just be sure to print at 100% or actual size
Best paper to print with – smooth and thick:
Hammermill 28lb – http://amzn.to/2uggSc4 (aff link)
How to Print True Size Inserts:
https://www.wendaful.com/2016/04/print-wendaful-planner-inserts/
How to Print:
https://www.wendaful.com/2014/08/how-to-print-filofax-inserts-on-mac/
https://www.wendaful.com/2018/09/how-to-print-cut-punch-planner-inserts/
How to Resize Inserts:
https://www.wendaful.com/2017/11/how-to-resize-printables/

Terms of Use The files I provide are for your personal, non-commercial use only. Please do not share or redistribute this file. You cannot reproduce them in any other format, and you cannot sell them or profit from their use
Plan Your Projects Now!
Planners are more than just your schedule of events, to-do lists, and goals to complete. You can also use it for home or work projects and other types of projects you want to complete.
Managing projects is about more than just the basic steps. You need to keep in mind the end goal, the tasks needed to get there, and create a schedule for getting those tasks done efficiently and on time.
Learn How to Plan and be More Productive with Wonderful Plans 
My new bundle goes into so much more detail with planning goals and breaking them down to daily actions. Plus it includes everything below! Check it out here.