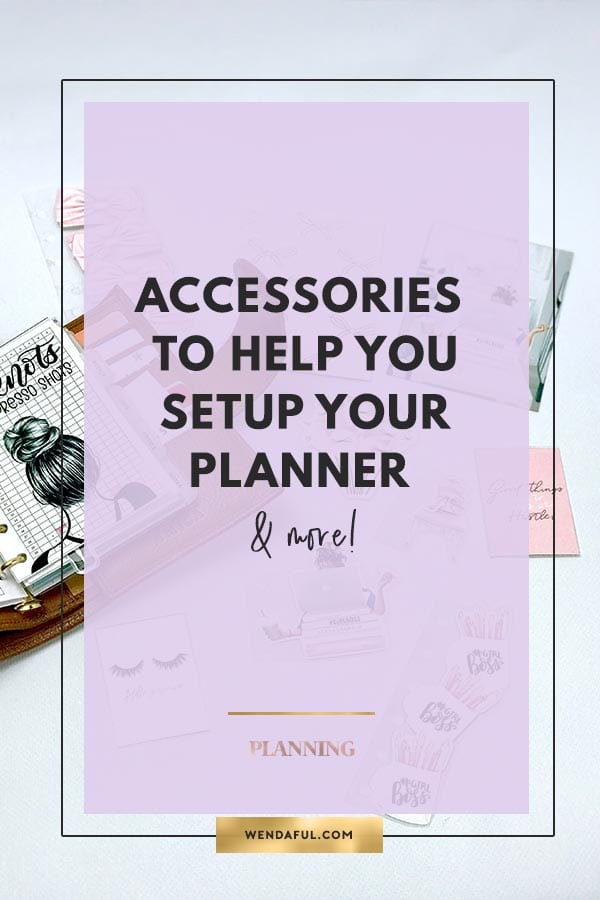 Tools You'll Need to Get Started
Before you set up your planner, you will need just a few things to get started. The main thing you will need is any writing tool (I'll be sharing some of my favorites), but you might want a few extra supplies to make the planner experience more enjoyable (and effective).
I've divided the post into my favorite planning accessories for General Planning, Bullet Journaling & Creative Planning. Keep reading to see all the goodies!
Here is a list of things to consider getting for setting up your planner:
Pens – Your main writing utensils. Consider colored pens or highlighters if you plan to color-code sections of your planner.
Stickers and embellishments – These are good when you want to label pages or sections of the calendar in your planner so they will stand out, plus it's fun! For example, there are planner stickers for doctor appointments, vet and animal appointments, dates, birthdays, and a lot more.
Hole Puncher – If you intend to use digital planner pages, you will need a hole puncher. This makes holes in the printed pages so that they can be added to your planner binder.
---
My Favorite Accessories for General Planning
A Clear Carrying Tote

These are supposed to be purse organizers but I found they were perfect for my planner supplies. I love the clear view because I can see what is in there and I use them way more when they're all out in the open.
I love the size as well, it's perfect for taking with me everywhere without the bulk. The middle part has a zipper which is perfect so nothing falls out!
These were from Daiso for only $1.50 but you can find them on Amazon here.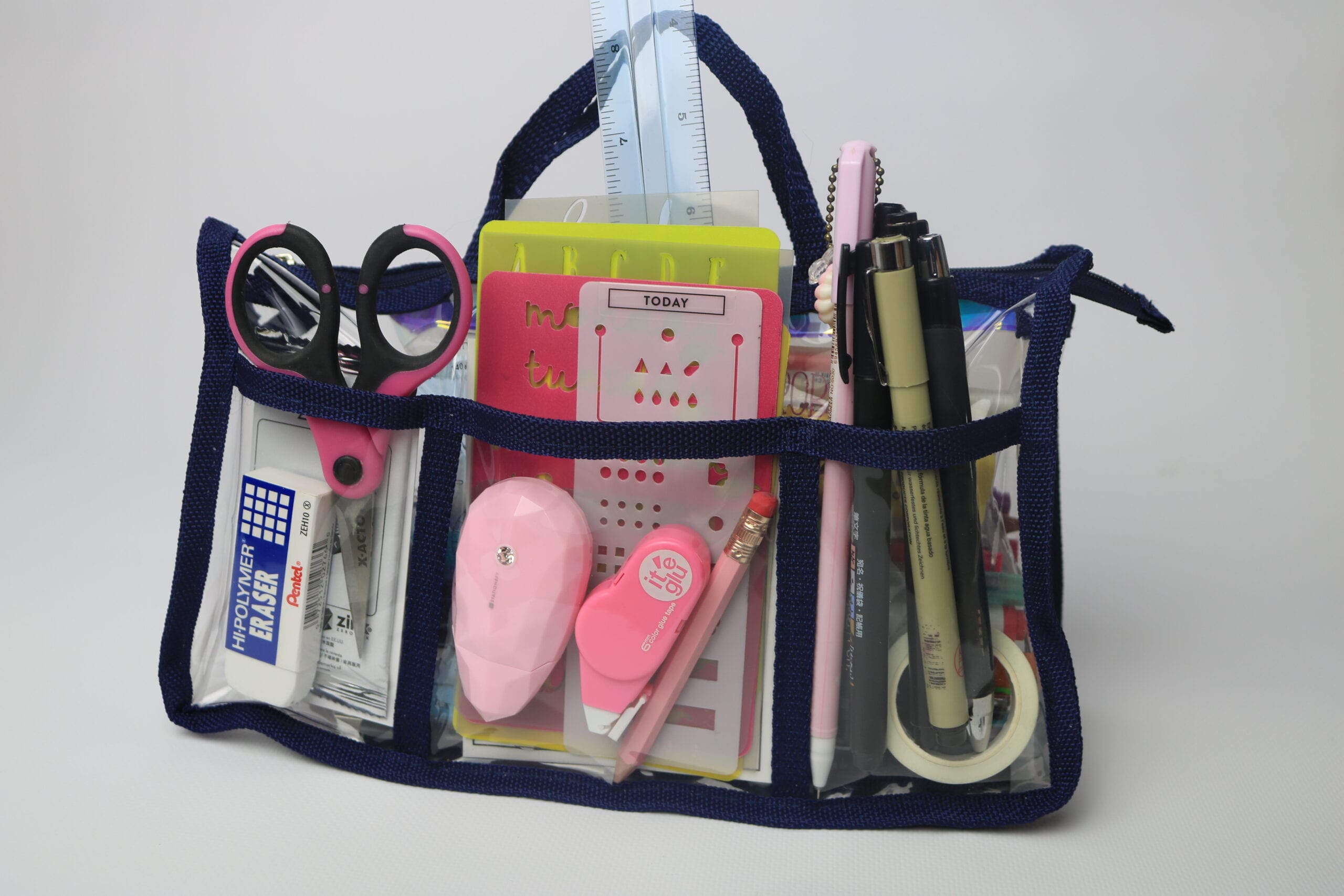 Good Writing Black Pens. You can never have too many! It always seems that when you need a pen there is never one around. So I like to keep my pens everywhere. If you need a DIY pen clip, then check out this tutorial here.

I love fine tip ones but sometimes a thicker one is great for headings.
You can get a lot of these pens from JetPens.com.
Here are some of my favorites: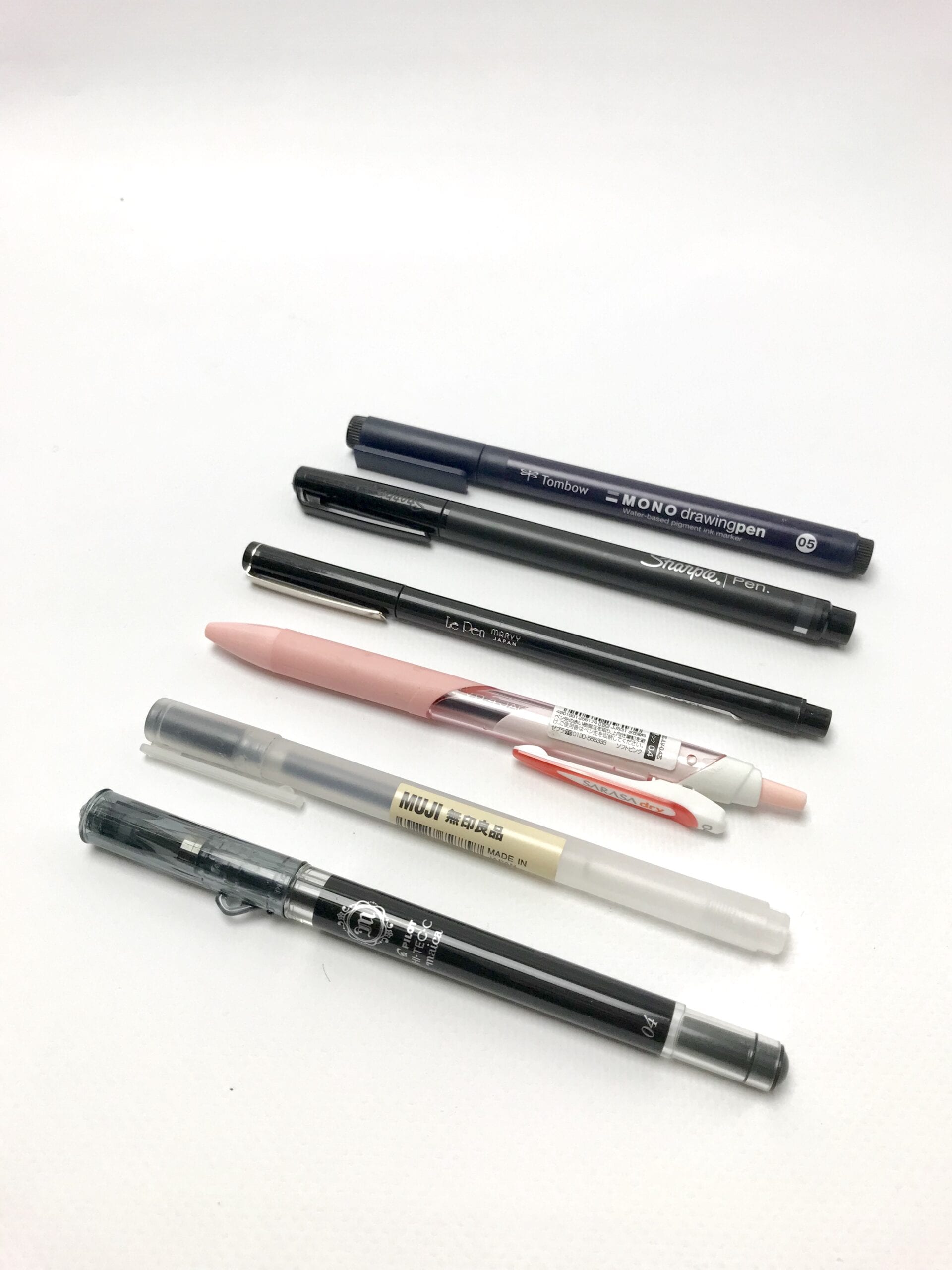 Smooth Bright Paper

I love the Hammermill 28lb. I have been using it for forever! It's smooth, thick but not too thick, and is so bright white!
If you print your own inserts then be sure to pick up some good quality paper. I sell digital inserts over in my shop at http://www.shop.wendaful.com
I bought a huge box of these from Amazon for a really good deal!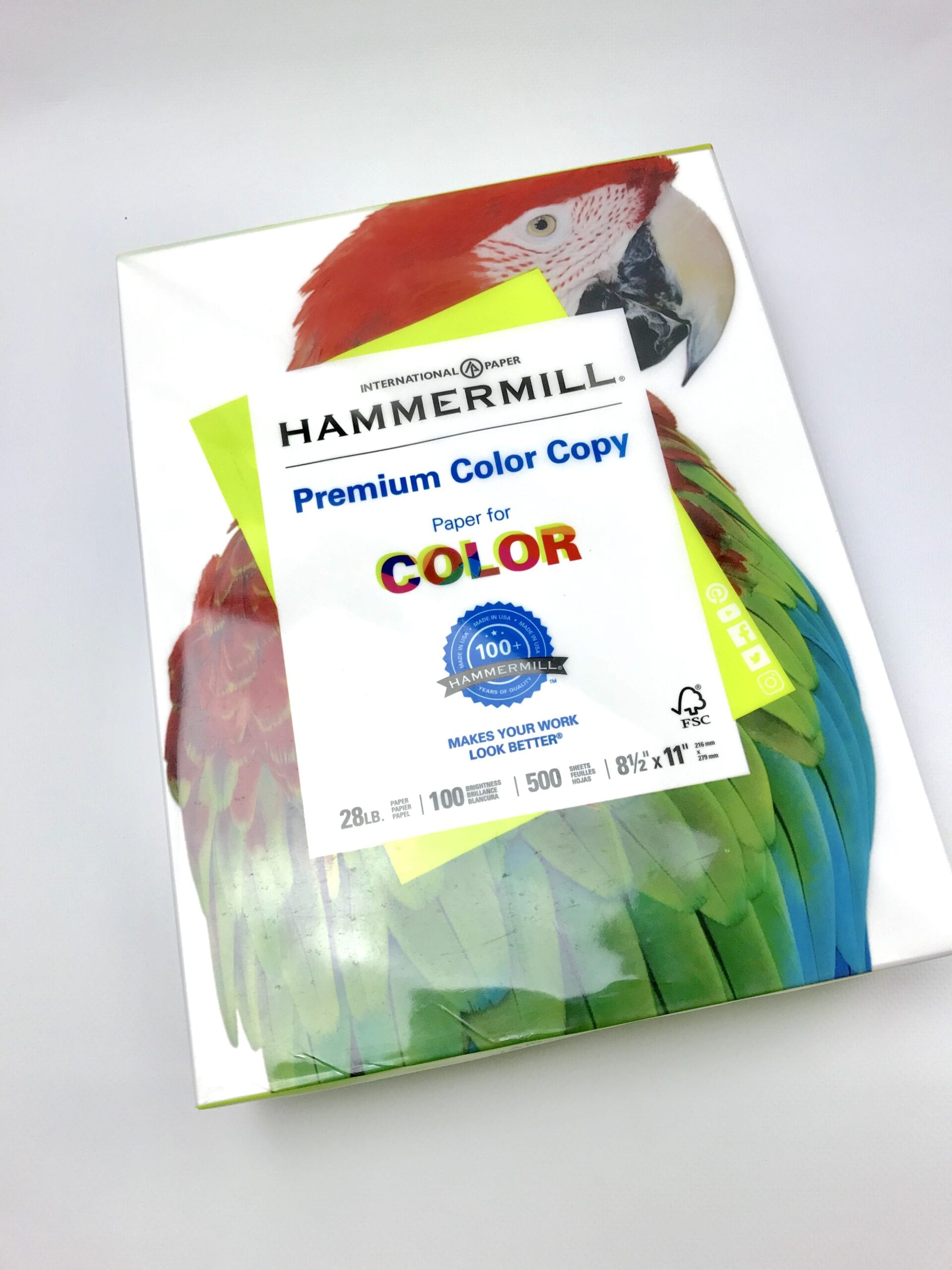 Vellum Paper for Dividers

If you have a ring binder and don't want to bulk up your planner then vellum dividers are perfect! I learned this from many Instagrammers including @madyplans & @caffeineandplans
I absolutely love my planner with these dividers they make it look so sleek.
It's super easy to use as well. I create my dividers on Silhouette Studio, put them into my portrait and just cut and punch. No need to laminate or trim anything! I also used these for dividers for my back pocket in my planner!
Zebra Mildliner Highlighters

These are especially popular among bullet journals but I find them great for everyday planning.
The tips are small and perfect for my smaller planners.
There is even a bold and fine tip on each marker!
It comes in many different shades from bright neon to subtle hues.
These are great for color coding or just making your pages stand out.
You can find these now at Target or here on Amazon.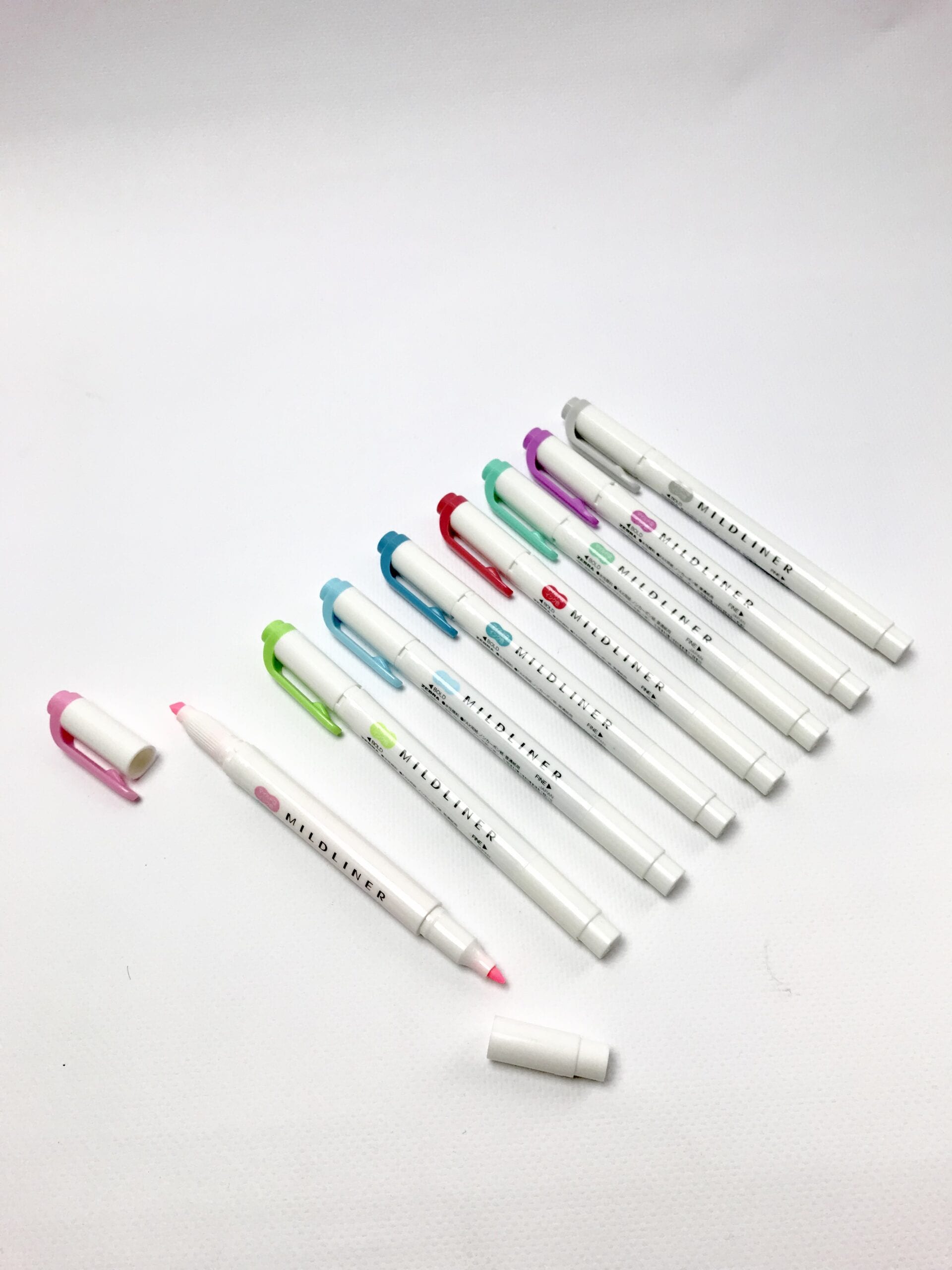 A Clear Clutch

This is from Erincondren.com and is perfect for storing notes or stickers. It keeps everything flat and secure and since you can see everything in it you're more likely to use it!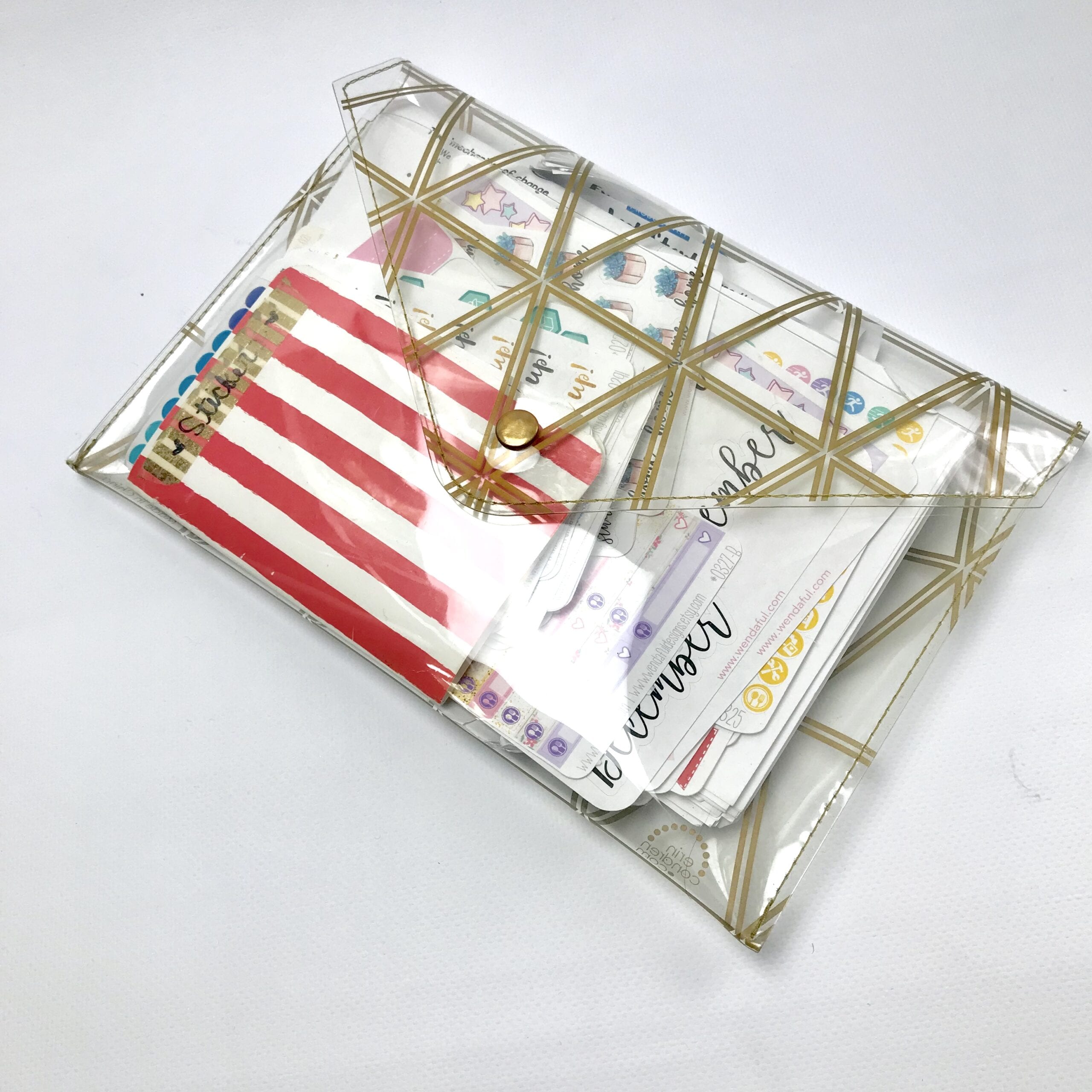 Label Maker and Labels

I actually found this at a thrift store for like $5 and bought the tape from Amazon. I use 6mm Clear Tapes for labeling my pocket sized planner dividers and use either Pastel colored or White 12mm Tapers for everything else.
This is great for planning as well as making sure everything has a place. I use it to organize my office supplies, my ikea drawers, my closet, and so much more!
If you don't have one you must get one! Here are the tapes I mentioned above and another label maker that's great!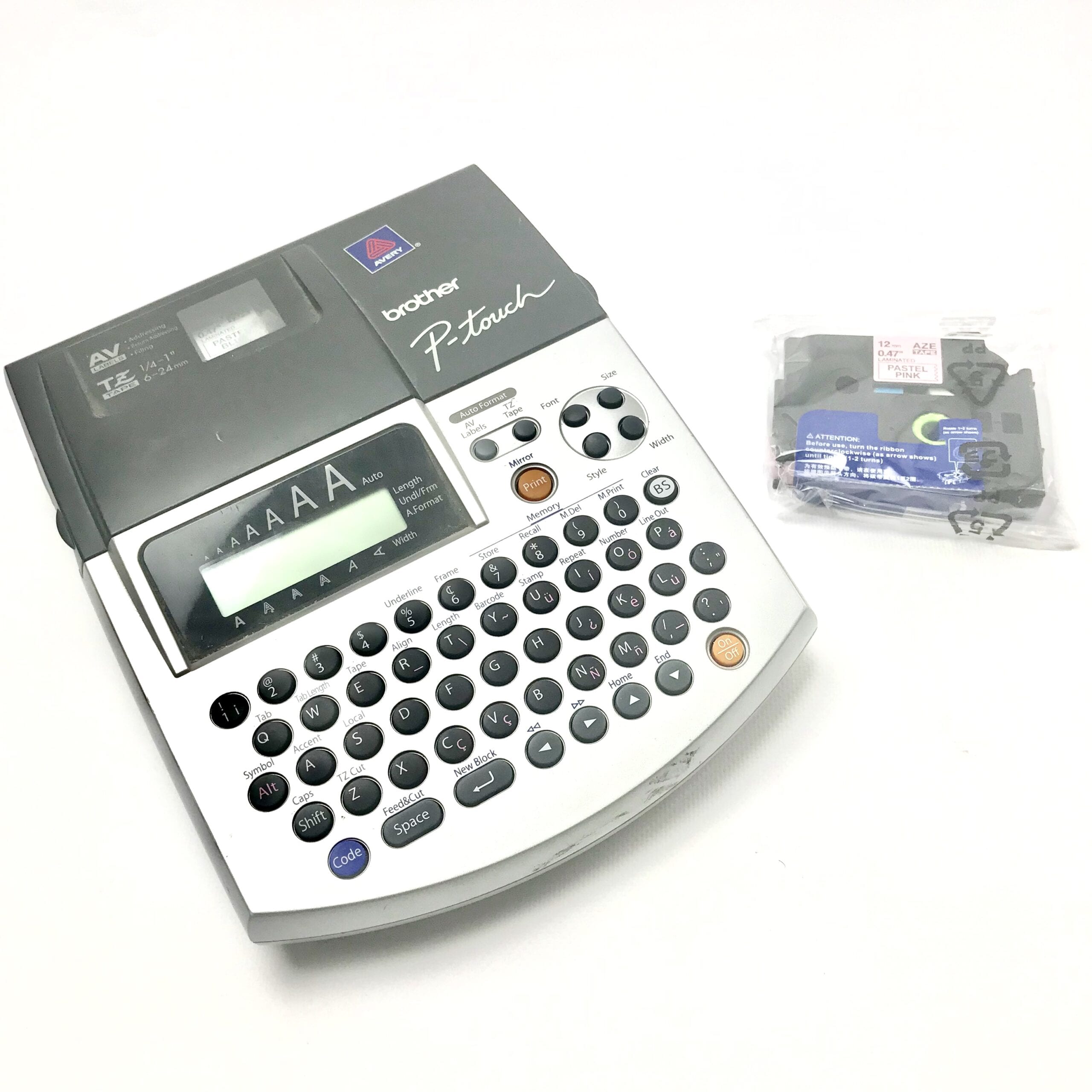 6 Hole Punch

If you plan on printing inserts in multiple sizes then this little afforable, handy punch will be perfect for you. It punches only 3-4 pages at a time but it's perfect for many sizes including A5, Personal, A6, & Pocket.
Another one is the Rapesco Punch
If you'd like to punch A LOT at once I'd consider investing in The Cinch by We Are Memory Keepers! I bought mine used from the Mercari app. I found settings for A5, Personal and Pocket on YouTube (I linked them accordingly).

I absolutely love this machine! The holes are a bit bigger though but I love being able to get perfect holes for 25 pages at once! Big time saver!
Also be sure to not get the one with the square holes!
See picture below for The Cinch by We Are Memory Keepers settings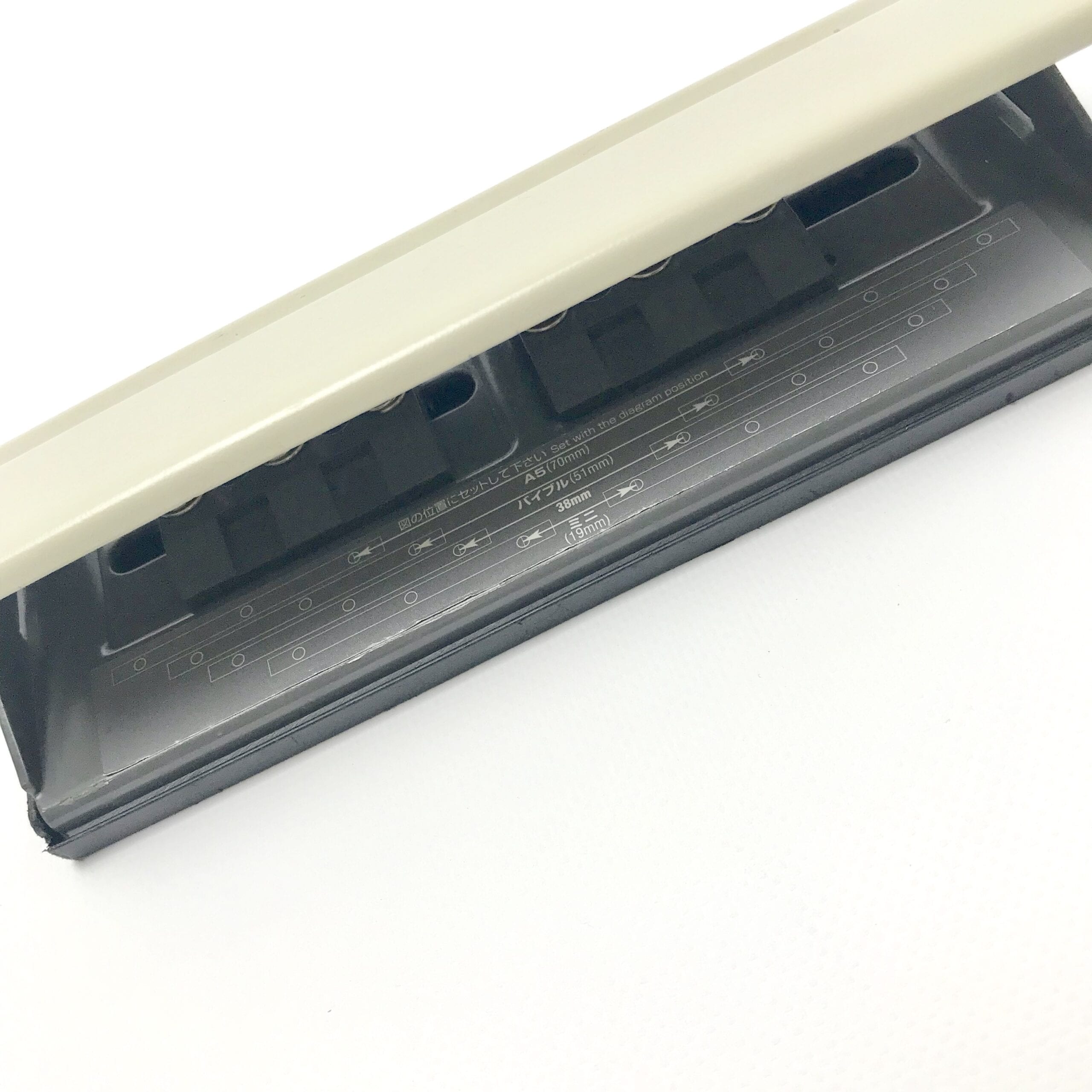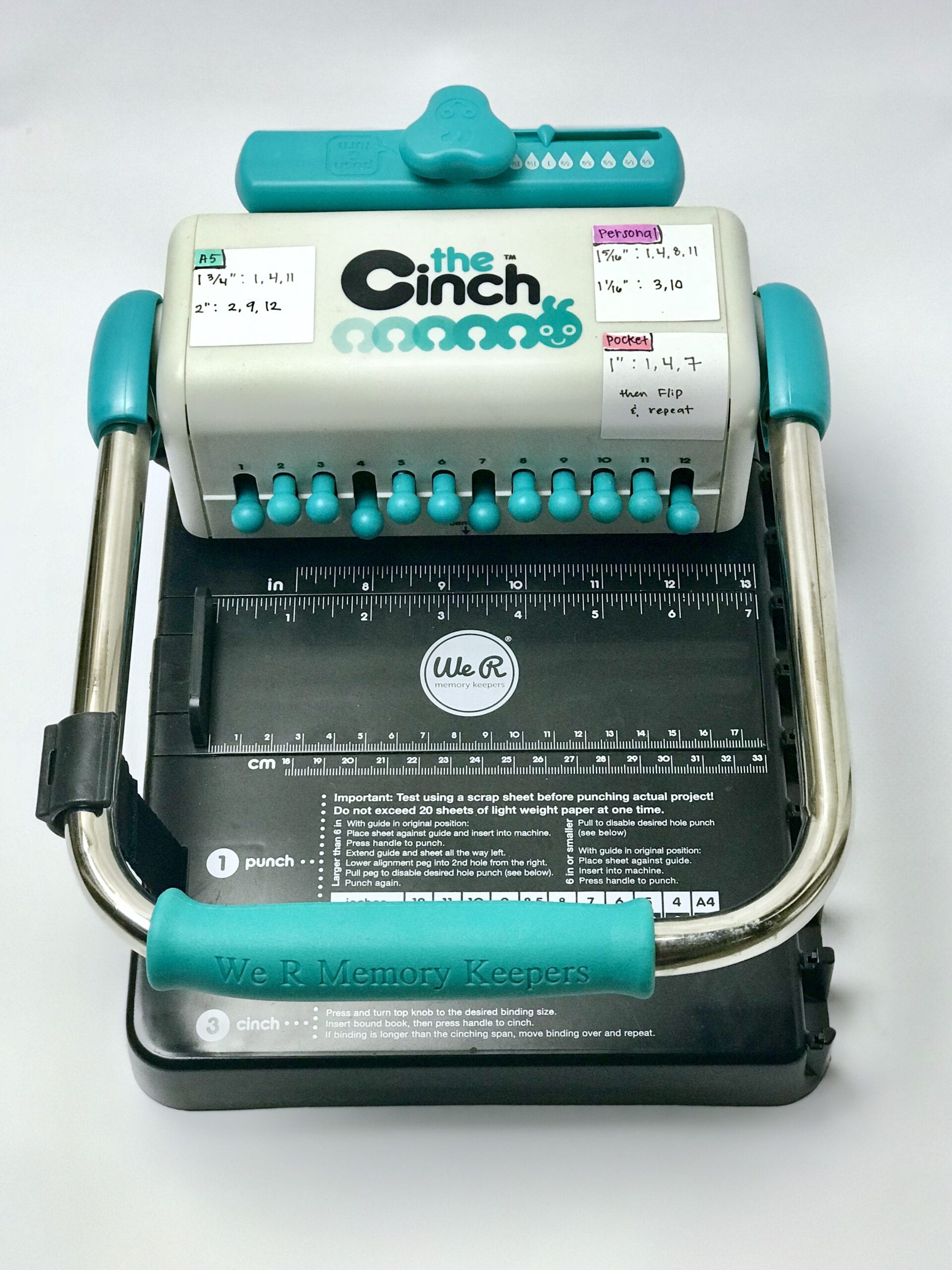 Fiskars Paper Trimmer

Again, if you are printing your own inserts you definitely need to invest in a good paper trimmer. I 've tried a number of different trimmers and this is the best!
It's perfect for trimming crop lines without cutting it off completely.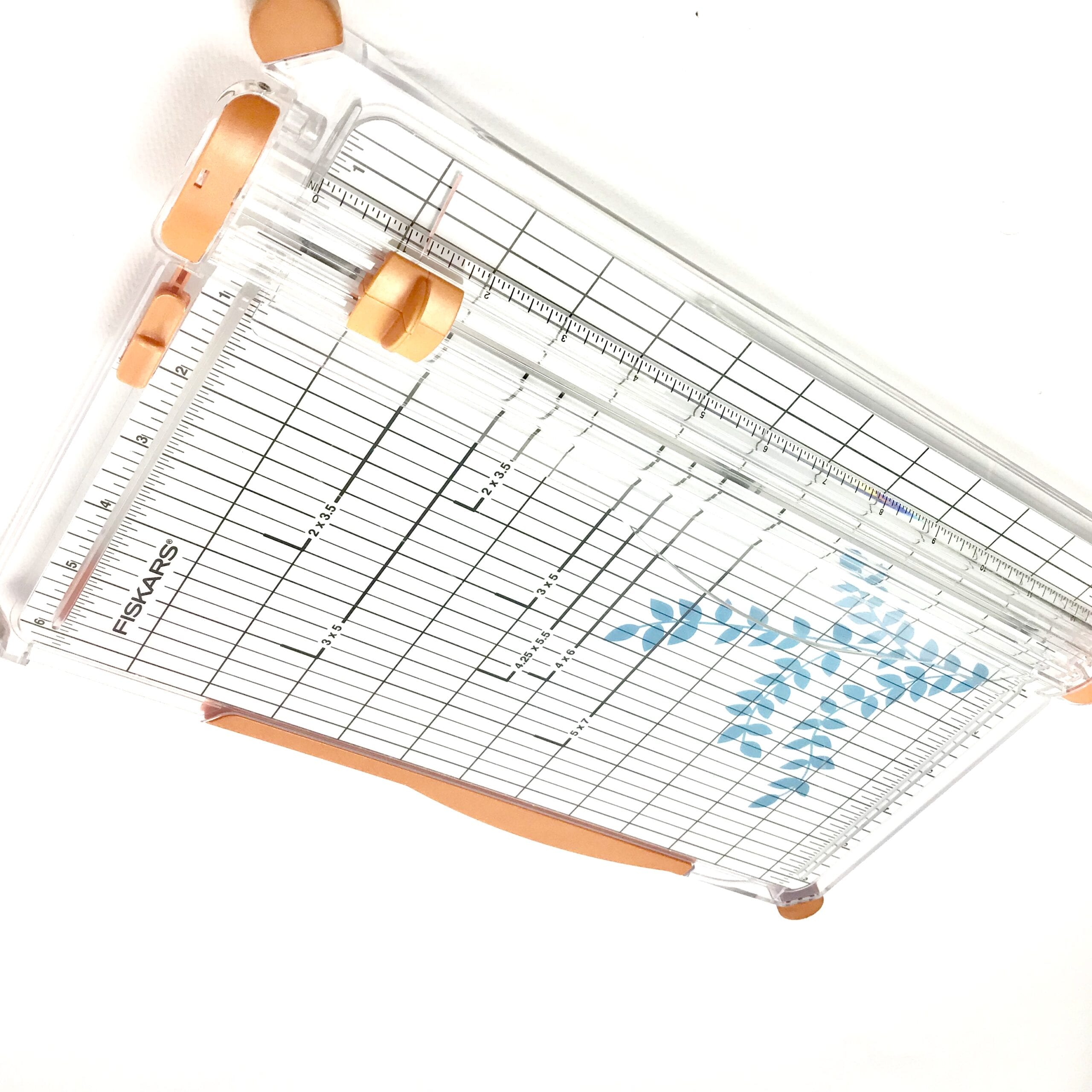 My Favorite Accessories for Bullet Journaling
Dot Journaling Guide Book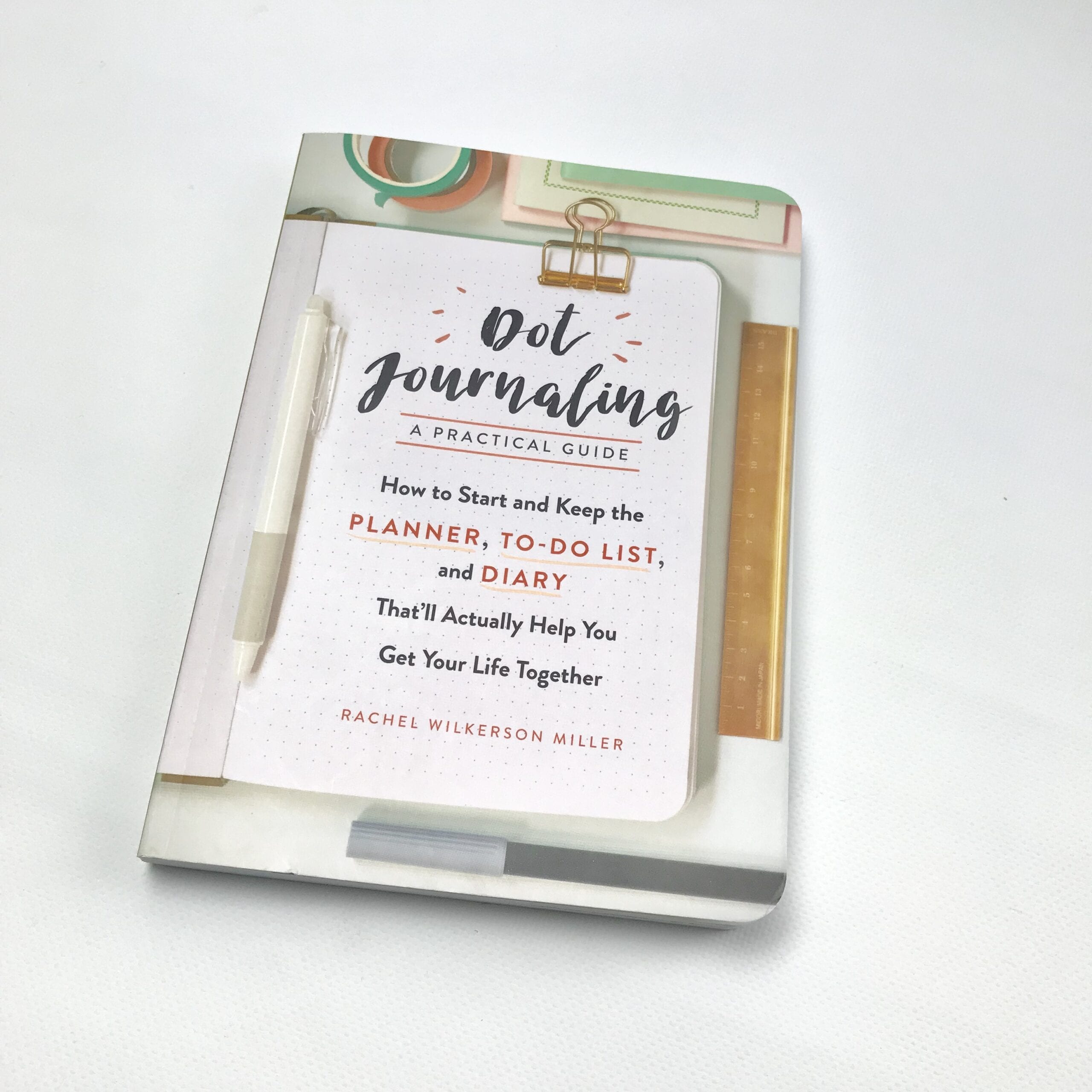 Stabilo Boss Highlighters

I know I already talked about highlighters, but for bullet journaling specifically, these are the best! Not because they're short and cute, but because the tips are 5mm — which are the size of the spacing of most popular dot grid journals!
I haven't seen them in stores in the US but you can get them on Amazon here.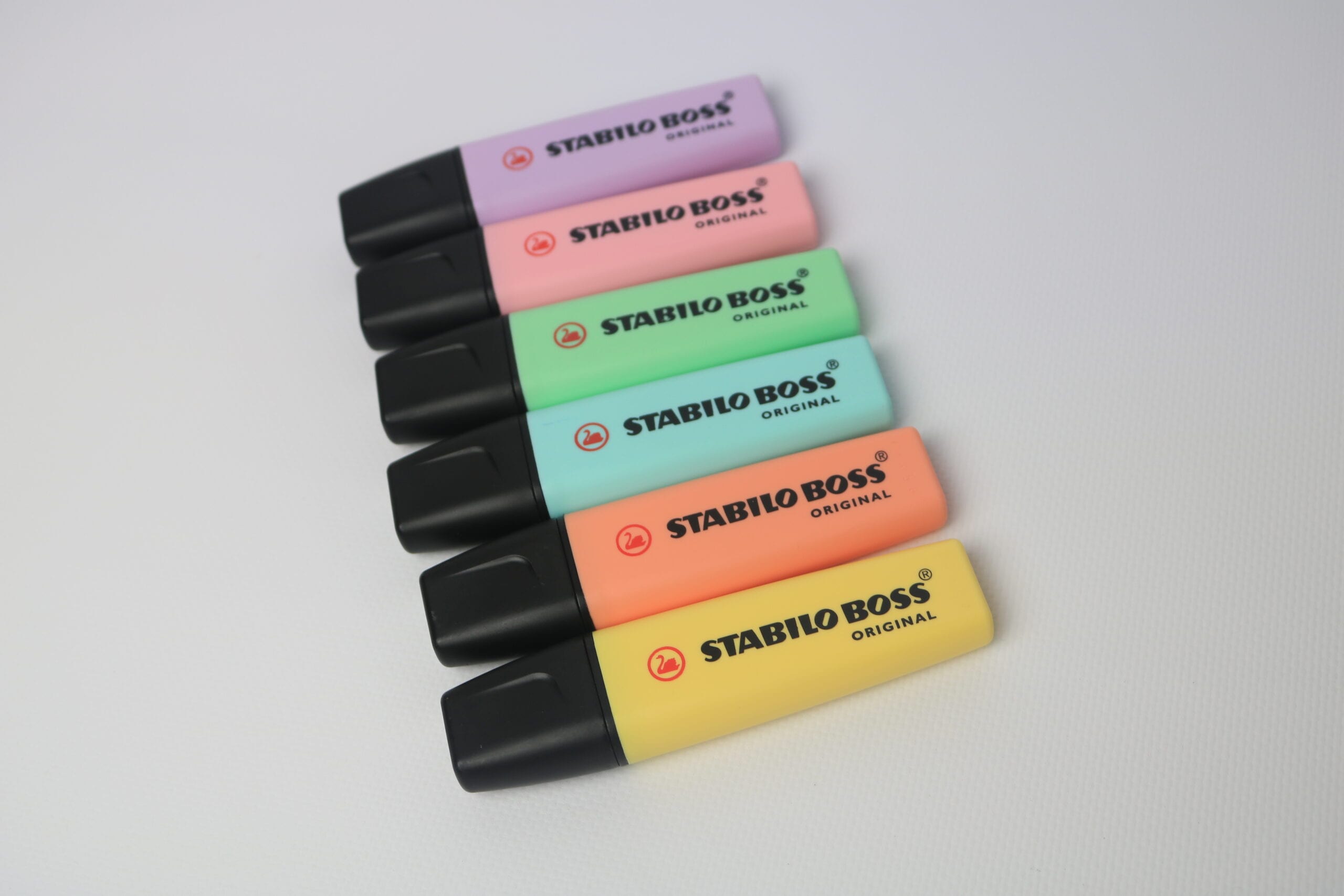 Ink By Jeng Washi Tape Rolls & Dispensers

Ink By Jeng created these super functional washi tape calendars and number strips perfect for bullet journaling. They are spaced evenly to fit your bujo planner. The calendar set comes with 7 rolls. You pair it with the weekday header rolls and you got a full calendar ready to go!
She even came out with a vertical time tracker one!
Check out her shop here: inkbyjeng.com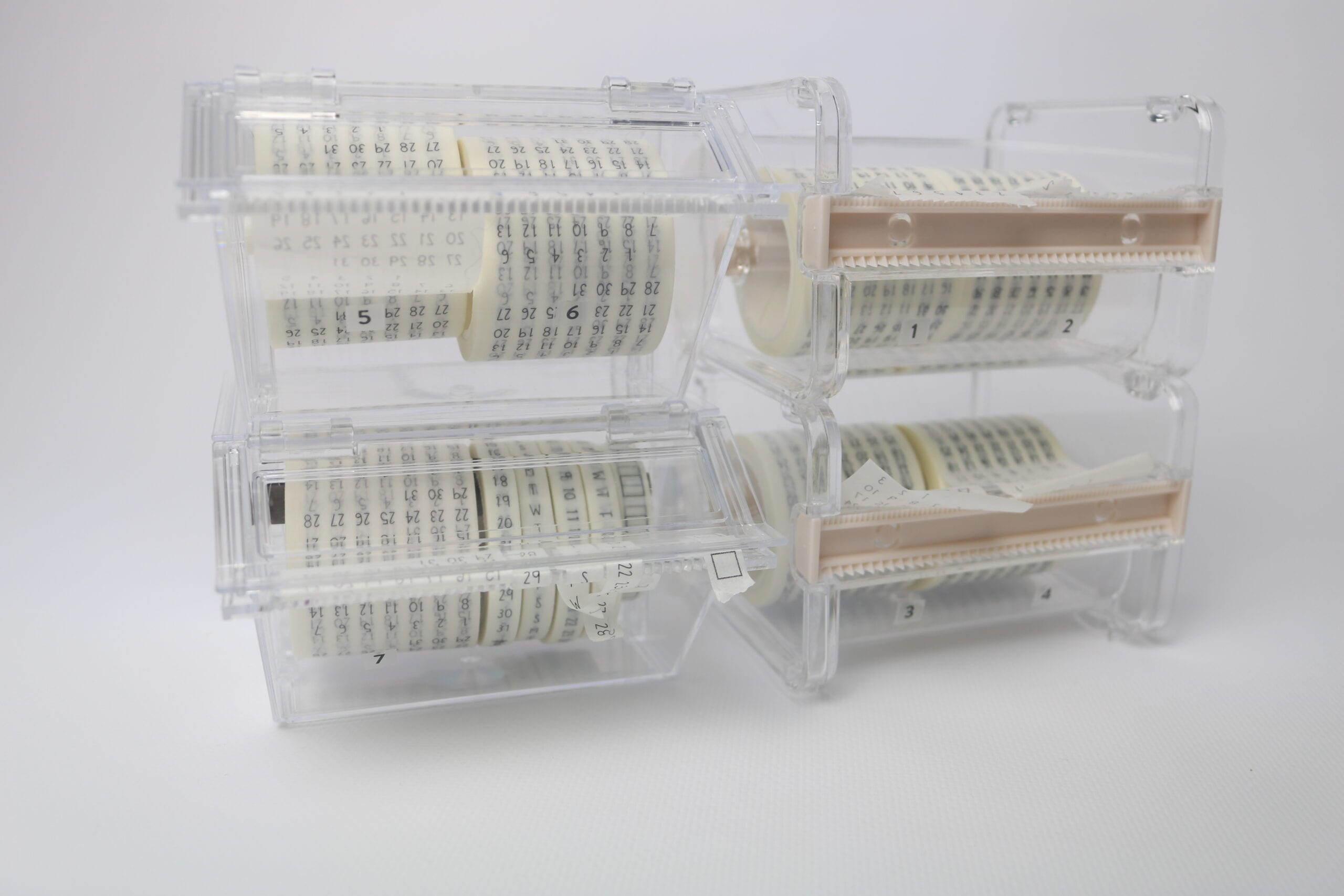 Stencils

A must for making your bujo neat and pretty! I made most of them with my Silhouette machine and designs from the design store, but I also bought some.
The checklist and icons one is from InkByJeng, again it is perfectly spaced for 5mm journals!
The colored ones are from JournalThis on Etsy.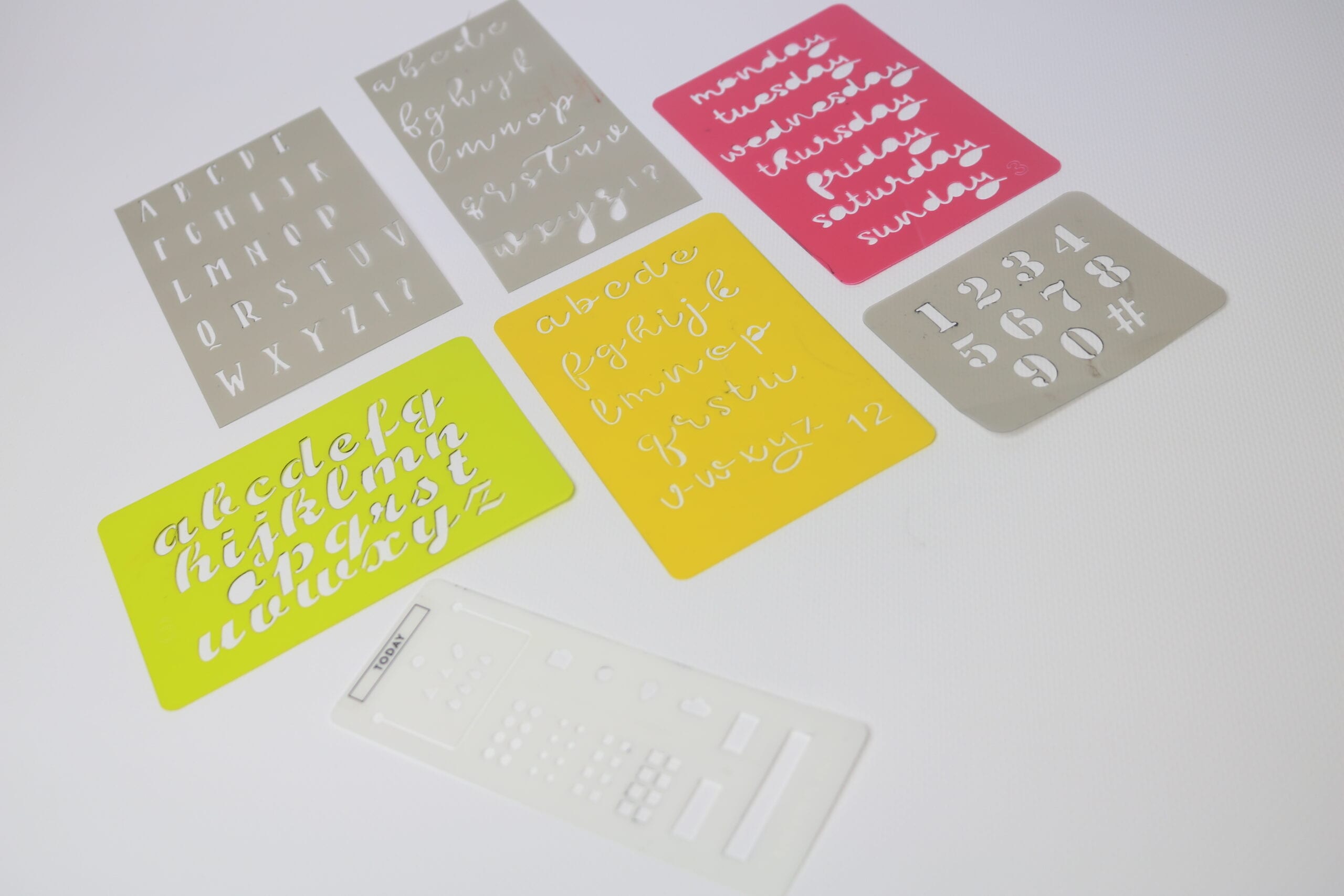 Rulers

For creating straight lines in your journal. I found this neat set which also came with some triangles from Daiso.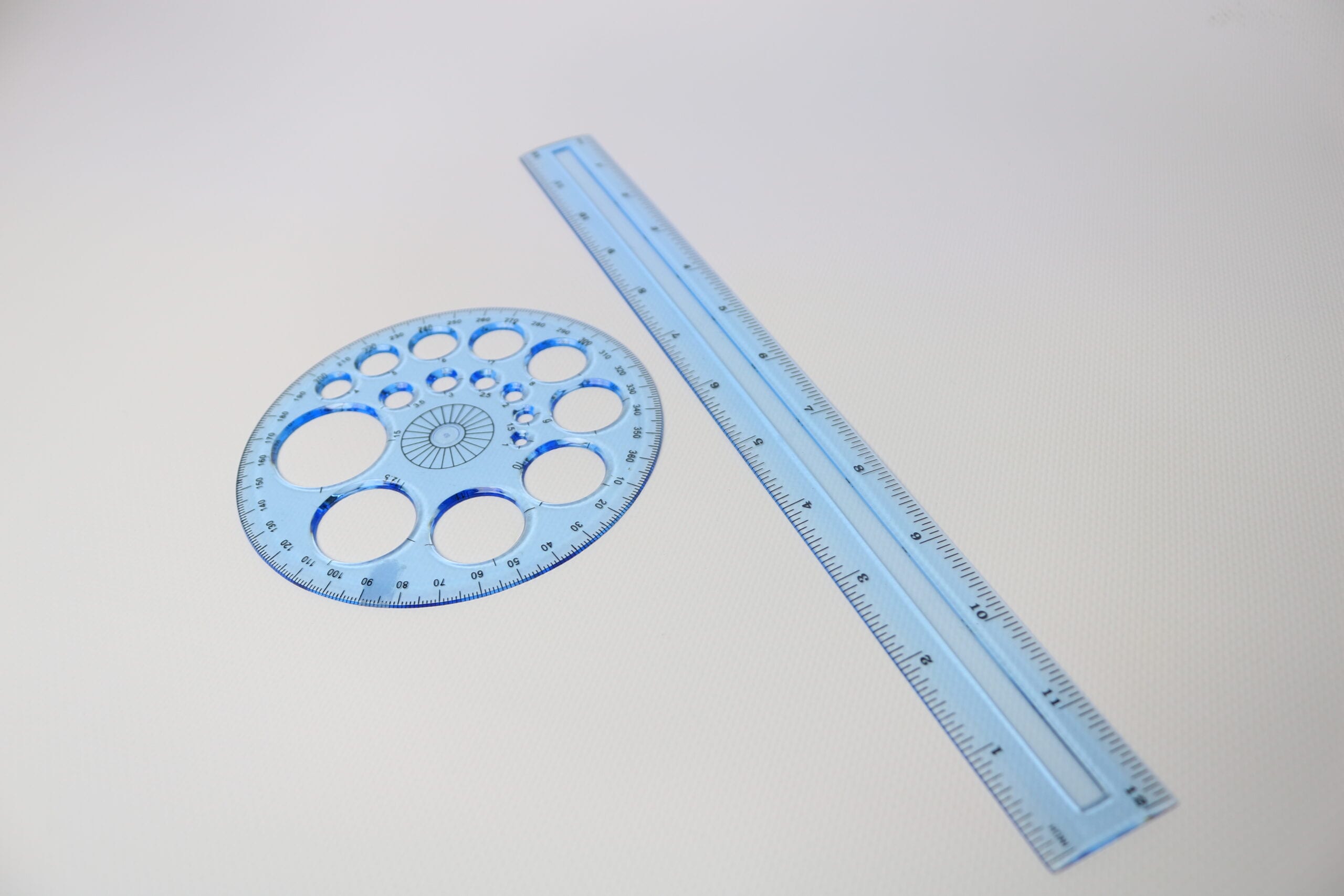 My Favorite Accessories for Creative Planning
Portable Photo Printer

Perfect for capturing memories in your memory planner or journal. I don't memory plan anymore because I found that most of my pictures ended up never being looked back at again and I just have a ton of half-used planners with pictures that I can't really just throw away.
Instead, I print pictures for special occasions in my Traveler's Notebook or Everyday Journal. I have a travel notebook for all of our adventures and I have a notebook/diary which I write it every night or morning (I'll occasionally paste a picture or two in there) I find these serve way better as memory journals rather than a calendar or planner.
The zip printer is very small and lightweight. It uses zink paper which is sticker paper! I use it with an app on my phone and it prints instantly!
Other options include the: HP Sprocket, or the Instax Share Printer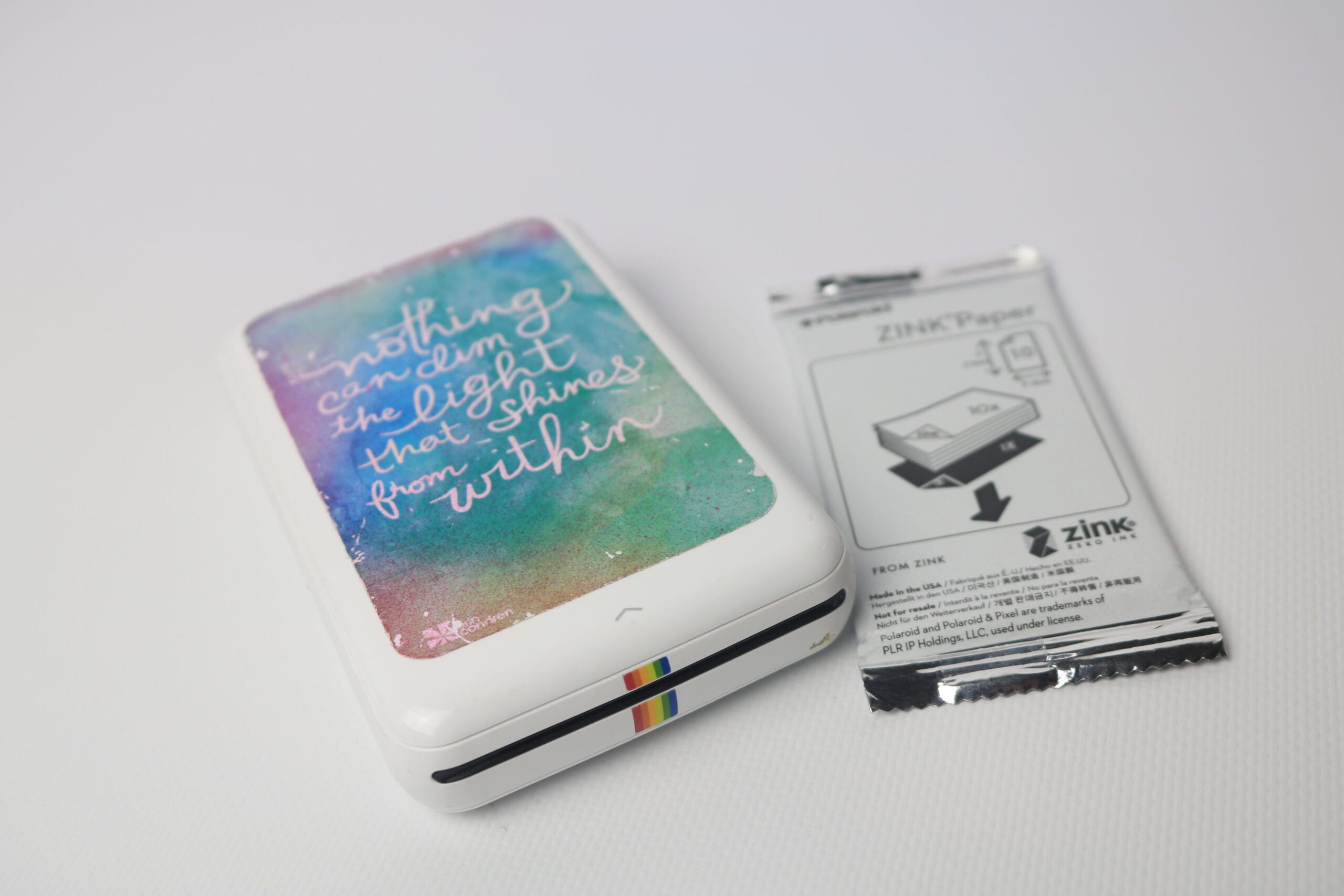 Tombow Markers

These markers are perfect for drawing or hand lettering in your journals. They can be used as highlighters too.
They come in a variety of colors but I love these Pastel ones! Each set comes with a blending brush too so you can make neat ombre lettering!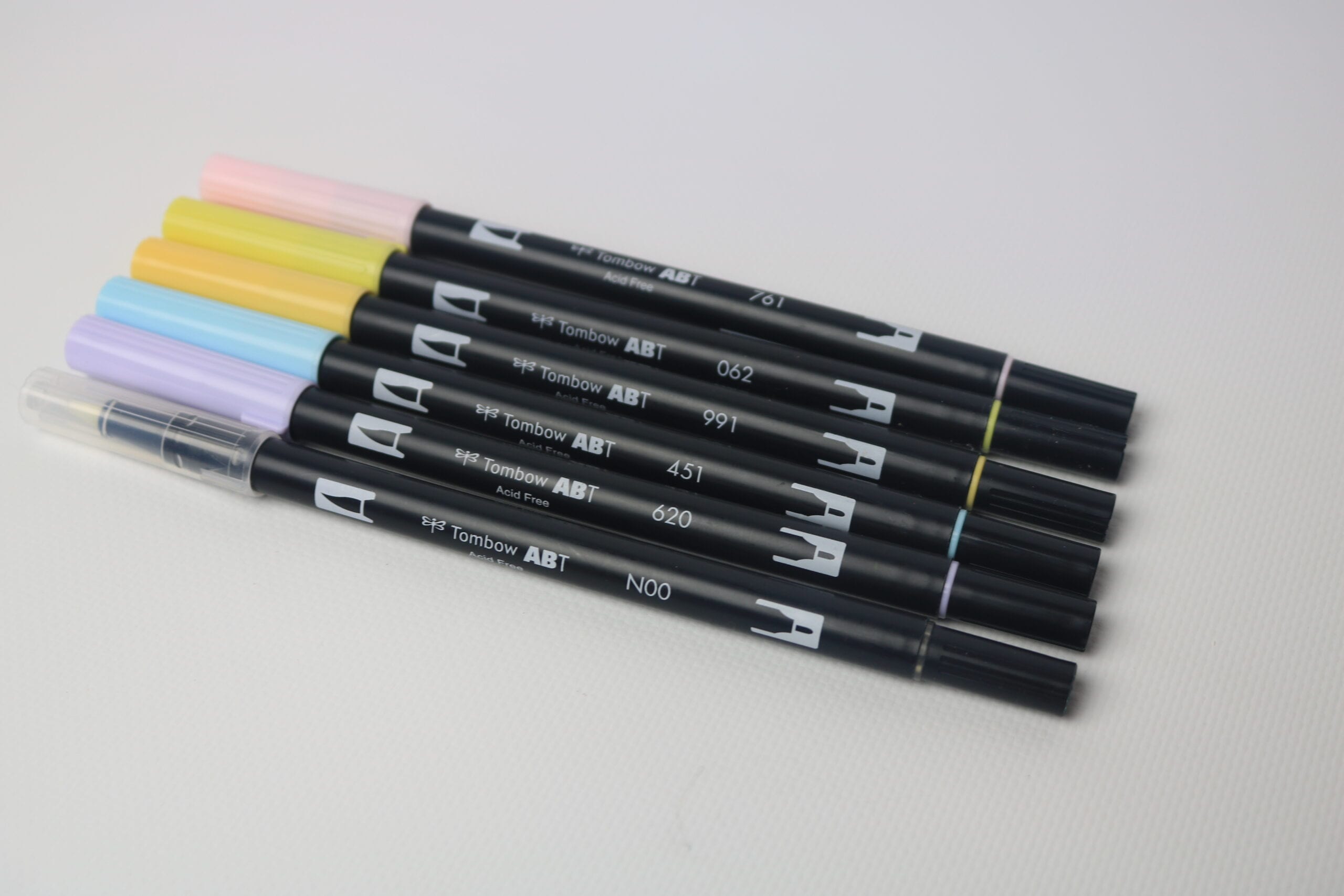 Glue Runners & White Out

I found these cute tiny glue runners and whiteouts from Daiso.
Glue runners are perfect for quickly putting in your ticket stubs or receipts for memory planning without making a mess!
White out is great for mistakes and keeping your planner looking pretty and neat!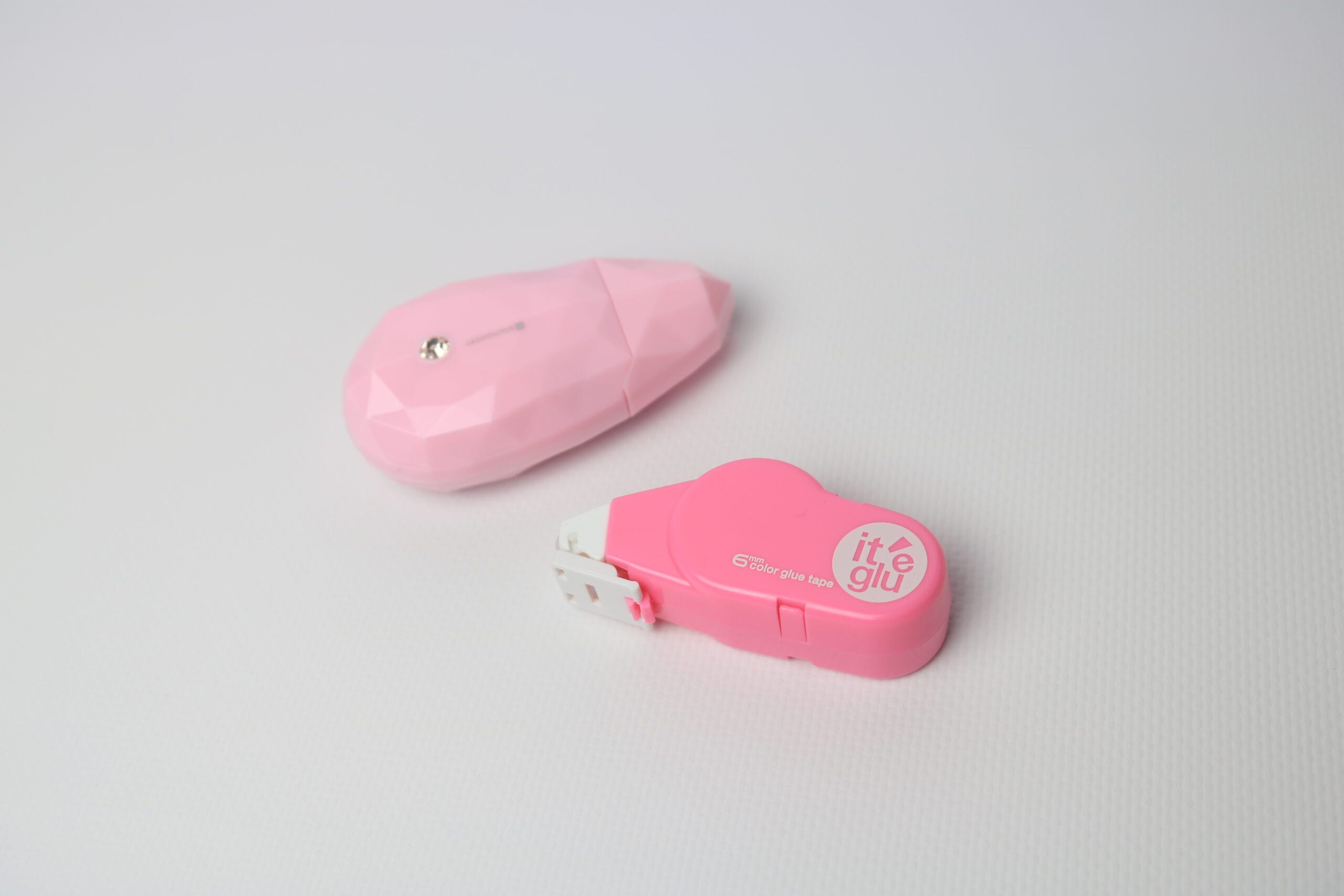 Precision Scissors

I love these sharp mini scissors I use it to cut washi tape, and trim laminated die cuts!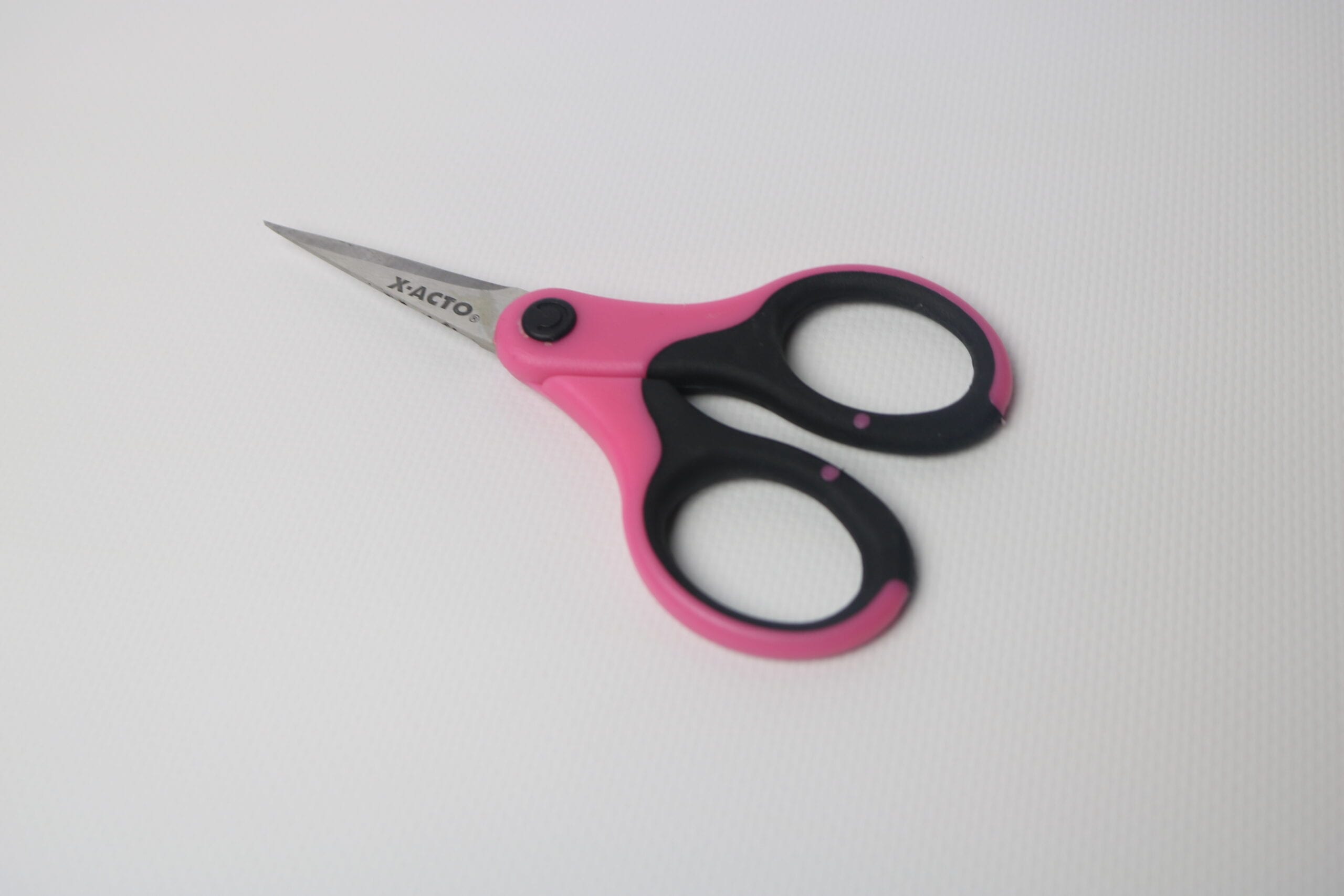 MAMBI Happy Planner Sticker Books

There are a ton! But for planning, I love these two the most. I found I used the memory keeping set the most. I own about 15 of them and they're really functional stickers and I hope to use them more regularly.
These are great for dating your planners, motivating yourself, marking holidays, creating unique pages in your planners and more!
You can find them in your local Arts and Crafts Stores – Michaels, Hobby Lobby or Joann's. You can also get them online at meandmybigideas.com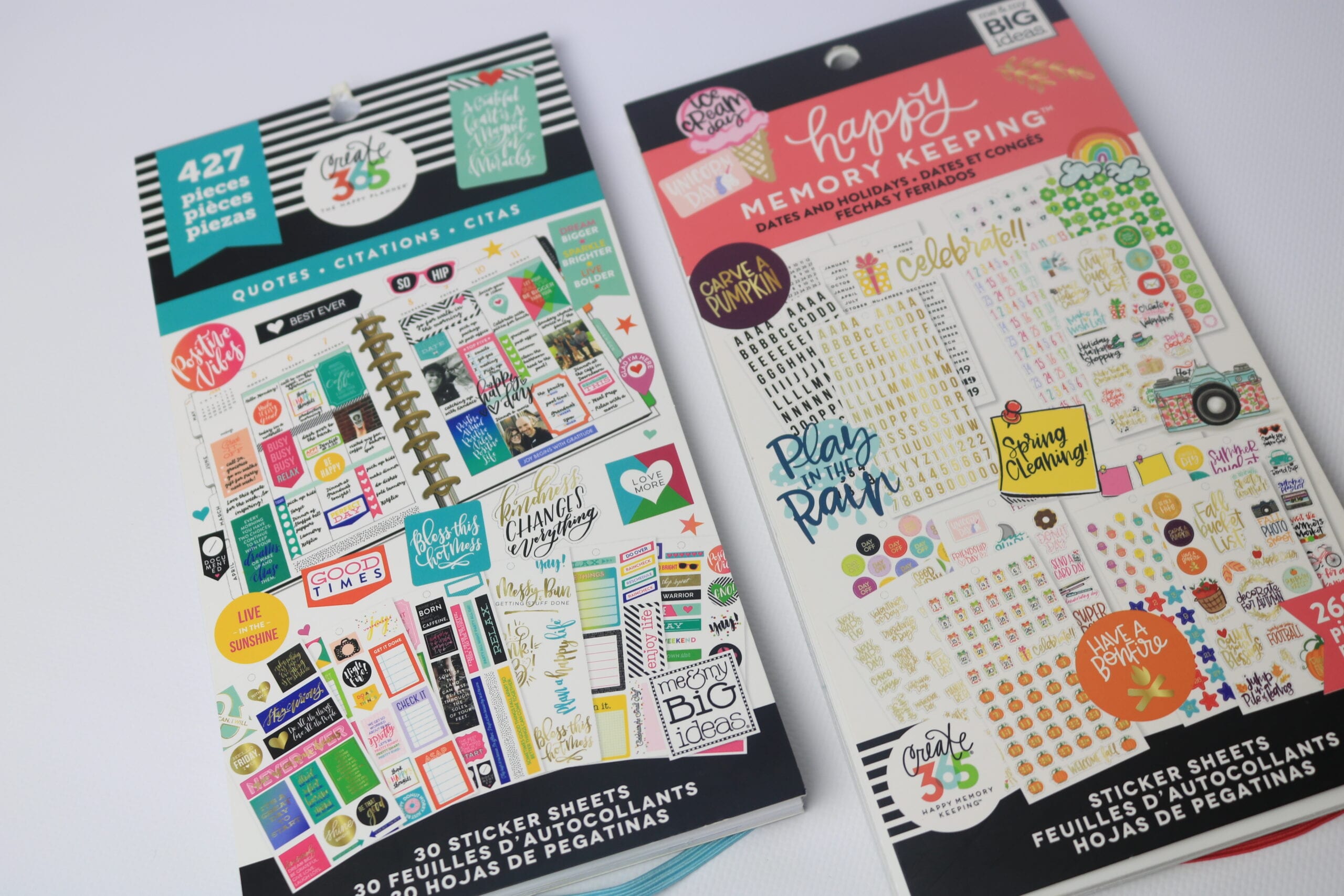 Dashbox Digital Subscription by Planner Press

If you love how pretty everyone's planner looks like on Instagram, but can't afford to buy all those cute little accessories then you have to subscribe to this dashbox!
It's a digital subscription for tons of planner sizes! Each month you get access to download all the cute dashboards, bookmarks, die-cuts, quote cards, inserts, sticky notes, washi strips and more!
Each month is a different theme so you will always have a pretty planner in season.
This was my first month and I love the girl boss theme! I joined at the right time! I took the designs and just put them into silhouette studio to print out multiple dashboards at once.
I printed them on clear acetate or cardstock with lamination.
They also come with studio files for the bookmarks, tabs, and stickers! YES, very cute and functional stickers!
She even has a shop where you can buy supplies to print them on without spending a ton!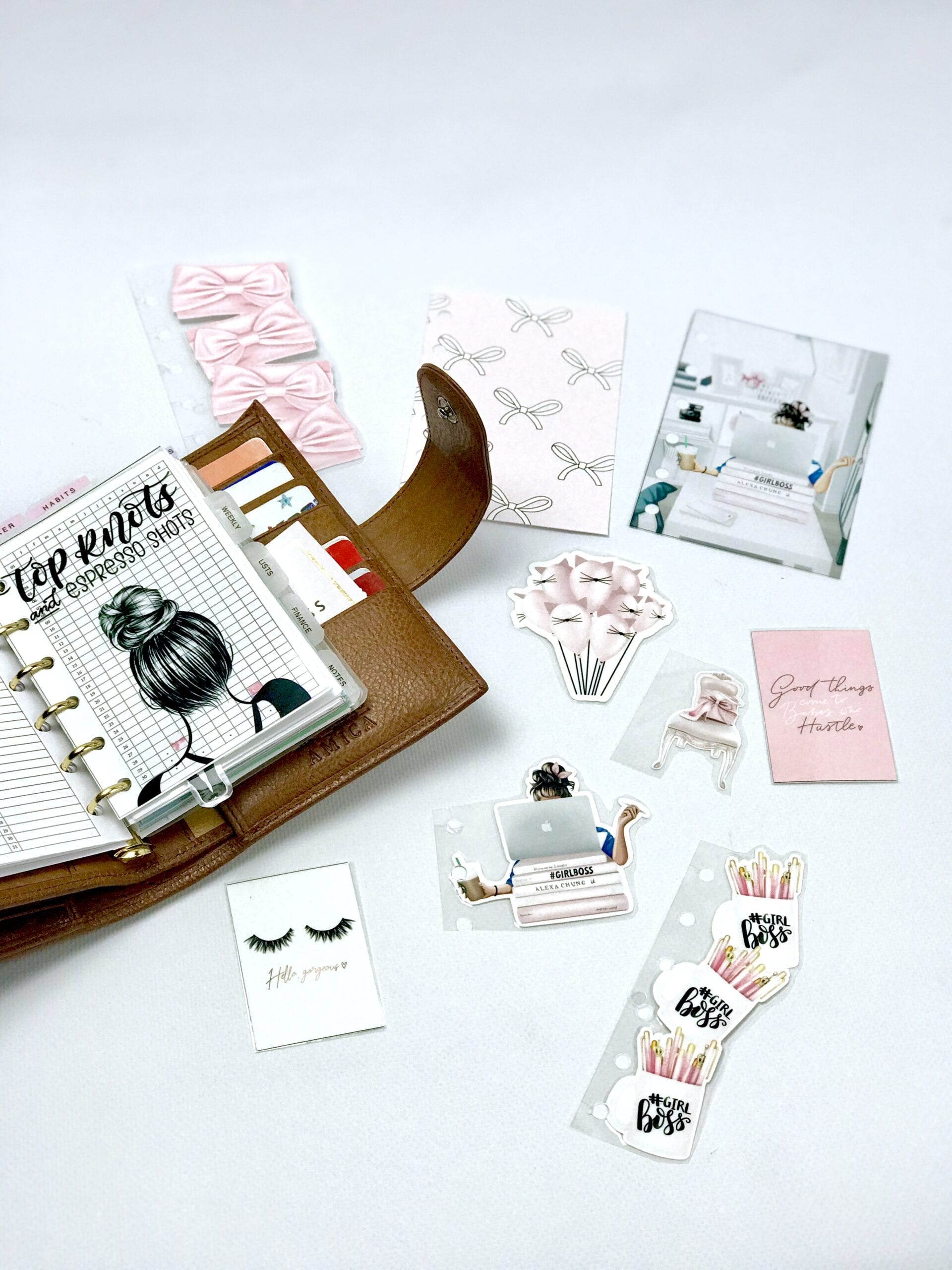 ---
That sure was a huge list! This post has been in the making for a long time, I think I am finally satisfied with it! I hope this helped you to find accessories to make your planner work for you!
Some of these links are affiliate links. If you click on the link and purchase the item I will receive a small commission or referral fee at no extra cost to you. Regardless, I only recommend products or services I use personally and believe will add value to my readers.