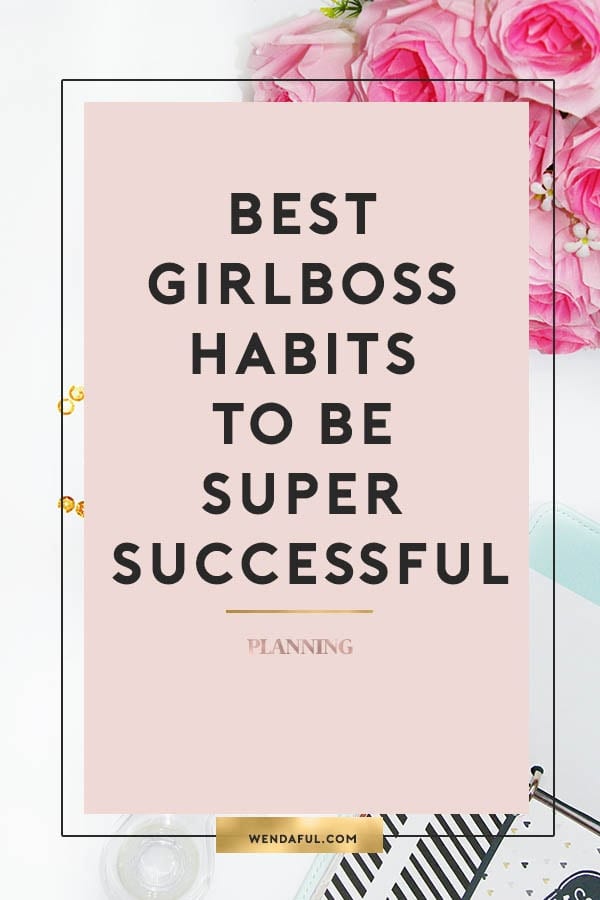 Best GIRLBOSS Habits To Be Super Successful
When it comes to achieving our dreams, there is no reason us girls shouldn't stick together. For what it's worth, I'm a firm believer in empowering other women. Do you look around and see successful women and say; that could be me?
Do you ever wonder how in the world did those successful girl bosses make it? Have you been lost in a comparison game, wondering if you'll ever be able to measure up? There's a Chinese proverb which says that the best time to plant a tree was yesterday and the second best time to plant a tree is today.
If you are not where you want to be yet, no problem! You can still achieve that dream, no matter how long or difficult it may seem. The important thing is that you've realized you can still grow, you want more, you need more, and you are on my blog reading this article, so I want to tell you there is no reason why you can't make it.
Martin Luther said if you can dream it, you can make it. If you have a clear idea of where you want to be but you don't know how to go about it, I will show you some of the habits that girl bosses are doing to become popular and super-successful. Everyone's version of success may be different, so I want to make sure you achieve your own version of success starting from today.
Keep on reading as I expose things you need to do each day to become a super-successful girl boss.
Start Your Day Very Early
Are you truly hungry for success? Then learn to wake up early every morning. If you want to be successful, you must ensure that your mornings are productive. This is inevitable. You also need to master to wake up at the same time every morning.
The human body follows a rhythm and relies on consistency, think of your wake up time as the anchor to your day. Anchoring your wake up time in place is a signal to your body when you should start your day. You may struggle with this habit when you are getting started, but give it time. Start slowly, try waking up 10 minutes earlier than usual, then gradually increase it every day until you are up early enough to start getting more things done.  Over time, it will become part of you and you will see how productive your days will become.
Mornings are the only time I get time to myself. As a mom of 3, waking up early has truly been the most beneficial for helping me reach my goals. I usually spend my mornings writing in my journal, reviewing my priorities for the day, drinking water or coffee, and then working on my business.
Wake Your Body Up With Exercise
This is something I've slowly incorporated into my life. I still don't do this every day but it's a whole lot more than what I used to (3 times a week compared to 3 times a year!) I am aiming to do at least 10 minutes every morning.
Don't neglect the power of exercise. Most of us are too busy to exercise every morning. I understand, I'm a mother of three kids, all under the age of 5, so I know how tough this can be.
You can still accomplish everything you want in your morning including exercise if you learn to wake up early in the morning. A little exercise can make you feel happier. When you exercise, your body releases a feel-good hormone that will not only make you feel good but also confident. Moreover, exercising every morning will bring you closer to your weight goals, and help you get stronger. You don't have to do a long or strenuous exercise, make it a habit of doing at least 20-30 minutes exercise every morning and you will see a great change in your life.
Learn to Plan S.M.A.R.T.
If you want to be a successful girl boss, you can never escape planning. It is inevitable. There is this saying that if we fail to plan, we plan to fail. Planning is super important for your success and for anything you want to achieve in life.
Every girl should have a Planner – this is the secret of successful girl bosses – they are super planners. Every day, they pick up at least three most important tasks they need to accomplish in a day from their planner and focus only on those three tasks. This is how they ensure they have "wins" every day and accomplish the tasks they set their mind on.
To make an effective plan, it must be a SMART plan, i.e., Specific, Measurable, Achievable, Realistic, and Timely. You must have a time set to achieve each plan and a way to measure your success so far.
Planning ahead and setting life goals means setting up digital calendar, reminders, leveraging Evernote lists and Life-planners. Check out this Life-planner that most successful women have used in their journey to success.
Draft a Personal Mission Statement
Every one of us has a dream. There is something we think that we could become one day. This could be your personal mission statement. Writing it down on your planner or anywhere else where you can always see it will help you to work towards achieving it.
Identify what is truly important to you and use it as your personal mission statement. This will help you imprint your values and purposes in your mind until they become a part of you. Make sure you integrate your personal mission statement into your weekly planning so that you will never lose the sight of what you want to achieve.
Stay Connected – Expand your Network
One tree cannot make a forest. No matter what you do, even if you work from home, ensure that you create relationships and friendship that will help you achieve your targets. Having a strong support system is important to becoming a boss lady. Moreover, you never know whose help you may need down the road. Find friends that help you achieve your purpose and stay in contact with them. Join my facebook group to connect with other planner girls and learn tips and tricks to make planning work for you!
Recite Affirmations Daily
You want to be super-successful, right? Great! Never cease to tell yourself that. Stand in the mirror every morning and tell yourself that you are a success. Tell yourself how awesome you are. For instance, you can say something like: "You are awesome, you are loved and I know you will be super successful".
Our mind has a crazy way of working; if you believe that you are loved, you are confident, and you have what it takes to be successful – your mind will pick up on these things and starts working towards them. You won't have any doubt along the way. It will make the journey easier for you.
Keep Learning
Experts didn't just become experts at what they do. GIRLBOSSES are always continuing their education, and this isn't always through the typical college type of education you may be thinking. It is so important for moms and entrepreneurs to keep our minds active and learning. I listen to podcasts during my commutes, while I clean, or when I take a bath. I read books every night before bed. I take online courses about blogging, planning, and more every chance I get.
Some of my favorite books that made a difference in my life are:
& all the E-Courses/E-Books that were a part of the Conquer Your Clutter Bundle!
Conquer Your Clutter Ultimate Bundle Such a great deal with 38 resources and tools worth 

$658.53! S

o many books printables and courses to learn how to declutter and organize your life!
Incorporate these habits into your days to become a super-successful girl boss!