As you probably have already heard, Silhouette America has come out with so many new machines and softwares for their customers this year. The Curio was just released recently and the Silhouette Mint will be coming very soon!
What is the Silhouette Mint, you're wondering? It's a small little stamping machine that fits in the palm of your hand! You can turn any text, design, shape or even a photo into a totally unique custom stamp! It uses its own software called Mint Studio where you can design and print directly to the Mint. Creating custom birthday or wedding invitations, thank you cards, address labels, and branding for your shop will never be the same! It takes just a few minutes to design and print! The machine uses thermal printing to create the stamp impressions. When you insert the Mint stamp sheets, it will react to the heat, creating 3D reliefs. Another great feature of the Silhouette Mint is that you can ink your stamp and use it up to 50 times before re-inking it again! The ink comes in little bottles where you just squeeze onto your stamp and let dry. The best part of this is that you can use multiple colors this way! You can have nice colorful stamps without having to deal with messy ink pads!
Here is a little pictorial of how I made my custom stamps:
So the first thing you will need to start making your stamp is to download the Silhouette Mint Studio. Once you've installed it you can start designing. You start off first with choosing your stamp size. They have all kinds of sizes and shapes. There is also a number on the stamp sheet to make sure it matches.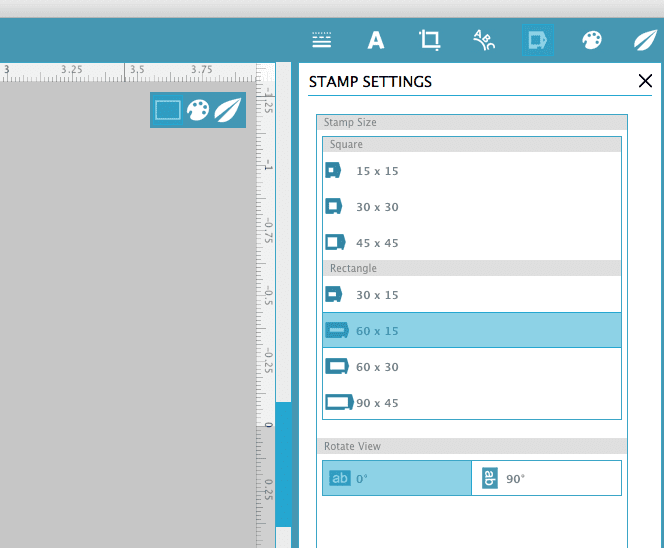 Design:
I chose a cute font and some hearts to make a to do list stamp. It's something I knew I would use over and over again for my planners. I resized them to be able to fit my Erin Condren boxes which are about 1.5 inches.
The Mint Studio program offers lots of shapes, borders, curved texts, and other designs for creating your own stamp!
Print
To print your stamp out, you click on the send to mint  icon and insert your stamping sheets through the back of the mint sheet, and it automatically prints a 3D impression onto the stamp! It automatically prints it in reverse for you so you won't have to worry about overthinking that part!
Assemble
Now that you've designed and printed your stamp, the next step is assembling and inking it!
When you get your stamping kit, it will come with a large kraft box, and a white box. You simply slide and snap in the white box on the bottom of the kraft box.
& when you open the cap of the white box, you will see an adhesive tape pad.
You will have to remove the black rubber stamp sheet from the cardboard of the mint sheet and place it on the adhesive. & you can then peel off the plastic covering as well.
Inking
The mint comes with 4 basic colors of ink, black, red, blue, & yellow. It's a little bottle with a small tip that you can then squeeze onto your rubber stamp. The great thing about this is that you can mix up the colors to get a multicolored stamp! You also won't have to use a stamping pad to use your stamp! Once you've done this step you can use it up to 50 times!
After inking it, I let it soak in and dry up for about a few minutes
The next step is to clean off the excess ink. Just grab a scratch paper and start inking until you get a nice clean stamp of your design! It took just about 10 stamps for me to get the perfect crisp design!
After that just label your stamp by stamping the provided label/sticker then placing that sticker on top!
Stamp!
& there you have it! Your very own custom made stamp, that you can reuse over and over again!
I am absolutely in love with this little mighty machine! For more information check out this link on the silhouette site!
My very first planner stamp in my Erin Condren Planner!
I've also made a custom stamp for my etsy shop's packaging! I re-inked the "wendaful designs" to blue and it looks even better! I will stamp these on my envelopes!
What kind of planner stamps would you make for your planner? Let me know in the comments below!