I love to use icons to make certain events stand out in my planner. I made these sets to do just that! I also mess up a lot when I plan so I like to cover up my mistakes with labels. You can use these icon labels to write down your lists and help you remember what's going on in your life.
Stickers included in this printable are:
Small Labels

Briefcase – for work related tasks (hours, meetings etc.)
Cleaning – for house chores
Money – for writing in your payday amounts or money spent
Piggy Bank – for writing how much money you've saved
Credit Card – for writing how much you've spend on your credit card or to track when you've made a bill payment
Weights – to write down your workout or keep track of your gym payments
Shopping Cart – to write down where you will go shopping or when
Books – for all those chapters you need to read or study for school, or book you want to read
House – for any house related tasks/projects or mortgage or rent payments

Larger Labels

Mail – to keep track of letters to write to penpals, or packages coming in the mail
Car – for places you have to go to for the day
Computer/Bills – if you pay for bills online, this one's great to make a list of all the bills you are paying for online!
Shopping Bag – for making a list of things you need or want to buy
Clock – for writing down what appointment you have and at what time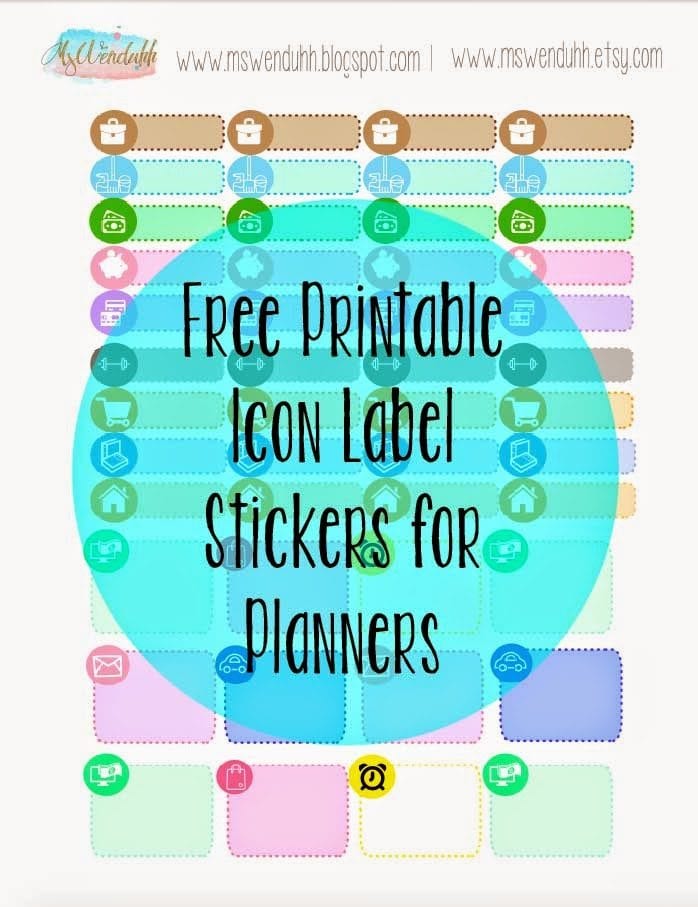 These are for PERSONAL USE only! Print as many as you'd like! If you do end up using these I would love to see pictures. Tag me on Instagram @wenduhh_plans or #mswenduhhblog
Please do NOT share the actual file or file link. Instead please send your friends here to download my free printables, thank you.
Icons are from freepik.com

This work is licensed under a Creative Commons Attribution-NonCommercial-NoDerivatives 4.0 International License.