Our website is supported by our users. We sometimes earn affiliate links when you click through the affiliate links on our website
Happy May! I am starting this month with a brand new series called "Monthly Highlights" where I will be sharing everything that has happened in the previous month, new productivity tools I have discovered and what I am loving and learning.
After blogging for many years, I have a ton of content that you can browse through, but nothing really "new". So these monthly highlights will help you to stay current with everything going on with my productivity habits and journey in planning!
This list might be longer but that's because this is the first one so I don't want to leave anything out from March as well!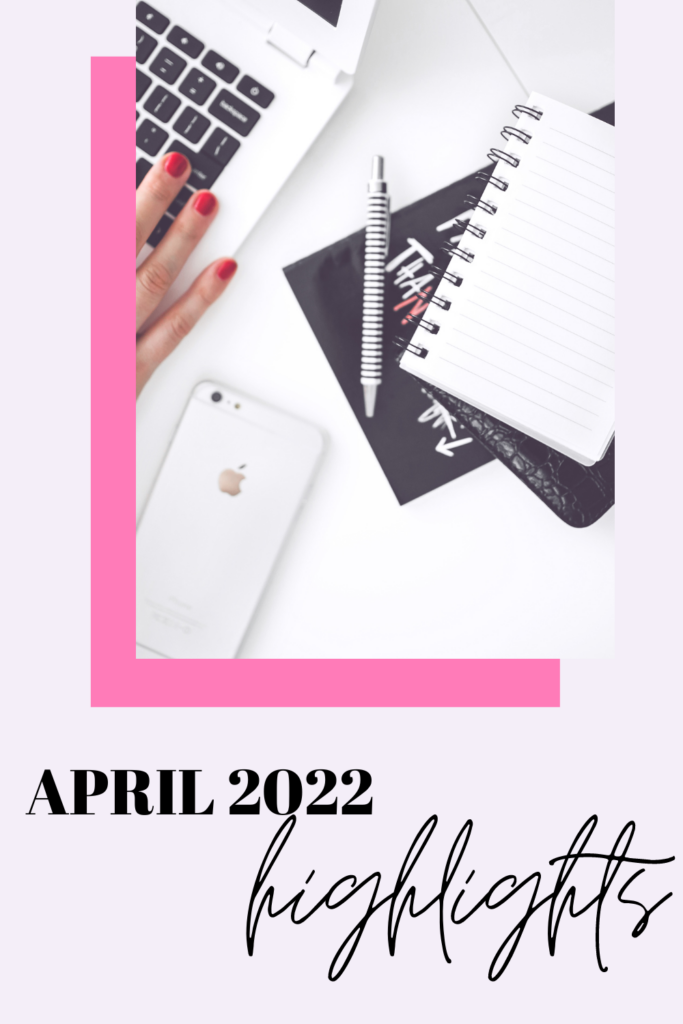 Monthly Highlights:
I Launched A New Course!
I launched a new course last month and it has been really exciting! I am really happy with the response so far and I hope to keep growing the community around the course.
The course is called the Productive Game Plan (previously Wonderful Plans). I added videos, brand new bonuses, and new workbooks! I also added a ton of helpful new content to it. I had a 10 day launch and invited many new students into the course! I had given access to the founding members of the course so altogether we have close to 300 students. We are working in the course together and I am hoping to increase engagement so we can all be more accountable for our actions.
I Reached a 75 Day Streak on Duolingo!
I am trying to learn Spanish, and wanted to practice for just 5-10 minutes a day. In April, I reached a 75 day streak (now currently on 82 days)! Duolingo makes learning a new language easy and fun. The points system and leagues really helps you to stick with the habit. I also allowed notifications for this app so I can be reminded to take a lesson every day. They absolutely work (somewhat incessantly, but they definitely remind me)! I hopped on the duolingo plus family plan so my husband and kids can also join in on learning a new language. Plus, I was annoyed of wasting time watching so many ads. Learn a language with me for free! Duolingo is fun, and proven to work.
April Favorites:
Things
Affirmation Cards for Self Care
I found these on Amazon for such a great price. There are tons but I loved these because of the design and how they categorized each one. Affirmation cards are a great way to self-care and affirm your goals. They can be used as part of your personal daily routine or as a monthly reminder. There are many different affirmation cards to choose from, so find one that speaks to you and use it as a tool to help you stay on track.
Brow Stamp – I was never one to have those perfect eyebrows. I totally suck at drawing them in. I am so glad I found these brow stamps, you just find a brow shape stencil similar to yours and stamp on the powder to your brows! So fast and so easy! And you get perfect looking eyebrows! This is the first time I tried one and just opted for the cheapest one I can find so I can't compare them to other brands.
Beachwaver Curling Iron – I also suck at curling hair! I have bought quite a few of those automatic curling irons, but I almost gave up after my hair got stuck in one of them! So when I saw these beachwaver wands that didn't trap my hair inside some kind of contraption, I was sold! The Beachwaver Curling Iron is a new and innovative way to curl your hair. The Beachwaver Curling Iron is also lightweight and easy to use, making it perfect for anyone who wants to curl their hair without spending hours on it! I can easily do my full head within 25 minutes! You can get your own for $10 off with my referral code here!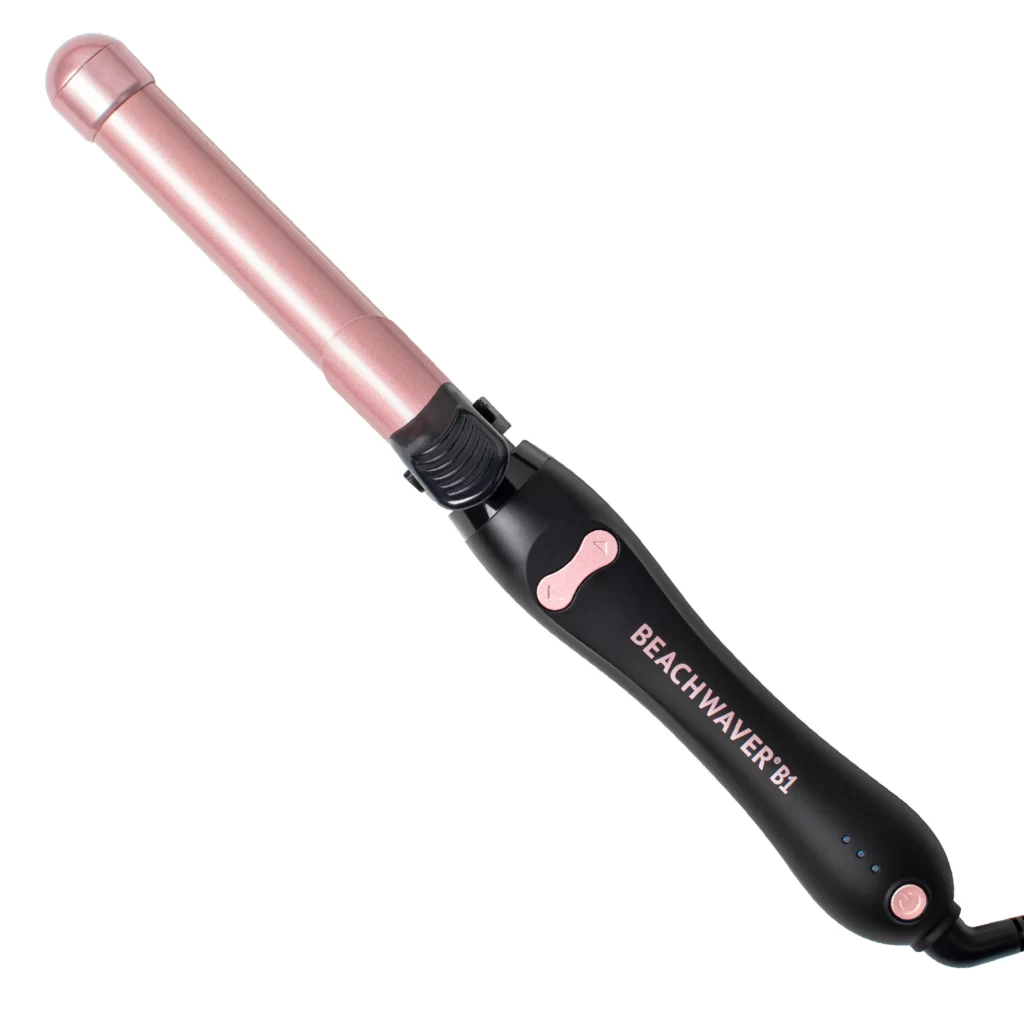 Clear Mugs – I actually got these during Christmas. It was on my wishlist and 3 different family members bought them all for me! haha! But I am so glad because it's all anyone uses in our house anymore! They're so lightweight, doesn't burn your hands due to the double wall and looks amazing!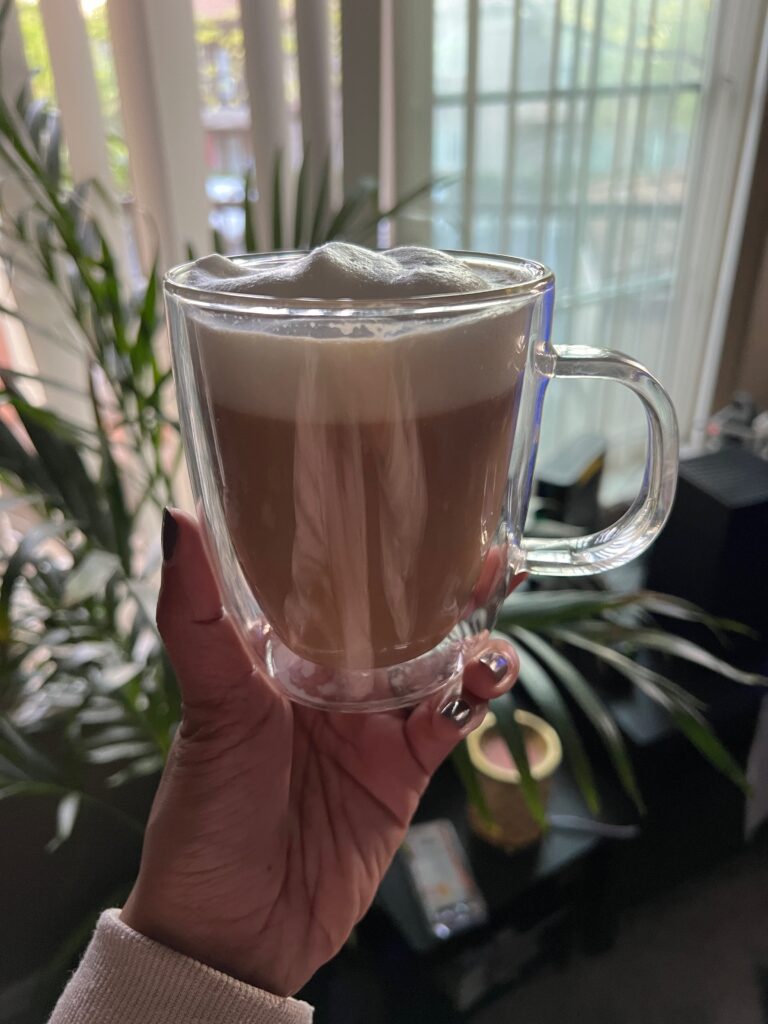 Digital Planner Stickers – For a while I was mainly functionally planning and it was getting boring for me so I started using planner stickers in my digital planner again! I was going through my old planners and loved that I can go back to any date and read what I did that day and the memories from that specific day. So I made it an effort last week to start doing that again. It makes planning fun, more productive for me, and I love memory keeping at the same time. I bought my stickers from this Etsy shop called PrintPetticoatBandit and love the variety of stickers they have for each kit!
Editable Monthly Calendar & Habit Tracker – My brand new Editable Monthly Calendar & Habit Tracker is a great way to stay organized and track your goals. It includes a monthly calendar that you can customize and a habit tracker that helps you track your progress. The calendar includes space to note important dates and events. The dates are The Editable Monthly Calendar & Habit Tracker is perfect for anyone who wants to be more organized and focus on their goals. Change the dates or just leave it undated
Add your habits once to one month and it will automatically fill for the rest of the year!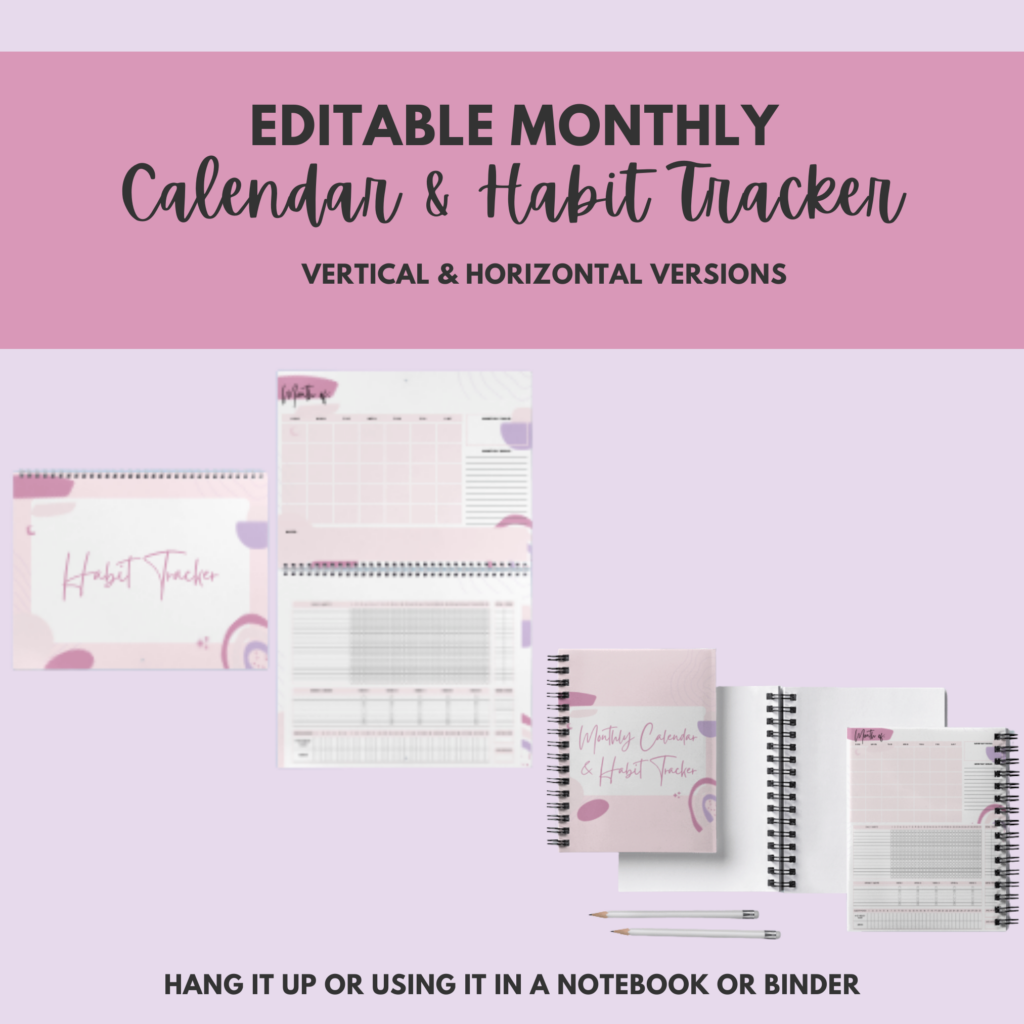 Airpods Pro – I love that these have noise cancellation! I can easily ignore any background noise and stay focused on my work.
DIY-ing my own Bath Bombs – I was spending about $200 a month on bath bombs from various stores and knew I should start making my own. I love relaxing at the end of the day with a fragrant and moisturizing bath bomb. I probably do a bath bomb only twice a week, but I hated spending so much for it to only last a few days. So I picked up a big bag of baking soda from Costco, some cornstarch, citric acid, coconut oils, fragrance oils and all the other ingredients to start making my own bath bombs. With one batch I made about 16-18 bath bombs!! I'll send over some of the recipes I used, but my bath bombs weren't exact I just kind of winged it (which I don't recommend because sometimes they won't be the right texture and will just crumble!)
Crystals – I have been collecting crystals lately. It was totally out of the blue, but in midtown Sacramento my husband always goes to his favorite game store called 1-up retro, and right across the street was a crystal shop I happened to check out. I have always loved the designs of crystals and love reading astrology. I also have been already saying affirmations every morning to myself and I feel like crystals just makes it more tangible. I have collected quite a few now and even got this etsy printable to learn about each one! I love that it's in alphabetical order! I just printed these 2 to a page and put it into a discbound system.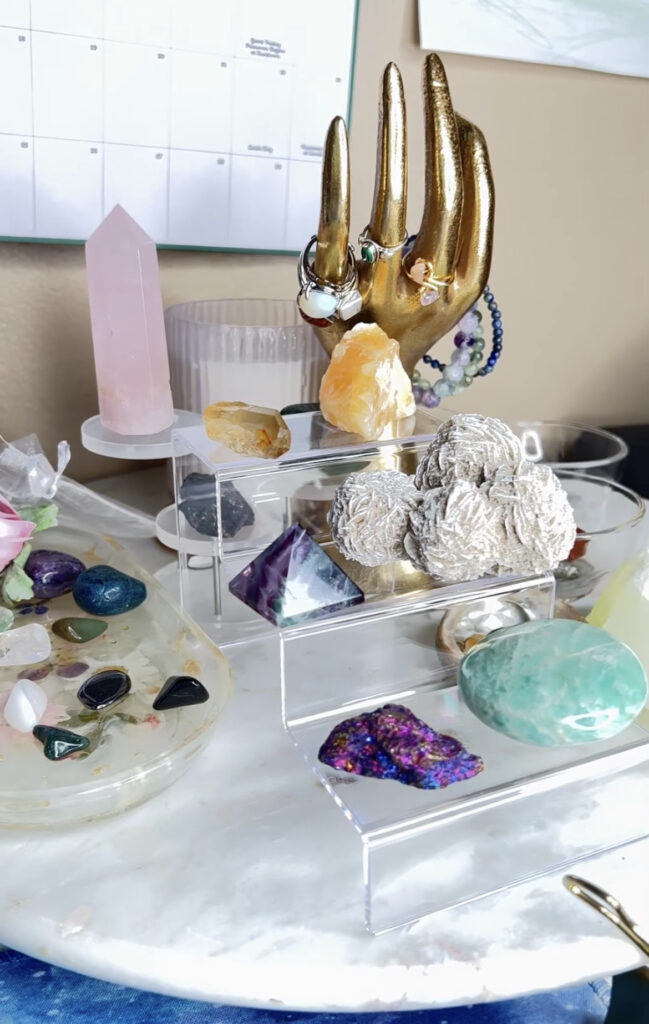 Apps
ClickUp Widgets – I have recently set up a new space in my ClickUp and the system is totally working for me! I love how simple it is and I can quickly empty my mind into this space and know it will be organized. I use the widgets on my phone to quickly add a reminder or task when I am on the go.
ClickUp WhiteBoard – ClickUp recently came out with white boards where you can essentially make mind maps, kanban boards, add images, shapes and more! I love it, being the visual person that I am!
GCal Plus Extension for Google Calendar – GCal Plus Extension for Google Calendar is a handy extension that helps you manage your calendar better. It allows you to add events, notes and to-do items easily. You can also see your upcoming events in a calendar format, so you can plan your day better. Apart from that, GCal Plus Extension for Google Calendar also offers some features such as sharing calendars with others, adding location information and reminders. Overall, it's a great extension that makes managing your calendar easier. This is how I have mine set up currently: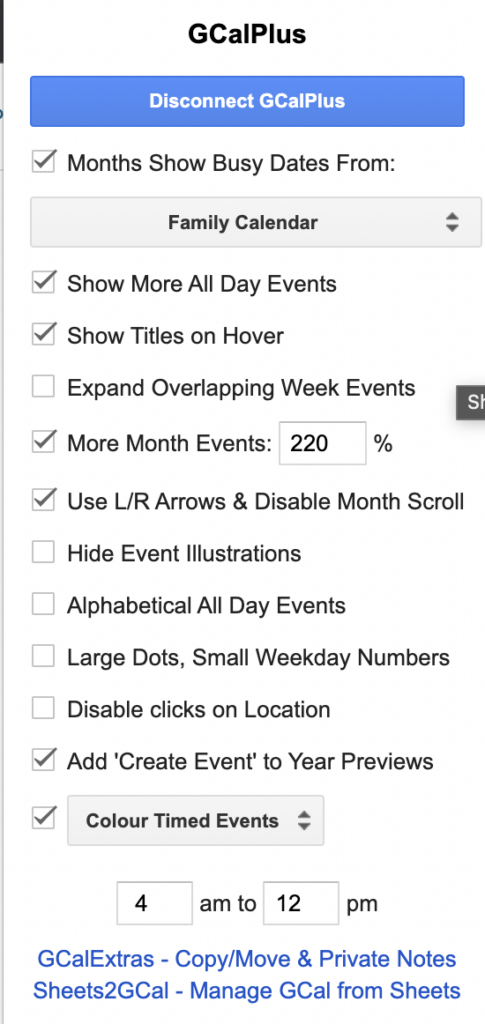 I am App – for affirmations. I get notifications for this and it's a great reminder for throughout the day. I also have it on my watch! Check it out here.
Services
EveryPlate – we were using Hello Fresh for several months, but after the discounts and no more free shipping we thought we would try out a new service. We found EveryPlate because a neighbor of ours had it. Our first box was only $37 for 3 meals a week for a serving size of 4. The food tastes great very similar to Hello Fresh. The only difference is that these ingredients don't come separated by meals. HelloFresh had a brown paper bag with all the ingredients for each meal. In EveryPlate it just comes all together in a box so we have to sort it out ourselves. But $117 vs $37 (which will go up to $69 after discounts) is still a good deal for me!
Creative Fabrica – I have been using templates from this website to create my course. I also use it for lightroom presets, digital stickers, graphics for my digital stickers, making tee shirts for my kids and so much more! Sign up here!
Courses
Uplevel with Asana – This course by Louise Henry was the perfect business setup I needed to get my products, courses and marketing organized! She just updated the course in March so I was binge watching all of it! I take what I learn from her and use it within ClickUp. Although she teaches about Asana only, I just love how much more powerful ClickUp is and I definitely don't want to switch systems if it's working for me.
Starting monday she is hosting a Free 5 day challenge where you can learn about setting up money-making systems. You can join that here!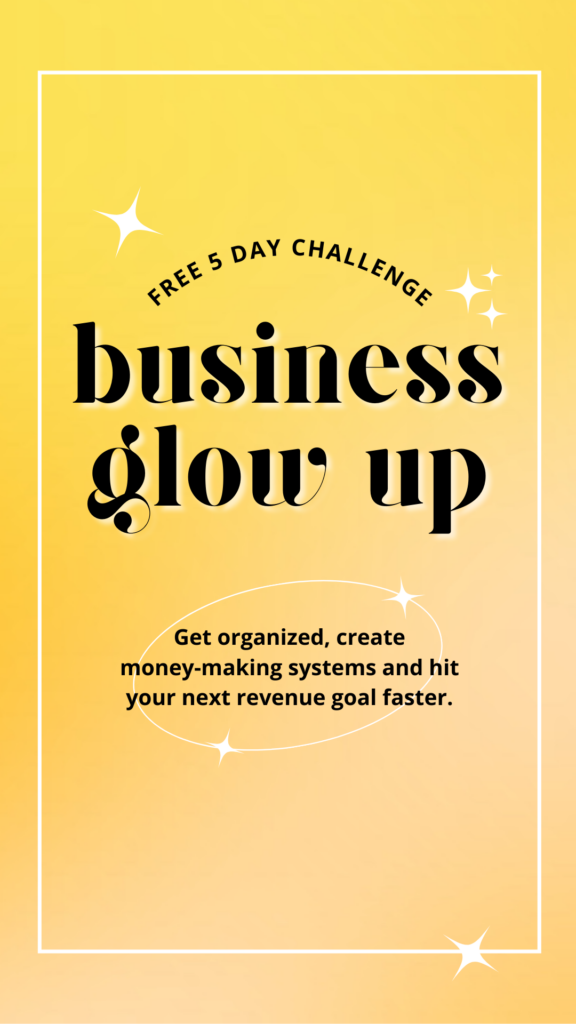 ---
Wendaful Blog Posts:
Here are the most recent blog posts I wrote:
---
Business Update:
This year I was at a lost of the trajectory I wanted to take my business. I have a million ideas and tend to jump around a lot, but this last month I have been focusing on my priorities and that was to update and launch my course. I am so glad I did because I very proud of the course I am creating. I can't wait until my students go through it all in the next few weeks so they can let me know if it's working for them!
My husband also works from home and usually kicks me out of the office when he has meetings. So naturally I got tired of it and set up my new work space in the living room. I have never been more productive in my life! I love it! The only hard thing is getting everyone to stay quiet and out of view while I am recording videos! & also finding a large place to actually record videos!
Life Update:
My family and I are waiting on updates to see if we can make a MAJOR move. We would like to move from NorCal to SoCal! It's a big change, but we used to live in San Diego for about 5-6 years when I was in college and only moved back because we had our first son and wanted family help. But now that we are more settled and also have my sister who lives down there, we are more than ready to go back! It isn't 100% yet as we are still waiting on some major decisions but I have been letting the universe know that I am absolutely going to make it happen!
We found that we just aren't satisfied with living the rest of our lives settled here in Sacramento, so we want to make the move to live in one of our favorite cities, San Diego! Plus, my husband got into the Masters Program down there so he can further his education to pursue his dream of working for NASA. I am lucky that I get to work doing what I love, and I would love for him to do work that he will love and have a passion for.
We started playing tennis as a family and the kids all love it! It's been a ton of fun!
My daughter and I have also been enjoying our morning walks around our neighborhood. She brings her double stroller for her dolls every day.
My daughter also is now fully vaccinated for COVID, so now we are all protected!
---
Current TV Shows:
Moon Knight
My family and I are big fans of the marvel universe and whenever a new series comes out we always have to watch it. This one is an amazing one and the season finale is this Wednesday, May 4th! I love how short this season was, they packed a lot of good stuff into it. So if you want to catch up before the finale, do it!
Malcolm in the Middle
Malcolm in the Middle is one of my all time favorite sitcoms. It's absurd, hysterical, and always manages to make me laugh. The characters are so relatable and the humor is spot on. It's also incredibly well written and performed, which only makes it better.
This is the show we have seen over and over again, but we love to have on whenever we just need something to laugh at. One of those "don't want to think" shows. We have quite a few of these kinds of shows, but right now we are watching this. We like to watch every episode in order for a few months until we move on the next. We are just about done with the last season of this show and will have to choose a new one this next month.
Goals For May:
Life:
Continue my skin care routine
Keep learning Spanish
Start packing up
No spend so we can save for a new place!
Finish up spring cleaning
Business:
New editable printables
Continue growing my online presence
Get everyone settled into the Productive Game Plan Course
Create & share new content
Also, I would love to know if there is anything you would like me to include in these monthly highlights. Thanks so much for reading all this!