I'm so excited to be able to try out the brand new CAMEO 4 finally! It was released in September 2019. I received the black one, and there are just so many great new features! In this post I'll be sharing with you all of these new features and updates, what you get in the box, and how to get it set up and ready to cut.
Unboxing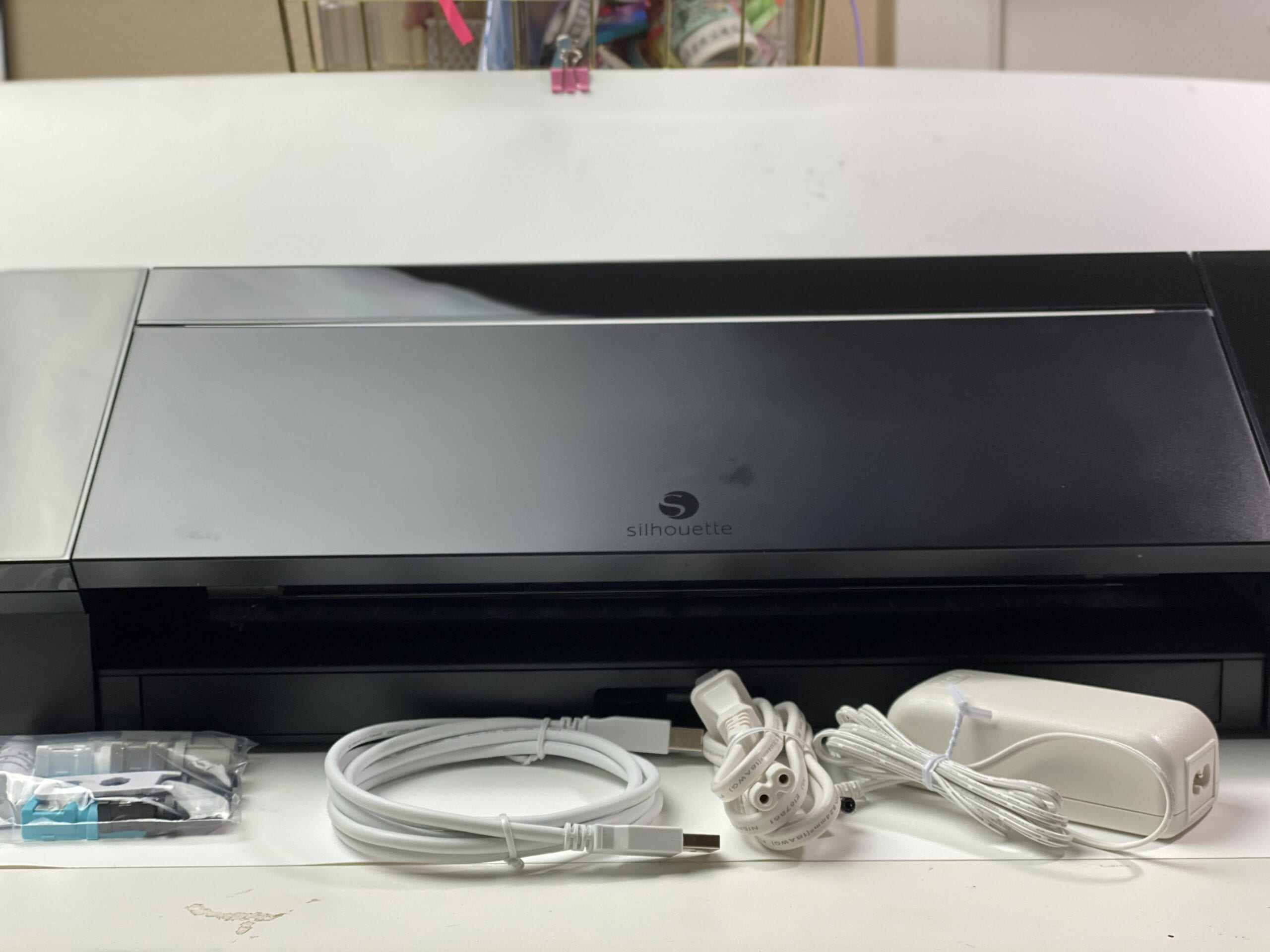 Right out of the box, you will receive:
CAMEO 4 Machine
Power cord – plug this into the side of your CAMEO machine to power on your machine
USB cord – use this to connect it to your computer if you don't want to use the bluetooth connection
CAMEO 4 Auto Blade – This blade auto-adjusts to the blade depth based on the material you chose in Silhouette Studio. No more needing to manually adjust the blade.
Ratchet tool – With this tool, you can manually adjust the blade depth of the ratched cutting blade or the auto blade.
CAMEO 4 Tool adapters – These allow you to fit tools from older Silhouette machine models to use in your CAMEO 4 – see which each is used for in the image below.
12×12 inch cutting mat
When you take out your machine, there will be lots of clear blue tape everywhere. Be sure to remove all of them. There will also be some holding the carriages as well.
Specs
The design of the brand new CAMEO 4 is similar in size to the CAMEO 3. You can see all the quick specs at a glance in the image below: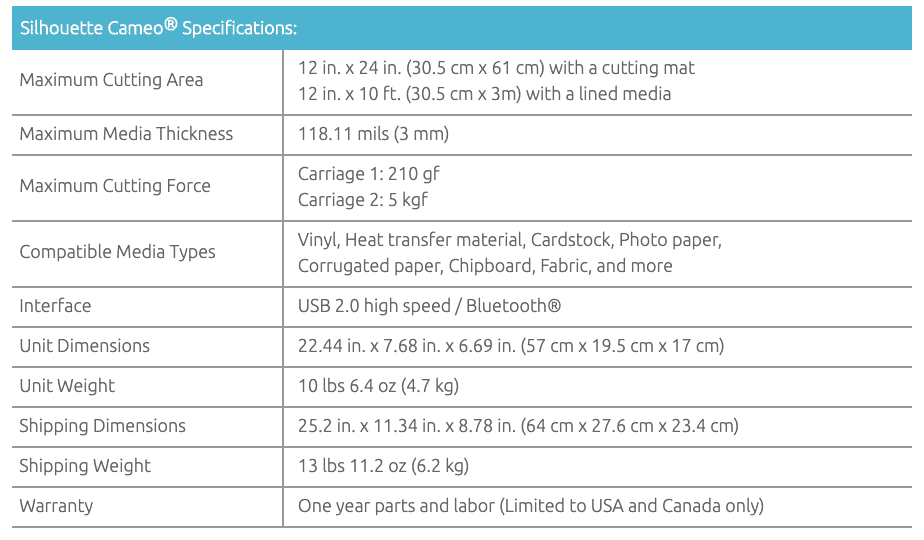 Backlit Touch Panel – The first thing I noticed about the CAMEO 4 was the controls. When it off, it disappears. But when you turn on your machine you'll see a backlit touch panel with up and down arrows and the bluetooth button. The power button can be found on the side of the machine.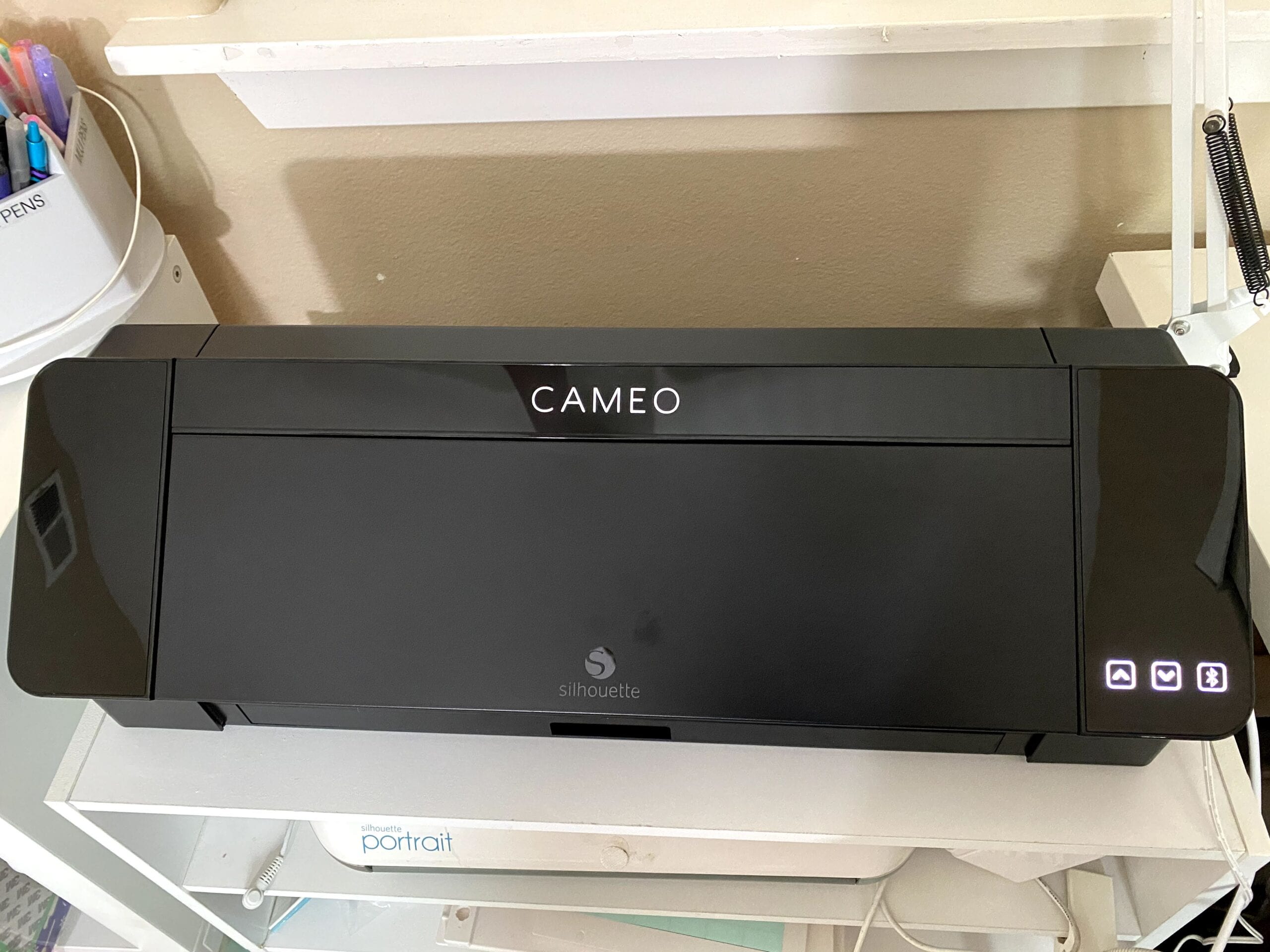 Retractable Lid – The lid is no longer a flip top. Instead Silhouette has replaced it with a retractable lid which slides into the back of the machine. This is perfect if you want to place your machine in shelves without having to deal with removing the lids!
The Cameo 4 will also be releasing 15″ PLUS and 20″ CAMEO 4 PRO versions sometime later this year.
What's New?
So what makes the CAMEO 4 so great, you ask? There are lots of improvements, but the main features are that it is:
More Powerful with a Cutting Force of up to 5KG – The CAMEO 3 had a max cutting force of 210 grams. But the new CAMEO 4 has a max cutting force of 5 kilograms! This means it can cut thicker and sturdier materials with greater precision and consistency. It can cut materials up to 3mm thick.
More Fast – Silhouette announced that the CAMEO 4 is up to 3x faster than the CAMEO 3. As soon as I ran my print and cut file through, I noticed immediately as it read my registration marks at a speed I was not at all familiar with!
More User-Friendly with Built-In Roll Feeder and Cross Cutter – They make it so easy to use with all of its new features including: automatic tool detection, autoblade, the simple touch panel, the built in roll feeder and the built in cross cutter.
Features & Updates
The CAMEO 4 has a new dual carriage motor system now. The primary tool chamber has a standard force setting of up to 210 gf, allowing you to cut basic material types. The secondary chamber provides increased force of up to 5 kgf used with select specialty tools for material types that require either special care or more force to be cut.
Roll feeder
To use the roll feeder, just pull out the tray on the bottom all the way out and unfold it. To unfold it, flip up the long horizontal flap, then flip up the two small flaps on the side. It can hold both 9-inch rolls and 12-inch rolls (with a maximum roll diameter of 3 inches).
Crosscutter
You can find the crosscutter on back of the machine. To use the crosscutter, simply unlock it, lower it, and slide the crosscutter blade along the track of the crosscutter cartridge . Then be sure to raise it back up once you're done using it so it doesn't block your mat or material.
3mm Material Clearance
Cameo 3 only had a 2mm clearance. This allows it to cut materials up to 3mm thick.
New AutoBlade Tool for Cameo 4
This is similar to the original AutoBlade, but this new for the Cameo 4 can make an adjustment using only two clicks—the first click turns the blade to zero and the second click sets the blade at the depth indicated in Silhouette Studio®. This makes adjusting your blade a little bit faster!
Auto Tool Detection
Cameo 4 also has Auto Tool Detect which is a feature that allows the Silhouette Studio® software to automatically detect what tools are inserted into your machine. This ensures you have the right cut settings every time.
New Specialty Tools
The Cameo 4 also has three new specialty tools (sold separately): the Rotary Blade for Cameo 4, the 3mm Kraft Blade for Cameo 4, and the Punch Tool for Cameo 4. Each of these tools are compatible with the Cameo 4 only and can be used only in Carriage 2 of the machine.
Storage Compartment
On the left side panel there is space to store your tools. Simply slide it to the left, place your tool inside, and slide it back into place. This storage compartment is smaller than the one in the Cameo 3, but I'm glad there is still space for it plus all the new features!
Pop-out Cut Mode
There is also another feature they mentioned called Pop Out Cut Mode. This allows you to cut certain materials without a backing without using a cutting mat. With this feature, the Cameo 4 will make a cut but keep the material in place using perforation cuts in strategic places. Once the material is removed from the cutting machine, simply pop the cut design from the paper.
Here's a video of an overview of the CAMEO 4 features:
Setting Up Your Cameo 4
First connect the power cord to the power adapter. Then plug in the small power plug into the side of the CAMEO 4. The power button is located on the side of the CAMEO 4, simply push it to turn it on.
You can then plug in the USB cord if you prefer it over Bluetooth to connect it to your computer. To connect it to bluetooth, your should see a CAMEO 4 – and a bunch of numbers, when you click that it should automatically connect. If it doesn't then you can just pressing the bluetooth button on the touch screen panel of the machine then it should flash white and turn blue once connected to your computer.
Then head over to your computer and register your machine to activate the 1 year warranty.
If you're new to Silhouette, you will first need to install the Silhouette Studio Software on your computer. If you already have it installed, just be sure it is the latest version. You can download them here. Then create your Silhouette account here.
Once you open up Silhouette Studio and connect your machine, you will see it in the "Send" panel. And it will say "Ready".
Now you're all set to make your first cut with your CAMEO 4!
If you're going to be cutting, just use your Autoblade that it came with. However, if you want to use your other tools like your old deep cut blade, ratchet blade or other tool, then you will need to use the Tool Adaptors. Place the Auto blade and blade adaptors in only the left tool carriage.
When you place your tool in the carriage be sure to pull out the tab first, then press tool down all the way, then lock it into place by pushing it in. You should see the blue circle if it's locked.
The right carriage is for the new specialty tools.
To start cutting, just get your design set up in Silhouette Studio, print it (if needed for Print and Cut), go to the send tab, select your material, load your material on a cutting mat or load your vinyl and click the blue SEND button.
If you're using a vinyl roll, you can simply pull out the bottom tray. Be sure to pull it out all the way, then lift up the long horizontal flap, underneath you will see two side flaps, flip those up as well. That's where you will place your vinyl roll.
Final thoughts on the Silhouette Cameo 4
Silhouette really did improve the Cameo. Cameo 4 is so well designed. It has professional-level cutting but is still user-friendly. It's more powerful and faster than ever. It is definitely worth the upgrade!
Save on the Cameo 4 with the Valentine's Day Bundle Using the code "WENDA"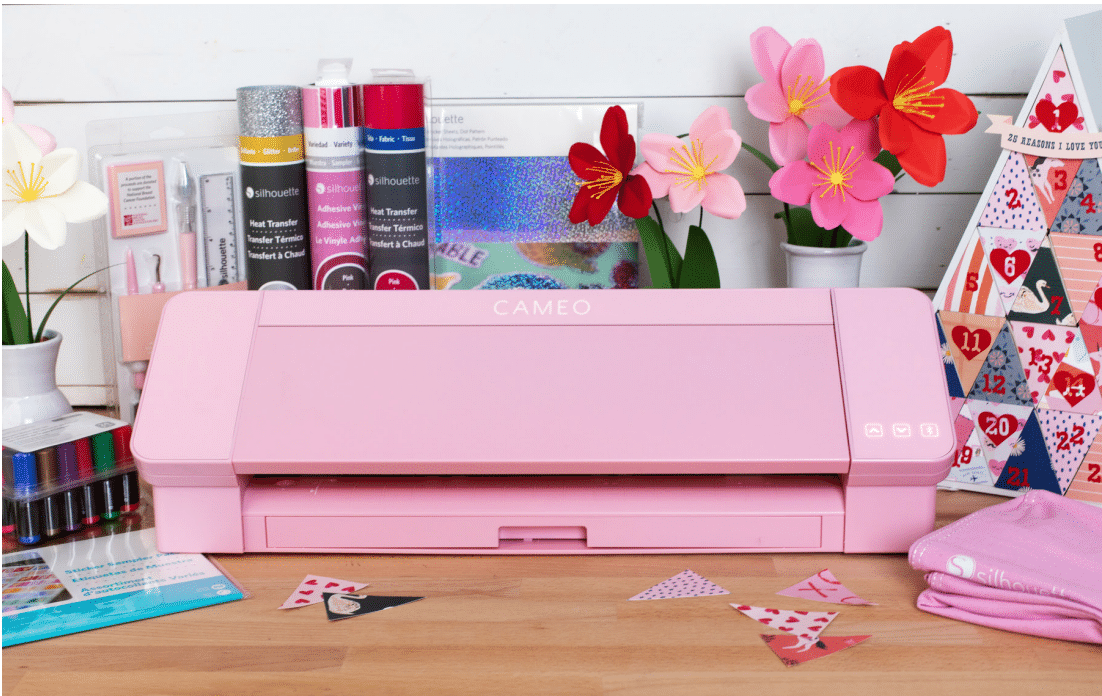 Have you been hinting that you want a Cameo 4? From now until February 15th, you can give your significant other a not-so-subtle clue that this is exactly what you've been wishing for. The two Valentine's Day bundles come with either a white or pink Cameo 4 and include:
Pink dust cover
Pink vinyl sampler pack
Pink tool kit
Sketch pen starter kit
Pink fabric heat transfer (new product)
Holographic dot sticker paper (new product)
Sticker sampler pack
White glitter heat transfer
Advent calendar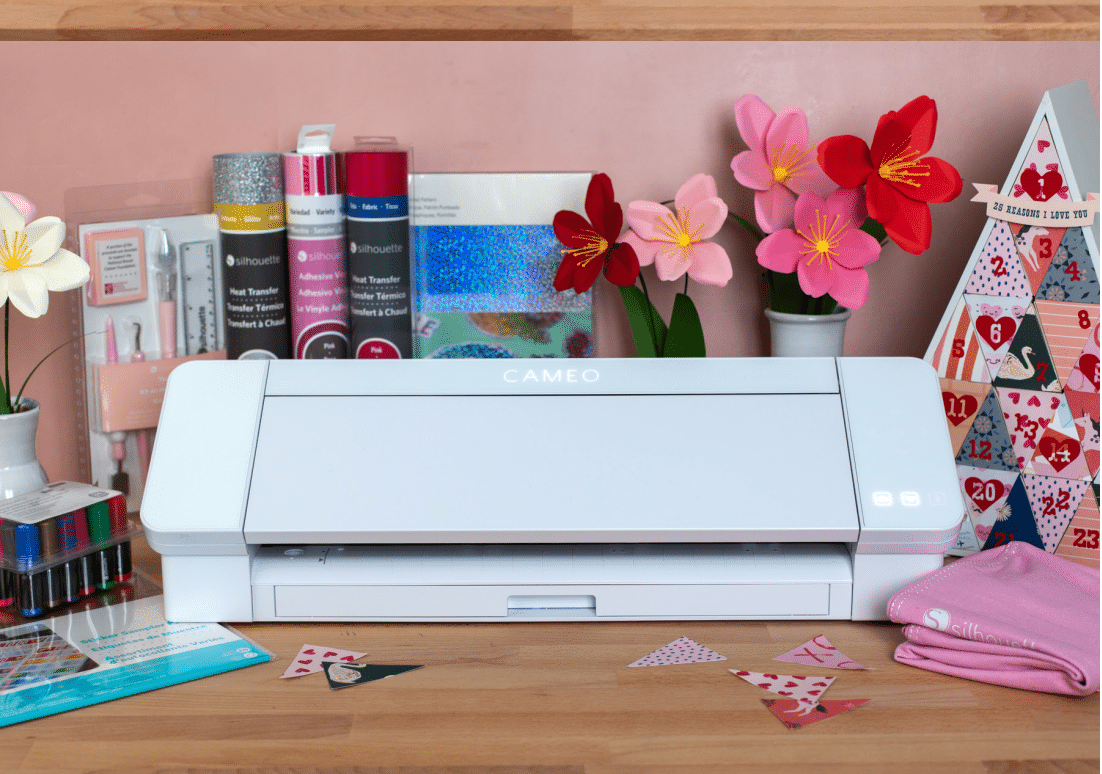 Head on over to http://www.silhouetteamerica.com/bemine and use the code WENDA for the discounts.
30% Off Everything*
Now's a great time to stock up on your favorite Silhouette supplies or to give something new a try. We recommend taking a look at the New Products section on http://www.silhouetteamerica.com to find items that will pique your interest. To get 30% off just use the code WENDA
*Exclusions apply to the 30% off which include: Silhouette hobby machines, Silhouette machine bundles, other special bundles, website gift cards, Club Silhouette memberships, downloads, commercial licenses, download cards, and Silhouette Design Store subscriptions.
Free Shipping
You can also get free shipping on orders over $50 with the code WENDA