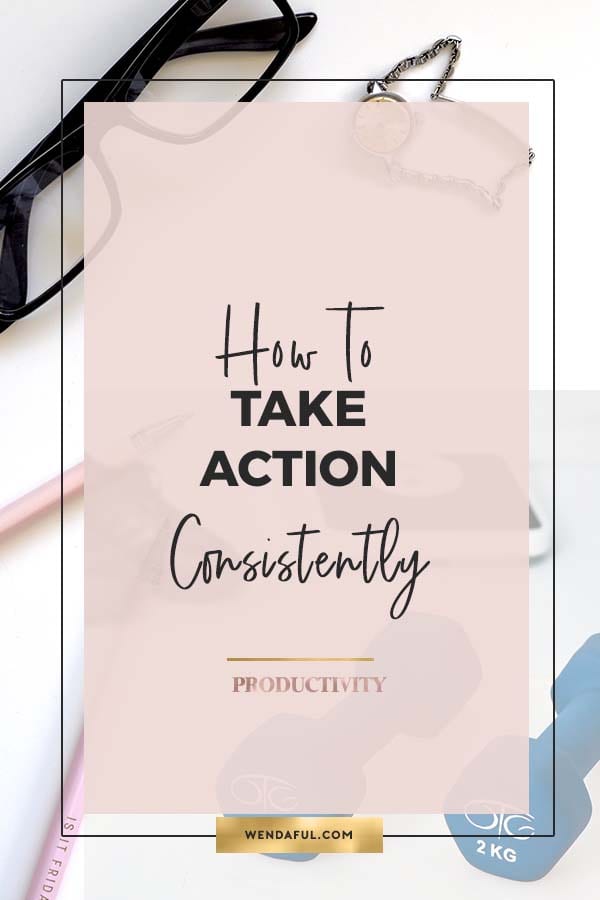 Last week I posted this picture on Instagram. I love it. I don't think there is such a thing as an overnight success. Everyone who is successful worked their butts off. They did the work over time. They worked hard, were consistent and most of all patient. The key to taking action consistently is just showing up every day. In this post I share with you why it's better to show up than it is to work hard and how you can turn taking action consistently into a habit!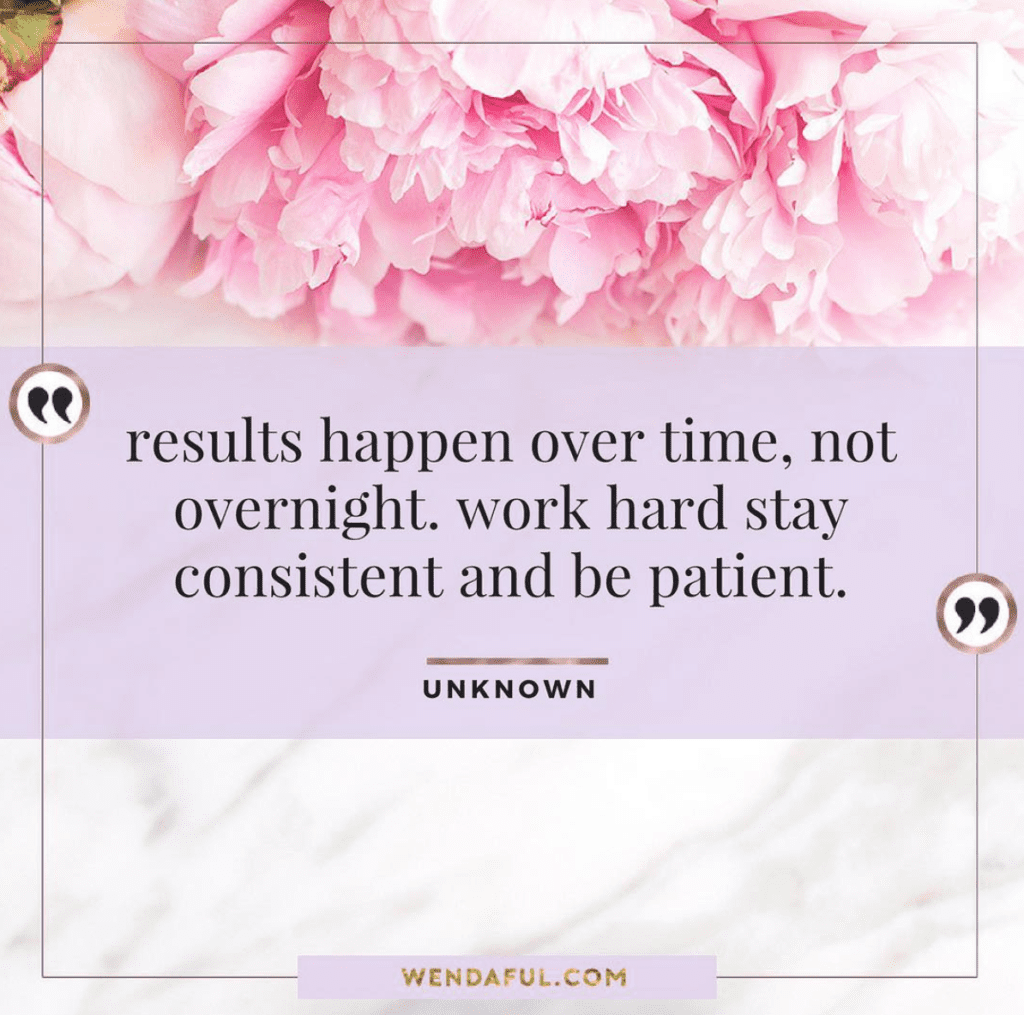 Actions are much more important when getting things done. Talking and planning won't help you make progress with most tasks. Some of us (including myself) are masters in daydreaming and planning. We might have the best ideas, but ideas without action are a waste of time and mental energy. It's important to spend the majority of your time actually doing something. Action is the key.
Those who are successful have control over their lives and their time are able to take action on a consistent basis.
But how do we do that? How do we take action consistently? How do we keep it up? How do we turn this important life-changing skill into a habit and incorporate it into our daily lives?
To become an action taker, gain control over your time, and start taking action consistently use these tips:
1. Realize that nothing changes until your behavior changes
Visualization and positive self-talk have their place, but they're only effective if your behavior changes. You can try to wish your way to a new beautiful dream house or to make a million dollars by aligning your chakras with the universe, but it won't happen unless you're actually doing something different.
Understand that a consistent change in your behavior is the key to real change.
Example:
I want to start working out more.

I can't just sit there and plan I need to start doing something different.

What do usually I do?

Find a gym.
Find at home workouts.
Download apps.

What should I do instead?

Put on some workout clothes
Do a 7-minute workout
Go for a run now
2. Know your why
It's not easy to take action if you don't know what you're attempting to accomplish. Be clear on your intention. Take the time to determine what you want to accomplish. Where do you see yourself in 5-10 years? What actions can you take today to move in that direction?
3. Start by taking small steps & focus on showing up
Do you want to run for 60 minutes each day? Get started by running for only one minute each day. You won't get in shape by exercising for only one minute, but you will develop the habit of getting out the door each day. After a week, up the time by another minute or two.
After 4-6 weeks, you'll have developed an exercise habit and can begin to exercise for real.
Does it seem like that schedule is too easy? That's a good thing!
How much running did you accomplish in the previous 12 months? There's nothing wrong with easy, as long as you're patient and can see the big picture in the long run.
Showing up is much more important than working hard until you get the habit going!
This is where the compound effect comes into play. Compared to someone who sits on the couch for 12 months I'd say you're in much better shape than him.
4. Limit your planning time
Those that are slow to take action love to plan, but the best plans are worthless until they're executed. While you're trying to work out the fine details, everyone else is already taking care of business.
There's no reason to be hasty, but set a limit on how long you're going to strategize before you actually do something.
I love planning but it's made me lose out on some great ideas. So many ideas went to the dump because I waited too long and someone else who wasn't stuck in the planning phase took action and made it real. Don't be like that, plan for a limited time, then know when it's time to stop and start doing.
5. Use rewards wisely
Small, meaningful rewards can help you to get off the couch and get busy. Decide on a few rewards and when you'll receive them. Get excited and begin taking action. When you've earned a reward, enjoy it.
I always reward myself after I do something productive. It just makes me feel better and happier.
Example: If there's a show I've been wanting to watch. Instead of watching it and feeling guilty for not getting things done, I work on my goal or project and then when I finish I will get to watch my show – guilt-free!
6. Get started early in the day
Just like Brian Tracy's Eat That Frog book: "If the first thing you do when you wake up each morning is eat a live frog, nothing worse can happen for the rest of the day!".
If you can accomplish something big before 9AM, you'll be motivated to do even more during the rest of the day.
If you fail to do anything important by noon, you'll feel bad about how you wasted the morning. Then you won't feel like doing anything in the afternoon. Then you'll let yourself off the hook by telling yourself that you'll get twice as much done tomorrow. Many people make this process a habit. Avoid becoming one of these people.
Take a close look at the most successful people you know. Notice that there's nothing exceptional about them. They aren't smarter or more capable than you. But they do manage to get things accomplished each day by taking action consistently. The good news is that you don't have to be spectacular either.
You only need to learn how to avoid wasting your precious time. The only factor that matters in achieving your goals and turning positive habits into a part of your daily life is how consistent you are, how often you show up to do the work! Consistent action is the key to wealth, weight loss, strong relationships, and anything else that matters in your life.
[amazon_link asins='159315724X,1626340463,081298160X,1451639619,0979019710,162656941X' template='ProductGrid' store='wwc045-20′ marketplace='US' link_id='8faf2bee-5af1-11e8-905c-bfb0385dbe14′]