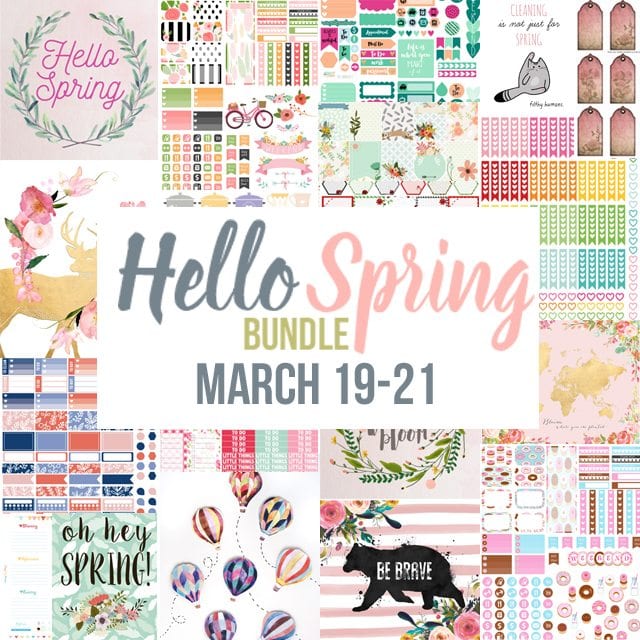 Hey Planner Lovers! Today I have a special surprise for you! Starting today, March 19th until the 21st , you will be able to purchase a deeeeeply discounted bundle of printables!
Over the past few months 17 talented designers got together and pulled their best work of over a 150 items into a bundle – the Hello Spring! Bundle – and it's finally available for you to grab today. In it you'll find a ton of different goodies, like art prints, planner stickers, planner inserts, cards, gift tags, stationery, and even coupon codes to Etsy stores.
With over 150 items in the Hello Spring Bundle, the crafting and planning possibilities are endless! The best part about this bundle though, is the incredible value.
It has over 150 items inside of it from 17 stores (including me!) and the total value of the bundle is $345. But during the sale you can get it for just $23.
Nope that's not a typo, it's really $345 worth of products for $23 – a 93% discount!
Here are some of my favorite inserts & stickers in the bundle that are included. To see the whole bundle check out this link here and buy it now!
The art print files can be printed out to make adorable and festive dashboards.


There's also a ton of planner materials in the bundle, including inserts and printable stickers! You will see some exclusive Wendaful Stickers in there as well! I've included a special Spring decorating kit  in there and more (see below)!
Think of how many layouts you can decorate your planner with with all of these stickers! I could go on and on about all the creative projects you can work on with this bundle, but instead, why not just check it out yourself? Click here to purchase the bundle now! 
This bundle is only available to purchase until the 21st (it's a 3-day only sale!!!), afterwards it's gone forever. If you've got a thing for planning or DIYing, You don't want you to miss out on the deal.
You can see every single item that's in the bundle here. https://inkandwink.com/spring/ref/64
The sky is the limit for what you can do with the items from the bundle, but it's only available until the 21st – please don't miss out!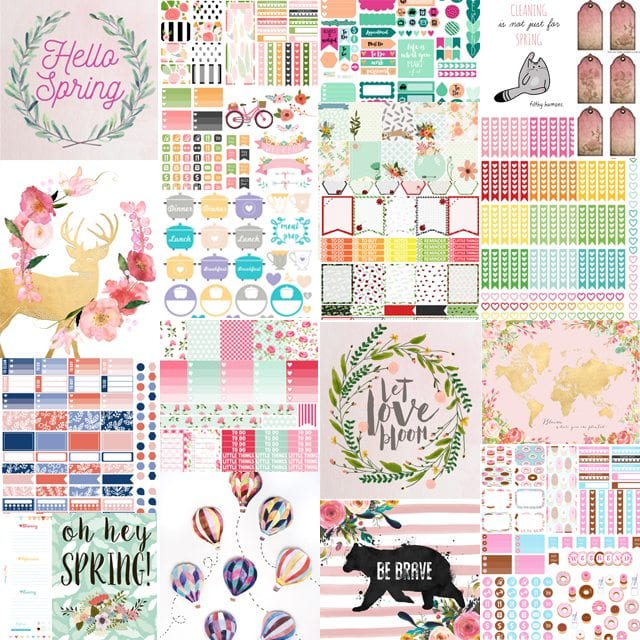 Again please use my referral link to purchase your printable bundle here! Don't regret not getting this wonderful deal of printables purchase it soon! It is only available for 3 days! https://inkandwink.com/spring/ref/64