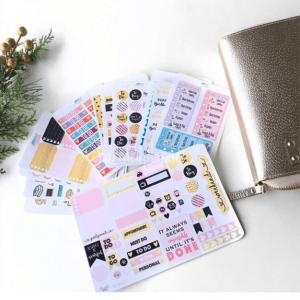 Hello everyone! If you haven't noticed, Wendaful Designs had gained 10 new creative team members in the past few months! Their inspiration has been all over Instagram, Youtube and Periscope! Today I wanted to share one of my team members' projects here on the blog. I am hoping to do this for each of my team members! They all have great ideas and wonderful projects to share! You can read more about all of my team members here.
So I am just going to jump right in and show you some of Melissa's projects using Wendaful Designs stickers!  The first is a youtube video, you can find her under "charmed planner" She did a plan with me using a bunch of my stickers and it turned out perfect!

These are some of her IG pictures! if you aren't following her you must go follow her now! She is @charmedplanner I love the way she decorated in her kate spade agenda!
Her pictures are beautiful aren't they?! They are so bright and pretty! I love seeing my work featured on her page. I am so lucky to have her on the team! Follow her for more inspiration and see how she decorates her planner using my stickers!