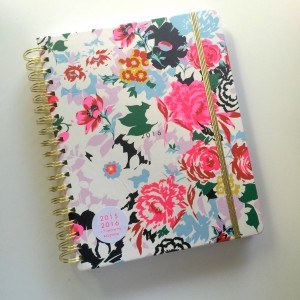 Ban.do is a bright, fun & funky Los Angeles based company who specializes in super cute gifts and accessories! Last year they came out with an awesome little agenda that was perfect for carrying everywhere with you! This year they came out with a larger coiled version of their same agenda, and that is what I am going to review today! I have both the large and small. The small is 8.5 in x 5.5 in, the large is 8 in x 10 in. The hardest part was deciding which size to go with! The small agenda is perfect for people who do not like to carry big planners, it really is the perfect size. But I decided to use the large one because I leave my home and family planner at home. I like having it open on my desk to see what needs to get done around the house. & there's tons more room for stickers and washi tape! I also like that it lays flat! Oh and the price is amazing! The small is only $20 and the large is $28! With prices like that for a beautiful planner like this it really is hard not to get one!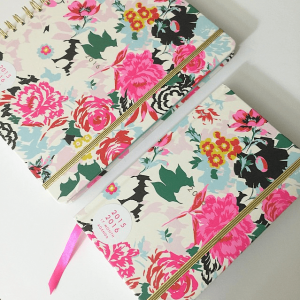 The planner is a 2015-2016 17-Month Agenda that starts in August 2015 and goes all the way through to December 2016! The large agenda measures at 8 in x 10 and has a nice hard cover. It has a beautiful gold spiral binding and an attached gold elastic band to keep everything closed! I love that it is attached to the back cover! They have a few different cover design options, the one I have is the florabunda. It is just absolutely beautiful! In the front of the planner is a large double sided pocket page for storing loose papers or stickers! I love that it can hold so much!
The planner is filled with really cool artwork and sayings throughout the whole planner. Here is a look at August, January & December. There is also a page in the back with all the wonderful artists!
They have really cool and random holidays listed throughout the planner like national donut day and hug your cat day! In the beginning of the planner there is a very fun sticker page, the bando girl gang secret code, a yearly overview of 2016-2017, dates to celebrate for birthdays or events, and a list of every holiday you can think of!
Each month is colorfully tabbed and has a different illustration followed by a notes pages then a month on two pages. I am using my notes pages for big projects, goals, and fun activities I want to accomplish in that month! I love that their monthly view highlights the special holidays!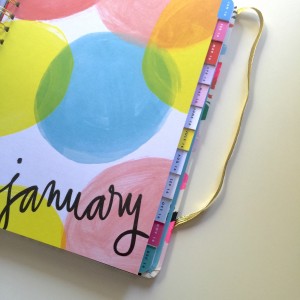 Each month is then followed by a standard week-on-two pages diary. There is plenty of bare space for planning, and smaller boxes for the weekends. I wish they had a section for weekly goals or notes somewhere though. At the bottom of each week Ban.do has included some hilarious to-do's for you to consider! You can even fold the planner back to make it easier to write in!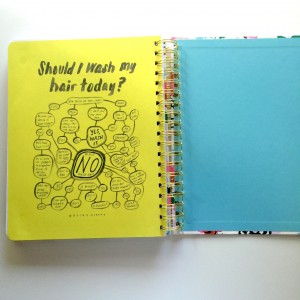 So there it is! The Bando Agenda! Isn't it the cutest planner you've ever seen?! I can't wait to start using it this week! In my next post I will show you all the tools necessary to set up a new planner! Stay tuned!
In the meantime grab some cute accessories from shopbando.com! I love using their ballpoint pens not only because they're super cute, but because it writes smoothly too! & the sticker book is just to die for! So unique and fun! I am tempted to go all out and buy their florabunda accessories just to go along with my planner! haha! Let me know below what you think of this planner if you have one!