I made this printable because I almost never use my calendar right away when I am at the doctor's office and they tell me when my next appointment is.
If you do end up using these I would love to see pictures. Tag me on Instagram @wenduhh_plans or #mswenduhhblog
Please do NOT share the actual file or file link. Instead send your friends here to download my free printables, thanks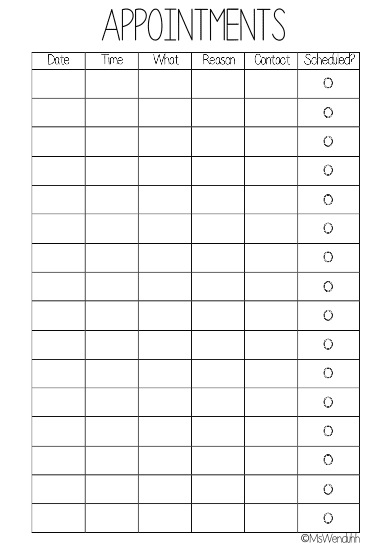 Now with this sheet, I can simply just go to my "schedule" tab which has my monthly calendar behind it, and write the following:
Date: the date the appointment is set for
Time: the time that the appointment is set for
What: what the appointment is (e.g., doctor, dentist, eye etc.)
Reason: the reason for the appointment (e.g., 9 month check up, shots, etc.)
Contact: who to contact, a number to call if anything, etc.
Scheduled: this is for you to check off once you scheduled it into your monthly or weekly calendar in your planner so you don't forget!
I hated looking for the exact date of when my next appointment would be and writing it down, I could almost never find it quickly! Since my bookmarks are usually for this week or this month, and my appointments are usually 2-3 months ahead.
So here it for you to download in Full Size, A5, Personal, A6, & Pocket!
Hope this helps you in your future planning!!