Here is a DIY on how I made this costume for my son. My son is only 8 months old so the white beanie fit his mushroom head, if you plan on making this for someone bigger you might need a chef's hat or white fabric. To see how I made the vest look at the video..
The Hat: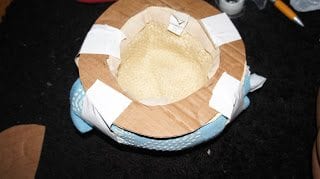 You will need a cowboy hat or semi-sturdy hat with a brim that fits your person, and a cardboard cut out into a circle around brim of hat then cut the inside of the circle like this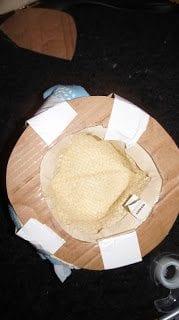 Tape the cardboard circle to the hat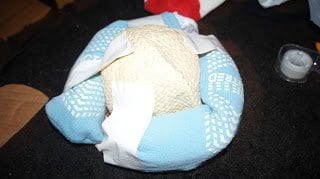 Stuff some socks with plastic bags and tape around the hat above the cardboard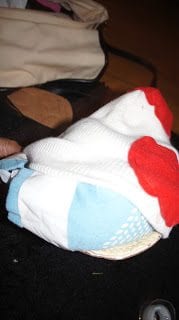 get your white beanie with red felt circles sewed onto it and wrap it over the whole hat
The Costume on my son: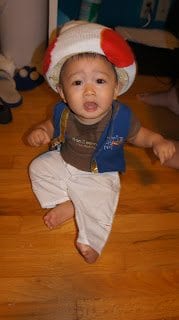 for Halloween I will let him wear a tan or white long sleeved shirt underneath his vest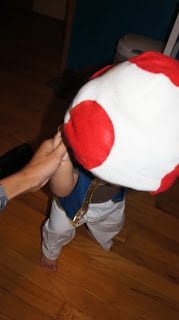 So hard to get a good picture with this boy!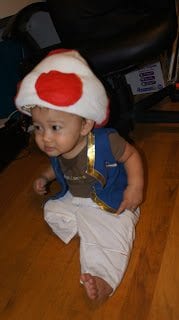 White pants are from the thrift store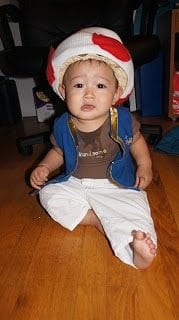 Blue vest was a shirt or cardigan, I cut off the sleeves and added gold ribbon to the trim of the whole shirt using hem tape!
not the best work but he still looks like a mushroom head!
My little Toad!