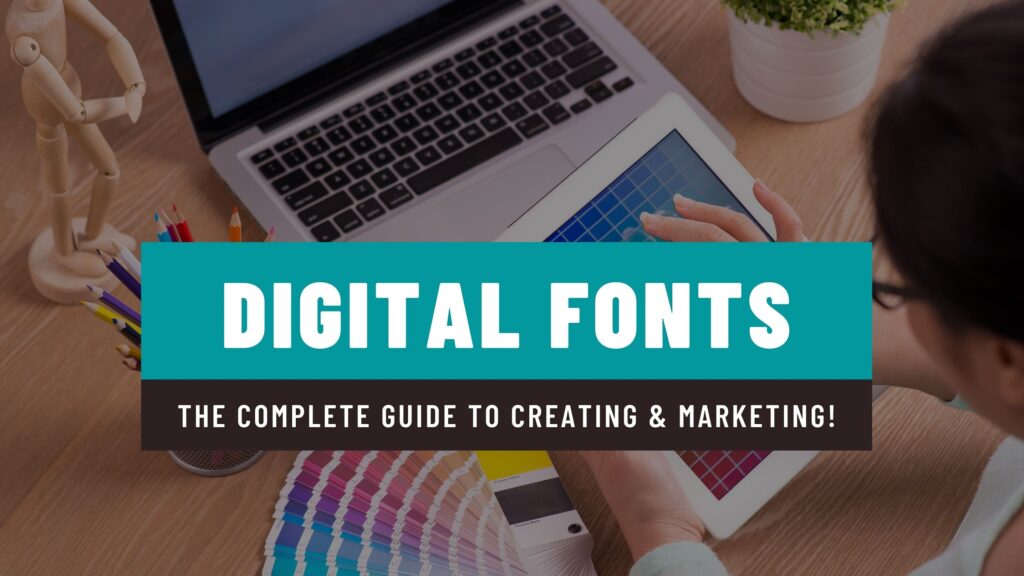 Fonts play a vital role in establishing a successful website, and with so many font options, it has become easy for designers to choose the perfect one. Now designers can easily get their hands on their desired fonts because of having a wide range of choices. What about creating digital fonts for your website to make it more enchanting and worth appreciating?
If you want to design digital fonts and want to know how to do its marketing, this guide will be considerable for you. I will explain every step-in detail so that you get a clear idea of how to make the work done. Let's begin the process and talk about the creation and marketing of digital fonts.
How to Create Digital Fonts?
Everyone wants unique and distinctive fonts for their websites so that more and more people get attracted to their site. However, everyone is running in this race, and it is not possible to have the most different font for your website. But, if you are more concerned about website fonts, then creating your own fonts will be the solution. Let's talk about those steps that would take you to the final process.
1- Figure Out Font's Objective
The first step that includes in this process is to figure out for which purposes you are going to design a font? You can't get to the conclusion if you don't have any idea regarding the main objective of designing digital fonts. For example, we can use montserrat free font for websites, branding, logos etc. But we can't use it for script type campaigning's, same like that you must have to figure out that what will be the purpose and usage of font that you are going to design. To get the answers, ask a few questions and later figure out their answers.
What type of font you are forward to have are the main questions about which you should be cleared. Later, you need to choose the type of font that either it should be serif, sans-serif, decorative or handwritten. Other than that, ask yourself that either you are going to create the font for a specific project or on a broader term?
2- Put Your Vision on Paper
The most common mistake often seen done by designers is to be in a hurry. Hold on and put your vision on pepper instead of moving towards software and tools to begin the process. Putting your thoughts on paper would make things easy and simple for you, and you can get a better idea of what you want.
The easiest way is to write the shape of the characters that you want in your font. Mention the smooth curves on the paper and look for other fonts that either they have any resemblance to or not. Once you are sure that you have put down all the thoughts and now you have a clear idea, proceed to the next step.
3- Select the Software
Now comes the main point. Now you have to begin the process by installing the software with the help of which you will create digital fonts. You have many options of software in this regard, including Birdfont, Fontforge, Glyphr studio, and many more. It depends on you to make the final decision.
If you are confused on which side you should go, give each tool a try, after which choose the one that made you comfortable.
4- Begin the Process
Now you are clear about your vision and thoughts and have selected the final software, now is time to start creating digital fonts. It might take a lot of time to complete the process, yet the results will be as per your requirement that will surely make your website look pre-eminent.
You have to add many important points, including Glyph, Stem, Baseline, Bowl, Ascender line, Descender depth, etc. As a professional designer, you surely are aware of all these terminologies.
5- Clarify the Character Set
While creating the font, you should check each and every character in detail so that you get a clear idea of how each character will look in a design. You should be careful about the spacing so that every character is placed in a limited space. Furthermore, you should experiment with these characters in different sizes to get the exact size.
Hence, before putting your created font on a website, it is better to experiment with each point to avoid future issues. Now that you are done with every important step, it's time to upload your font now on the website to start using.
How to Do Marketing?
Doing marketing of your created fonts is another important step with which you should be aware of. As a designer, you can sell your created fonts easily and obtain a satisfactory income. But how? It contains a few methods among which you can select any according to your comfort. Let's talk about those methods.
1- Join Hands with Foundry
You surely are familiar with different font foundries where the creator sells their fonts and designers buy the fonts in order to use them in their work. You can get affixed with any of the foundries, including Monotype, Linotype, etc. However, there is a proper procedure for selling fonts on these foundries, and the fonts should be sold within the procedure.
2- Working with a Vendor
The other option is working with a vendor or reseller. Vendors visit a text style foundry and make an arrangement to sell the textual styles inside the library of the font foundry. It is how you can easily sell your fonts among different channels. Furthermore, you can have a contract with many vendors. You can also have complete control over the cost of your created font.
3- Selling Fonts Online
It is surely one of the finest ways you can adopt so far. Create your website and start selling fonts online. You don't need to do any mentioned thing. It is the most simple way to do marketing of your fonts. Above all, you will get a complete commission on each sale, and you will be the only owner. You can also interact with your customers so that they become your life-time partners. What else you want?
Conclusion
There is no doubt that you can get your desired font from a huge collection available online yet what not come with something productive and unique to attract more customers? It can only be done when you design your own fonts and it can be done when you create them yourself.
I have mentioned the easiest way through which you can easily create. Furthermore, in case you want to sell the fonts, the procedure is also mentioned in this guide. I hope you will find it easy when you perform it practically.