Hey
everyone! So I have my shop opened up finally and I was so extremely
nervous! I have been stocking up for a few weeks now. I
have also been designing a lot of sticker sheets lately for my shop and
it has been taking a lot of my time. I feel bad because I haven't
really spent as much time with my family! It has only been a
day but it seems my today markers were a big hit! They sold out pretty
quick. I'll definitely be restocking those.
You can visit my storenvy shop here

So
anyways I wanted to let you know that my stickers and inserts that I
list in my shop won't all be listed as printable files here on my blog.
But there's good news, keep reading…
Am I stopping the freebies? No way! But instead of having new freebies all the time, I will be doing random limited time freebies here on my blog. Every so often I will pick a few design sheets before posting it for sale on my shop and
will give it away as a downloadable file (both PDF and silhouette cut
files!) but only for a limited time! So be sure to follow me on Facebook and Instagram to be sure not miss it! keep your eyes peeled and come back to the blog for awesome freebies!
There
have also been requests for printed inserts and more for my shop. I
currently am taking custom printable orders in my shop. In the future I
will be making dated inserts for my shop and bundle type printables but
because of the time it takes those won't be offered for free forever
neither. I will have random freebies for those too! I will still provide
free undated inserts however if I come up with new designs!
I
have a handful of free printable stickers that will always be
available, and I also have more than enough weekly Filofax inserts and a
few daily ones as well. Everything you need to get started can be found
in the top tabs under free printable or by clicking here!
–> See my freebie collection (HERE)
Now here are the cute emoticon bears and cats as promised! These are only free for a limited time so download now before you miss out! You can use these cute stickers to track your moods and feelings everyday in your planners. they are about 0.5 by 0.5 inches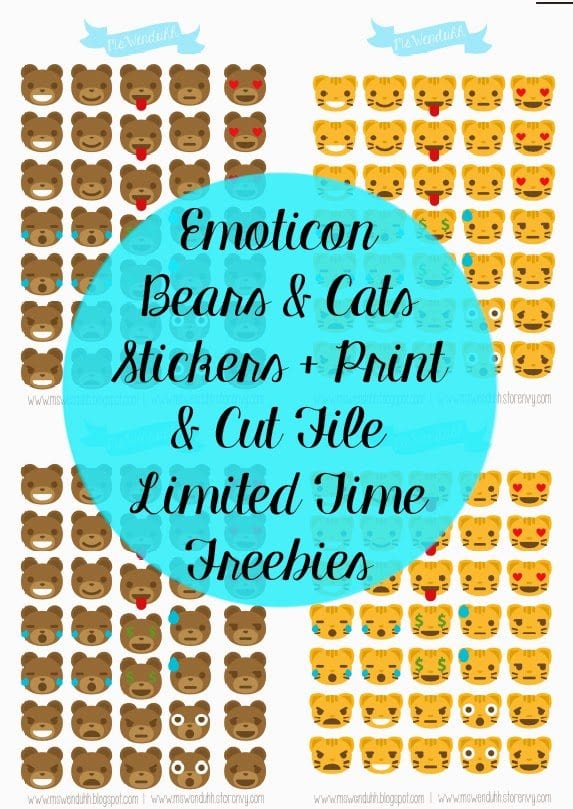 Sorry, this freebie is no longer available 🙁 but you can find these sticker sheets in my shop! Shop now!
Instructions:
When using the Silhouette File just open this file using Silhouette Studio then
click on send to printer to print on your sticker paper
then place that printed sticker paper on your cutting mat and
load it into your silhouette machine.
Then just make sure you have the cut settings for your type of sticker paper (I just use the default white sticker paper)
and change your blade to what they tell you,
then click send to silhouette and cut!
I also use layers to cut out my sheets into smaller sheets for portability. To do that just go to the blade/cut icon again and click advanced, then click only on layer 2, change your settings to cardstock then cut only the 2nd layer!
Now enjoy your own DIY emoticon stickers!
Please do not redistribute or claim as your own. They are for personal use only. If you do end up using these I would love to see pictures. Tag me on Instagram @wenduhh_plans or #mswenduhhblog
Please do NOT share the actual file or file link. Instead please send your friends here to download my free printables, thank you.

This work is licensed under a Creative Commons Attribution-NonCommercial-NoDerivatives 4.0 International License.
Images are copyright of zhaolifang from http://www.vecteezy.com
Sticker sheets are copyright of MsWenduhh